NASHVILLE — No. 3 Georgia defeated Vanderbilt 30-6 at Vanderbilt Stadium in Nashville, Tennessee, on Saturday to kick off its 2019 season. Here are some observations from The Red & Black:
Bulldogs come out swinging
Nashville was a sea of red for the opening game of the season for Vanderbilt and Georgia. Bulldogs fans far outnumbered Commodores fans.
The Bulldogs asserted dominance on their first drive as they marched down the field quickly to go up 7-0. A combination of Brian Herrien, D'Andre Swift and James Cook found plenty of open holes. The Bulldogs rushed for six of the eight plays in that drive. Jake Fromm threw a 3-yard dart to Demetris Robertson in the corner of the end zone for the score.
Georgia began to take control of the game in the second quarter after knocking at the Vanderbilt red zone once again. Herrien carried for a 1-yard touchdown with 8:01 remaining in the half. This put the Bulldogs up by three touchdowns early.
The Commodores struggled to produce anything offensively as Georgia's defense continually made crucial stops in the red zone. The Bulldogs' defense kept Vanderbilt to 225 total yards and forced the Commodores to resort to field goals when reaching the red zone. Monty Rice and Mark Webb led the defensive attack in tackles.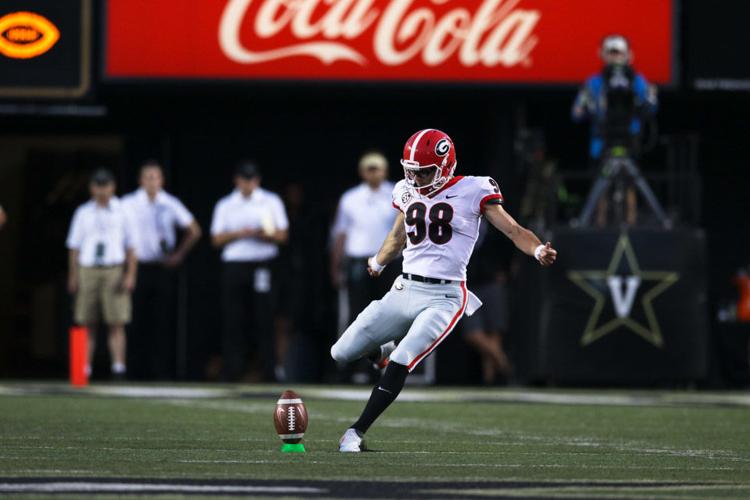 The Vanderbilt student section slowly dwindled as the game was put out of reach by Georgia in the fourth quarter after Rodrigo Blankenship tacked on his third field goal of the night. This one was from 31 yards out brought the score up 30-6 with 2:13 remaining in the game.
Impressive performance in the backfield
First-year offensive coordinator James Coley organized a dominant rushing attack for the Bulldogs. In the first quarter alone, Georgia had 106 rushing yards. Herrien started in the backfield for the Bulldogs over last season's leading rusher Swift.
Despite this, Swift was the team's leading rusher, rushing for 149 yards. The Bulldogs wore the Vanderbilt defense down, keeping the ball on the ground for 39 plays and had 326 total rushing yards.
Redshirt freshman Zamir White saw his first playing time for Georgia early in the third quarter after being sidelined for all of last season. He touched the ball five times and ran for 51 yards.
Two other players who mattered
Demetris Robertson: Robertson proved himself as someone who could be a popular target for Fromm this season. He had three receptions for 23 yards and one touchdown and was Georgia's leading receiver. Robertson grabbed the team's first touchdown of the season early in the game. He was also the team's fourth-leading rusher.
Jake Fromm: Fromm was 15 of 23 in the passing game for 156 total yards. The offensive line prevented any sacks and allowed for Fromm to execute on calling run plays.