Jake Fromm has been forced to get used to the rain.
In a shower-soaked 21-0 victory over Kentucky on Oct. 19, Fromm was limited to only 12 passing attempts, so he worked on finding another answer to wet conditions in the weeks that followed.
As rain pelted down on Dooley Field in the first half against Texas A&M, Fromm tried wearing a glove on his throwing hand for the first time in his career.
Fromm said he liked the idea of playing with the glove in wet conditions, but until he shed it for much of the second half, he didn't have much success in the passing game.
"I didn't play as many rain games in high school," Fromm said. "It's been an unfortunate season playing quarterback here."
The first quarter wasn't kind to Fromm. He went 1-of-6 for 7 yards, missed a first-down flea flicker to George Pickens and failed to convert three separate pass attempts on third down.
"If I want to be as good as I want to be, I've got to hit those shots," Fromm said.
Clouds cleared in the second quarter, and Fromm connected with receivers on two consecutive chunk plays: one to Tyler Simmons for 27 yards and another to Kearis Jackson for 22. Those plays set a rhythm for Georgia's lone touchdown of the day, a 16-yard pass to Pickens with 6:44 remaining in the first half.
In the Bulldogs' 19-13 win on Saturday, the junior quarterback finished 11-of-23 for 163 yards and a touchdown.
Despite the fact that Fromm hasn't completed over 50% of his passes since Nov. 2 against Florida, Georgia head coach Kirby Smart isn't worried about him.
"He made some back shoulder throws that were pretty special," Smart said. "Concern is not there."
Georgia was held to a season-low 251 yards in its last game against Auburn and only accumulated 9 more total yards against Texas A&M.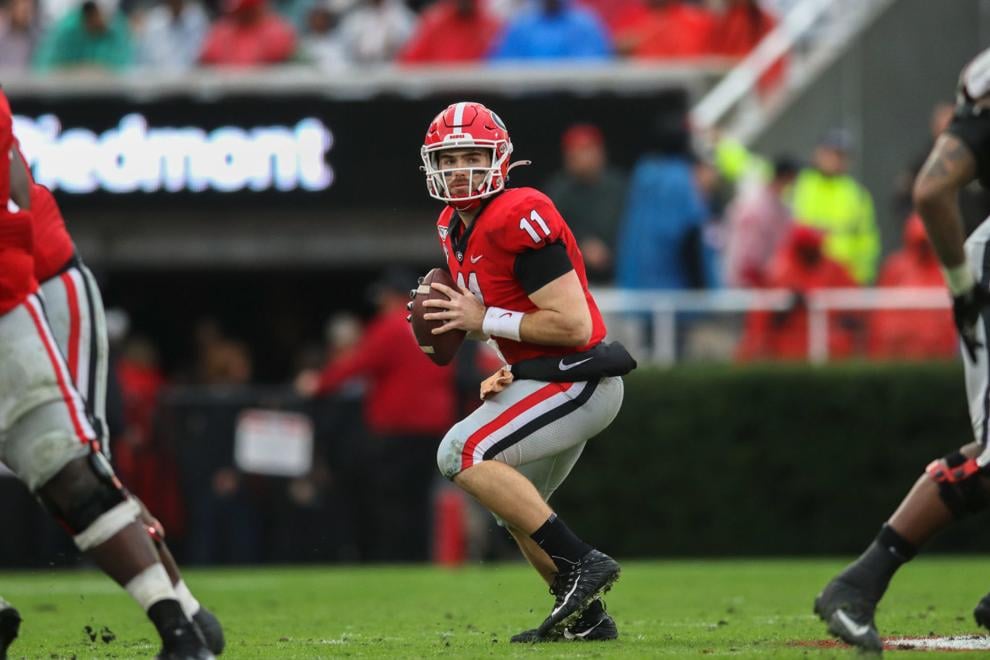 Simmons said Georgia offensive coordinator James Coley has been focusing the offense on third downs and red-zone touchdowns. Against Texas A&M, Georgia went 5-of-15 on third down, and it scored one touchdown in its three trips to the red zone. The other two were Rodrigo Blankenship field goal attempts.
"There's always something you can improve on," Simmons said. "We're definitely getting to where we want to be. We just have to keep progressing."
Running back D'Andre Swift had his fifth 100-yard rushing game of the season against Texas A&M, and added 29 more yards on four receptions. The Bulldogs' leading rusher is unconcerned about the offense.
"We're fine," Swift said. "We won today. We're fine."
Fromm shares the optimistic sentiment and said he told offensive lineman Solomon Kindley in the locker room that the offense was right on the cusp of its goals.
"We're so close on offense," Fromm said. "I think we're inches away. We're right there. … I think it's only a matter of time."