It was Saturday, Oct. 1, 2016, and the Tennessee Volunteers were back.
Wide receiver Jauan Jennings vaulted the Vols into the top 10 in the national rankings with a 43-yard touchdown grab as time expired to beat Georgia for the second year running. 
Meanwhile, Georgia was reeling in Kirby Smart's first season as head coach. This was their second-straight loss to the Volunteers and the first time in a decade the Bulldogs had lost to the Vols in Athens.
"A lot of mouths opened," said Trey Hill, a Georgia offensive lineman who was attending the game as a recruit. "It was just crazy. You wouldn't expect that to happen on the last play of the game."
Since then, the bitter rivals have gone opposite directions. Georgia has become a perennial title contender, while Tennessee has descended into the laughing stock of the conference with losses to Georgia State and BYU to open the 2019 season. Now, it's staring down the barrel of another potential blowout from the Bulldogs this Saturday in Knoxville.
"If you're not good at quarterback, offensive line or defensive line, you're not going to win many football games — not in this league," said Jimmy Hyams, a Knoxville radio host and former Tennessee football writer for the Knoxville News Sentinel.
So what happened since that memorable play in 2016 to bring this rivalry to where it is today? 
Following the victory over Georgia, the No. 9 Volunteers came crashing back down to earth and out of the national rankings. They lost their next two games to Texas A&M and Alabama. Then, less than a month after reaching the top of the SEC East, an upset against unranked South Carolina marked the beginning of the end for Butch Jones as Tennessee's head coach. The next day, star running back Jalen Hurd announced his intention to leave the program. The lead running back sat out the remainder of the season as his team limped to a 9-4 finish. 
Now on the hot seat, Jones needed a strong 2017 season to keep his job. Tennessee was a respectable 3-1 headed into an early season matchup against Georgia. The No.7 Bulldogs had already beaten Notre Dame in South Bend and were coming off a blowout victory over No. 17 Mississippi State.
In his second season at the helm, Smart led the Bulldogs to a 41-0 road win over Tennessee, the most lopsided home defeat for the Volunteers since 1905 and the worst ever in Neyland Stadium. 
Five weeks later, Jones was fired after a 50-17 loss to unranked Missouri brought the Vols' record to 4-6 on the year. Tennessee would finish 4-8 and winless in the SEC, the worst record in Tennessee's hundred-plus year history.
"Jones ended up losing that team," Hyams said. "So, he lost his job."
While the Vols were suffering their worst season of all time, Georgia was enjoying quite the opposite. After the shutout win in Knoxville, the Bulldogs went on to win their first SEC championship since 2005, en route to a Rose Bowl win and a national championship appearance. That offseason, Smart inked a seven year, $49 million extension with Georgia to keep him in Athens through the 2024 season.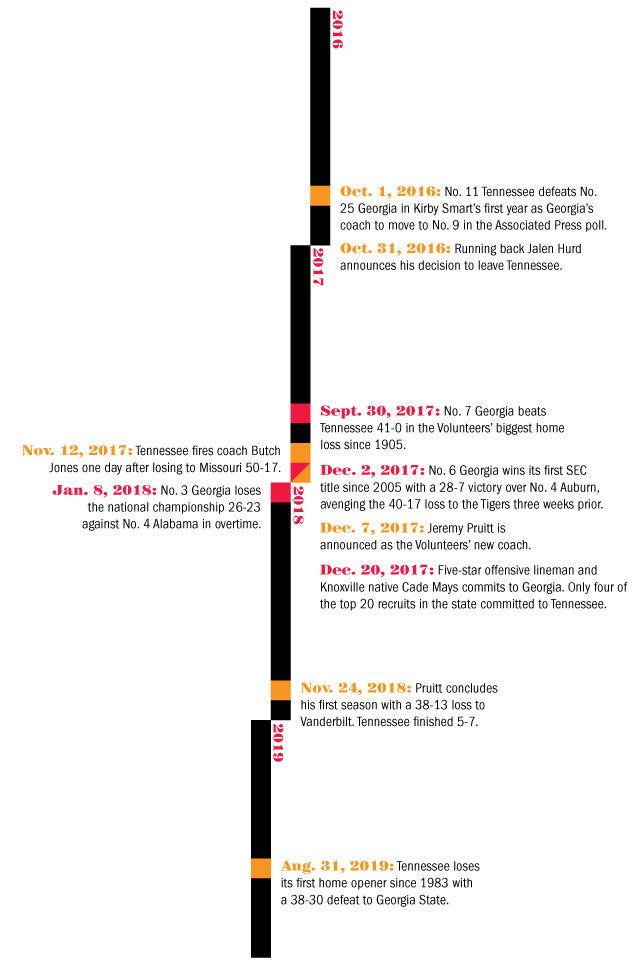 Meanwhile, Tennessee began the most heavily scrutinized coaching search in recent memory. Athletic director John Currie interviewed several different coaches for the job, all to no avail. Currie then followed his former coach out the door and was replaced by Phil Fulmer on Dec. 1, 2018. Six days later, Jeremy Pruitt became Tennessee's next head coach.
Like Smart, Pruitt is a former Nick Saban assistant, and he served as Georgia's defensive coordinator for two seasons. 
Tennessee fans hope he'll work out just like Smart has for Georgia, but so far, Pruitt's second season looks nothing like the Bulldogs' historic run in 2017. 
But Smart said he is impressed with his former colleague's efforts.
"I think Jeremy is doing a great job with the situation he's in," Smart said. "They play hard and physical."
Now Tennessee enters a matchup with No. 3 Georgia desperate to get its season back on track, but Hyams isn't optimistic.
"Just don't get blown out like in 2017," Hyams said. "If Tennessee can find a way to get to five wins, fans will be OK with that. Perhaps then, their recruiting class won't implode."