Georgia will face in-state rival Georgia Tech Saturday as it concludes its regular season. Ahead of the game, here are some of the top stories to come out of football practice this week. 
Monty Rice likely unavailable 
Georgia will likely be without inside linebacker Monty Rice when it faces the Yellow Jackets Saturday. Rice sustained a foot injury while warming up against Massachusetts last Saturday. 
Rice was unable to play against the Minutemen, and head coach Kirby Smart said Monday the sophomore is "probably not going to be available this week." Rice is second on the team in tackles with 59, and he has started five games this season. His experience and production would be missed against Georgia Tech if he did not play. 
Bulldogs prepare for triple option 
The triple option offense is not common in FBS football, but the Yellow Jackets runs it well. They rank No. 1 in the nation in rushing yards per game, according to the NCAA, and bring a set of challenges to any opposing defense. 
Georgia's defense is focused this week on preparing for those challenges, which range from time of possession dominance to cut blocking by offensive linemen. How the Bulldogs contend with the option offense will be one of the factors which determine if the team can capture its first win over Georgia Tech in Athens since 2012. 
Offensive line still banged up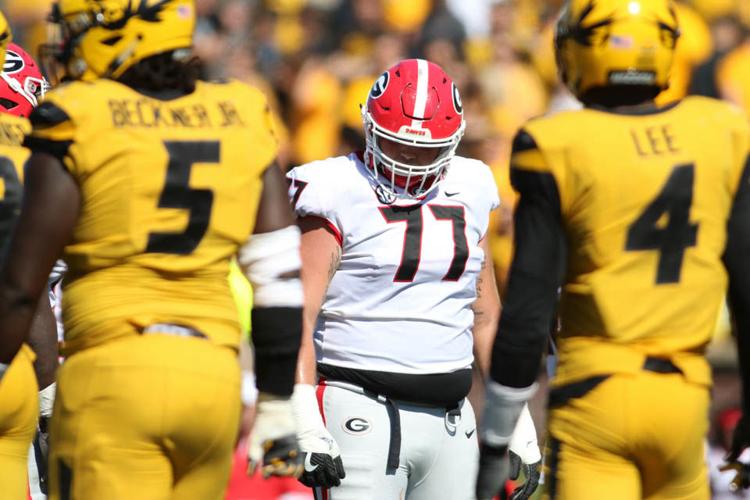 Georgia's right guard position continues to be racked by injuries. After returning from a broken leg, Ben Cleveland suffered an ankle injury against Auburn which has held him back. Cade Mays and Kendall Baker are also dealing with injuries. 
Smart said he's not sure if Mays will be able to play against Georgia Tech, while he said Baker is "very doubtful." Trey Hill was forced to play at right guard against UMass due to injuries to Cleveland, Mays and Baker.