Richard Hester remembers being in Sanford Stadium during Knowshon Moreno's hurdle over Central Michigan in 2008. He was there the last time ESPN's "College GameDay" came to Athens for Georgia's win over No. 6 LSU in 2013.
As a life-long Georgia fan, he's gone to school, gotten married and watched two kids grow up before his eyes from his tailgate just behind Clark Howell Hall. But he's never seen anything like the hype around Notre Dame's first visit to Athens on Sept. 21.
"This is probably the biggest non-conference home game ever," Hester said.
At kickoff, all eyes, including Hester's, will be on No. 3 Georgia's showdown with No. 7 Notre Dame. Despite the addition of 500 seats just for this game, 93,246 fans will get to observe the spectacle from one of the treasured seats inside Sanford Stadium.
Hester's better off than most. As a long time season ticket holder, he's fortunate enough to have six seats, but even that's not enough.
"I could really use one more," he said.
Hester is one of several season ticket holders that tailgate just outside the stadium by Clark Howell Hall. He's invited four guests himself and expects the mass of humanity in their tents and truck beds to explode come Saturday.
"Anytime you have a night game against a big opponent, the tailgate probably triples in size," Hester said.
This isn't just any big opponent. Both the Bulldogs and the Fighting Irish enter this matchup with expectations — not aspirations — of making the College Football Playoff this season. Winning the game would go a long way toward meeting that expectation.
"It's unprecedented," Hester said. "This is a playoff game."
Postseason hopes
Since the birth of the College Football Playoff in 2014, strength of schedule has become a term associated with the all-important CFP rankings. But just how important is it for Georgia to schedule powerhouse programs like Notre Dame? Statistically speaking, it's a must.
Only 10 different teams have qualified for the playoff in its five-year history. Of those teams, all but one have played a Power Five non-conference opponent or Notre Dame en route to their trip to the College Football Playoff. While the Bulldogs schedule a meeting with non-conference Power Five opponent Georgia Tech annually, the Irish present more competition.
Georgia seems to be well aware of the emphasis placed on strength of schedule by the College Football Playoff Selection Committee, as just this summer, the Bulldogs made a deal with Oklahoma to play a home-and-home series in 2023 and 2031. Oregon, UCLA, Texas, Florida State and Clemson are also on Georgia's future non-conference schedule.
"The fans enjoy these games," Smart said. "They want you to play high-caliber opponents. They want to see these kind of games and this kind of atmosphere."
Georgia's game against Notre Dame marks the first ranked, non-conference, regular-season matchup for the Bulldogs since its last meeting with the Fighting Irish in South Bend in 2017.
There's still many games to be played, but history shows a win against Notre Dame could go a long way toward the Bulldogs returning to the playoff come December.
"It'd be a tough scene for any northern team to come in and play Georgia. If you've watched Georgia ... they've been a machine," CBS broadcast analyst Gary Danielson said on Sept. 10. "But if there's one team that's used to playing in an atmosphere like this, it probably is Notre Dame. I don't think the atmosphere will make their legs wobbly."
Coming to your city
For the first time since 2013, ESPN's "College GameDay" will set up its pregame show on Myers Quad. The weekly program has toured to college campuses around the country since 1993 and features nationally famous hosts, such as Kirk Herbstreit, Lee Corso and Georgia alumni David Pollack and Maria Taylor.
"It was a pretty easy decision," "College GameDay" Coordinating Producer Drew Gallagher said. "Even before the season, when you just look at the schedules and the slate for this week, Notre Dame at Georgia clearly stands out."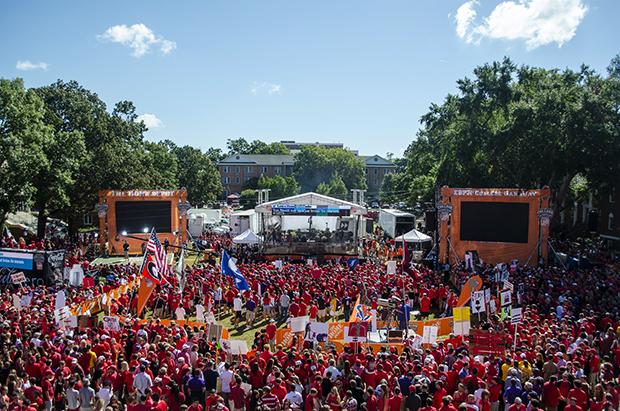 Gallagher summed up much of the added excitement around the match with the Georgia fans' takeover of Notre Dame Stadium back in 2017. A sea of red painted the stands in South Bend, Indiana, which Gallagher said "upped the ante" between the teams this season.
"It's just two huge brand-name teams [with] big national followings," Gallagher said. "The relevancy of this game was clear."
While "College GameDay" will kick off gameday morning, CBS will carry the broadcast at 8 p.m. as part of its SEC On CBS package. Typically, the package has one primetime game per year. The match against Georgia and Notre Dame was officially announced as the CBS primetime game on July 23.
"This is the most anticipated night game I can remember Georgia having in a long time," CBS play-by-play broadcaster Brad Nessler said. "Does it mean a lot to us? It does. We have had this marked on our calendar since we saw it."
'A life of its own'
What makes the matchup so titanic is the grand history of the two programs. The Bulldogs and the Fighting Irish have amassed over 1,500 wins and 13 national championships during their histories, which both span to the late 1800s.
The name 'Notre Dame' is synonymous with college football. From the famed Four Horsemen led by legendary head coach Knute Rockne in the 1920s, to a national championship under Lou Holtz in 1988, the Fighting Irish have been the poster child for the sport almost as long as it has existed.
---
"I think the fact that it's Notre Dame has taken on kind of a life of its own."
-Brad Nessler, CBS play-by-play broadcaster
---
 Author and Georgia football historian Loran Smith has worked with the program for the better part of 60 years, and he can't recall the last time there was so much hype around a game in Sanford Stadium.
"I can't remember one quite like this," Smith said. "There's a magnitude that we've never had before. It's unbelievable."
Georgia and Notre Dame have met just twice before. Any Georgia fan knows the first one secured the Bulldogs becoming the 1980 national champions after winning the 1981 Sugar Bowl. Heisman winner Herschel Walker led the Bulldogs past the Fighting Irish 17-10.
Georgia's 20-19 win against Notre Dame in 2017 propelled the Bulldogs to a national championship game appearance, where they lost to Alabama. If past matchups are any indication, this game has the potential to go down as one of the biggest games the Bulldogs have played at home.
"I've lived here for four decades and I can't remember too many times when an on-campus home game has had this much buzz, especially a night game," Nessler said. "I think the fact that it's Notre Dame has taken on kind of a life of its own."