When asked what three words best describe him, Anderson Bui, a junior entertainment media studies major from Norcross, doesn't miss a beat in his response.
"Crazy Asian kid," Bui says, ticking each word off with his fingers.
Since his transfer to the University of Georgia from Georgia Gwinnett College in the fall of 2015, Bui has quickly become a campus legend, the "Boombox Buddha" blasting music from a boombox while riding his bike to class.
Bui is an enigma in the UGA community. Plenty know of Bui, but few know him or why he does what he does.
Birth of a tradition
As a child, Bui was fairly quiet. Mainly sticking to his studies and the occasional philosophy book, he rarely, if ever, acted out.
"[He was] always really disciplined," Antony Bui, Anderson's older brother, says. "Once he got into high school, he got super into wrestling ... always at wrestling practice. If he wasn't there, he [was] always studying. He's really into philosophy and always has his nose in a philosophy book of some kind."
Still, Bui always had a hidden mischievous and humorous streak that shone through on occasion. These were generally harmless things, but it was nevertheless unexpected when contrasted with his otherwise stoic persona.
"In high school, he did a bunch of little spoof videos," Antony Bui says. "He made this awesome rap video about scatter plots in [Statistics] class. He just generally likes to do these fun and silly things."
Bui first began the now infamous blasting of music from a boombox in high school with his wrestling team. During morning workouts and practice, the team leave the wrestling room and walk to the gym, which was on the other side of the school.
---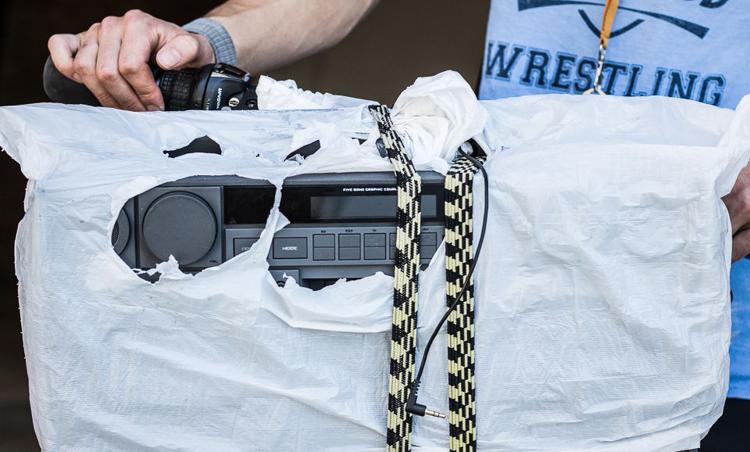 ---
"Once we were done [in the gym], and I don't exactly know how it started, I would turn on the music and carry it on my shoulders as we were running back [to the wrestling room]," Bui says. "It was kind of like this stampede and it was really cool."
Eventually, Bui brought his growing tradition out into the wider world, as he began to carry the boombox around his high school's campus. Bui continued his high school tradition during his time at Georgia Gwinnett College, which he attended for the fall 2015 semester before his deferred University of Georgia enrollment in the spring. During his time at GGC, however, Bui had not yet incorporated the bike into the routine, preferring to walk the smaller campus.
"I really just do it because I can and because it's fun. It's a sort of stick-it-to-the-man [thing]," Bui says. "I'm probably going to be in debt for quite a while after I graduate, so it's almost like a form of indentured servitude."
Bringing the beat to Athens
Upon transferring to UGA, Bui took a hiatus of sorts from his institution-spanning custom, waiting until he was comfortable at his new school.
"It took me about three weeks of actually being here before I decided to do it,," Bui says. "In those earlier days it was something that was absolutely terrifying for me to do."
Eventually, Bui came to a realization that would soon become his overall philosophy in life: he wouldn't care what other people think, and instead would unabashedly be himself.
"It's the same thing that happens to people when they leave high school or college: you realize that you're never going to be in this place again ... It's a very finite sort of time," Bui says. "When you realize that, it gives you a lot of power."
After three weeks of attending UGA, Bui decided to resume playing his music as he went to class. With a more expansive campus to traverse, Bui had begun to ride his bike instead of walking to class. This presented a problem for him, as he didn't know how he was going to carry the boombox. The first time he rode his bike to campus and played music during a trial run, Bui tried to carry the boombox by a strap on his shoulder.
"[It] was way too unstable," Bui says.
Soon, Bui figured out that the most efficient way to have his boombox with him was to strap it to the bike instead of carrying it. At this point, a UGA campus icon was born.
"The way I found out that he was somewhat well-known was that I went and got lunch with my old professor from Grady," Antony Bui says. "The professor told me that he's known around campus as 'Boombox Buddha', which I thought was hilarious."
Ever since then, Bui has maintained the the boombox and bike combo as a part of his day-to-day life.
"Over time it's just become this very routine thing that I do. I don't necessarily think too much about it," Bui says.
Bui has continued to adapt to his set up to make sure he can maintain his signature presentation. Passerbys may notice that Bui's boombox is covered in plastic bags to prevent it from getting wet. This is because Bui continues to ride his bike to class regardless of the weather, rain or shine.
"I've always done it, no matter what," Bui says. " Even when it rains, I don't give too much thought to it, I just think of it as water. It's not a state that will last permanently. At some point I have to go back to the apartment and get in some dry clothing."
Bui says that, since starting in high school, he hasn't received much negativity from his peers and administrators in regards to his unorthodox habit, but people are more accepting of him playing music from his bike at UGA than they were at his high school or GGC.
"This one time, back in spring of [2016], I was going past Sanford Stadium," Bui says. "I saw this police car, so I turned the music down. Later, I went by that same police vehicle. Their window was down and she said 'Oh, you don't have to turn that off.' I thought that was pretty amazing."
It's a sentiment that's echoed across campus. The music may catch people off guard and prompt a double glance, but it's nevertheless a welcome surprise that people can laugh.
"[The first time I saw him] was my first week here [at the Bolton crosswalk],"freshman Maggie McMillan says. "I was like, 'What is this?' I thought it was cool that people people could do weird things like that and not be judged."
Although it's a bit out-of-the-blue, the random nature of what Bui does often brings a bit of happiness and entertainment to people's lives.
"I just thought it was cool, because it's just entertaining. Everything's normal and then a guy rides past blasting some music on a bike," junior and friend of Bui Michael Ilardi says.
Despite many positive reactions, not everyone on campus approves of Bui's antics. A person once approached Bui once and asked him to stop.
"Very nicely, I said that I'd tone [the music] down a bit," Bui says. "I told him that I won't explicitly go out of my way to do it in front of senior citizens or kids, but everywhere else I'll play it."
The speed of sound
Recently, Bui had to purchase a new boombox, replacing the one which had built Bui's identity. An impulse buy off of Amazon, Bui used the same boombox all throughout high school and his time at GGC up until his fall 2017 semester at UGA, a vibrant pink iHome iP4.
"I don't know what my first thoughts were when buying it," Bui says. "I didn't know it would become a thing. I guess it might have been [because of] some video I watched like some sort of public prank thing. I guess whatever it was that inspired me [to buy it], I guess I can't say I really remember."
Although Bui's staple pink boombox is out of commission, he continues to play his music across campus, albeit on a new, gray boombox of the same model.
Bui plays his music from a small MP3 player called a Sansa Clip hooked up to the boombox speakers attached to his handlebars. Everyday, before he gets on his bike, Bui will pick a song and play it on repeat until he reaches his destination. When he gets back on his bike to go somewhere else, he chooses a new song to play.
---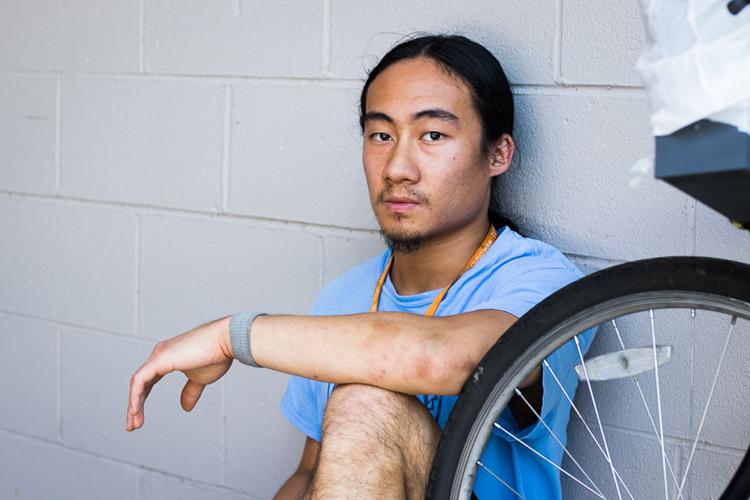 ---
When it comes to what genre of music he plays, Bui tends to gravitate more toward hip hop and rap.
"There's something about those certain types of genres of music that I feel is more appropriate to blast on the boombox," Bui says.
Though his choice is generally random, Bui says he gravitates toward songs for special occasions, like when he's racing down the hill on Lumpkin.
"I'll play something you might associate with people racing in cars. Like 'March Madness' by Future or 'Really Really' by Kevin Gates," Bui says. "Everywhere else, I just try to repeat the same list of songs over and over again."
Though his laps of campus often feature rap in particular, that is not to say that it's all he listens to. The range of his music taste extends to pretty much anything, from Taylor Swift to classical.
"It's only a part of the music he likes. He seriously listens to all kinds of stuff," Antony Bui says. "Back home, we have a guest room that he's sort of converted into a power lifting room and he'll play all kinds of different music. One day it'll be like Future and then the next day it'll be Mozart and Bach."
Although Bui's music-playing escapades have become an everyday part of his identity, the notoriety was never something he intended nor expected.
---
 "I would sometimes go to downtown and there would be these people that would be like 'oh my god man you're my hero!' or 'you inspire me.'
---
That wasn't really what I initially was setting out to do in the first place, I just do it for fun," Bui says. "I just see it as playing music on a boombox. I don't see it as a big deal."
Despite his high visibility, Bui doesn't think twice about it. To him, it's just part of his day-to-day routine and his identity, sometimes even less notable than even that.
"There is a state I've reached with it where I neither think about it nor don't think about it," Bui says. "I just don't care,"
Even friends of Bui's have come to accept it as a relatively unextraordinary part of his day to day life.
"It's not surprising for him," Ilardi says. "He does his own thing; he does what he wants to do."
Beyond the boombox
Beyond his widely recognized brand of eccentricity, Bui is first and foremost a student. Bui majors in Entertainment Media Studies with the Grady College of Mass Communications and Journalism and hopes to one day go into film.
"I chose it because out of everything else that UGA offers as a major, that just really interested me the most," Bui says.
Aside from his academic interests, Bui has particular passion for the video game Dance Dance Revolution. Although he doesn't play it nearly as much as he used to, Bui had a talent for it in high school.
"He was really into it in high school. Him and his friends would play at this arcade and he's super good," Antony Bui says. "He's one of those guys like the ones you see on YouTube holding the bar and their feet are moving super fast. He's like that good."
Bui has been characterized by those close to him as a dedicated person. According to his brother Antony, part of the reason Bui is so driven and dedicated is because of his family. Antony says his brother's primary goal is to find a way to support his parents in the future.
"He's super dedicated to our family just in terms of helping out around the house," Antony Bui says. "His immediate goal after graduation is just get a good job and make money and pay our parents back for raising us."
With this immediate goal in mind, Bui has stated that he more than likely wouldn't continue riding his bike around campus and blasting music after college.
"It wouldn't be the same. This is my first time being in an actual university campus that has more than 30,000 people," Bui says. "This place is almost just a bubble and I feel very comfortable in being able to engage in this sort of activity."
Although he does it indirectly, Bui contributes to the overall atmosphere on campus by showing an energetic dynamic of the UGA community.
"I think you can kind of see how lively the campus is when you see him," McMillan says.
---
 "Where else would you have someone riding around campus on a bike with a boombox playing music really loudly?"
---
 Though his celebrity is unintentional in nature, that doesn't mean Bui doesn't enjoy sharing his personality with the world around him.
"Our existence on Earth is pretty finite. One of the things I've always been trying to do is just make people feel more like they can truly be themselves without worrying what other people think," Bui says, "Just enjoy life."
Even then, aside from all the attention it's brought him, at the end of the day "Boombox Buddha" isn't just a UGA enigma or campus legend; it's a person. His name is Anderson Bui and, although his antics can be considered out of the ordinary by some, that's just who he is.
"He has really good character and his heart is always in the right place… he [just] also rides around on his bike blasting trap music from a pink boombox," Antony Bui says. "That's Anderson, man."