When Cathy Payne first moved onto the piece of land that soon became the home of her eco-friendly farm Broad River Pastures, the 11 acre stretch of land only boasted a house built in the 1950s and a barbed-wire fence. There were no animal enclosures, gardens or any of the buildings necessary to create a farm for growing nutritious crops.
"[My husband and I] just wanted to try our hand at growing [healthy food] ourselves," Payne says. "We came here in 2010 and I had never raised a chicken [before]. I learned one day at a time."
Since then, Payne has grown her farm to create a business sustainable in more ways than one.
---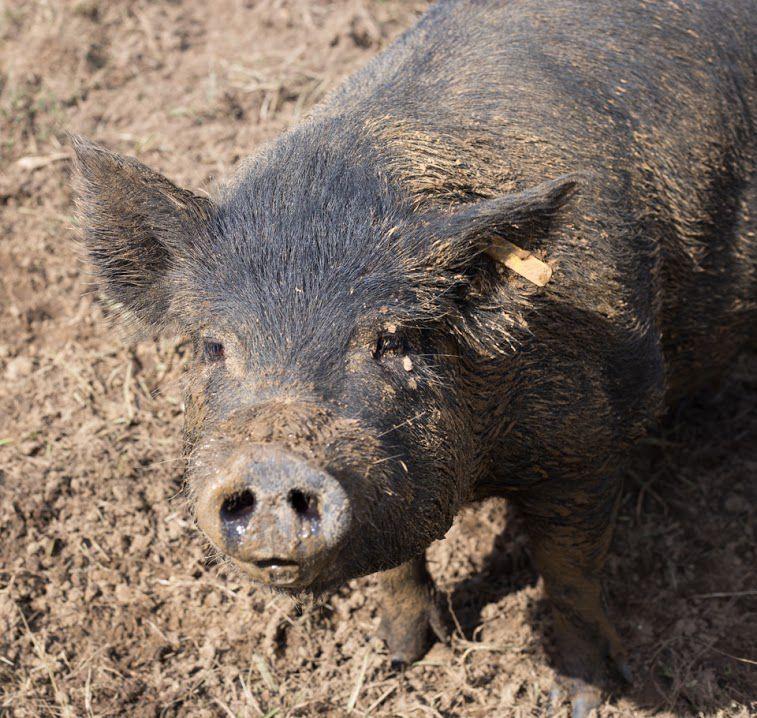 ---
Broad River Pastures derived from a desire to fix what Payne saw as a failing food system. Payne graduated from the University of Georgia with three different degrees in education and taught in Atlanta prior to when she and her husband decided to move to Elbert, Georgia. It was while the couple lived in Atlanta they realized they wanted to adopt a healthier and more eco-friendly diet.
"We started going to farming conferences and buying food from local farms in the Atlanta area," Payne says. "Just learning what went wrong and what could be right, and how much better the food tastes when you get it grown properly."
Eventually, Payne decided to take her healthy choices a step further by growing and breeding her food sustainably for herself and her husband. The couple took an early retirement and purchases a plot of land in rural Georgia, where Payne began to harvest her own produce and breed her own animals in a sustainable way.
When she realized she was producing an excess of food beyond the couple's needs, she decided to start a business to fill a very specific niche in the commercial food system, in hopes of making her own small impact.
---
"It's just like anything else — instead of complaining about a problem, if you just do what you can to solve it day-to-day in your level then pass that forward to the next generation, then you're making a difference,"
-Cathy Payne
---
Broadening horizons with biodiversity
Payne set out to provide a diversity of food to her customers with Broad River Pastures using farming and breeding methods that work with nature instead of against it.
"[Biodiversity] can help save the future, to be frank," Payne says. "Just like there used to be 800 kinds of potatoes, now if you go to the grocery store, you'll see three or four kinds of potatoes. We're losing that diversity."
To Payne and many other eco-friendly farmers, there seems to be an apparent reliance within the food industry on a few specific breeds of animals and produce instead of variety of them. Although this method may work in the short term, it can also potentially result in dire consequences in certain situations.
"There's one commercial strain of pig that does well living on concrete and being locked in a cage all day," Payne says. "If a disease comes in and wipes out that breed in a factory setting, then it's gone."
---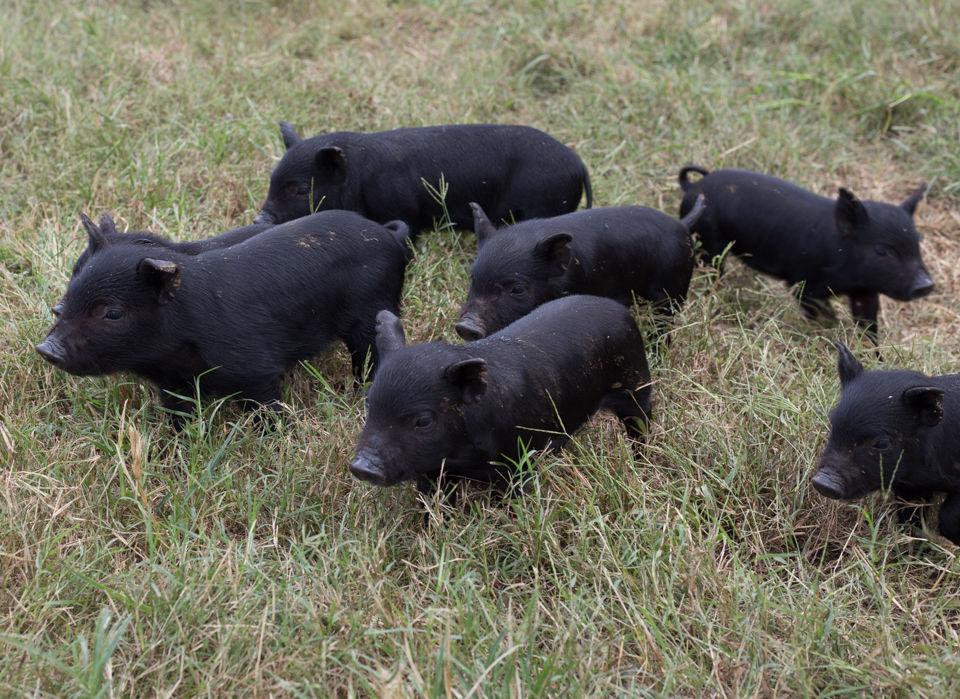 ---
The goal then becomes looking for different breeds to try to maintain that diversity and ensure that the food industry isn't entirely relying on a few selects breeds. For Payne, part of getting that biodiversity was accomplished by raising rare heritage breeds.
Raising rare heritage breeds is a fairly common practice within the sustainable farming community and is done through raising variations of fairly common farm animals. They are distinctive from the commercial strains and hold a sense of history, yet certain heritage breeds were at threat of going extinct.
"Really, it comes down to the idea that you don't want to lose your history," Daniella Adams says, a co-owner and manager of Grove Creek Farm. "History is important to the world — you want to know where you came from."
Adams' Grove Creek Farm is another local sustainable farm that specializes in raising rare heritage breeds, specifically the Pineywoods Cattle. According to Adams, the genetic history of a heritage breed is similar to a person's individual history.
"The same way you have your history, there's also the genetics history," Adams says. "[Rare heritage breeds are] a huge genetic resource."
Additionally, by raising heritage breeds as opposed to a more commercial strain, producers and subsequently consumers get a more diverse and flavorful taste.
"If you think about it, heritage breeds have had a much more controlled and organic breeding process which retains a lot more of that natural flavor that [animals] are supposed to have," Richard Neal says, executive chef at Five and Ten restaurant and buyer of Payne's produce.
---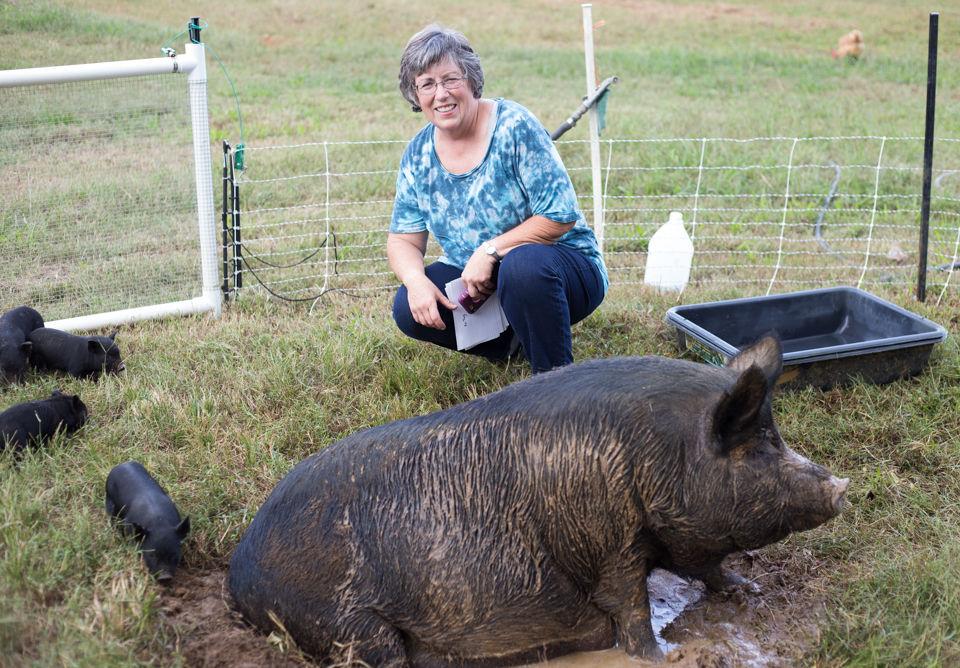 ---
More than that, consumers who buy rare heritage breeds receive more than just health benefits—they're also helping to preserve a bit of that genetic history.
"As a customer, you're buying [our food], but you're also allowing the breed as a whole to have a viable purpose," Adams says. "You're playing an active role in that preservation."
In the past, Payne bred livestock populations of American rabbits, Silver Fox rabbits and Gulf Coast Native sheep as a means to secure biodiversity and maintain the species' existence. Recently, however, Payne sold her other heritage breeds in an effort to focus on one specific heritage breed she's particularly passionate about—American Guinea hogs.
At first, Payne was hesitant to incorporate any pigs on her farm and into her heritage breeding program. She thought she wouldn't have enough room with the other animals and the process of caring for the pigs might be too high maintenance.
"I knew I didn't have that kind of land that could withstand that kind of pressure, and I was just afraid [pigs] were dangerous," Payne says. "So when I heard [the Guinea hogs] were much smaller, friendlier and easier to raise, then that negated my objections to getting them."
A different kind of Guinea pig
American Guinea hogs are a rare breed whose lineage is somewhat shrouded in mystery. Some believe they are named "Guinea" because they delineate from Africa. Others believe it's because of their small nature.
However, in 2000, the rare breed almost went extinct with only approximately 50 hogs available in the United States.
"They almost went extinct because people stopped using lard and they stopped eating fat," Payne says. "Because people were keeping pet pigs and crossing them, there weren't any of these hogs left."
As a means to help preserve the hogs, a registry was begun not long after within the United States with 11 hogs to revive the guinea hog genetics and the slow process of growing the population began. Within the last ten years, the population has slowly but surely worked towards its resurgence, with Payne helping to contribute to the revival.
Despite the progress made, Payne saw one fault within the American Guinea Hog Association and registry. As a result of a few leadership changes, there was a failure to pass down information about the Guinea hogs. With more ambiguity covering the Guinea hogs than even previously, Payne decided to take matters into her own hands.
"I started doing a research project to preserve all of that history and find people that were breeding 50 or 60 years ago," Payne says. "I knew nothing [about Guinea hogs] and I was trying to find a book about them, so I said 'Well, I guess if I want to read it then I have to write it first.'"
At first, all Payne wanted to know was how to raise her Guinea hogs on a day-to-day basis, learning by watching them and staying regularly active in various Facebook groups. As Payne descended further and further into the rabbit hole of information about the Guinea hogs, she quickly realized she was absorbing far more than she had originally intended.
"What I didn't know I was setting out to learn is the genetics and the history [of the guinea hogs]," Payne says. "I was going to direct sources and interviewing them to get their stories first hand and know what the real scoop was."
Coming from a background in education and being a natural born learner, Payne welcomed the opportunity to research more about the guinea hogs and in turn offer more information about the breed to the rest of the world.
On top of that, as a result of all the interviewing different guinea hog breeders, she was able to help play a part in their restoration. One conservationist she spoke with had a herd of guinea hogs that had been kept in his family since around the 1900s. When the man found out he had cancer, he called Payne and allowed her to pick as many of the herd as she needed.
"I've got two of those pigs and eight of their offspring that I'm breeding," Payne says. "I've also formed a network [with other conservationists too]. I placed some of his hogs in three other states. We're [all] networking together and coordinating breeding and I'm learning about breeding strategies."
The research project and breeding program Payne established are still ongoing, with Payne hoping to publish her research into a book as well as to publish two other books about the Guinea hogs. Her goal is to shed more light on the special breed and offer the opportunity for other people to easily learn more about them.
"I think the transfer of knowledge is important," Payne says. "I've been a lifelong educator and student, so it's just natural for me to teach what I want to know. I still teach, I just teach farming and pig genetics."
Operating in a niche of her own
While Payne does believe that biodiversity is the way to a better future, she doesn't necessarily see sustainable eco-friendly farming becoming the end-all, be-all of the food industry.
"I don't even try to compete with the corporate food system," Payne says. "It's a whole different model."
While Payne and other sustainable farmers certainly acknowledge it's a healthier way to live, at the end of the day, they know it's not a way that everyone can live.
---
---
"I don't think that our cattle for our farm can ever feed the world and we don't ever want to give the implication that we're better than those farmers who do produce a lot of food to feed the people in need," Adams says. "We fit a different niche and our customers are in a different niche."
Sustainable farming is a very specific method of eating that only suits specific people. On top of that, it's something that only specific farmers can really do. There's a certain degree of dedication and understanding of when to use certain methods over others in order to maintain a farm that's not only ecologically sustainable, but economically sustainable.
"It is tricky, it's hard," Payne says. "But you just find resources and do the best you can and compromise where you have to."
What Payne and Adams do to compensate for that is offer pure transparency with their customers so they know that their customers know that they have to take things a bit slower and more deliberately than big-agricultural corporations might have to.
"What I want to do is educate my customers," Adams says. "I find a lot of my customers just want to learn and, after some conversation, we can talk about why we might do things a certain way for the animal welfare of it."
In creating relationships such as these with customers, farmers are establishing trustworthiness and honesty that their customers might not find elsewhere. Ultimately this helps build a sense of loyalty on the customer's side for the farmer.
"I think relationships are really important," Payne says. "I [always] welcome visitors to my farm. If you have that personal relationship then they're more likely to come back and buy from you again."
"There's kind of this rosy hue around farming, especially local and naturally oriented farming,'" Adams says. "You can really work with nature, but I do want to emphasize to people to talk to their farmer and ask questions before they run a judgement on a practice they might see and might not really understand."
Setting the table up for success
Although the primary reason Payne spends most of her time and energy on the Guinea hogs is for the purpose of her research project, she still produces and sells the livestock and other produce to customers. Customers range from those interested in having a more personal connection with their food to farmer's markets to even local farm-to-table restaurants in Athens, such as the National or Five and Ten, that are interested in supporting this new way of eating.
"For us, especially at Five and Ten, we get the affordability to be this special entity in the world," Neal says. "It's about flavor and preservation. So I see [Guinea hogs] as a huge historical significance for us, especially in the Piedmont south."
Despite the process maybe being more costly, there's a certain give-back from that decision that makes the investment worthwhile for those purchasing from Payne and other sustainable farms.
"[Customers] get blown away," Neal says. "As heritage breeds get a bit more public recognition and a little bit more interest [because that flavor is so different], it really hits home and sinks. People are like 'Wow, I didn't know that pork could taste like this.'"
While the American Guinea hogs have become more of a focus for Payne over the past few year, she still runs a successful, multifaceted business based on principles of eco-agriculture. Along with the livestock she breeds for customers, Payne also harvests produce, including chicken eggs and tumerok.
"It's diversity—if you're investing money, you don't want to put it all in one stock," Payne says. "Diversity on a farm is like biodiversity. If you have more things going on and one thing fails, then you've got something to fall back on."
---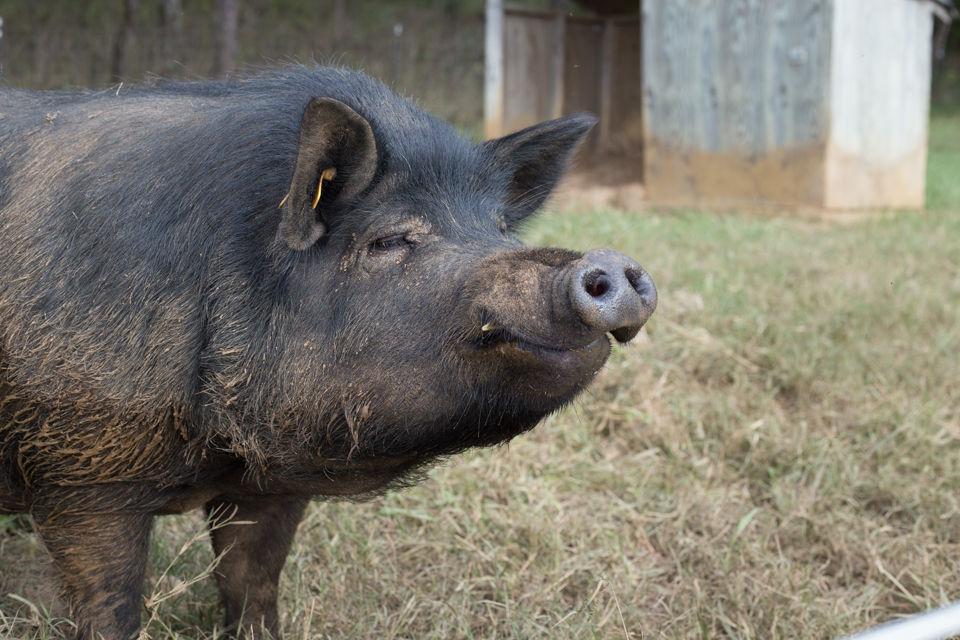 ---
Another part of what makes Payne's farm successful is her arsenal of eco-farming techniques. Instead of hovering over her animals and methodically planning each their lives, Payne allows most of her livestock to live on their own terms. With the exception of her Guinea hogs, the animals wander around without intense supervision. Each animal has its own purpose, and resultantly, both animals and the land are happy and healthy.
"It's thinking of your land as an ecosystem," Payne says. "Everything has a place. They're happy and they also have jobs to do."
Additionally, many of Payne's farming techniques are achievable for people looking to produce food for themselves on a much larger scale. Her hope is that people will apply these techniques in their own lives to grow food of their own.
"You just never know when you need to rely on the skills you know," Payne says.
---
"If everybody produced a little bit of their own food, we'd have less reliance on the big corporate systems. I think it's a good skill to learn and it's worth it."
- Cathy Payne
---
Payne has built her farm and her breeding program of Guinea hogs from the ground up almost entirely by herself. Although her absence of a farming background was a slight disadvantage, the prospect of starting something new never deterred Payne from creating her business.
"I'm definitely walking behind people, but I like to make things my own," Payne says. "I don't know why. I just like to be a little different."
More than being different, Payne wants others to realize they can try something different whenever they want to. Whether it's eating healthier or taking an early retirement to start an eco-friendly farm, anything is possible for anyone, at anytime.
"I never [thought I'd be doing this]," Payne says. "I used to like to go to the fair and see the pigs and now I'm growing pigs... It's never too late to start something new."