Carrie McCarty didn't grow up riding bikes.
McCarty started college at the University of Georgia in 2010, and in 2013 moved to Seattle for an exchange program with the University of Washington. She bought a bike in Athens right before the move out west, and during her stay, fell in love with cycling.
While In Seattle, McCarty took a part-time job delivering sandwiches for Jimmy John's by bicycle, through which she met people that worked with bikes, on bikes or in bike advocacy.
"Some of the guys that I met through friends of friends, and girls too, were bike messengers by trade," McCarty says. "They'd deliver packages and documents—a tier or two up from delivering sandwiches to students at the library. That's how I heard about alleycats."
---
---
Born out of bike messenger culture, alleycats are traditionally unsanctioned bike races that take place in live traffic around a city. Riders are given a manifest with a series of checkpoints, many of which involve fun tasks or activities, with no set route. By design, alleycats test riders' speed, navigational skills and ability to improvise.  
Races take many forms, and are structured largely at the discretion of those hosting the events. Some alleycats are a mad dash to the finish—riders navigate traffic at high speed, searching for the fastest route between checkpoints. Others are more relaxed in nature, incorporating games, activities, food and drink and fellowship. Races often offer prizes in the form of small merchandise such as stickers, spoke cards, clothing and cycling gear.
After returning to Athens in 2014, McCarty got involved with cycling advocacy through BikeAthens, a local 501(c)3 nonprofit, before deciding she wanted to throw her own alleycats. For her first endeavor hosting an Athens alleycat race, she orchestrated the Double Barrel alleycat in March of 2015.
"The ones that I tried to do tended to be smaller, more casual, and less cutthroat and less designed to trip you up," McCarty says.
The Double Barrel alleycat incorporated fun, bike-centric activities into the checkpoints for the race, including a temporary tattoo application, a wheel toss and small bike jousting.
"I think it's just a fun, dumb event for people who love bikes," McCarty says. "Sometimes checkpoints are at places that people wouldn't normally go visit. You make your own route, so it's not like you're going to be in a pack of people. Honestly, you can do it at your own pace."
---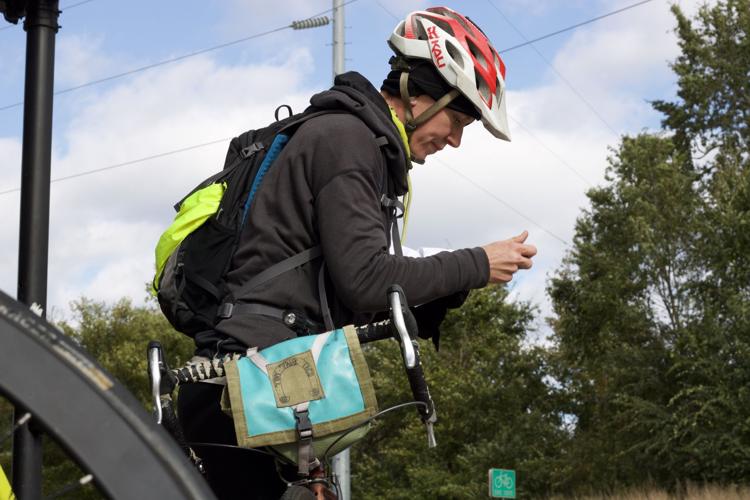 ---
McCarty says in addition to the Double Barrel race, she has hosted alleycats alongside Athens resident Patrick Stanley.
"He's done a good job of reining in my huge, dumb ideas as far as like, 'How can we do a Slip 'N Slide really cheaply and easily,' or 'How can we do things on the cheap so that they're fun,' because we're funding them out of pocket," McCarty says.
Stanley, while living in New York around 2005 and 2006, saw the alleycat scene experience a surge in growth. Larger groups were starting to show up for races and events were receiving bigger sponsorships. Stanley also lived with his wife in Valdosta, Georgia, for a few years, where he organized several alleycat races on Halloween.
---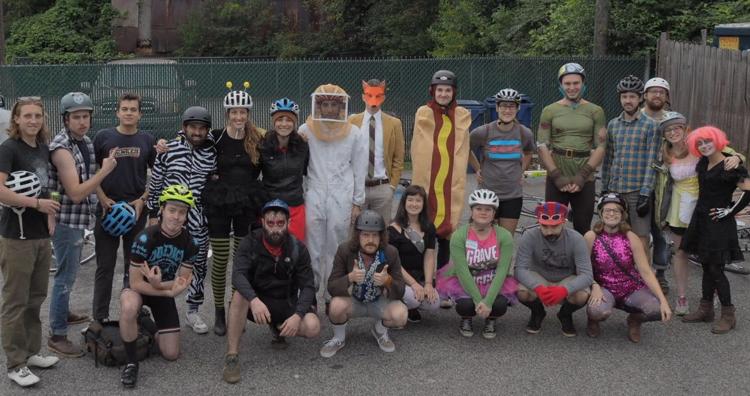 ---
According to Stanley, while he was living in Valdosta there weren't many alleycat races being held. Stanley often traveled out of town with a group of riders to areas like St. Petersburg, Jacksonville and Tallahassee to participate in alleycats. 
"A lot of the races were really happening in big cities, you would never have seen a race in a place like Asheville, or Athens, or Valdosta or any of those," Stanley says. "You need to have a bike messenger scene, which they just don't." 
Stanley moved to Athens roughly five years ago, and got connected with BikeAthens, where he met McCarty and others involved in the local cycling scene. Stanley and McCarty co-hosted a small mid-summer alleycat, as well as two Halloween-themed alleycats.
McCarty now lives in California. Stanley organized the annual alleycat again this October, marking the third year of the Halloween-themed alleycat race.
Dubbed Delta Delta Die 3, the race was held on Oct. 29 at Hi-Lo Lounge in Athens. Cyclists of all disciplines gathered for the event to participate in an afternoon of bike racing and fun contests. Sponsors for the event included, The Gear Attic, Ben's Bikes, Pedal Driven Cycles LLC, BikeAthens and Jittery Joe's.
Riders were allowed to use any type of bike and ride in groups or as solo competitors. True to the Halloween theme, many of the racers wore costumes.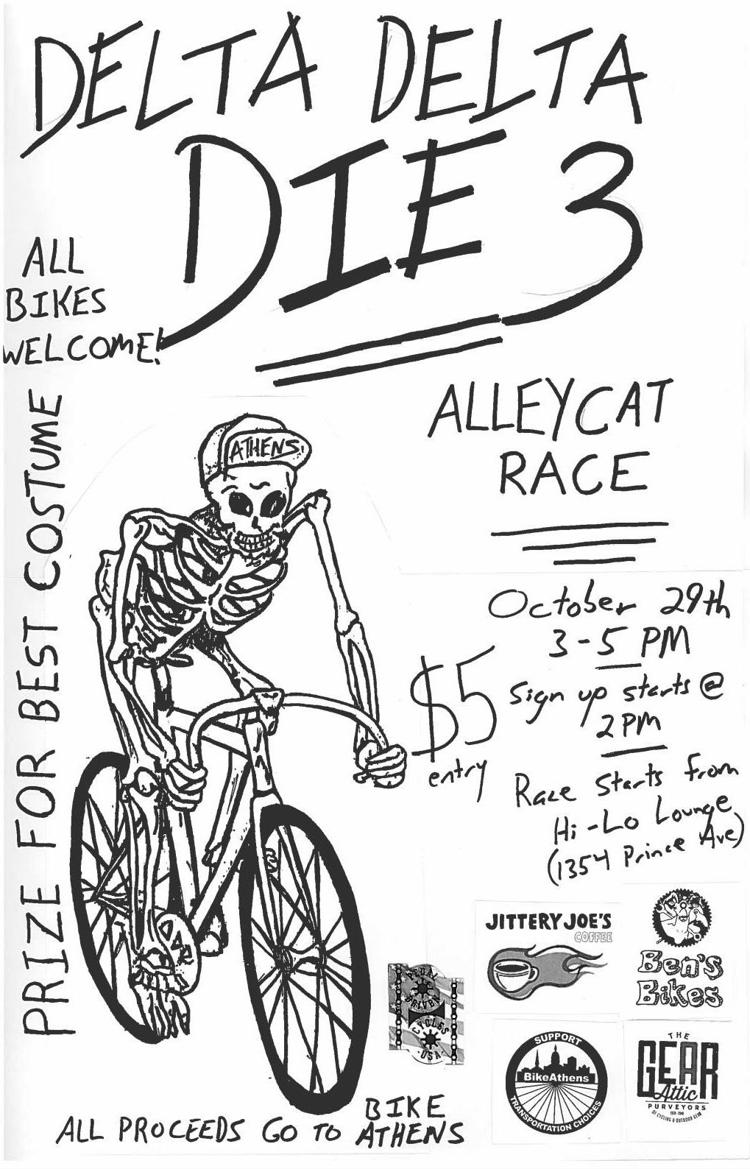 Before the race began, racers were given a manifest with a series of checkpoints detailing locations around Athens. Designed so the riders would start and finish at Hi-Lo Lounge, the racers were tasked with reaching the checkpoints in the quickest time possible with no set order.
At each checkpoint, riders collected symbols by taking a picture or writing them down, to be used in a final puzzle after completing the race. Upon reaching all the checkpoints and collecting the symbols, the riders raced back to Hi-Lo Lounge to begin working on the puzzle and finish the final stage of the alleycat.
Prizes were awarded for things such as being the fastest to complete the race and puzzle and the best costume. Awards included clothing, small merchandise, gift certificates to local restaurants and a bike frame painted gold.
As with the former Delta Delta Die alleycat races, proceeds from the race went to BikeAthens. Registration for the event was five dollars.
Several Athens alleycats have received sponsorships and support from local businesses and other companies in addition to those involved with Delta Delta Die 3, including State Bicycle Co., PBR and Chrome Industries.
Stanley says it's "hit or miss" getting merchandise when reaching out to companies for an alleycat. For Delta Delta Die 2, Chrome Industries provided a messenger bag. The year before, State Bicycle Co. provided some bike accessories.
"The first year … Walk The Line really hooked us up and gave us a $150 gift certificate for a tattoo," Stanley says. "We were able to raffle it off, and got a bunch of extra money from that. All of the proceeds we give to BikeAthens."
According to Stanley, as alleycat culture has grown so too have the sponsors. Stanley says Red Bull has done a lot to corporatize alleycat racing.
"[Red Bull] has entire races that they're sponsoring that they are the only sponsor, and they pour tens of thousands of dollars into these things. A lot of times they're sanctioned races and whatnot," Stanley says.
Charlie Mustard, Jittery Joe's Head Roaster, has been involved with several Athens alleycats, and although he has not participated himself, he has contributed through giving prizes,  manning a checkpoint and more. By trading coffee, Mustard has provided prizes such as gift certificates for local businesses and restaurants including Terrapin Beer Company and Last Resort Grill.
A longtime bike commuter himself, Mustard says he has not owned a car for the majority of his life.
"I've just been biking for my whole life," Mustard says. "I'm almost 50. That's how I've been getting around."
Speaking with Mustard, his 'bike is the answer' mentality is evident. He says his soapbox is for kids coming out of or going into college, or getting their first job, to consider living in an area that allows them to commute by bicycle. Mustard says taking things like where to get food and essentials into consideration when moving into a new location can allow people to live a car-free lifestyle.
"If you do that, immediately you just gave yourself a five to $8,000 raise," Mustard says.  
Mustard says he enjoys interacting with the people involved with Athens alleycat races, and the fact that alleycats help him find out about all the events happening on Athens' sidelines.  
---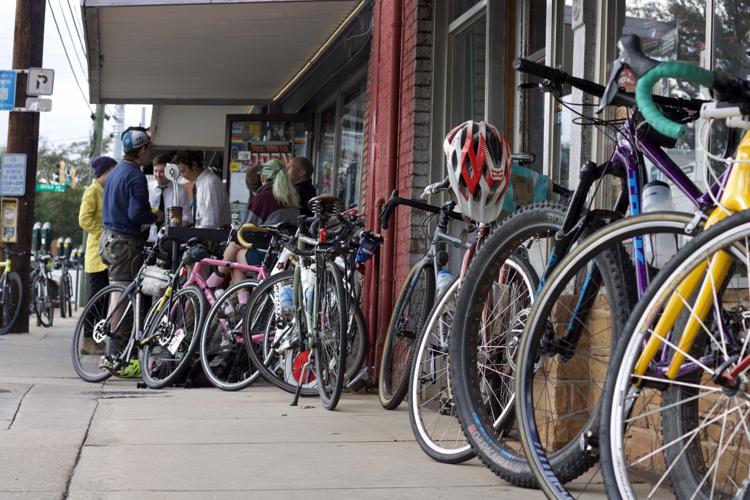 ---
"I just think it's a really neat energy and vibe that would have people put on something like [an alleycat] and people participate in it," Mustard says. "It's not your everyday [race], but it really shows the people that are involved in it. It shows they truly believe in [alleycats], and have worked expending a lot of energy in cycling."
As for Mustard, he believes alleycats offer a special kind of excitement because of their creativity. He enjoys aspects like not knowing where you are going next, fun activities at checkpoints and the incorporation of things like bands and music into the races.
"That's a really good example in cycling of Athens' take on it, I like that a lot," Mustard says.
According to Tyler Dewey, executive director for BikeAthens, Athens alleycat races have not been focused on speed, and completing all the checkpoints in the fastest route possible, as much as exploration and visiting unique locations all throughout the town. Dewey says that many of the races have adopted choose-your-own-adventure or treasure hunt style formats rather than a traditional race.
Dewey says while BikeAthens has never hosted an alleycat, he has attended several and knows many of the people that participate in Athens alleycat races. Dewey says one of the cool things about Athens alleycats is the mixture of riders that the races attract.
"There's been a mix of the traditional what you think of people with bikes that look like fixed gear, messenger bikes that you traditionally associate with alleycats," Dewey says.
While many riders are familiar to alleycats, Dewey says there are also lots of new riders who bring whatever bike they have.
---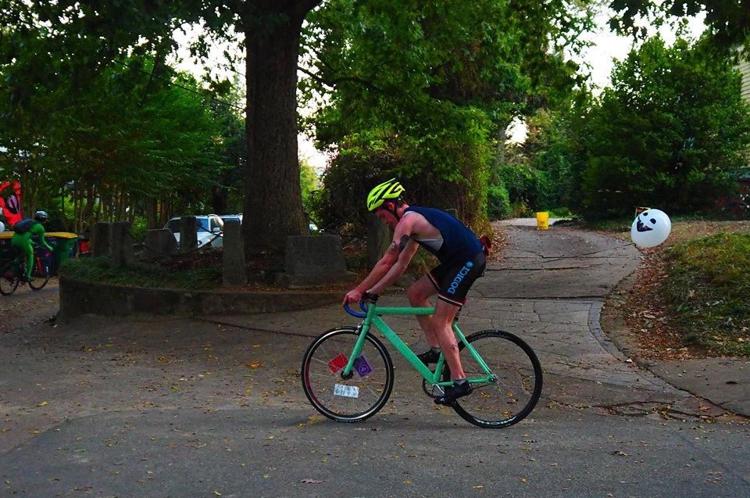 ---
This noncompetitive atmosphere, Dewey says, can attract riders who are just there to meet new people, or see a new side of Athens. According to Dewey, alleycats also have an appeal for daily bike commuters, who want to gather and meet with other regular riders.
"If you're someone who started to ride a bike for transportation, or you use it to get around town, it can often be a solitary experience," Dewey says. "In recreational rides, that's where you can meet people. This is a great way that sort of draws out those type of folks."
Dewey says if you are not up for doing a long, "60-mile recreational ride on the weekend," but just riding your bike around town, it can sometimes be difficult to find other riders and cycling enthusiasts.
"Certainly here in Athens, the people who organize them are more trying to create a fun experience for people who join up, not so much create an event to see who's faster," Dewey says. "A lot of people can take part because it's not so much about speed as it is enjoying this experience with other likeminded people."  
Jack Grider, an Athens local who has participated in several alleycat races in town, says alleycats bring riders from different cycling cultures together.
"It almost levels the playing field a little bit between everyone, just in the fact that it's through traffic, so you have to be a little bit brazen," Grider says. " It can award 'damn the torpedoes' mentality. At the same time, it's as much map reading and knowing shortcuts as it is being good on a bicycle."
Grider says alleycats are often a fringe culture of cycling. These types of races do not typically attract professional road race cyclists, but bring together "misfits" from a lot of different cycling communities.
---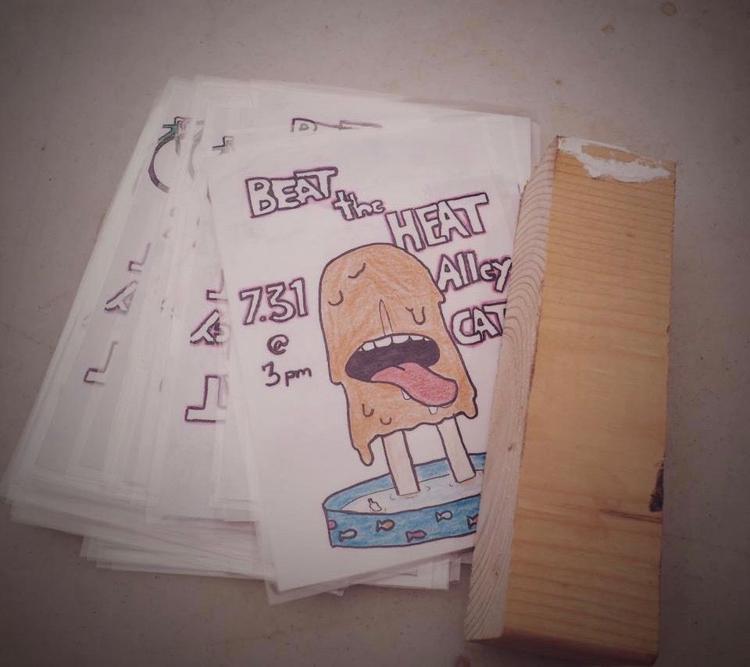 ---
"I see [alleycats] as something that unites people across fields. When I go, I've seen mountain bikers, and road cyclists and people from bike polo," Grider says. "Outside of that, those are people that I'd never see I guess."  
Griders says that this aspect of alleycat racing can give it an allure that goes beyond road cycling, mountain bike racing or bike polo as standalone sports.  
"If you're really brave you can ride your trick bike or your tall bike," McCarty says. "Or if you have just a beater that you commute on, or a mountain bike, road bike or track bike — you can do it on anything."
Organizing an alleycat, however, puts the host in a catch-22. In selecting the checkpoints and setting up the race, organizers know the best routes. This often means they cannot compete.
Lauren Muller, a graduate student at UGA who has hosted and participated in Athens alleycats, says she wanted to put together a race that would allow McCarty to ride.
"I wanted to throw one where [McCarty] could actually race, because she was putting [alleycats] on and she was too busy," Muller says.
Muller co-hosted the Heartless Kitties alleycat alongside Anna Hatzispiros. Beginning at the Jittery Joe's roaster, riders navigated a series of checkpoints before concluding the event at Hendershot's Coffee Bar. Muller says one component that she and Hatzispiros wanted to incorporate into the Heartless Kitties alleycat was alcohol and partying.
"One element that we thought was important for an alleycat that wasn't in the previous two was alcohol," Muller says. "We wanted it to be a little truer to the alleycat nature—which is is illegal."
Muller says there was a checkpoint where the task was to take a shot of "terrible tequila" and eat an entire can of Vienna sausages.
"I didn't realize how fun they were until I actually did it," Muller says. "It's so frantic, and you're trying to figure out the best way to go. It's just a blast." 
Muller says she is unsure whether she will organize another Athens alleycat, because she is in graduate school, works as a teaching assistant and in the botanical gardens, and maintains a job at Hendershot's Coffee Bar. "It was a little easier to do it when we did, but now my research is taking up a lot more time," Muller says. "It's easier [to host an alleycat] if you have a big group helping you."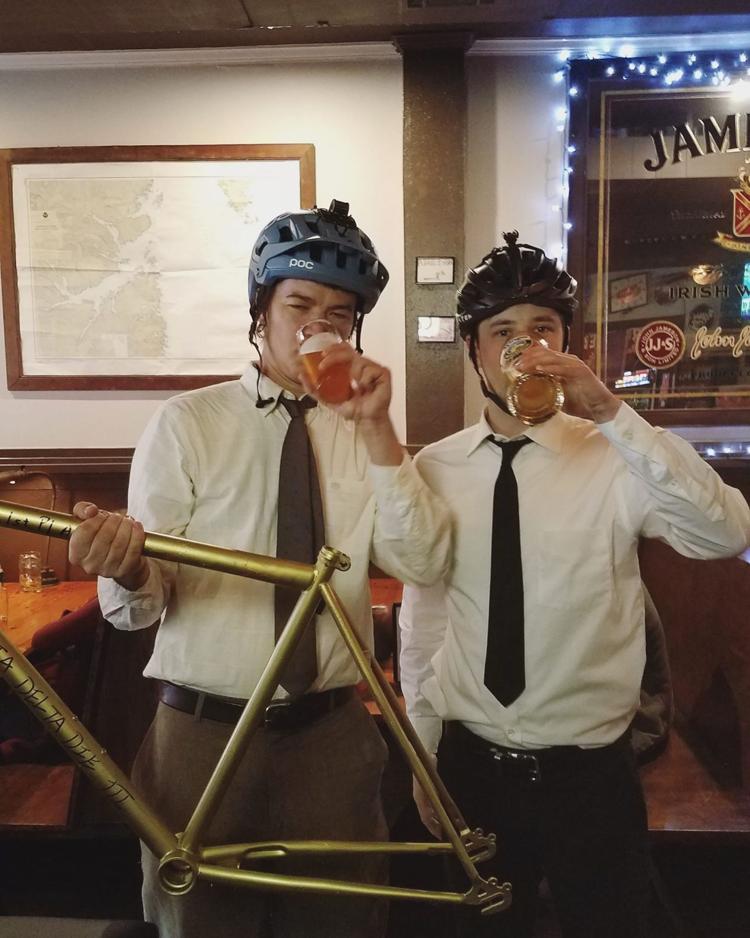 According to McCarty, while the alleycats that she and Stanley co-hosted were in support of BikeAthens, putting together an Athens alleycat does not typically yield much of a monetary profit.
"People do them sometimes to try to raise money, which is hard to do if you're keeping admission price low and also providing beer or whatever," McCarty says. "We definitely never made any money off of the ones that we did."
According to McCarty, the process of getting into serious road cycling and racing can be expensive and complicated.
"At least it felt like that for me when I was trying to figure out what kind of shoes I needed," McCarty says. "Or how to clip in without falling over every time."
McCarty says alleycat culture offers a fun bike event for people who might just ride their bikes to work, school or around town, and who maybe don't do "spandex-type-activities."
Given that entry costs are typically low, usually ranging between free and $20, McCarty said much of the funding for putting together an alleycat comes out of pocket.
Still, alleycats are worth the sacrifice for both riders and hosts.
"[Alleycats] are something you can do no matter what kind of riding you prefer," McCarty says. "It's something I think could appeal to a wider group of people, or maybe a weirder group of people."