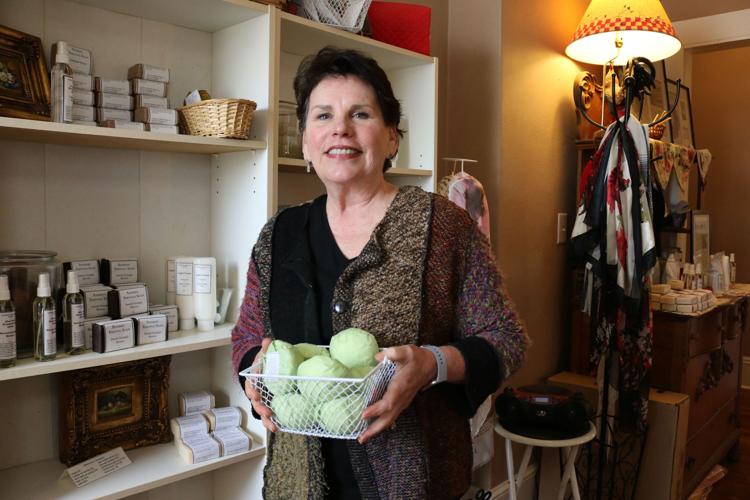 Andree Terry is in her element. She picks up a bar of soap and with a knife, quickly shaves the soap's edges before placing it aside.
The essence of the room can be captured in whiffs: a hint of lemon here, a slight note of ginger there. The rhythmic sounds of blade on soap are constant and Terry works to her own beat.
Like a machine, Terry grabs soap after soap, smoothing all edges. Sunlight streams in through the window, making the knife gleam. Terry continues to perfect her soaps, almost nonchalantly, but every slice is done with purpose.
Many years before Terry entered the world of soap, she entered the world after being born on an elevator at Erlanger Hospital in Chattanooga, Tennessee. Growing up in Rossville, Tennessee, Terry remembers watching her mother and grandmother make soap from wood ashes from the fireplace, and lard or fat from "whatever animal they had."
"It could be really harsh," Terry says. "My grandmother's soap was a funny gray color about like steel and full of grit, which was the wood ashes that were still in there. It was awful."
When Terry watched her mother and grandmother make soap from fireplace ashes, she never imagined one day she would be the owner of Andree's Essential Soaps.
Terry, whose customers include private physicians and radiology clinics around the United States, has had products featured in gift bags for the 34th Annual International Emmy Awards Gala in 2006, making her products nationally known and acclaimed.
Terry's own cosmetic journey began in Egypt in the '90s, where she studied for several weeks to learn about the original cosmetics, how people kept their skin moist in the desert and how they preserved cosmetics.
"I smelled perfumes that were 60,000 years old made largely from animals, but it was still fragrant," Terry says. "Seeing those first utensils and things that they used … it was an incredible culture, so talented in their art and their buildings."
From laundry room to Normaltown
When Terry returned to the U.S. in the 1990s, the internet was "just beginning" and she found scientists from L'Oréal and Clairol who mentored her. From there, Terry began crafting her own products.
"I started up in 2000, but I started making product in '98," Terry says. "I was also the 'Georgia Soap Lady.' Georgia was the only school that … had Bulldog bath bombs as the Georgia soap. It took so much time to individually mold a soap that I gave it up."
Now, instead of individually molding each soap, Terry makes all of them identical rectangular bars and smooths the edges with a blade, so all the soaps look uniform.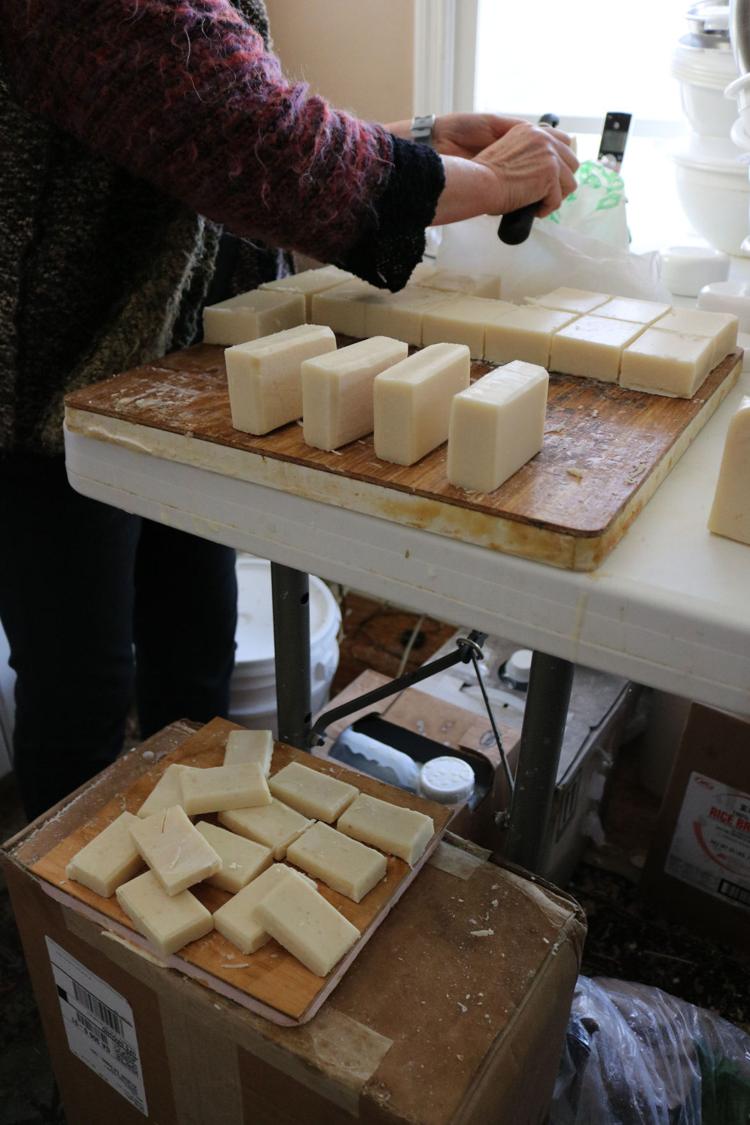 Over the years, Terry has also had to juggle the role of both mother and business owner.
Terry has three children. Rosa, a psychotherapist in Jackson Hole, Wyoming; Blaine, an engineer based out of Atlanta and Rebecca, a marketing executive in Atlanta.
Rosa Terry, 41, says she remembers being in college when her mother started making glycerin soaps. Rosa Terry describes her mother as a hobbyist and couldn't help but chuckle when she heard her mother's plans to start soapmaking.
"What I remember is being like, 'Are you kidding me? Another project?'" Rosa Terry says. "With this, she found something that has no end."
Rosa Terry says her mother started making soap primarily to help her grandmother, who was taking multiple medications for cancer and Parkinson's disease.
Andree Terry went to a doctor's appointment with her mother and was told to use unscented, generic soaps so as not to hurt her mother's skin.
"My mom said … in your last years of life, to not even be able to enjoy a bubble bath … that hit a nerve," Rosa Terry says.  
Andree Terry felt she had to do something, so she started with research and, as Rosa Terry put it, "in pure Andree form said, 'Oh, I can just make that.'"
In March 2004, a year after her mother died from cancer, Andree Terry was diagnosed with breast cancer. Breast cancer is currently the most common cancer in women after skin cancer in the U.S., according to Mayo Clinic.
Terry went through chemotherapy but had issues with her skin. Because chemotherapy damages skin and nail cells, it can cause other symptoms as well, such as dry skin, skin that's itchy and red or skin that peels.
For those who've undergone radiation therapy, chemotherapy can cause skin to blister and hurt in a process known as radiation recall, according to the National Cancer Institute.
"They didn't have anything appropriate on the market to treat your skin for the side effects — the burning, peeling and drying," Terry says. "I did a couple of years of research of the botanicals that are good for the skin during remediation."
According to Terry, when a person goes through radiation, lotion or cream will hold in the heat. She says it's an old wives' tale that you should put butter on a burn, but that's precisely what you shouldn't do.
Rubbing a greasy substance like butter on a burned area of the body will decelerate the release of heat from the skin. This in turn causes more damage due to the heat that's retained, according to the University of Arkansas for Medical Sciences.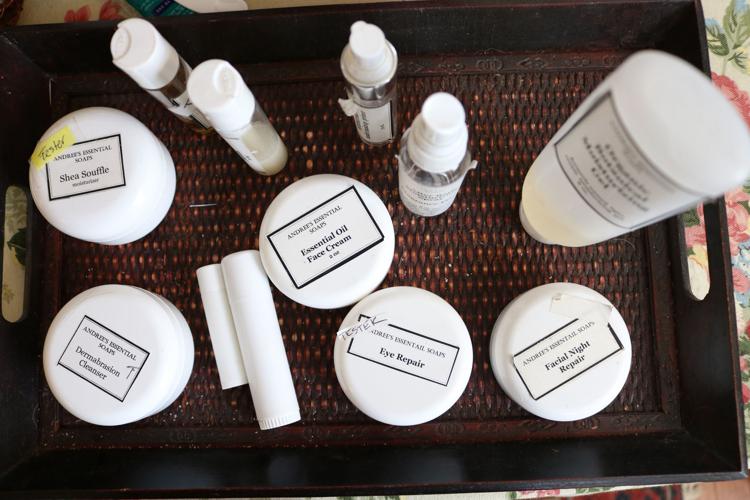 The best way to soothe a burn is generally with cool water, so Terry went with a water-based product.
"I [made] a water-based product — a gel — and people started using it," Terry says. "The doctors [in Georgia] saw a difference in the people here [who] were using it and who weren't. Now they just send their patients going through remediation over."
According to the American Cancer Society, nausea and vomiting are common symptoms for some patients going through chemotherapy, so finding a fragrance-free soap helps mitigate those symptoms. Many of Terry's products are fragrance-free, unlike lotions and soaps found in retail stores like Bath & Body Works.
"During chemotherapy, all of your senses are heightened and things smell too intense to you," Terry says. "You just have to be careful about some of the smells around you."
Terry started out in her laundry room, making soap on top of the washer and dryer. She received praise for her products and their effects, and a few doctors took notice of the products' effects on cancer patients' skin. Within no time at all, Terry was swamped with customers.
"I just figured if it was that large in need, that I should try and do something, so I started making ... soaps and lotions and other things [for hospitals]," Terry says.
Before she knew it, Terry's house was overrun with patients, customers, soaps and lotions. Terry knew she'd need to move her quickly-growing business into an actual location outside of her home but she didn't know where.
"I was just praying one day, driving down the road and looked up and there was this big thing on the end of the building in Normaltown that said, 'For lease,'" Terry says. "I called and it was somebody I knew who owned the building and in three days, I was in a shop."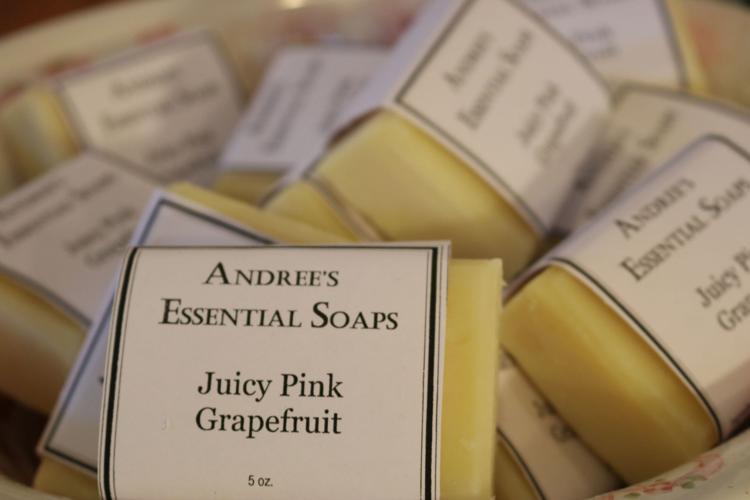 Andree's Essential Soaps
By 2005, Terry was selling her product out of Andree's Essential Soaps at her own location: 1383 Prince Ave. Terry opened her store after Christmas and due to the chaos of the holiday season, didn't have much product left.
Terry also helped start an organization for college-bound students who had a parent die of breast cancer. The MaryEllen Locher Foundation, which still runs today, provides funds to help send over 500 students to college. Students have to reapply every year and qualify through community service or volunteer work related to cancer.
As Terry continued to help the local community, she was "selling and giving the money away" — producing almost no capital. In one instance, Terry ended up donating products to the fire department to soothe the skin of firemen.
"I had heard they were still walking through the heat and [wearing] asbestos boots," Terry says. "Their skin would break down in that in just hours, so I had sent foot products for them."
From firemen to the common customer, the appreciation for Andree's has led Terry to call her success with her soaps and lotions "a wonderful blessing."
On a typical day at work, Terry meets both students looking to give family members meaningful gifts as well as patients who Terry calls "some of the strongest people" she's ever met.
"It's also great for them to see somebody who is surviving cancer 15 years later, still living and working business," Terry says. "It is really encouraging to them, especially the older women who are living alone and don't have family anymore."
Terry eventually moved from Normaltown to a Milledge Avenue location in 2011 after seeing the new space advertised and falling in love with the area.
Jennifer Mitchell, a business owner living in Athens, met Terry while she was looking for a retail space for her bakeshop, Cakewalk. Mitchell says Terry was very gracious and showed her around the space, an atmospheric house built in 1910.
"We've been BFFs ever since," Mitchell says. "We do get along beautifully. If she's not here, I go over and help people. She'll do the same for me."
Mitchell describes Terry as kind but tough, with an indomitable spirit.
"She's powerful in a little tiny package," Mitchell says. "She's classy. She's innovative. She's kind … All those things together make her like a power strip — all these qualities plugged into this one petite package. She just has a brilliant mind."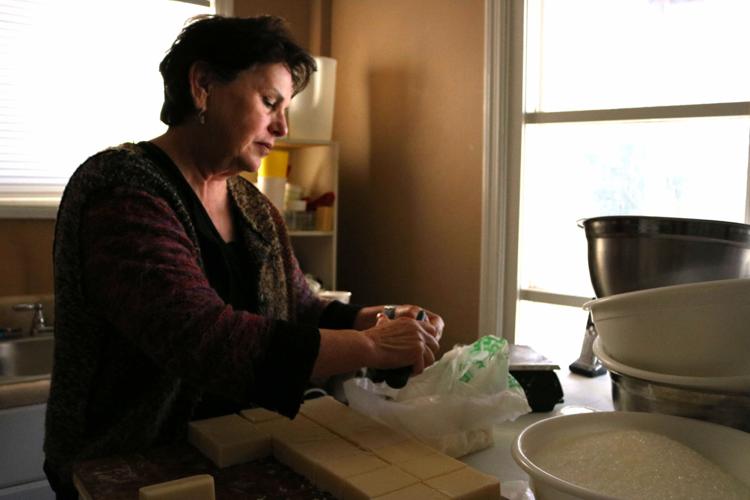 From Athens to New York City
While Terry was primarily concerned about selling locally and helping the Athens community, her time in the national celebrity spotlight came in 2006 when she was sought out by the 34th International Emmy Awards for her products, and her name has only grown from there.
"I had to sign a contract and stuff, and I figured they would just want gift baskets so I sent them a sample so they could know what they were getting and make sure it was appropriate to use," Terry says.
Terry mailed a sample to New York City over the weekend and on Monday morning, she received a phone call asking for 3,600 products — 1,200 each of soaps, hand creams and bath salts for a total of 700 pounds of product.
"Luckily, I had about a six-month lead," Terry says. "Every day I would take home 150-200 pieces from work and then label and pack. This was a donation and it was $20,000 worth of stuff, but it was the best publicity I ever got."
In 2015, Terry was awarded the ATHENA Award for community service and service to women. The trophy now rests on the mantle behind the check out area of Terry's shop.
In spring of 2018, Terry did a project for NBC Studios at Rockefeller Plaza in New York. Company's employers were able to bring their children to work on Earth Day so the NBC staff wanted gifts that were safe and non-toxic.
"My daughter does marketing for NBC Sports and said, 'Oh, my mom can do that,'" Terry says. "I got paid for that. It took so much time and I took pictures on my kitchen island."
The staff chose Terry to design and manufacture bath bombs resembling planet Earth. The process was not only time-consuming, but complex. Terry had to figure out a way to pack an accurate replica of the globe in a plastic container, let it dry, add the interior, dry it again and assemble it before shipping them to New York.
Two-decade legacy
Now, Terry primarily sells product out of her shop on 688 S. Milledge Ave. and features many products for college students' skin care, whether they have acne, eczema or psoriasis. Terry also offers other products, including candles, which she says students often buy as presents for their mothers.
Terry, who's been in the business for about two decades, certainly is comfortable with her craft.
"Every day when I leave — because I'm 65 now — I'll just go out and look off the porch for just a minute because I know that day is going to come in several years," Terry says. "Time really does pass quickly. I cannot believe I have been doing this for 20 years."