When most people hear "comics," they think of talking cartoon animals and pithy three-panel strips. While that's certainly true, there's more to the art form, and there are Athens artists contributing to the library of comics art.
"I started [drawing comics] when I was about 7," Van Burns, a former editorial cartoonist, says. "I learned to read from reading comic books and that just started me off."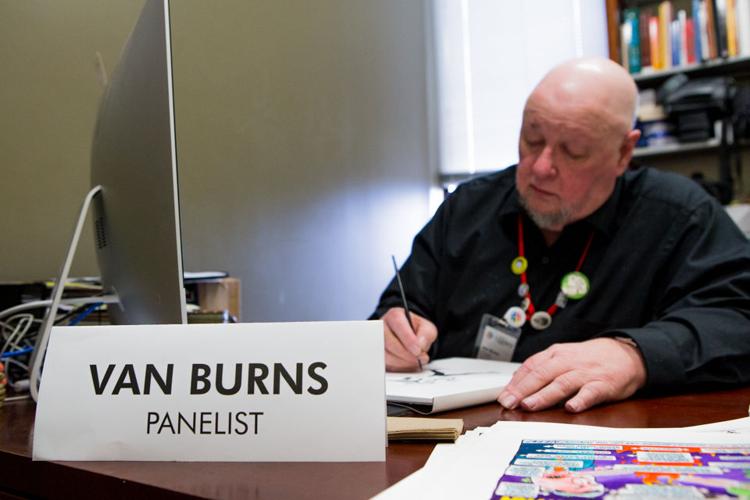 Burns is currently the Reflecting, Sharing and Learning Project Coordinator of the Athens Regional Library System. By the time Burns was in fourth grade, he was creating his own comic books and characters.
Burns' first favorite comic was "Dennis the Menace," a newspaper comic strip detailing the life of 5-year-old Dennis as he wreaks havoc across the neighborhood. Burns was such a fan, he wrote a letter to Hank Ketcham, who wrote back. Burns later became interested in superheroes in the DC and Marvel universes, but he always went back to the funnies, such as The Walt Disney Company's Uncle Scrooge and Donald Duck.
In high school, Burns teamed up with a comics-loving pal to put together about 18 issues of a humor magazine. Burns, who collected comics and studied painting and graphic design in college, honed his art skills until they were impressive — perhaps even Marvel good.
In the mid '70s, Burns decided he wanted to work for Marvel and sent in samples. Though Burns says his penciling wasn't good, he thought he could ink their art.
"I got a nice letter back telling me what I did wrong and what I needed to do so my work would be 'Marvel ready,' which I never really pursued," Burns says. "But it was fun. And it was a nice handwritten letter from Stan Lee."
Burns kept drawing and eventually submitted a comic strip to Creative Loafing, an alternative Atlanta-based print newspaper established in 1972. The founders, Deborah "Debby" Eason and her husband Chick, went to a Georgia State University professor lecture where only 25 people showed up.
---
"If you feel like you can't do anything but draw cartoons, you'll be compelled to do it."
— Van Burns, former editorial cartoonist
---
The poorly-attended event convinced the two there needed to be a publication explaining the city's cultural events. After various trial runs, the two finally established a free weekly publication titled Creative Loafing.
Creative Loafing accepted Burn's strip but didn't run it for six months. Then, out of the blue, Creative Loafing called Burns and asked him to make a black-and-white illustration for an article due the next day.
"I did that and that's what got me involved in doing illustration for them," Burns says.
Samples of Burns' art includes inked lines on thick, Bristol board, depicting images such as a detailed map of Atlanta and spot illustrations — drawings to accompany written articles. Some are big and colorful, others small and quiet. There are political cartoons and people caricatured in cartoonish ways. Burns' technical skill is masterful and deliberate, no doubt contributing to his 18-year-long run at Creative Loafing as the editorial cartoonist.
Burns had almost total reign over his art at the magazine. Burns would talk to a writer Sunday night, ask what their story was about and then produce art from 6 p.m. to midnight. The following morning, Burns took the comic to Creative Loafing. Only twice in Burns' career at the publication was a comic shut down. If the editor thought it went too far or thought something was too offensive, the comic would be killed. One of the times was related to political tension.
"The publisher at that time rooted for one particular politician that she just loved, and I did a strip sort of slamming him," Burns says. "She ended up cutting it."
Usually, Burns had the opportunity to produce whatever he wanted, with work ranging from a cartoonish-stylized format to hyper-realistic drawings. Burns met with similarly-minded artists during his time at Creative Loafing and kept his network alive after finishing his tenure.
"I met a few [artists], Klon Waldrip and David Mack, and I've known Patrick Dean for a while," Burns says. "I still have connections to my old cartoonist friends in Atlanta. Some of them have moved on to different cities. We all keep up via Facebook."
Burns admits comics art isn't a lucrative field, but at least there were more avenues for artists to pursue in the '70s and '80s. Burns says the competition for success as a comic artist is overwhelming. For every one person who gets published, "there's a hundred times more people who don't."
As Burns points out, the need to create art still overwhelms the bleak odds of success.
"If you feel like you can't do anything but draw cartoons, you'll be compelled to do it," Burns says.
From print to pixels
The market for artists have changed since the '80s to now. Superhero, newspaper comic strips and alternative publications have dwindled, with the webcomic is taking their place. The transition from paper to screen makes self-syndication easier for comic artists. Several current local Athens artists incorporated a digital presence into their art, including Abby Kacen.
Kacen is a 2016 graduate from the University of Georgia, who studied animation and drawing. Kacen's college experience continued and cultivated her lifelong passion for art.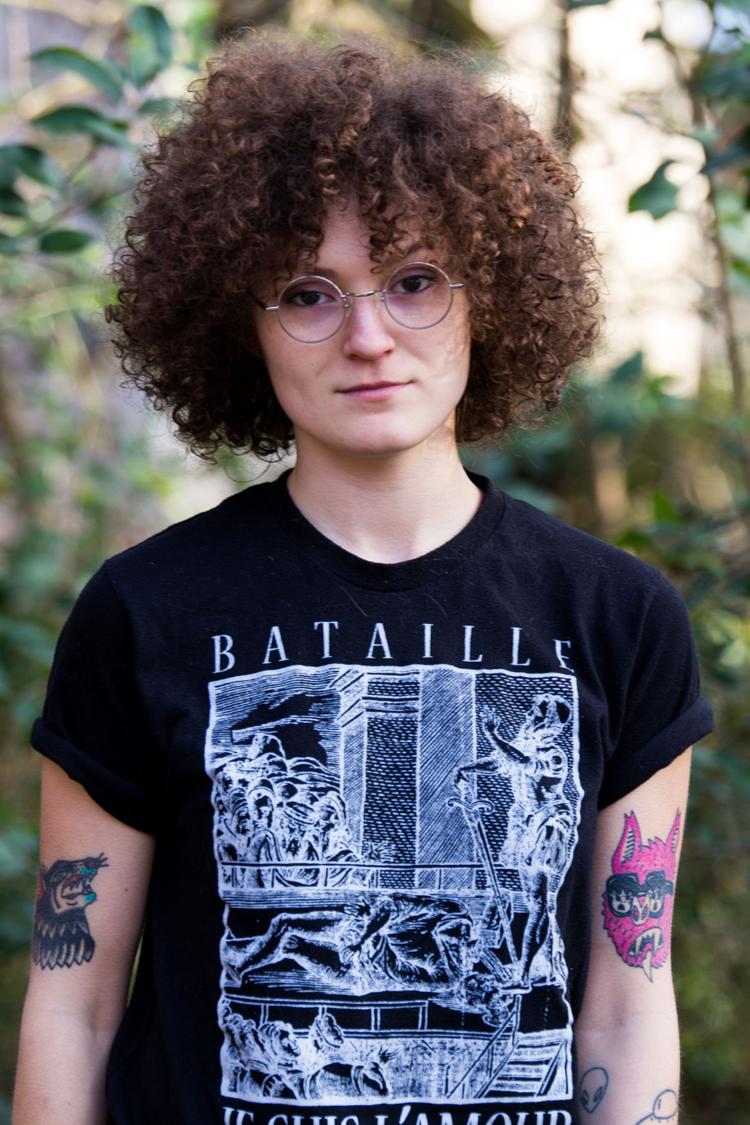 "I always been drawing, just grew up drawing," Kacen says. "I was making comics in my notebook as a kid. I collected comics. It's always been a pastime for me."
When Kacen was still a student, she found a piece of art, such as a drawing or sketch, on the ground with the phrase "free art" on the back. Kacen looked it up online and realized hiding art in public places was popular in other cities such as Atlanta. Kacen notes, however, that the practice of hiding free art has its limitations. Atlanta houses more recognizable artists due to the city's size, which is far greater than the Classic City.
"In Athens, I think not enough people actively participating makes the scene die out every now and again, like when all the students leave for the summer," Kacen says. "[It] is nice to have that break, but I think comes with the disorganization."
To remedy the disorganization of Athens artists, Kacen and a friend started up Athens Drink and Draw, a meet up of people who like to draw and socialize with other in-town artists. Attendees don't have to consider themselves artists, as according to the Facebook page, people get together, make art, drink beer and simply have a good time.
"Meeting all these different artists or people who like to draw in their spare time is really interesting to see," Kacen says. "That got me to think more about community and the importance of working with other artists."
To Kacen, Athens has a strong group of all types of artists but is not the type of city to exude its artistic vibe. Though Kacen lived in Athens for 10 years, she's originally from Chicago, a large city with a notable art scene.
"I'm always like, 'Man, Georgia's really nice but I miss all these [art] things,'" Kacen says.
Even other cities in the South surpass Athens' art scene. Nashville, Kacen points out, is "so culturally vibrant."
"I think that more structured art communities can bring some of that vibrancy to cities, and not everyone realizes that," Kacen says.
Recognizing the difficulty in convincing artists their actions have long-lasting influences on the cities around them, Kacen decided apply for a Master of Arts for nonprofit management and leadership. While Kacen hopes to get a better handle of the nonprofit sector in the art scene, she's still creating art in her spare time.
---
"Meeting all these different artists or people who like to draw in their spare time is really interesting to see. That got me to think more about community and the importance of working with other artists."
— Abby Kacen, UGA graduate 
---
Kacen tried storyboarding at the end of her college career and found it wasn't for her; then, she tried illustration and didn't like that either. Kacen instead settled on drawing and started reading graphic novels. This exposed Kacen to the unique breadth of comics art, ranging from simplistic to intensively beautiful.
After graduating, Kacen drew comics about her bad days at work or other weird happenings. Kacen learned how to make zines and bound books from a studio class, so she started scanning her drawings and compiling them.
From there, Kacen was ready to disseminate her work to other artists. When FLUKE, a small mini-comics and zine festival came to Athens in March 2018, Kacen printed several copies of her comics and sold them, which turned out to be successful.
Kacen met other artists at the event and connected with them on the internet. From Instagram and other social media platforms, Kacen found more festivals to attend. Kacen kept connecting with more artists, even contributing to collective zines just to get art in the hands of other people. Kacen's connections spread across the Southeast.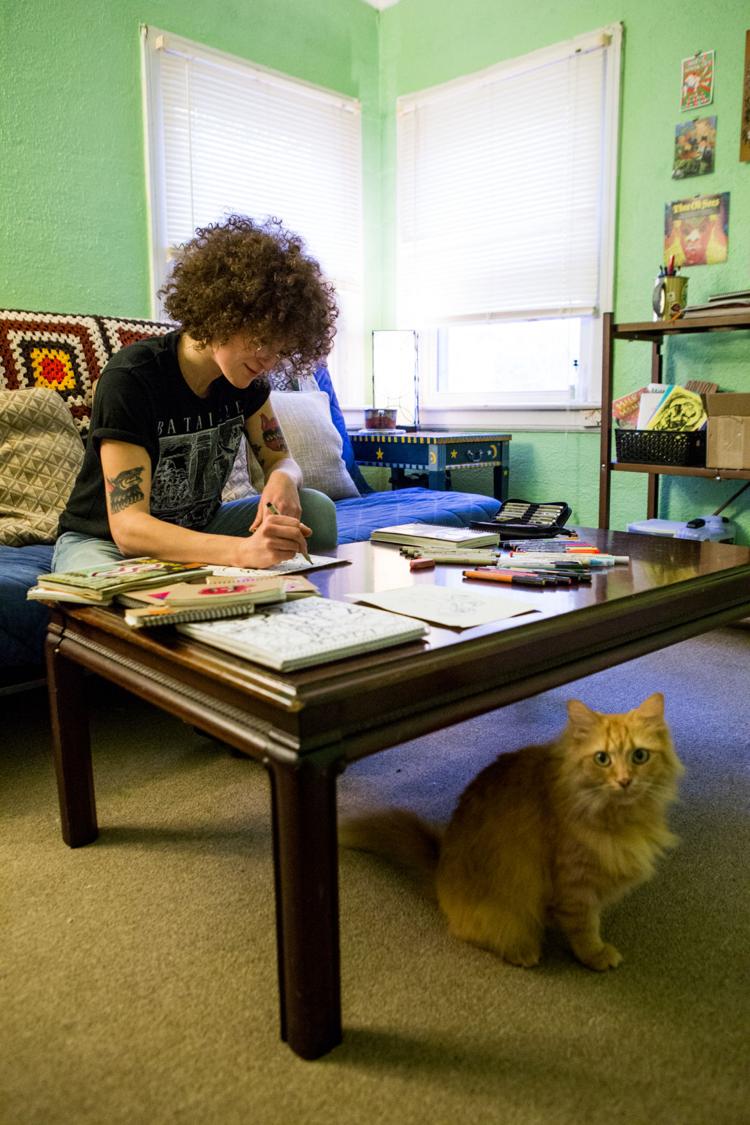 Kacen says Instagram has tremendously helped her networking. From promoting Athens Drink and Draw to meeting other creatives, Instagram helps artists grow and broadcast their work. Although an instrument for growth, Kacen believes social media isn't the answer for all art.
"I've been wrestling with it, as I'm thinking about grad school and the importance of community not just existing in the internet or Instagram, but taking place in physical space and having that unique experience of talking to people and interacting with art up close," Kacen says.
Still, the digital age has tremendously helped artists spread their art. Kacen says in the Renaissance era, an artist with access to a printing press would have probably 100 samples of their art to spread across multiple countries. Now, artists can instantaneously send their art halfway across the world.
"I think it's important to have the internet with art, especially since everything on the internet is visually driven," Kacen says. "I think that's where social interaction is headed."
Kacen is unsure if comic art itself will entirely enter the digital era. There's certainly a strong and growing presence of webcomics online, but physical comics elicit a different response from readers.
"It seemed ridiculous for someone to send someone a paper invitation because you could Facebook them or text them," Kacen says. "But then I see artists printing their work or their comics and zines and having a physical print is like, we're always going to go back to that anyway."
Digital media won't take over print comics, according to Kacen. Spatial orientation is important on the comics page, since how the eye moves across the page fills the story in the reader's head. Comics use space as art itself. Print media allows readers to hold the art in their hands and physically manipulate it, whereas screens limit a reader's interactions with a comic.
Kacen describes comics as "sequential imagery," but the images or panel arrangement gives the sequential images combined meaning. Different arrangements of words or images can create a narrative, and a different medium allows for different narrative experiences.
The nuance of comics form
Just how comics format derives different narrative experiences, so too do artists understand their own works differently.
Patrick Dean, a UGA alum whose work appeared in Flagpole magazine for nearly a decade, shares Kacen's view of comics. To Dean, comics are "a singular or series of drawings" which convey an idea, instead of a story.
"It can be as complicated or simple as the creator desires," Dean says.
Dean has drawn comics for a long time thanks to his older brother, who drew "Star Wars," "Alien" and "Godzilla" sketches in the late '70s.
---
"The world is round. Seek out artists from all over the planet. It's fun to go back decades to see what everyone was doing ages ago. Keep up with newer technologies and ways to create."
—Patrick Dean, UGA alum
---
"As a kid growing up in the '80s, I'd copy newspaper strips in notebooks and replace with my own derivative characters, which I guess was like doing a bad cover of a classic song," Dean says.
Dean continued drawing comics in his notebooks and attempted longer, 10-20 page pieces from middle school through college. The immediacy and simplicity of making a basic comic drew Dean to the art form. High-quality paper, expensive brushes and costly inks can be forgone for a piece of copy paper and a ballpoint pen. With such a simple form, a variety of stories can be told.
"You can tell any story of any genre, from a slice-of-life tale to some crazy sci-fi fantasy," Dean says.
While Dean didn't think to copy his work and self-publish until after college, he regularly publishes works on his website.
"Who needs a publisher when you can put it on the internet?" Dean says.
And yet, Dean has encountered people from fine arts and commercial illustration who look down on comics art.
"Plenty of comic artists' work could go toe-to-toe with the greatest painters and illustrators," Dean says. "Just because in the past most comics were on disposable newsprint, a lot found them to be slumming it. By this time, I've quit caring what anyone thinks of comics making." 
For those who also want forgo the art world's criticism of comics and produce their own, Dean advises keeping a sketchbook and drawing every day. Dean also says to move on from mistakes and learn from favorite comics artists.
"The world is round," Dean says. "Seek out artists from all over the planet. It's fun to go back decades to see what everyone was doing ages ago. Keep up with newer technologies and ways to create."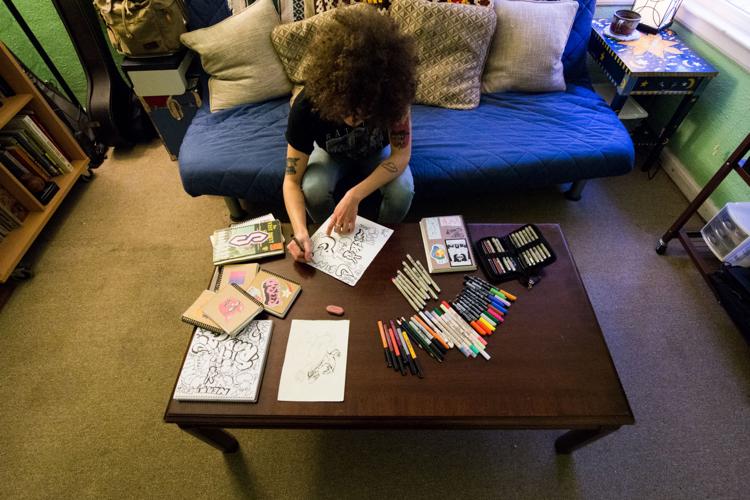 Despite the marginalized history of comics in the past, Kacen thinks comic art is gaining respect.
"I think today, people are way into superheros now, so I think if you tell anyone on the street today that I'm a comic book artist that they'd probably be impressed," Kacen says. "I've met a lot of people in my small world view that are really into comics now."
For anyone wanting to get into comics themselves, Kacen offers the following advice: don't be afraid to mess up. Amateur artists are likely to not like a drawing and need to start over but fear the waste of resources, especially if they've bought nice materials. Despite this reluctance, restarting is a part of the process.
"It's like going in a mine," Kacen says. "You're mining to gold. You're going to find coal. That's just part of it. It's rigorous and brutal. Sometimes you hate it and take a break from it — that's fine, just remember that if you really want to do it, you're going to have to love to hate it."