Many fans of punk and ska music today have likely heard the name Jeff Rosenstock before. Known for his roles in The Arrogant Sons of Bitches and Bomb the Music Industry! as well as for running his donation-based music label, Quote Unquote Records, Rosenstock is something of a cult figure in the D.I.Y. punk scene, and for enthusiasts of the Reggae-esque music genre, ska.
Heading South
Although Rosenstock is most well known as a Long Island native, the singer-songwriter spent some time in Athens roughly a decade ago. Rosenstock says he got his first taste of the Classic City's music scene while visiting his friend Jeff Tobias, a fellow New Yorker and musician. Tobias had moved to Athens in 2003 for his math rock band, We Versus the Shark.
While in town, Rosenstock got a chance to go to shows at the 40 Watt Club and the then-active 666 House, a "punk house" at the time known for its residents' D.I.Y. concerts and wild antics.
---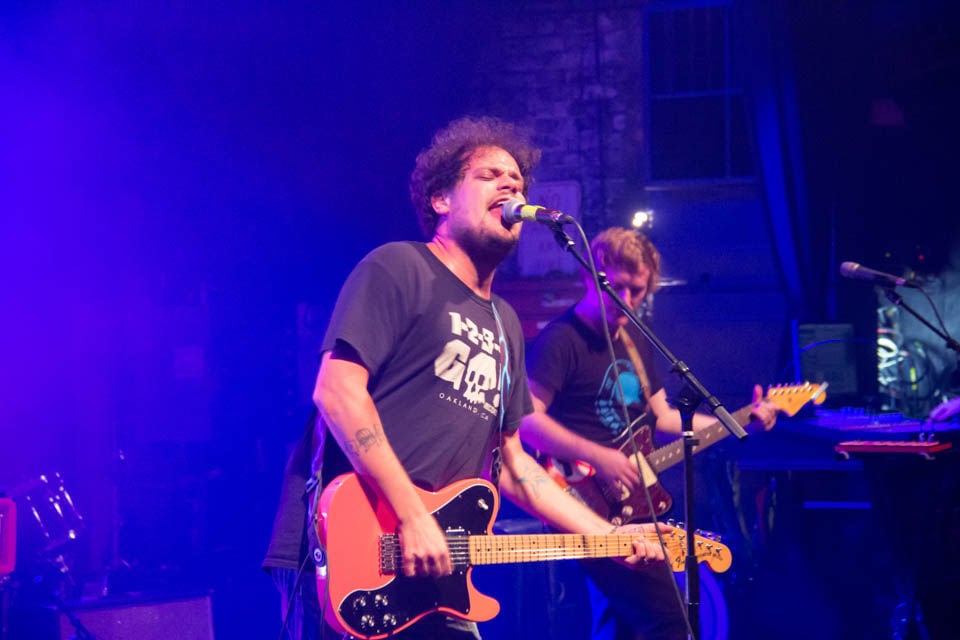 Christopher Carson
---
"It's right next to a hill where there's a ton of kudzu, and I remember Rick Johnson taking a boogie board and riding it down the kudzu," Tobias says. "So that was typical of the shenanigans that might take place at a place like the 666 House."
After getting a taste of Athens' music scene, Rosenstock says he fell in love with the D.I.Y. spirit and sense of community amongst many musicians in the Classic City. Tired of New York City's high living costs and a constant feeling of "playing the game" in such a big city, Rosenstock quickly began to see Athens as a potential alternative.
"Down [in Athens], it just kinda felt like friends playing music together," Rosenstock says. "From when I was in concert band in elementary school until now, I just want to hang out and play music. I don't really wanna f****** deal with all the s***."
At the time, Tobias was trying to sign a new lease to get out of the "terrible" house he was living in, and he encouraged Rosenstock to join him. Ready for a change of pace, Rosenstock signed onto the lease for 493 Ruth Street, packed up his things and headed south to Athens.  
"We were getting kicked out of our spot in Queens and we were just like, 'F--k it, let's move to Georgia!'" Rosenstock says. "And we moved out here with some buddies, and then that was it."
"Get Warmer"
During his time spent in Georgia, Rosenstock got a job washing dishes at Transmetropolitan and, of course, kept making music. After six months of writing and experimentation, the singer-songwriter eventually found himself with enough material for a new record, Bomb the Music Industry!'s third full length album, "Get Warmer."
Lyrically, "Get Warmer" sees Rosenstock talking a lot about his life in Athens. From commemorating his move south on "493 Ruth" to discussing his job at Transmetropolitan on "Pizza Claus is Comin' to Town," Rosenstock seems to have made the album as something of a tribute to the hard-working, hard-drinking musicians of the Classic City.
"He documents his life at that time when he makes a record," says Joel Hatstat, an Athens musician and longtime friend of Rosenstock.
---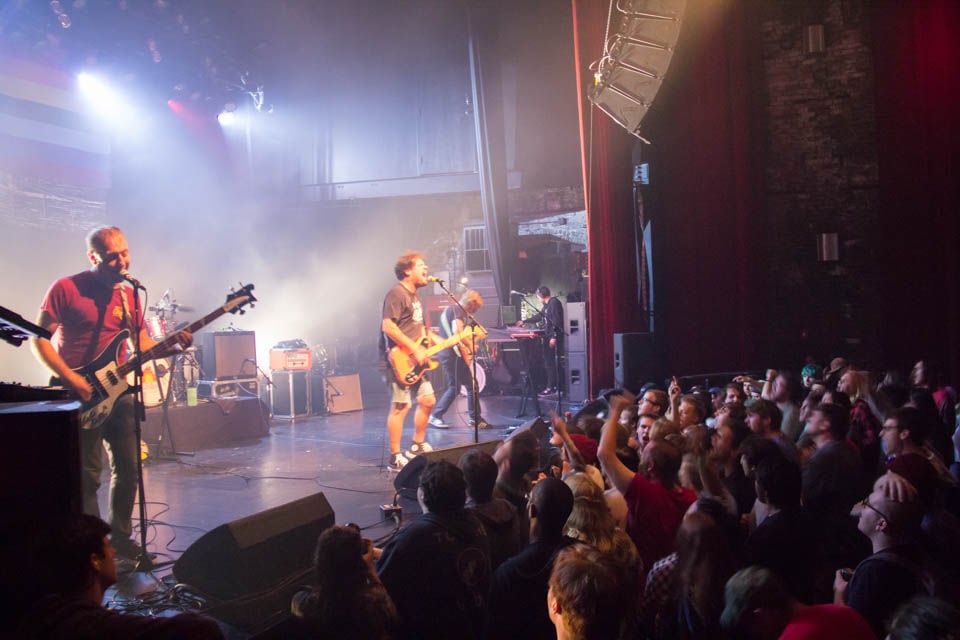 Christopher Carson
---
To help make "Get Warmer" a reality, Rosenstock worked closely with Hatstat throughout the record's production. According to the Quote Unquote Records website, this was "the first time anyone else [had] been involved with the recording process" on a Bomb the Music Industry! release.
Between games of Scrabble and shifts at work, the two musicians spent much of their time tracking different instruments in room 6C1 of the Chase Park Warehouse, known to the artists as the Chase St. Warehouse. Nicknamed "the Goblin Campground" after a drawing Hatstat had done on the wall, 6C1 was an art space Hatstat's friend had been letting him use to rehearse. 
"We didn't book studio time," Rosenstock says. "If we had the morning off, me and Joel would f*** around and record guitars for a little bit, and then we'd go to work." 
The pair also recorded various parts of "Get Warmer" at Rosenstock's house on Ruth Street, and tracked Brady Smith playing drums for the album at The Bakery, a home studio run by Andy Baker. While Hatstat and Rosenstock were able to record many of the sounds they needed on their own, Rosenstock says they decided to track drums at The Bakery because it was "a real studio."
Although the pair worked together closely to make "Get Warmer" a reality, Hatstat says Rosenstock was always the driving force behind the composition of his own music. Many Bomb the Music Industry! songs feature a chaotic number of different instruments, and Rosenstock is known to meticulously plan each part before hitting the studio.
"Jeff is notoriously tedious about prewriting his songs," Hatstat says. "Even sometimes when they sound chaotic, they're all demoed out and prewritten. He pretty much knows exactly what he wants them to be."
That isn't to suggest that Bomb the Music Industry! was a one-man effort. After Rosenstock, Hatstat and Smith finished the initial tracking sessions for the drums and guitar on "Get Warmer," they had bandmate Rick Johnson remotely record the album's bass parts and send them via email.
These four musicians were just the start, though. After the album's backbone had been solidified, at least 20 other musicians were brought in to help do overdubs, including Jeff Tobias, Jace Bartet, Matt Kurz, Christine Mackie and Scott Smith, among others.
After the recording process was finished, "Get Warmer" was mastered by Jeff Capurso at Chase Park Transduction. The album was released digitally at the end of July 2007 and saw a physical release by Asian Man Records that August.
Pegasuses-XL
In addition to continuing his work under the Bomb the Music Industry! moniker, Rosenstock also played music in Athens as part of a different project, Pegasuses-XL. 
The brainchild of Hatstat, Tobias and drummer Mike Dale, Pegasuses-XL was an experimental synth rock group founded to let its members explore genres they weren't used to playing. Tobias and Hatstat had both been in fairly technical rock bands at the time—We Versus the Shark and Cinemechanica, respectively—and Pegasuses-XL served as their outlet to "try anything once."
---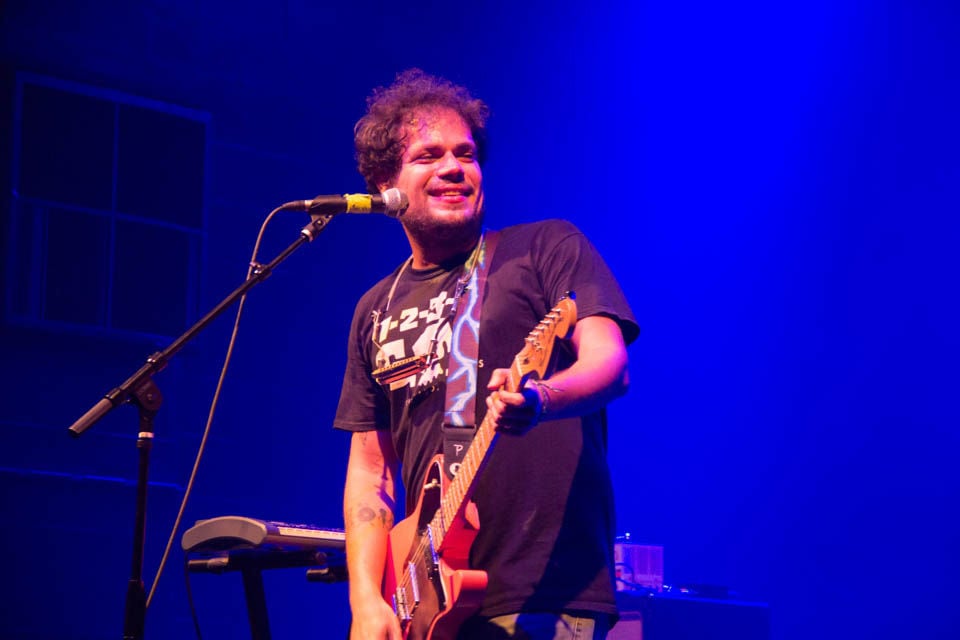 Christopher Carson
---
"I don't know that this was a deliberate idea, but I think we were excited to have a project where we could kind of just try  things out and blow off steam and not worry about, 'Is this riff in an interesting time signature, and are we executing it with flawless technical precision?'" Tobias says.
While Pegasuses-XL's strange blend of hip-hop, noise and synth rock was notably different from Bomb the Music Industry!'s ska punk-oriented sound, the band's experimental outlook was something that seemed to resonate with Rosenstock. Soon enough, he joined on as Pegasuses-XL's third keyboardist/singer.
While in Athens, Rosenstock contributed to the band's third release, appropriately titled "Third EP." Although his time in Athens only ended up lasting a year, Rosenstock later continued his involvement in Pegasuses-XL remotely or during short visits to the Classic City.
After "Third EP," the group went on to put out three full-length albums, the last of which was 2011's "Psychic Entourage." While Pegasuses-XL was started simply as an outlet for its founders' experimentation, its output became more refined over time as the band "got its own legs."
"I still consider our final album … to be one of the best and most mature musical statements I've ever been a part of," Tobias says. "I'm very fond of that album."
Pegasuses-XL ended up going far for a project of its ilk. Among other successful licensing opportunities, "Marathon Mansion!" a track from the group's first full-length album, "The Antiphon," ended up on the soundtrack for Tony Hawk's Pro Skater HD. Hatstat jokes that it still stands as his most profitable band so far.
Despite the group's success, Pegasuses-XL was eventually dissolved when its members wanted to focus on other projects. Hatstat still plays in Cinemechanica, and Tobias is currently in a group called Sunwatchers.
"We Cool?"
Although Rosenstock enjoyed his time in Athens, technical issues with his house on Ruth Street had led him to decide early on that he would end up returning home. At the end of his one-year lease Rosenstock ultimately made the move back to New York City, where he still lives today.
"Every time I'm down here [in Georgia], I still miss it a lot. I really like Athens," Rosenstock says. 
After returning to New York, Rosenstock says he felt different in a good way. Having spent some time away from "the hustle," he returned to his home state feeling calmer and more like himself.
Once back in New York, Rosenstock would continue to work on Bomb the Music Industry! until the band's last show in early 2014.
According to the initial blog post announcing the band's break-up, the group's members "all still love each other and love playing music together" but simply wanted to pursue different interests. With Bomb the Music Industry! only occupying a few months each year, the band's members mutually decided to pursue more full-time interests.
"[After touring], you're kinda scrambling to find a job, and it was weird. It was f***** up, and that made me particularly really anxious," Rosenstock says.
While several of the Bomb the Music Industry!'s members went on to pursue careers outside of making music, Rosenstock "never stopped writing." Although he hadn't planned to end up back in music, he soon found himself with material and no band to release it.
"I somehow fell a** backwards into making music again and kind of making it the thing that I do," Rosenstock says. "And it's kind of weird to still be doing the music thing just because I honestly didn't expect that that's how it was gonna turn out, and I'm really lucky that it did."
Soon enough, Rosenstock had written enough new material for an entire solo album. Wanting a band to help bring these new songs to life, he enlisted John DeDomenici, a fellow Bomb the Music Industry! affiliate, on bass, along with Mike Huguenor on guitar and Kevin Higuchi on drums. 
To record this new album, eventually titled "We Cool?", Rosenstock also enlisted the help of producer Jack Shirley in East Palo Alto, California. Rosenstock says he was a big fan of Shirley's past production for Deafheaven, Joyce Manor and Hard Girls, amongst other work, so he was excited to get a chance to record with him.
Since most of the singer-songwriter's past material had been produced solo or by his close friends, Shirley says he was thrilled at the opportunity to work with Rosenstock as well.
---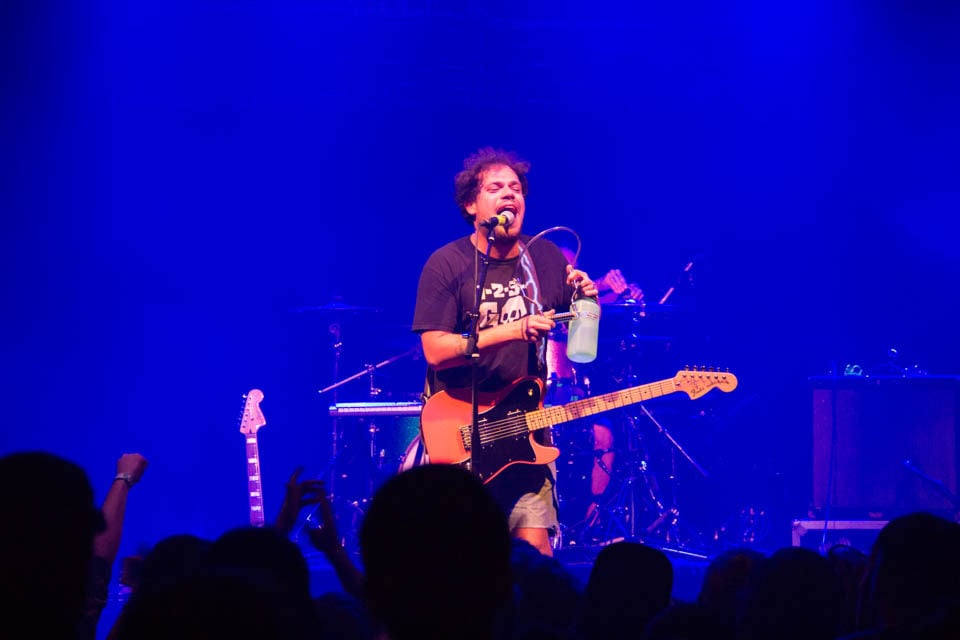 Christopher Carson
---
"It was such an honor, too, because [he's a] pretty prolific dude," Shirley says. "To have him travel across the country just to record with me – it's cool."
Not long after finishing "We Cool?," Rosenstock's first record with a band since Bomb the Music Industry!'s dissolution, the group was contacted by SideOneDummy Records, an independent label based in Hollywood, CA. People at at SideOneDummy believed Rosenstock only had demos for his new material, but the timing allowed him to send the label a finished album right off the bat.
"We were like, 'Oh, s***! We actually just finished recording the record. You wanna hear it?'" Rosenstock says. "It kinda just took off from there. And I'm not one to say no to stuff, so when things came up, I was like, 'Yeah, man. Let's f****** do it.'"
Most of Rosenstock's past material had been distributed for free through Quote Unquote Records, and despite being released through SideOneDummy, "We Cool?" was no exception. The album saw a free digital release on the Quote Unquote website and a physical release through SideOneDummy in March 2015.
"Worry."
After the general success of "We Cool?" and its supporting tours, Rosenstock once again found himself writing material for a new release.
While "We Cool?" was a fairly dark record, focusing on many of Rosenstock's personal issues and frustrations with his own life, "WORRY." saw the singer-songwriter trying to write a record about love. Rosenstock admits writing songs about love is out of the ordinary for him, but it seems like an appropriate challenge considering he married his longtime girlfriend, Christine Mackie, in 2015.
"The second we met each other, we were just like, 'Okay, we're gonna be together forever,' so getting married was just like, 'Yeah, this was gonna happen, and it happened,'" Rosenstock says. "It was cool to do it. I think that the best part about it was that we got to have a wedding where all of our friends came. We got to hang out with all of our friends, and it was a really, really fun time."
Of course, writing a record about love doesn't mean every song has to be some clichéd collage of sunshine and rainbows. Reflecting on real-world issues, Rosenstock ended up writing many of his new songs about the conflict between love and such negative forces. 
"Just with everything that's happening, it ended up being a record that's just kind of about the things that surround us while we're trying to be people who can have relationships or who can be happy," Rosenstock says. "It's about…trying to still keep your f****** thing pure while there's all these things just throwing rocks at you. Just trying to fight off the rocks, basically."
Marginalization, economic inequality, police brutality and getting evicted are some of the outside forces that get nods on "WORRY." and Rosenstock seems to address them with a genuine concern for the people they affect. On the record's second to last song, "…While You're Alive," Rosenstock offers a lyric that explains much of the album's tone, singing, "Love is worry."
This astute observation about the duality of caring for others serves as a great example of why many people are fans of Rosenstock's writing. With lyrics that are often simultaneously profound and personal, Rosenstock is able to convey his own experiences in a way that can be easy for others to relate to.
In fact, much of the singer-songwriter's approach to his music and life in general seems to be rooted in authenticity. By being honest about his emotions and intentions, Rosenstock has managed to become an influential figure for friends and fans alike.
"He's totally transparent about what he does, and it's inspiring," Tobias says. "It's really cool."
For the recording process of "WORRY." Rosenstock once again enlisted the help of Shirley. Wanting a change of scenery, they did the album's initial recording sessions at the Panoramic House, a recording studio on a hill overlooking Stinson Beach in California.
The Panoramic House sessions covered the main instrumentation of "WORRY."—all recorded live to tape. Shirley says recording the whole band at once using analog recording helps retain the high energy Rosenstock's live shows are known for.
"There's a little bit of bleed, and it's a little bit more rough around the edges and kind of dirty, but it ends up being a real benefit, especially with Jeff," Shirley says. "Everything is very much kind of live and intuitive, and I feel like that comes through in the recording. It kind of retains that high energy of a band playing together."
With how dense Rosenstock's albums usually are, though, it was inevitable that the band would run out of tracks on the tape. After completing the Panoramic House recordings for "WORRY." the group worked on vocals and overdubs at Shirley's studio, The Atomic Garden. Once the recording process was complete, Shirley handled the album's mixing and mastering.
---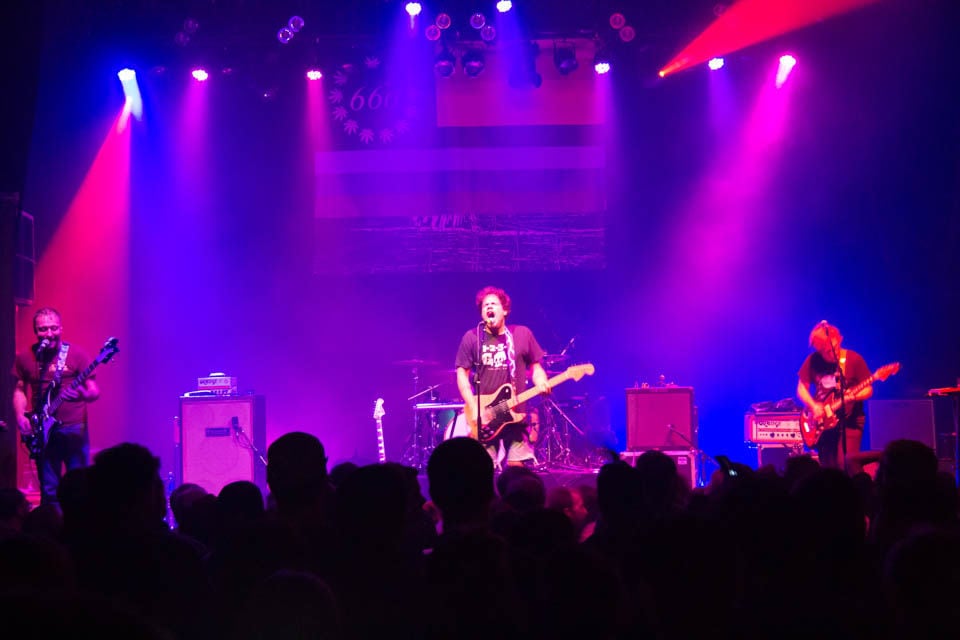 Christopher Carson
---
"WORRY." was released for free digitally on the Quote Unquote website and in physical format through SideOneDummy on Oct. 14. To support the album, Rosenstock and his bandmates headlined a tour alongside Katie Ellen and Hard Girls, two bands Rosenstock says he's very close with.
"We knew we were doing a headlining tour, we had a new record coming out, so we're just like, 'Alright, who do we want to hang out with everyday?'" Rosenstock says. "It's really nice to just be on tour with a group of buddies where it seems like we could just as easily be going to a movie, but instead, we get to go and play a show."
Rosenstock says the response to "WORRY." has been largely positive, something that helps inspire him and his bandmates to work harder at doing what they love.
"The response to the record has been really nice and really unexpected," Rosenstock says. "We always want to be good, but it seems like people are into this record, and that makes us feel good." 
The Future (86)
In addition to putting out solo music and maintaining Quote Unquote Records, Rosenstock has also recently spent some time producing albums for other artists. Over the last few years, he's worked with Shirley to produce albums for Laura Stevenson, Dan Andriano in the Emergency Room, and The Smith Street Band, in addition to some albums he produced on his own.
While working with Shirley, Rosenstock has taken on more of a traditional producer's role, helping artists with composition and performance details while Shirley takes on the more technical role of an engineer. Shirley says Rosenstock has done a great job so far at putting his own spin on the music of others in a way that complements their individual artistic styles. 
"You can absolutely hear the Jeff Rosenstock stamp on that music, and it doesn't ever get in the way," Shirley says. "It's always a really complimentary kind of lifting up."
Currently, Rosenstock and Shirley said they were working on producing a new record for the music group Walter Etc., based in Portland, Maine. Looking forward, Rosenstock says he has no idea what the future will hold except for more touring and writing.
"The only things we've talked about have been either a record that is an ambient record – and it's just like crazy long songs – or a traditional Mexican cumbia record," Rosenstock says. "If those are the two things that we're talking about…I have no f****** idea what we're gonna do next."
Rosenstock is set to start touring again at the end of February, and his next show in Georgia will be on March 22 at The Masquerade.