Few students at the University of Georgia know about its scientific diving program. Even fewer know the pool in the Marine Science Building is transformed into an imaginary shipwreck where students enrolled in Scientific Diving I spend part of the semester diving to recover shells and take photos, uncovering the story behind the real-life wreck.
The program is currently run by associate research scientist for UGA's Center for Applied Isotope Studies, Scott Noakes, and although it currently offers only two courses — Scientific Diving I and Scientific Diving II — it has grown immensely since its inception in 1996.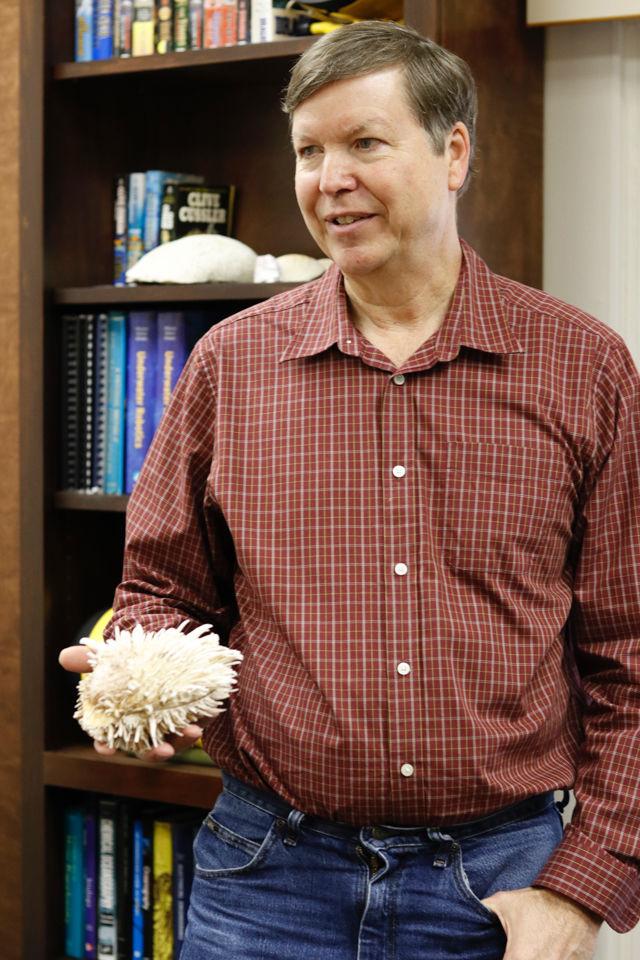 As a child, Noakes received a brass spike from a 18th-century shipwreck that he says catalyzed his love of scientific diving.
It wasn't until after Noakes left the petroleum engineering field and was offered at job at UGA in 1988 he began to fully pursue marine science work.
"I would have never dreamed that I'd teach a class but this is a class that's fun to teach," Noakes says. "You have a class that students truly love [and] they're excited to come — it makes it really a lot of fun."
At first, the marine science department tagged onto the Environmental Protection Agency's own diving program before establishing its own several years later.
What initially began with six divers from UGA has grown into over 25 active divers, some of whom are students at universities across the state such as the Georgia Institute of Technology, Georgia State University and Georgia Southern University.
According to the University System of Georgia's Scientific Diving Program's website, divers must have required documentation, such as diver certifications, medical history and physical exam results, a dive log template and the USG AAUS Diving Regulation Manual.
All universities involved in the program also have specific training requirements including dive planning, learning about hazardous aquatic life and diving physiology and physics.
Dipping your toe in
In addition to incorporating other universities, Noakes has developed a new course open to both undergraduate and graduate students since he took over the program in 2000.
"Over time I had students come to me wanting to learn how to … get into research diving and I needed a good mechanism to do it instead of [training] one [at a time]," Noakes says.
Students were officially allowed to enroll in the course in fall 2014, and although many are interested in underwater research, the class is open to all.
There are no prerequisites and Noakes says the first half of the semester is dedicated solely to learning basic diving skills in the pool.
"The pool is kind of like having a security blanket with you: you know the side is right there and in some places you can just stand up," Noakes says.
Around the midpoint of the semester, students can go on a dive trip to Florida and become open water scuba certified.
Upon their return, more hands-on type learning occurs. For example, professionals from the law enforcement field teach students how to do blind searches.
---
"We've sent people into outer space, we've sent people to the moon [yet] there are places in the world, deep water, that have never been explored. Through scientific diving, many of [the students] are realizing there's a world to explore."
—Scott Noakes, associate research scientist for UGA's Center for Applied Isotope Studies
---
Noakes also invites workers from the Georgia Aquarium who bring more advanced gear, such as dive scooters that increase a diver's range underwater using motor propulsion.
"One of the things I enjoy most about the class is watching students on the first day, afraid to put their head underwater and hold their breath, but by the time the class is over, you see them jumping off a boat in the middle of the ocean somewhere or jumping into a spring or a lake," Noakes says.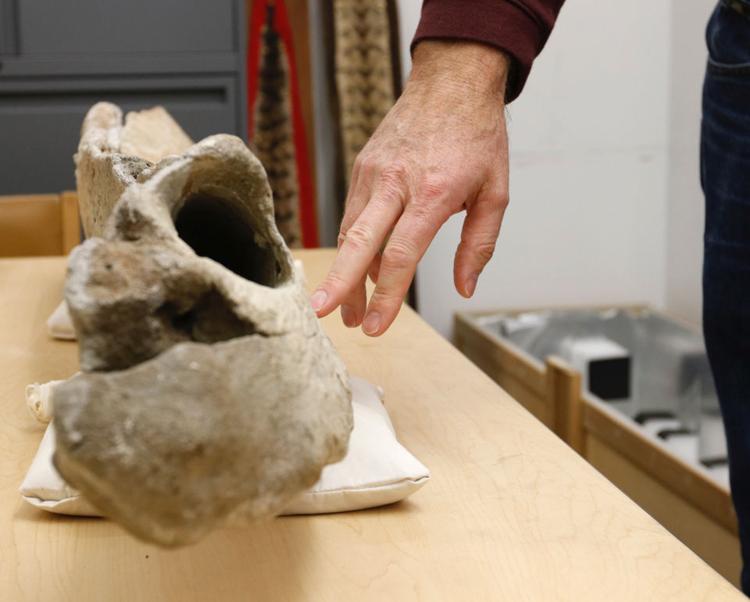 The course is only a small facet of what the program fully encompasses, and the research conducted by students and faculty members alike has propelled it into national spotlight.
Underseas discoveries
It was in fall of 2006 when Noakes accidentally discovered a small section of a 36,000-year-old left mandible from a baby Atlantic gray whale while working on a project close to Gray's Reef National Marine Sanctuary.
A few years later, Noakes found another left mandible — this one 46,000 years old.
At first, Noakes says he didn't know the magnitude of his discovery. Noakes had to ask other scientists, who then asked more scientists, before he finally heard back from the then-marine mammal curator at the Smithsonian National Museum of Natural History.
The curator was then able to identify the mandible as the Atlantic gray whale, which was "considered functionally extinct" by the early 1700s, according to an article on the Gray's Reef National Marine Sanctuary website.
After a months-long excavation process, the 35-foot-long and 60-pound mandible was transported to the Smithsonian where a silicone mold was made.
Since then, the museum has made eight foam casts used in exhibits at places such as the Skidaway Institute of Oceanography near Savannah, Georgia, and the Georgia Aquarium.
"The mold that they did had so much detail, there's some barnacles showing," Noakes says. "I didn't expect to have that much quality [but] I should've known better. Anything coming out the Smithsonian is high quality."
To make the casts look as realistic as possible, Noakes enlisted the help of the scientific illustration program at UGA.
Gene Wright, the professor of art chair for scientific illustration, headed the work by painting the first cast to establish unique techniques employed by subsequent art students.
Making discoveries of this caliber is precisely what Noakes loves about diving.
"It's finding stuff like this that makes [diving] worth it," Noakes says. "When you have something really neat … that has been out there a long time that no one else has ever seen, and you bring it up, it makes things more interesting."
Out of the 46 students currently taking Scientific Diving 1, only six are graduate students.
Still, the program is much more than merely learning how to dive, and several of the graduate-level students are already certified and working on their own projects, including Gina Alvarez.
A graduate student from Orlando, Florida, studying fisheries and science, Alvarez is one of the program's most active divers.
Thanks to her work tagging gag groupers, a type of marine reef fish in the Gulf of Mexico, Alvarez logged over 80 dives last year.
Community tides
Alvarez became open water scuba diving certified in 2010 and says she's always wanted to pursue a career in marine sciences, tracing her love of the ocean to her childhood.
"I grew up in Florida and my family's Dominican, so we'd go to the Caribbean every summer," Alvarez says. "I remember being fascinated with fish every time I went snorkeling and … one day [I] went, 'Well, fish is something my brain keeps going to, I must be into it.'"
While her involvement with the university's scientific diving program is mandatory, Alvarez says it's given her opportunities to work with agencies such as the National Oceanic and Atmospheric Administration and diversify her resume.
"Being in a concrete jungle, I'll often feel disconnected from nature, but when you go diving you're literally immersing yourself in nature and you feel more connected," Alvarez says.
C. Brock Woodson, an associate professor in UGA's College of Engineering, is connected to the program through his own research and the university's COBIAlab.
First involved in the scientific diving program as a graduate student at Georgia Tech, Woodson is currently working with small-scale fisheries in Baja California, Mexico.
Woodson says the program is an "invaluable resource" to both the university and the scientific diving community.
"It saves us money and it allows us to do things that we just wouldn't be able to do otherwise," Woodson says.
Scientific diving is ultimately a lesson in good communication, according to Woodson.
"Having to work with another diver underwater when you can't talk and have to accomplish tasks really changes your view of communication," Woodson says.
---
"Being in a concrete jungle, I'll often feel disconnected from nature, but when you go diving you're literally immersing yourself in nature and you feel more connected."
—Gina Alvarez, graduate student
---
Because he works with divers who speak Spanish, Woodson says exchanges are often better underwater where they use hand signals.
For all three researchers, diving is far more than looking at fish or being surrounded by a school of hammerhead sharks. It's a way to be awed — to learn from and discover a whole new world.
"We've sent people into outer space, we've sent people to the moon [yet] there are places in the world, deep water, that have never been explored," Noakes says. "Through scientific diving, many of [the students] are realizing there's a world to explore."