Beside the entrees on Heirloom Cafe and Fresh Market's menu, brackets enclose the names of the farm, city and state where each entree item was raised. On the back of the menu, a green box surrounds a list of the current local farms and pastures Heirloom Cafe utilizes for its products. These details may seem superfluous, but they are pivotal to the restaurant's sustainability goals.
As consumers, understanding the origins of meats and produce is imperative to the sustainability of agriculture. Such practices are a major aspect of locally sourcing food, and knowing the produce comes from a local farm means the money spent on that meal will recycle back into the Athens community.
When restaurant owners and community members buy local produce they're allowing local farmers to stay in business while benefiting from fresher, healthier produce. When a truckload of crops harvested in California makes its way across the country to Georgia, it accumulates a lot of food miles.
Anne Marie Zimeri, an environmental health science and global institute assistant professor, explains "food miles" as the distance and fuel used to transport produce from grower to seller.
"On average, produce from the grocery store has at least 15 hundred miles on it," Zimeri says. "And more than that if you're trying to eat peaches in January."
For Athens restaurant owner Peter Dale of The National, locally-sourced produce shapes around 50 to 80 percent of his menu — with winter being the lowest and summer the highest.
Dale says the main reason he chooses local is because of the taste difference. To Dale, tomatoes that ripen in the back of a truck, or in a warehouse are incomparable to the local tomatoes that ripen on the vine and are delivered the same day they're harvested.
---
---
When tomatoes are out of season, Dale says they have to roast store-bought tomatoes slowly overnight to bring out the flavors, rather than the fresh local tomatoes that have enough flavor on their own to be served over a salad.
Once, when they ran out of local green beans at The National and had to use some that weren't locally sourced Dale says that the difference in taste was shocking. The store bought green beans were tasteless, and Dale says they even had to change that item on the menu until they received more local green beans. 
As the availability of produce varies season-to-season, Dale says it forces him to make changes quickly, which allows the menu to stay fresh and different. These adaptations are more of a welcome challenge.
"It drives our creativity," Dale says.
Instead of having a stagnant menu that never changes, Dale has to adapt his menus based on which crops are phasing out and prepare for new items coming in. Only about a third of the restaurant's menu is constant—besides main dish proteins—most of the sides and menu options are based on what is harvested by local farmers that week.
---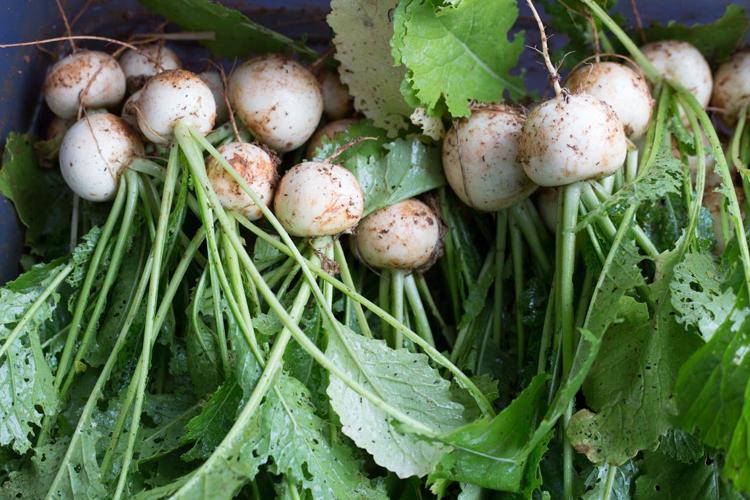 ---
"If you reinvented the wheel every day, people would be like 'well I really liked that one dish that you had last time' and they want to see a few familiar things, but then our clientele also likes seeing what's new and seasonal," Dale says.
In addition to taste, Dale and Jessica Rothacker, the owner of Heirloom Cafe, both agree that community is a deciding factor in serving local produce.
"It's more of a cultural thing for me," Rothacker says. "As part of my upbringing, trying to be part of the community is what makes [buying local] most important to me."
For Rothacker, it's important to know the person producing the food she's serving and know that the farmer is raising the crops and animals responsibly. Connecting the buyer to the producer in this way creates personal accountability. Since Rothacker has been buying from some of the farmers since opening, she has been able to build solid and lasting relationships with them.
"It feels kind of like we're buying from our family almost because they all kind of run things in that way," Rothacker says.
Rothacker met some of the farmers she uses today when she was a board member of the nonprofit PLACE, which stands for Promoting Local Agriculture and Cultural Experiences.  Although that organization no longer exists, it helped form the Athens Farmers Market which has contributed to the growth and success of local farmers.
Since the farming community has grown so much in the past few years, farmers are beginning to ask restaurant owners what they would like them to grow to differentiate themselves from the other farmers.
When Dale first started cooking at local restaurant Five & Ten, there was only one farmer that would come once a week to the restaurant and sell vegetables. Through more than a decade in the culinary scene, Dale has seen that number increase steadily with more and more farmers involved and local produce purchased.
As restaurants and Athenians continue to buy from local farmers, the robustness of the farmer's market continues to grow. Farmers ask restaurants like The National and Heirloom Cafe what produce they would like to see and in turn, the farmers are able to provide more variety at the markets.
The Farmers of Athens
Besides farmer's markets, local Athens farmers are able to sell their produce to families through Community Supported Agriculture (CSA) programs like Collective Harvest.  
In a CSA, farmers pool together their harvest and divide it amongst those who have signed up for a share. Before the season starts, people can sign up on Collective Harvest's website and pay a deposit which will later be paid in full when they pick up the produce. The deposit allows the farms to buy seed and equipment needed to produce that season's harvest.
Collective Harvest is comprised of four farms which serve around 200 CSA members on average, and during the winter roughly 80 members, according to Rachel Waldron the CSA manager of Collective Harvest.
This past year, Collective Harvest operated for 51 weeks out of the year. Waldron says they were planning on stopping when they ran out of food, but even through winter they were able to make deliveries to restaurants.
Through Collective Harvest, farmers are also able to sell to restaurants more effectively. Instead of the farmers having to plant, harvest, distribute and communicate with restaurants, that job is given to people like Waldron who can speak for the farmers and give availability lists of crops to restaurants.
---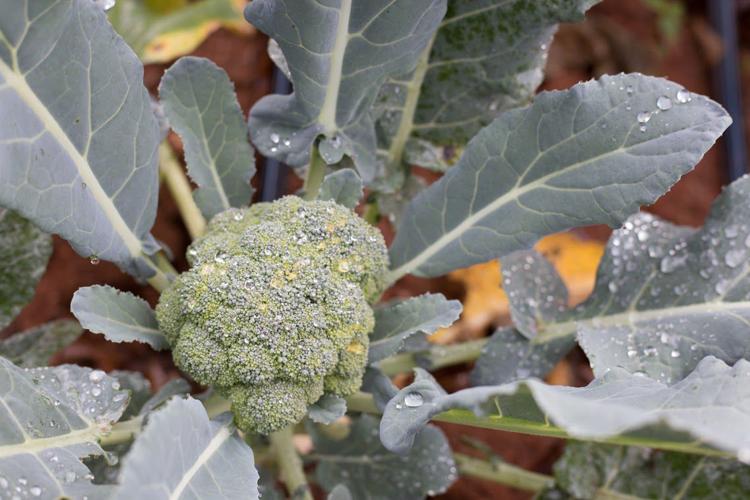 ---
CSA's, like Collective Harvest, are creating more jobs in the community as well as aiding the growth of the local farming community by allowing farmers to grow and distribute more of their harvests.
One of the four Collective Harvest farmers is Carter Dodd. It's his fourth season operating Dimond Hill Farm, and on his one and a half acre lot he has grow everything from tomatoes to sunchoke. With the recent expansion in Athens of buying local, Dodd and other farmers have built hoop houses, or greenhouses, on their farms to protect crops during winter and promote year-round farming.
---
 "It's getting bigger and more available so we're seeing more and more restaurants interested in carrying local produce,"
-Carter Dodd
---
Since farmers are starting to grow year-round, Waldron says a main goal of Collective Harvest is for the community to start eating seasonally and understand what produce is in season. When people start eating what is locally in season,as opposed to the out of season produce that is often available year-round in grocery stores, it helps the local farming community as well as lessens the unsustainability of the current agriculture market. When the community buys local produce, that money is placed back into the community and allows farmers to continue harvesting.
Understanding seasonality is also important for Jacqui and Alex Coburn of Front Field Farm. Front Field Farm is also part of Collective Harvest. The couple likes to say that they grow everything from arugula to zucchini, or A-Z. Like other farmers in the area, the Coburns do market farming, which is to say they plant an assortment of crops, to provide variety in the farmer's market.
The reason why these farmers are able to grow and harvest so many different varieties is because of the demand they receive from both restaurants and consumers.
"People are excited about the different varieties of radishes and turnips. Different kales, they want to see that—the heirloom varieties," Alex Coburn says.
Since grocery stores have spoiled consumers by having almost every fruit and vegetable available all year, it's important to understand that local farmers do not grow strawberries in winter. Customers cannot expect tomatoes at the farmers market in late August, but rather late May when they are in season.
"We wish we could kind of really tune people into the seasonality of foods in the South," Jacqui Coburn says. "It's not the same as a couple of states to the north of us. It's a big difference in the growing seasons. So we'll just keep trying to educate people."
Beyond eating seasonally, Waldron and Dodd say that more people need to be educated on the many uses of fruits and vegetables. Instead of just using radishes on salads, members of the CSA have discovered that radishes can be sliced and used as crackers with a spread of pimento cheese on top. Instead of using a vegetable exclusively as a side item, look up recipes of how to make that vegetable the main dish.
Since farmers have the freedom to plant non-traditional fruits and vegetables, often CSA members will be exposed to something they've never tried before. One member received a Korean melon in her share, and without looking at the labeling thought it was a spaghetti squash. Needless to say, when she attempted to cook the melon it did not go well and told Waldron of her mistake at the next pick up.
As part of the CSA newsletter, Waldron includes recipes that she, or other CSA members have shared on how to use that week's harvest in new and creative ways. Somewhere along the way, people have forgotten how to cook and how to be inventive in meal prepping. Waldron and Dodd enjoy the influence they have in reintroducing cooking into the lives of the families that they meet.
Dodd recalls how once a family came to the farm and the child who supposedly did not like tomatoes couldn't get enough. He kept taking the tomatoes off the plant and shoving them in his mouth. Just being exposed to vegetables beyond the dinner table can help children be more open and excited about eating healthy.
When the CSA has its market style pick up, parents will often bring along their children. Waldron says that children may not necessarily be excited about what comes out of the fridge, but at the pick up the children are excited to see what they can eat before they get home.
"Kids get a choice in that [what they eat]. We have so many different kids that come in and they're like, what can I eat now?" Waldron says.
Not only is the exposure to these fruits and vegetables important to the children, but also the parents in understanding how to feed their families in balanced and creative ways. Hopefully, these farms will inspire families to plant their own gardens and be even more involved in the cooking process.
There are some CSA members that have been members for several years, coming back weekly for their pick up of the shares. Waldron says it has created a more direct connection between the people and the land. Other than bringing families back to understanding where their food comes from, Waldron thinks this is part of something bigger.
"I like to think that we're building a community as well," Waldron says.
The Future of Farming
According to Zimeri, the risk of not eating and sourcing foods locally is that there will be a food shortage in the future. If land is not farmed in a sustainable way, the consequence may be that there's a loss of farmland as well.
"In the next 20 years when we may have up to 9 billion people on the planet, we really have to use our farmland judiciously so that we can produce enough food for everyone," Zimeri says.
Monoculture farming and overgrazing has already diminished a large portion of arable land. To combat the issue of over farming, both farmers and consumers need to pay attention to how crops are being produced. For the consumer, supporting local farms can help because by doing so money is staying within the community and not funding unsustainable practices.
By going to the farmers markets, consumers are able to speak with the farmer who has overseen the growth of that crop. It creates an open dialogue for consumers to understand the ways in which that produce was grown and make sure that it was done in a sustainable and responsible way.
"Farmers market has about 14 farms. They're all within an hour or two driving distance.
---
By supporting them we're keeping farmers in business we're keeping farmland in production,"
-Anne Marie Zimeri
---
In regards to cost effectiveness, Zimeri says that the difference really isn't as drastic as people may think. Buying produce from big box stores may be cheaper at checkout, but in the long-run it costs more as food will become more expensive as the cost of farming increases
"There are these external costs that you don't see when you buy really cheap food from a big box store compared to a local farmer's market or a CSA," Zimeri says.