In Jon Ramsden's dining room turned bakery, he rolls strips of dough into bagel-shaped circles on a giant wooden table. His wife, Fran Bauer, works on packaging sourdough cinnamon crumb cakes to sell at the Eno's Baked booth at the Athens Farmers Market the next morning. The two are caught in a familiar routine that has been going on for around four years.
Meanwhile in Winterville, 12 cantaloupes sit on Chris Warren's dining room table waiting to be turned into pie. The kitchen smells warm and fresh from the pies already baking in the oven. Although cantaloupe pie sounds unusual, it makes for a delicious dessert.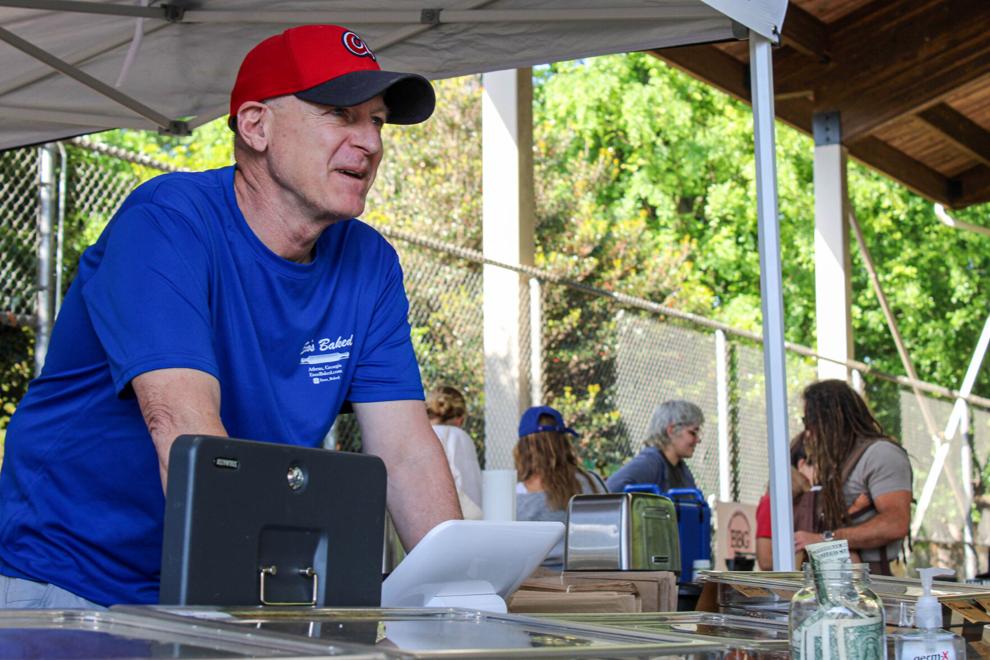 Athens is filled with small business owners like Ramsden and Warren who are following their passion. It's a vibrant community of bakers, growers and community members who support the local businesses that make up the Classic City.
Ramsden has always had a passion and love for baking, which has led him to dedicate his retirement years to running a bakery from his house.
"I'm a sugar addict," Ramsden said. "I love sweets, so that is really my main passion, making desserts, sweets, things like that."
Ramsden got his start selling his baked goods at the Downtown Culinary Showcase. When the Athens Farmers Market in Bishop Park opened to vendors with a cottage license, he set up shop every Saturday morning, rain or shine. With some trial and error, his bagels, sourdough cinnamon rolls, cookies and pretzels became a huge hit.
Warren remembers the day his grandmother invented cantaloupe pie. After purchasing two cantaloupes from the produce seller, the man asked what she was going to use them for. He drove away laughing when she told him that she would make them into a pie.
"She went [inside] and she processed it, and about three, maybe four hours later, the smell was in the house and you go in, and these beautiful pies are on the table," Warren said.
Now, Warren and his two brothers carry on the cantaloupe pie legacy in the form of Nerraw Foods Incorporated. In addition to the original cantaloupe pie, they sell a vegan and a sugar free version to offer healthier alternatives to people.
"Our mission here is to create new and healthier desserts," he said.
He sells his pies at markets around town including the Downtown Culinary Showcase and the Marigold Market in Winterville.
"Athens is a beautiful town with beautiful people," Warren said. "I love the atmosphere."
The Athens community is a big draw for small business owners. Precious Jones of MEplusTEA started her loose leaf tea business in Athens and hopes to remain local, she said.
After quitting her job as a graphic designer, Jones decided to pursue a career in herbalism and herbal wellness, she said. Jones had grown up learning about the importance of spirituality and herbal wellness. Combined with research and reading, she was able to develop blends and recipes to sell at markets around Athens.
Ramsden and his wife have been able to get to know the sellers who set up at the market weekly, and they get to know the customers who buy from them. For many people, shopping at small businesses is about forming relationships, Ramsden said.
"They come out [to the market] when it's windy, cold, rainy. They still show up on football days, on G-Day. They still come out to the farmers market and they talk and they have a good time," Ramsden said. "I don't think I've lived in another community quite like that."
In Athens, small businesses support each other, Warren said. When he sets up at the Marigold Market, if there's a new business, he tries to share their wares with his own established customers.
"That's what we're all trying to do as vendors to help each other to survive," Warren said. "You just meet great people … For the most part, there are some really great, hard working people."
Some businesses are able to source produce and ingredients from other market vendors. Jones combines loose-leaf teas from around the world with her own locally-grown herbs, and she sources from farms and herb-growers in the Athens area, like Hearts of Harvest, she said.
Both Ramsden and Warren said that the only way to last as a small business is to make connections with others.
"That's just the way life is, really. I mean, just to wish other people luck. If I can help somebody do a good job, that's just karma," Ramsden said.
But the community spirit doesn't stop there.When Ramsden and his wife had a family emergency and had to miss a market, someone put up a sign that Eno's Baked was away due to unforeseen circumstances but would return next week, Bauer said. When they returned to the market, they had patrons asking about their family.
"It really made us feel that it wasn't just about the food now, it was kind of like they knew who we were," Bauer said.
Warren remembers when Weaver D's Delicious Fine Foods celebrated its 35th anniversary by inviting vendors to set up at the restaurant. Dexter Weaver didn't charge anybody, he just gave people a space and let them sell their products, Warren said.
"I think this is a unique town," Ramsden said. "I think that there is something about the atmosphere here in Athens that makes it a little bit different."