Dreams
As people grow up, they are always told to follow their dreams no matter how grand or unconventional they may seem. Children can dream of becoming president or performing on stage for thousands of people, and they are encouraged to work hard and continue to be inspired -- to do whatever it takes to make their dreams a reality.
So why stop during childhood?
Mark Foy, age 54, stands as a collected-looking individual whose genteel appearance hides two electric professions. On any given day, you could find him constructing makeshift shells for giant snapping turtles or drawing blood from elephants. Later that night, however, Foy could be jamming behind an electric keyboard, sending light and textures out into the night with his prog-rock band.
A mild-mannered doctor by day and a rock star by night. Two dreams in one.
---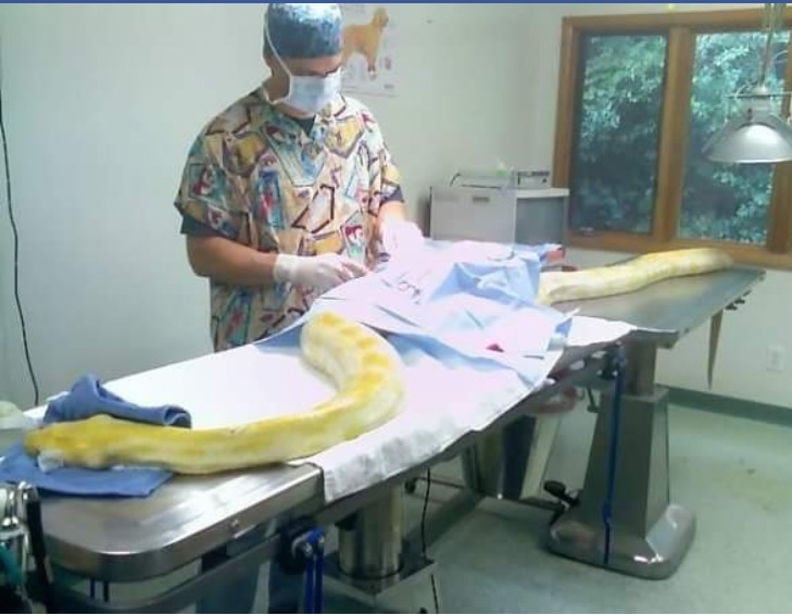 ---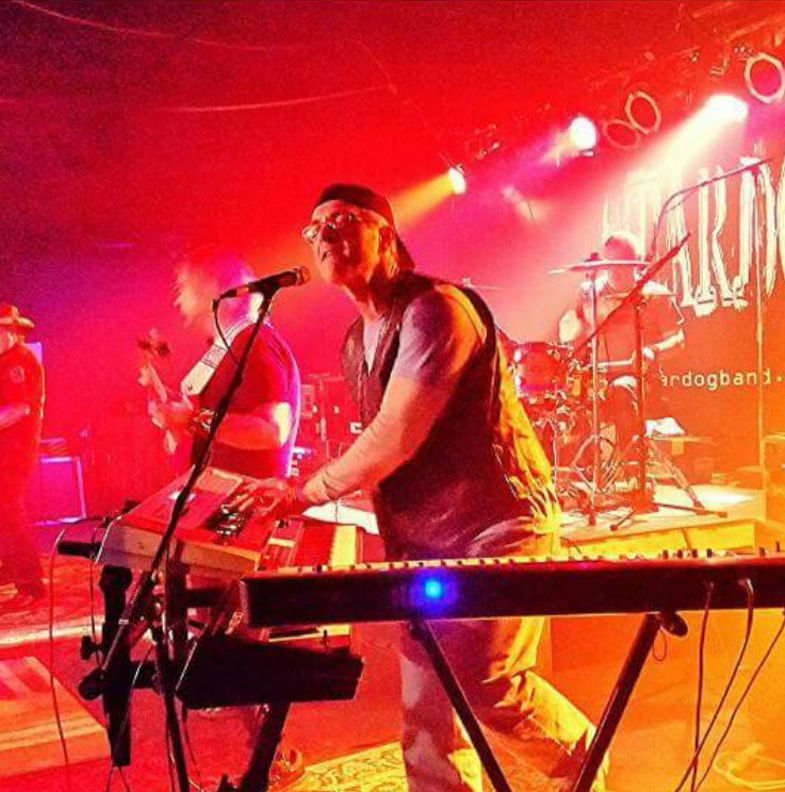 Photos Courtesy Mark Foy
---
On Call For Creepy Crawlers
Foy grew up in Columbia, South Carolina and always had a love for what he calls the "creepy crawly" variety of animals, consistently having some kind for lizard or snake on hand.
Foy attended the University of South Carolina as a biology undergraduate for six years, but with the absence of a veterinary school there, he went on to attend the University of Georgia as an in-state student. For four years, he enjoyed the Classic City and honed a craft with intense dedication.
"Ten years of college is a lot of school, and honestly, it's not a lot of fun," Foy says. "Everybody says, 'You want to go to vet school?' and I say, 'No, but I do want to become a veterinarian.' It was a real tough time. You definitely don't get the typical college life going into a speciality like I did."
As the years went by, days filled with nothing but bookwork finally turned into real practice during Foy's fourth year.
"I kind of stumbled into the vet school," Foy says. "For years, I'd been told you couldn't get into vet school because it was so hard, but I wanted to try, and I got in my first time. I liked the opportunity: you can become a teacher with a veterinary degree, you can go on and do research if you want, or practice, or have a private business."
Knowing that he wanted to do something in the medical area and desiring daily adventure of some sort, Foy chose to go into exotic veterinary study. He completed externships at the Riverbanks Zoo in Columbia, South Carolina before starting work at Sunset Animal Clinic. Foy sees the common animals such as dogs and cats but his work also includes a few truly bizarre patients, many of which that would have had few options for operation at other practices.
"I always had different kinds of pets growing up like lizards and snakes and I always liked those more creepy crawly animals," Foy says.
"There's far fewer vets that want to operate on a snake or bird than there are for dogs and cats, so it's cool to have a niche nobody else is doing. There's so much variation even among dogs and cats because there are different breeds and species. And then for me, a chicken is very different from a macaw, and even among macaws there are different breeds and species."
Often, looking at such unique animals requires Foy to formulate very specialized and carefully planned treatments.
"We don't know if a certain drug will have a reaction with a particular animal, so we have to give educated guesses sometimes. Every so often, we'll find an animal whose anatomy is different, but most bodies are pretty predictable with only minor differences," Foy says.
An exception came with one of his most interesting patients, a sloth who had two large stones removed from his stomach. Foy extensively researched the inner workings of sloths' urinary systems and managed a successful surgery.
Foy is also notorious for bringing his work home with him, much to his wife's bemusement.
"Currently, we have a red tail boa and two birds, and for the first time in 15 years we don't have any turtles," Patty Foy says. "In the spring, you never know what might be rehabbing in our bathroom. Someone will bring in a turtle, and Mark will fix their shell, and it'll stay with us for a few weeks. Because I work for vet practices, too, between the two of us it's a free-for-all on what might come through the door at the end of the day."
Patty, working for another veterinarian practice, met her husband 20 years ago at a bar called The Village Idiot. After a night of talking for hours, she called her mother the next morning saying, "I met the man I'm going to marry."
---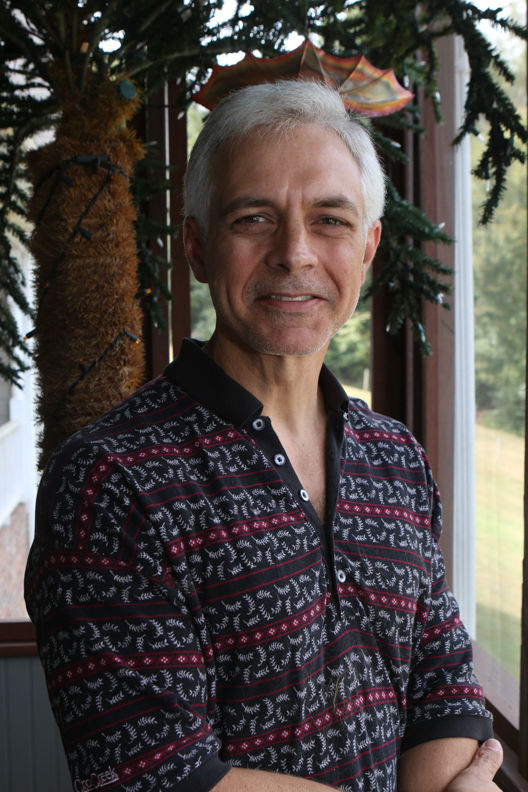 Henry Taylor
---
She describes the young Foy as clean-cut, well-mannered and overall a "high-functioning nerd." The two would eventually begin to date after a few long stints of absence and one fateful fax sent to Patty Foy's workplace. Later, the pair went on to discover they had gone to high schools in the same district.
Eventually the "chick magnet" bachelor pad was sold and the Foys were married March 11, 2000. Almost exactly a year later, their daughter was born, and the pair moved across Lake Murray to Lexington, where they have stayed as a family for the past 17 years.
Since 1992 Foy continues to practice and operate at Sunset Animal Clinic in West Columbia, South Carolina.
"As for how people find me," Foy explains, "It's big time word of mouth. People, when they have an animal, call their usual veterinarian, and if they are confronted with a vet saying, 'We don't do anything like that,' they're pointed towards us. We're known for that. We get a lot of business from vets not wanting to touch certain animals, mostly referrals."
The list of colorful animals Foy has seen in his 24 years of practice ranges from big to small, slithering to stampeding. He treats trauma in tarantulas, operates on ferrets, mends hedgehogs back to health, has removed a small heater from the belly of an anglerfish and even performed a physical on a bald eagle in Yellowstone Park.
During his time in veterinary medicine, Foy has also successfully removed an arrow from a 30-pound snapping turtle, given life-saving fluids to a baby armadillo and dealt with everything from chickens to injured animals from the midlands of Columbia. In one of the longest cases he's seen, Foy removed a benign tumor from within the muscle of a six-foot albino burmese python.
"Even on normal things like box turtles, you have to get creative on how to fix their shells and Mark goes at it like an engineer," Patty Foy says.
In addition to seeing animals at his practice in West Columbia, Foy's interested in zoo medicine will also find him occasionally venturing off on-call to help some of the more exotic animals. When needed, he's acted as a veterinarian in a pinch for the Columbia Zoo in South Carolina, examining bears and tigers and once even neutering a peacock.
Foy has also previously done work drawing blood from a sick baby Indian elephant when a circus came through town. He remarks that the animal --"big as a table but a cute little thing"-- was an adventure to work with.
Accompanying the wide variety of animals he's worked on, Foy has also dealt with many distinguished clients throughout the years. The Lady Chablis, the famous drag performer best known for her inclusion in the Savannah-centric novel "Midnight in the Garden of Good and Evil," was Foy's client on behalf of her pet dog.
---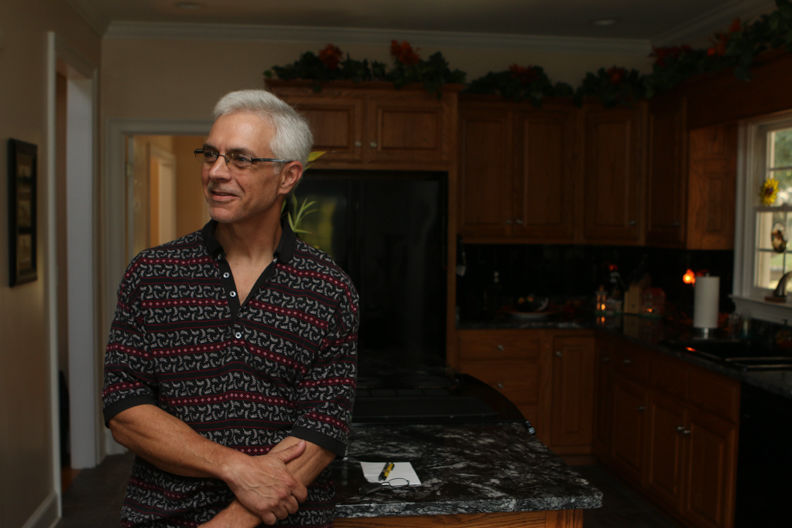 Henry Taylor
---
"You'd be surprised at the people we get," Foy says. "One very clean-cut gentleman I've worked with has over a half-dozen snakes, and you'd never know from looking at him. We've also had an exotic dancer with a python as part of her act that got sick. She invited me out multiple times to see her act, but I said that I was okay."
The diversity between pet owners is one that Patty Foy also comments on, noticing the bond that all who own or operate on exotics share.
"As for exotic animals, the people who own them come from all walks of life," she says. "It baffles me when I find a clean-cut, conservative looking professional who has five snakes because the next person he sees looks like they just got off the back of a harley. There's no rhyme or reason, but people who love exotics like he does have a true passion."
Bonnie Kershaw started veterinary school in the fall of 1990, staying in Athens due to the nature of its small town-meets-metropolitan feel. Now working part-time as a relief veterinarian, Kershaw also continues to run the veterinary technician program she founded at Gwinnett Technical College in 1997. She works at the school full-time, managing as program director and teaching classes in the program and is currently writing the third edition of her textbook, "Exotic Animal Medicine for the Veterinary Technician."
Kershaw met Foy at the North American Veterinary Conference in Orlando four years ago, an annual event which features informational events and live music. She first recognized him for his veterinary practicing, but would later be pleasantly surprised to discover his musical side.
"I've always looked at veterinary medicine as a calling in that for someone who wants to be a vet, something drives them to want that work. People associate medicine with making good money, but a person could make more money as a pharmacist," Kershaw says. "At the heart of business is a calling, something driving you to be in the profession, and I think music is similar: people are driven to play and perform."
Both of these loves would seem to stem from the birthplace of Foy's education and the city where he learned to practice.
"It's hard for me to divorce veterinary school and Athens because being a vet is my life. That's what I spend most of my time doing, so it's led to all sorts of opportunities," Foy says. "Athens and what I do now can't be divorced from each other."
The Rock Doc
Practicing as an exotic veterinarian is one time-consuming, high-voltage profession, but Foy's other passion remains a whole different animal.
That job? Being a bona-fide rockstar. In addition to his veterinary practicing, Foy also acts as the keyboard player and keystone of Columbia-based rock band Stardog.
"Even back in high school, he always had his little garage bands. That was never where his heart was though," Patty Foy says. "All the musicians in Columbia knew each other, and these guys all had the same vision, wanting to get into original work and into rock. They were tired of cover bands and bars and got together writing their own music, and here they are as Stardog. They're all about Mark's age but can cut loose and jam because they're living out this childhood dream."
Foy first got into keyboard after his brother growing up fell into playing guitar, inspired by rock and roll. When Foy was a student at UGA, Athens was a hotbed for musical activity, spawning some of the Classic City's most beloved bands like R.E.M. and the B-52's. Foy admits to taking great pleasure in Fridays and Saturdays, as he could spend these nights at music clubs, a welcomed reprieve from his schoolwork for a time.
Using music as a release from the pressures of his studies, Foy hit his stride musically after vet school, working with a partner to plan Fourth of July parties that saw people from all over coming with instruments to jam. Eventually, the two started practicing actual songs and coming up with setlists, and Foy's progression as a musician continued from there.
---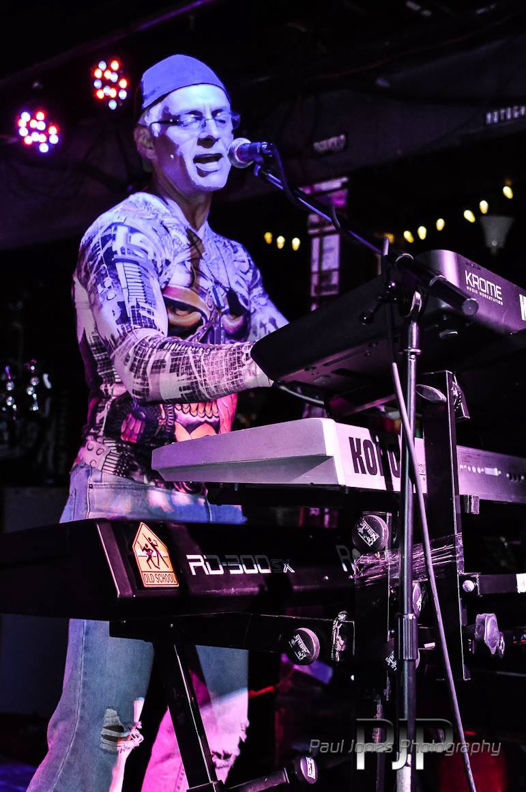 Courtesy Mark Foy
---
"Why does a writer write? It's just something I do," Foy says. "I go home, sit at the piano and play -- not necessarily a song, but just to create something. It's like my own psychiatrist. It keeps me sane. Therapeutic. Sometimes, I like turning the radio and trying to play whatever is on. It's like a challenge. Once I learn a new song, it's like a new toy for a few weeks."
Foy joined Stardog as the "last cog in the wheel" after a friend asked if he would like to start playing with a group. Ensnared by the drummer and enthusiastic about the band's energy, he climbed aboard, happy to provide a grounding, textured element to the rock band. There have been bumps along the way, but the group has found themselves a spot in Columbia and a fanbase for their rocking jams.
Comparable to Deep Purple with a 2000 twist, the textures supplied by Foy also give Stardog's music hints of Pink Floyd, Alice in Chains, Bon Jovi and Mӧtley Crüe. Foy remarks that each bandmate brings something different in terms of interests, making each song a mutual combination of all five members.
"When we get together, we throw all this stuff in the melting pot. When we write a song, it's mostly created on the spot," Foy says.
Stardog's lead vocalist, Artie Joyner, has known Foy for three years and instantly gravitated towards him as a keyboardist, stating he and the rest of the band are blessed to have him.
"He is a very gifted keyboard player and pianist, and he gives our band another dimension, moving us into more of a progressive rock band," Joyner says. "Plus he's very visual on stage. You look at a lot of pianists, and they sometimes hide behind keyboard, but Mark is very overt in his showmanship. Many folks say they like just coming to see and feel his energy from the stage."
"I don't know many guys that age who can play in bars shirtless onstage."
Joyner met Foy in April of 2013 when he and Stardog guitarist Beau Long had a vision of putting together a band that would simultaneously create original content while still paying homage to their musical influences of rock bands from the '70s and '80s.
Joyner's first impression of his future keyboardist was of a "confident, intelligent and polite gentleman," but it was the first notes Foy played that solidified him as the missing puzzle piece of Stardog.
"We knew he was gonna add an extra dimension - more scope and horsepower," Joyner says. "Before he even struck a note on his keyboard, I knew he would be easy to get along with. He had a great sense of humor and didn't take himself too seriously. When he's on stage and when he smiles, he lights things up. After the first jam, there was no turning back. We knew he was our guy, and we've been like brothers ever since."
Since then, Foy has continued to play with the band as their lively and charismatic keyboard player, and when he's at the keys, Joyner and the other band members affectionately say that "the Rock Doc is on the clock."
"When we're writing these songs, Mark is invaluable in his contributions as a composer," Joyner says. "Keyboard players see song structures differently than guitar players do, and most of our chord progressions are due to Dr. Foy's musicality. We've released 2 EPs with five songs each, and of the ten recordings, Mark's contributions are 50% of the compositional structure."
Stardog's newest member is its third bass player and youngest member Jimi Agard. After saying that being in a band was like being married to four people at once, Foy lovingly says that Agard is "engaged" to Stardog. He, Foy and the other members all have nine-to-five jobs on the side of being in the band that they must balance along with having a homelife.
"There's never enough hours in the day - especially if you're living this dual existence like Mark is," Joyner says. "You've got components of earning a living, being a professional, putting meat on the table and paying mortgage. You've also got to spend time with your family because that's the most important thing. The band comes in a distant third behind domestic and professional life."
Joyner and Foy meet once a week for around three hours to rehearse with the rest of the band, jamming from 8-11 p.m. in an industrial warehouse they rent in Lexington, SC which they lovingly call "Stardog Corporate Headquarters." They maximize their time practicing and playing in the hopes of finding venues that will accept original music, something often easier said than done.
"The traditional model is for bands at a tavern or bar to be there to create energy and sell cocktails," Joyner says. "These owners want familiar songs they can dance or reminisce to. Normally, the variety band does an hour-long set along with three other groups, playing things like Beyonce or ZZ Top or Bon Jovi. We've all done that for decades, and we're all tired of playing four hours of other people's materials like human jukeboxes, getting home tired at three in the morning."
"We've got a couple local bars in town that cater to original music, so we play at those two spots pretty regularly," Foy says, elaborating. "Every now and then, we go out of town to Charlotte or Charleston. We'd love to be in Athens, but because we have our day jobs, it makes it tough for us to go too far out of our little circumference. There's plenty of bars out there that have live music, but they want covers. They want the bands that play 'Brown Eyed Girl' and the like. We aren't that."
The primary focus of Stardog's members is writing and recording their own music. As both Joyner and Foy explain, the band remains a labor of love given that playing typically takes more money than it produces between recording costs, capital to purchase merchandise and traveling expenses.
"This band does not pay the bills," Foy says bluntly.
"We mostly do it for fun. We've created something never heard before, and that's our reward. If we get money for it down the road, that's great, but that's not our goal. Writing music is."
Joyner expresses the same sentiment, recalling how rewarding creating new material is after a similar lifetime of playing solely covers.
"We've created 10 songs, committed them to digital recordings, and they're there," Joyner says. "They now exist traveling through the galaxy, and we're proud of them. We're proud of them because the songs are their own rewards. The challenge is presenting them to the public, which typically isn't interested in bands they've never heard of."
He reveals that Athens would be a personal triumph for the band to tackle with performances, especially the 40 Watt Club.
"When we were kids in college, the 40 Watt saw R.E.M and the B-52's and Hootie and the Blowfish cutting their teeth. To be featured at the 40 Watt would be legendary, so that's our Athens goal."
After their initial meeting at the North American Veterinary Conference, Kershaw would become much more invested in Foy's work in January of 2015. During the NAVC's annual live music performance, Foy gave her a CD, telling Kershaw that he was in a band and that she should give the music a listen. It wasn't until much later that she did, and what she found was a surprise.
"I couldn't believe that they were that good and that Mark was in a band that sounded like that. It was not what I expected," Kershaw says. "I tell people, to me, they're the best original hard rock band I've heard in over 30 years. Soon as I heard them, I knew more people had to hear them."
Kershaw would begin to attend Stardog's live performances and continues to work hard to find bookings for the band here in Athens. She helps promote Stardog as an unofficial managerial-type, selling CDs and merchandise and creating and handing out the band's business cards. Lacking real connections in the music world can be frustrating, but her devotion to the band keeps the job worthwhile.
---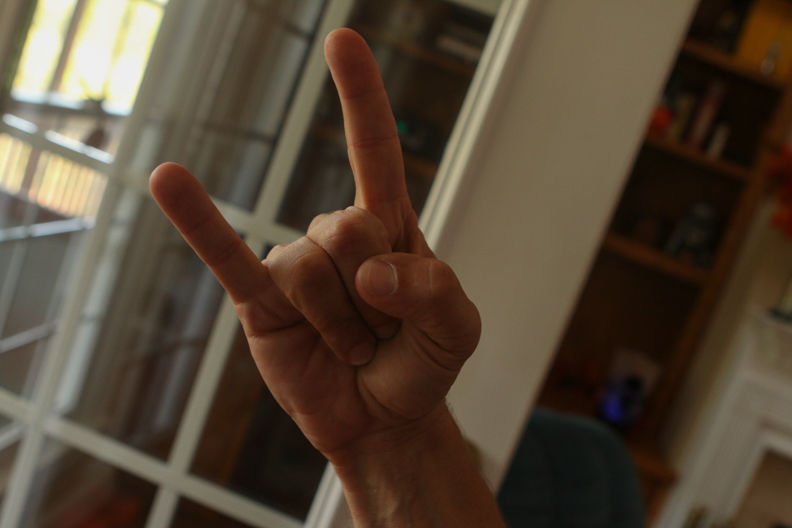 Henry Taylor
---
"I've always been interested in the music businesses - had a fascination with how it works and how recordings are done," Kershaw says. "For me, being involved with them in the kind of unusual way it came about has been a joy because I'm getting to see the thing I've always been curious about. Seeing the other side of the band, not just being the person buying the music, is cool, and the band members are all wonderful people. To know them personally and then watch them professionally is really a neat thing to see."
Ultimately, Foy and his fellow band members strive to inspire above all else, hoping to make music people can return to affectionately.
"We've been performing for maybe a year, and I remember one of our big shows, we were looking out in the audience, and people were actually singing our lyrics," Foy says. "Everyone has songs they love and go to, and if I could write that for someone else, to have one of our songs be that one people really connect and go to, that would be so cool. If you can motivate and inspire, support people through your works, it drives the point home that money isn't everything. If you can inspire, what is money good for?"
Dr. Jekyll and Mr. Hyde
The balancing act between being a veterinarian and a rockstar is not easy but Foy manages to find time to do it all.
He currently lives in Lexington, a suburb in Columbia, with his wife and daughter. Keeping the band central to home and avoiding long tours is essential, as is maintaining his day job to pay the bills given the lack of money the band pulls in. Foy speculates on the dream of becoming a full-time rockstar if the job paid better, but has ultimately decided to stick where he is now.
"I don't have a huge nest-egg to retire on, so the financial aspect of my job is very important," he says. "If the band could pay more expenses then I could consider leaving the day job. It would be fun for a little while. Nothing is going to take away my knowledge I have for medicine so if I stepped away for a year or half-a-year, I could go full force."
---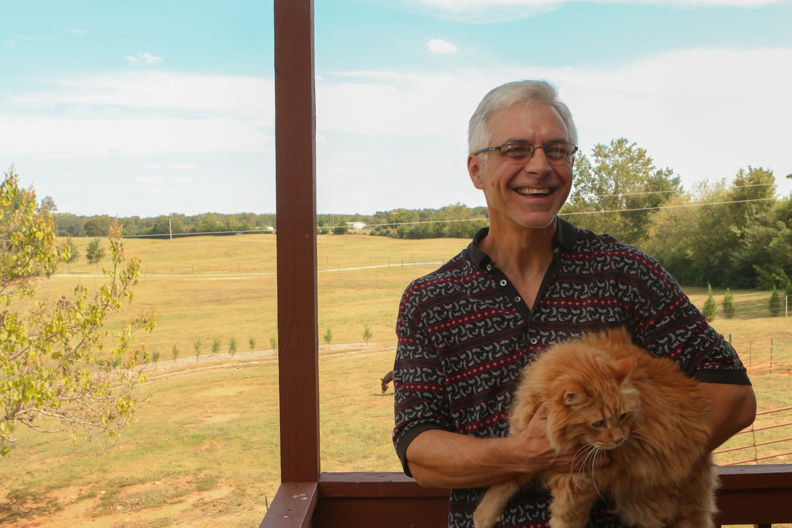 Henry Taylor
---
Patty Foy remarks on how admirable her husband's time management was, which can include staying up until 2 or 3 a.m. to finish up work after long hours at the clinic.
"There are so many different interests he has," she says. "The typical vet usually has outside interests that still involve animals, but Mark can fit into so many different groups - with musicians and veterinarians and collectors. To be that adaptable and to be able to balance your life and have that many interests and pursue them successfully, it's not easy, and yet somehow he does it."
Joyner, when reflecting on Dr. Foy's character, attributes much of his love of life, animals and humanity to UGA, crediting the university for creating such a fascinating individual.
"The kind of work that he does as a veterinarian lends itself to the music, and the fact that he exercises and embraces compassion for animals translates in his playing and certainly translates in how lovely and graceful he is with his family," Joyner says. "He's a product and effect of the University of Georgia. UGA should be proud to help produce a gentleman of Dr. Foy's character, a wonderful friend and colleague. Telling his story helps illustrate the importance of what UGA does, and the quality and character it produces and fosters."
Ultimately, whether by schooling or inherent qualities, Foy manages to keep up two wildly different but equally dynamic identities that somehow come together harmoniously. He manages to plow through high-voltage stage performances with the same enthusiasm as he does with caring for animals, and those who know him can tell that he wouldn't want to do anything else.
"People are surprised by my Mr. Hyde compared to the Dr. Jekyll during the day," Foy says. "Stories of following dreams are very compelling, and I'm following two dreams that are very different, but I'm able to do it and be successful at both. I'm doing it."