There is a habit harped upon for children and praised by adults that leads to a longer life, according to a 2016 study by Yale University. It relieves stress, improves memory and boosts one's capacity for concentration. Some, when confronted with these benefits, may sigh and say they already have a workout routine. Others, familiar with the habit in question, may ask, "Alright, but do you read?"
Although leisure reading has been on the decline for decades based on the United States Bureau of Labor Statistics' American Time Use Surveys, those committed to the hobby are reading now more than ever.
For Rachel Watkins, the director of operations at Avid Bookshop, reading is both a professional and personal pursuit. When asked to pick a favorite book, Watkins cannot bring herself to do so.
"It's like picking a favorite child," Watkins says.
By the book
Watkins, who says she read more than 78 books last year, enjoys the significant literary perks that are the result of her employment.
"One of the best things about working in the book industry is getting to read books before they're published," Watkins says.
In the basement office of Avid Bookshop at Five Points, there are hundreds of advanced reading copies of books, known as galley copies. Avid employees, along with others in the print business, are responsible for reading and reviewing early manuscripts sent by publishers to generate a buzz. One of Watkins' reviews was selected as a book blurb for the English translation of "Disoriental," a popular French novel by Négar Djavadi.
Still, it's not a perfect science, as the books begin to blur together.
"I am a fast reader, and my New Year's resolution — the only one I've made — is to review a book each time I finish it, because if I don't, it's so hard," Watkins says. "Three books later, I can't remember why I loved it."
Avid bookseller and University of Georgia senior Grace Williamson is familiar with the perils of speed reading.
"In my experience as an English major, I have to read things quickly," Williamson says. "As wonderful as it is to get to read a lot of things, you miss details that other people pick up on."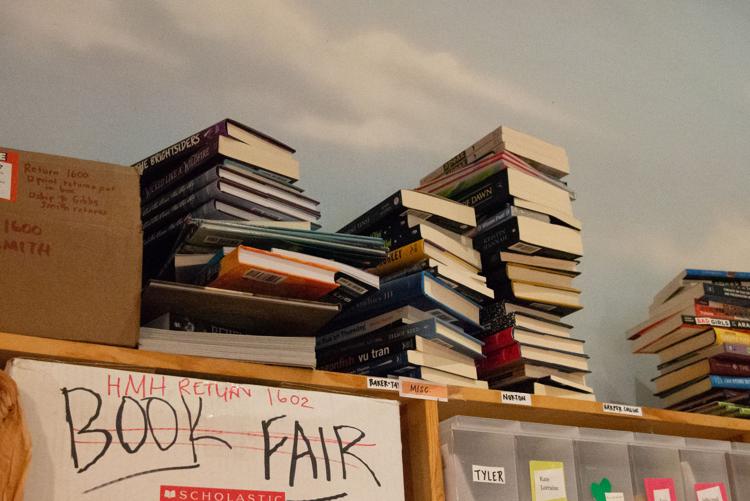 One way to get more mileage out of a book, according to Williamson, is to participate in a book club. Avid Bookshop currently offers the Hot Fiction Book Club, the Classics Book Club, the Paperback Book Club, the Social Justice Book Club and the Young Adult (for Not-so-Young Adults) Book Club. These clubs all came about through the suggestions of Avid employees.
"They really are started when a bookseller of ours comes to us and says, 'Hey, I would love to start a book club,'" Watkins says. "One of the beautiful things about working here is we try to give our employees a lot of leeway to do fun things that they want to do."
Toward the end of 2018, Williamson took over as the moderator of Avid's Social Justice Book Club after the departure of a colleague.
The results? "Really awesome."
"Coming into the book club and seeing what parts of each book or essay resonated with them, it helps build a more all-encompassing picture of what that author was trying to convey to you," Williamson says.
A new chapter
Trudi Green, the assistant director for public services at the Athens Regional Library System, believes book club discussions can unlock the depth present in "almost every book."
"You might say, 'This is nothing,' but when you get together with other people and start talking about it, you just unravel characters and plots and what the author was really trying to say," Green says. "You find depth that, on your first read, you may not realize was there."
Book clubs provide a deeper meaning to literature while intensifying the benefits already associated with reading.
---
"We're so divided in this nation: one way to understand someone else's point of view is to read."
— Rachel Watkins, Avid Bookshop
---
"Your brain is working, so you're going to be healthier," Green says. "We know that the more active your mind is, the healthier you're probably going to be. Plus, when you're at a book club, you're also social, and that's definitely good for you as well."
In addition to participating in a personal book club, Green oversees the five book clubs offered by the library: After the End Post-apocalyptic Fiction, African-American Authors Book Club, Talking About Books, For the Philo of Philosophy, Children's Book Club and the Last Monday Book Discussion Group. Some of these have been offered for "years and years and years."
Green believes each book club has a distinct personality that evolves as members come and go. The staff liaisons for each club then learn what is needed and how much intervention is necessary. For example, some book club members place their own books on hold while others request the service from the staff.
"They develop a relationship with the book club members, and they enjoy it," Green says. "The staff members really enjoy leading the book clubs."
Williamson has a comparable appreciation for the attendees of her club, who vary from literature-deprived STEM students "who just want someone to talk about books with" to a middle-aged group who is excited to learn about social issues through reading.
"I get this stuff a lot because I take courses in it, so it's really nice that people are choosing to do this in their own time because they want to learn more about it," Williamson says.
Watkins says one reason readers may join a book club is to "[pump] up their education," such as with members of the Avid Classics Book Club who are catching up on the literary gems they've missed. In fact, the club was started when inventory manager Tyler Goodson decided he wanted to read more classic literature.
Reading people
In other circumstances, attendees may learn as much from each other as from the book itself thanks to the diversity of the group.
"It's nice to have people you enjoy who ... come from different backgrounds, who are all trying to relate their experiences to this book," Williamson says.
Watkins tells how in the Avid book club Hot Fiction, ages range from people in their early 20s to retirees in their 60s.
"It's pretty fun to have a group that is that wide-ranged with age," Watkins says. "You have this big mix of experience."
When the Hot Fiction group read "The Great Believers" by Rebecca Makkai, it discussed the AIDS crisis as depicted by the piece of historical fiction. To Watkins' surprise, one of the attendees was a nurse who had lived through the epidemic.
"For all of us who really enjoyed the book and learned a lot, she was like 'Y'all, I lived it,'" Watkins says. "It's fun to hear the personal relationships people have with books because of where they're coming from."
Whether from the literature or other people, book club attendees have the opportunity to grow. Williamson says she benefits from what she reads through the Social Justice book club, including the recently-discussed anthology "Can We All Be Feminists?" as edited by June Eric-Udorie.
"If I'm being honest, I probably wouldn't have read it if it wasn't for Social Justice Book Club,
Williamson says. "Getting into things I wouldn't normally read but then having an environment to discuss them so it holds me accountable ... is really awesome."
Green agrees book clubs promote a sense of accountability in readers, from trying genres to tackling new topics.
"I think book clubs make us read outside our comfort zone," Green says. "You might not like it, but it really helps you broaden what you might normally read."
Watkins says reading is becoming a more deliberate effort, instead of a leisurely pastime.
"I feel like for some of us, reading is becoming more of an active resistance," Watkins says. "There are outside forces telling us that we've got to be uncomfortable. We're so divided in this nation: one way to understand someone else's point of view is to read."
Watkins gives the example of the book "Holy Envy: Finding God in the Faith of Others" by Barbara Brown Taylor, set to be published in March by a former preacher and current Piedmont College teacher. The book details how Brown's perspective on religion vastly changed after she began teaching courses on other religions.
"It changed her entire spiritual life to teach a class on being a Muslim," Watkins says. "She laughed and said after she taught the class on Judaism, she wanted to become a Jew. This is not the typical Southern preacher's book."
Now, Brown's reflections are opening the minds of others.
"My mother, who is a 70-year-old white lady, who was a Southern Baptist and now she's a Methodist — she's reading this book and it's changing her life," Watkins says.