Dr. Arvin Scott teaches African American Percussive Music at the University of Georgia. In his classroom, students immerse themselves in the sounds of drum beats and the feeling of a taut drum beneath the palms of their hands. When Dr. Scott is not teaching students about African drumming, his passions compose a busy schedule that includes performances, community workshops and children's programs such as Drumming for Success. Dr. Scott founded Drumming for Success in 1997. The community program is for children 3–16 years old in Athens, Georgia to encourage academic achievement and personal growth. In 2000, Drumming for Success won The Best Supporter of Athens Music Scene given by the Flagpole Athens Music Awards and was a beneficiary of the 22nd Annual Human Rights Festival. Dr. Scott himself won Album of the Year and Best World/Ethnic music for his debut "Spirit Of The Drum" CD in the same Flagpole Athens Music Awards year. His hand drum ensemble, Arvin Jazz Ensemble, performed for two International Olympic events in 1996 and 2004.Ampersand Magazine emailed Dr. Scott to talk about his accomplishments and his program Drumming for Success.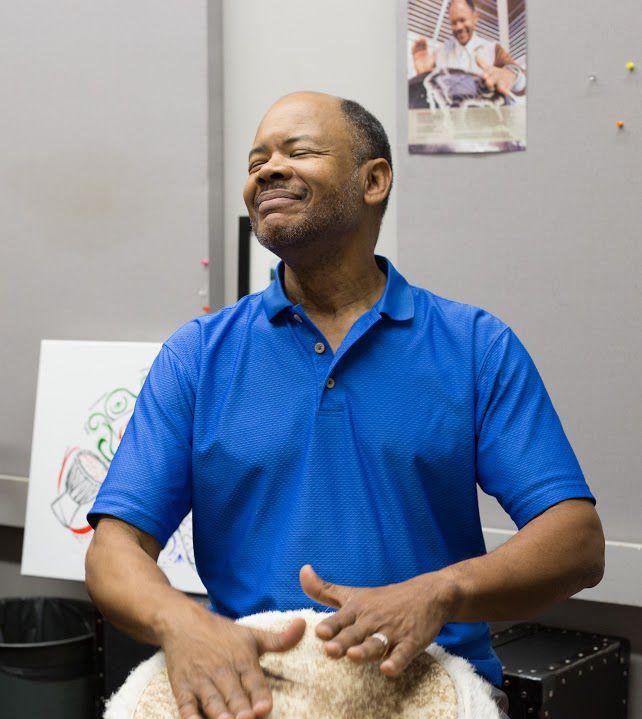 Q: I'd like to talk to you a bit about your background. What first lead you to your passion for drumming and music?
A: I have always had the passion for both. I can remember as far back as kindergarten, feeling and hearing the excitement of the sounds of drums, percussion and music. What led me to it? It was my home environment. My parents and brothers loved music! They were serious collectors. I heard great music daily. I grew up listening to the trailblazers of jazz drumming (Max Roach, Art Blakey, Elvin Jones, Cozy Cole and several others).
Q: Were you a natural at percussion, or did it take work to really refine your skills?
A: I was never a "natural." On the other hand, I have always been very creative and ambitious. Not being a natural, I knew that I had to work very hard and practice, practice, practice. I had to study and learn from the "masters."
Q: You have traveled to Brazil, the Caribbean and Europe. Which country or travel location had the most influence on your passion for music? Do you have certain locations that inspire you?
A: I appreciate and have been inspired and influenced by music from cultures from around the world, especially West Africa and The Caribbean. However, my greatest music influence is from right here in the good old USA! I am very inspired by the music of innovative jazz artists such as Max Roach, Elvin Jones, John Coltrane, Dizzy Gillespie, Miles Davis, Art Blakey, Tony Williams, Jack DeJohnette, Alan Dawson, etc. As a result, my approach to teaching and performing Brazilian, African and Caribbean-based hand drum music is firmly rooted in the discipline of jazz, improvisation and creativity.
Q: What does a typical day in the life of Arvin Scott look like?
A: Quality time with my family, planning and preparing teaching materials, classroom teaching at the Hodgson School of Music, playing as an accompanist for UGA's modern dance classes in the department of dance, facilitating Drumming for Success programs in the community, exercise and yoga.
Q: I noticed that your biography online talked about percussion methods for music therapy applications. Could you tell me about what music therapy is? How do you teach your classes on music therapy?
---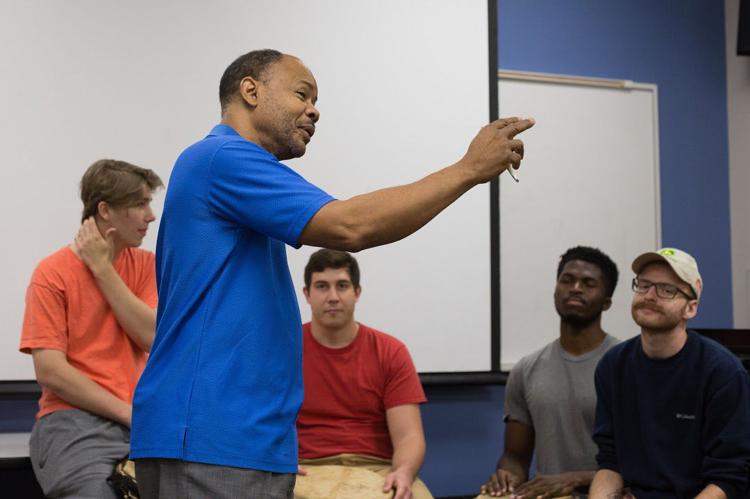 ---
A: According to the American Music Therapy Association, music therapy is the clinical and evidence-based use of music interventions to accomplish individualized goals within a therapeutic relationship by a credentialed professional who has completed an approved music therapy program. I teach a percussion methods course that includes hand drum performance techniques and repertoire as well as basic introductory-level drum kit techniques (for eventual clinical applications) to students majoring in music therapy.
Q: I'd like to talk about your program, Drumming for Success. What inspired you to form this group?
A: 20 years of Drumming for Success resulted from seven words from a child. Almost 20 years ago I created Drumming for Success—an award-winning, motivational program for children, teens and adults.
---
"I was inspired by two letters I received from a young boy and his sister who thanked me for spending time with them."
---
I had just left the bandstand to take a brief intermission when the grandmother of two children approached me and said that her grandchildren were mesmerized by my drumming & by my instrument as well. She asked if it would be okay for them to take an up-close look at my drum kit during my break. I said, "Of course." Then I gave them a tour of the kit, explained how each component functions, and gave both of them a pair of my drumsticks. Then a few days later I received two heartfelt thank you letters from the two children. One of the letters began with "Dear Mr. Dr. Arvin Scott, I want to thank you for spending time with me on your break showing me the parts of your drum set." Finally, the letter ended with these seven words: "I play with my sticks every day. "
---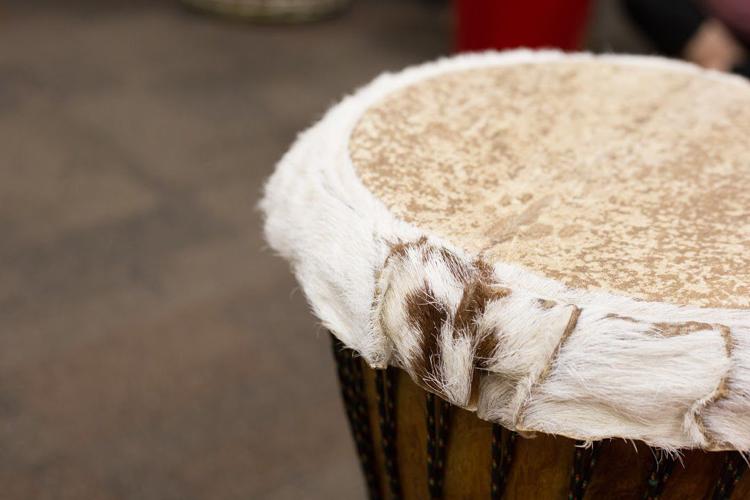 ---
I said, "Wow, I see an opportunity here to create a program that can have a lasting, empowering impact on the lives of children primarily, but also would benefit on the lives of children, teens, adults seniors and the elderly." So I immediately quit my weekly jazz gig and created weekly, community drumming workshops. These workshops within a few short weeks evolved into my award-winning Drumming for Success programs that for the past 20 years have been widely recognized for advocating strength of character, personal & academic goal achievement, positive self-esteem, self-confidence, perseverance, group cooperation, and teamwork for thousands of children, teens and adults in communities and institutions throughout the state of Georgia and beyond.
Q: What are some of the challenges with running Drumming for Success?
A: None so far. Seriously ...
Q: What kind of events does Drumming for Success do?
A: Drumming for Success programs have served public and private schools, boys and girls clubs, churches, summer camps, blind and visually Impaired support groups, hearing impaired children and more.
Q: What is your favorite aspect about drumming for success?
A: Seeing others succeed. For example, I recently received a phone call from a middle school band director who wanted information about grad school programs at UGA. He had participated in Drumming for Success during his elementary school, middle school and high school years. Now he's a middle school band director—about to enroll in grad school! Mission Accomplished!!
Q: How is Drumming for Success funded?
A: Drumming for Success youth program receives funding primarily from Beat the Drum.
Beat the Drum is a series of audience-participation community drumming events led by Sonny Ortiz (the percussionist with Widespread Panic) and myself. These recreational fund raising drumming events attract individuals who have no previous drumming experience as well as professional percussionists from Athens, Atlanta and other surrounding areas. It's a unique opportunity for adults children & teens of all ages and backgrounds to come together and share their passion for drumming.