For many students attending the University of Georgia, their time in Athens is comprised of lasting friendships, exhilarating experiences and higher learning. However, for others, the newness and excitement of all UGA has to offer is blighted by relationship and sexual violence.
According to UGA Police Department 2016 crime statistics, there were 16 actual rape cases and 10 cases of sexual battery. But in a study by the Department of Justice, more than 90 percent of sexual assault victims on college campuses around the United States do not report the assault.
While these statistics serve as a chilling reminder that this type of violence exists on campus, Relationship and Sexual Violence Prevention (RSVP) is working hard to combat this harsh reality.
The organization provides free and confidential services to survivors of relationship and sexual violence regardless of sex, race, and religion.
Caron Hope, the Assistant Director for Health Promotions, Relationship Sexual Violence and Prevention, has only been at RSVP since November of 2016, yet is already working to change the lives of many UGA students. As the assistant director, she is responsible for overseeing all of RSVP's prevention programming and advocacy work.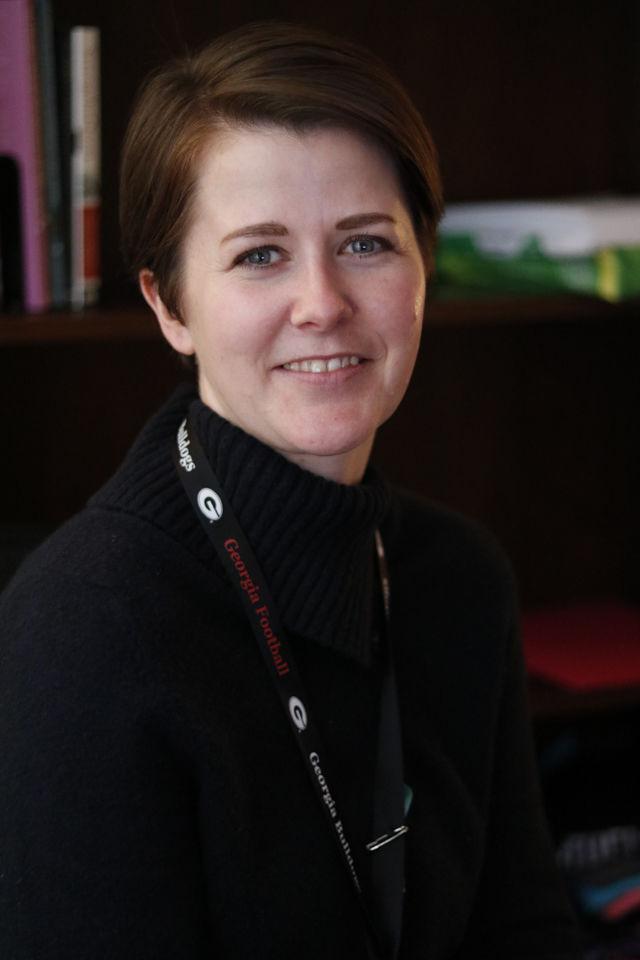 Her previous job entailed providing therapy to women who had trauma history and while it gave her valuable experience, she says that working in RSVP gives her the chance to intervene at an earlier time.
"Not only was there a prevention side, but also the ability to have a little bit of an earlier impact to hopefully prevent some of the long term issues I was seeing with women I was working with before," Hope says.
As an advocate, she supports students who seek the services of RSVP and makes sure they have access to all the resources they need such as counseling and academic assistance.
"If someone is experiencing relationship violence or has experienced sexual assault, it is likely going to affect their academic performance," Hope says.
In the whirlwind of emotional struggle and sometimes even medical treatment, victims will often have to miss class. This is where RSVP steps in and acts as the middleman in discussion between professors and students.
"It's not fair or safe in any way for that student to have to go tell six professors, six different times what they've been through," Hope says.
Respecting confidentiality is one of the organization's main priorities and thus the disclosure of information tends to be very general.
"We don't put everything out there," Hope says. "And we can ask for specific accommodations like rescheduling a test or excused absences."
RSVP's role as an advocate also extends to the medical side of sexual assault cases and they can accompany the victim through the complex and taxing forensic exam and police procedures.
"Within the first five days after [sexual assault] happens, they can have a forensic exam done by a specially trained nurse to collect evidence for potential prosecution," Hope says.
The advocate is also there to ensure they receive the necessary STD prophylaxis treatment and emergency contraception if needed. If a student wishes to file a police report, the RSVP advocate will facilitate and accompany them through police interviews as well.
---
"We can be there with the student through those police interviews though the university just for emotional support and to make sure they're being heard,"
-Caron Hope 
---
 The effects of abuse and assault are numerous, with some being depression, anxiety, drug use, and self-harm, according to Hope.
"With [trauma] comes a lot of internalization," Hope says. "Like, 'What did I do? This is my fault.'"
While it may be assumed that relationship or sexual violence is only a problem for women, men are also victims to this.
According to the National Sexual Violence Resource Center, one in 16 men are sexually assaulted while in college.
RSVP also extends its services to male students who Hope says are "underreported in terms of sexual assault or relationship violence" due to the stigmas associated with those reports.
"It might be harder for a male to report that he's suffering abuse either at the hands of his female partner or maybe it s a same sex relationship," Hope says. "[They're] just worried about the reaction they might get, that they might not be believed."
The advocacy treatment provided to males is no different than that given to other students, however Hope says that RSVP does have a male employee that is available to meet with male students if that's what they prefer.
Although advocacy is a valuable resource, the organization's programming also plays an undeniable role in the success and impact of RSVP at UGA.
"I think the meat of what we do is really in our programming," Hope says.
With programs tailored to faculty and staff at UGA to students living in resident halls, topics cover interpersonal violence, healthy relationships and consent.
Another area that RSVP wants to educate students in is domestic violence escalation. Through The Escalation Workshop provided by the One Love Foundation, a member of RSVP leads participants in a video-based discussion on "the early warning signs of relationship abuse and what they can do if they witness or experience these warning signs," according to their website.
Founded in 2010, One Love works to educate the youth on the differences between a healthy and unhealthy relationship. The foundation was started by Shannon and Lexie Love, the mother and sister of Yeardley Love, respectively, after she had been beaten to death by an ex-boyfriend.
RSVP's signature program, WatchDawgs, also focuses on bystander intervention and teaches students how to keep others safe by stepping into situations they believe are harmful or dangerous.
"[It's] teaching people how to intervene safely, how to support them, how to get them connected with resources, what to say, what not to say," Hope says.
Faculty and staff, who are in constant contact with students, may be placed in a unique situation where they are told by a student that they experienced relationship or sexual violence.
In accordance to the University's Sexual Assault Response Protocol, faculty and staff also bear the responsibility of being a mandated reporter in which case they "must promptly and fully report complaints of or information regarding sexual misconduct to the Equal Opportunity Office/ Title IX Coordinator."
---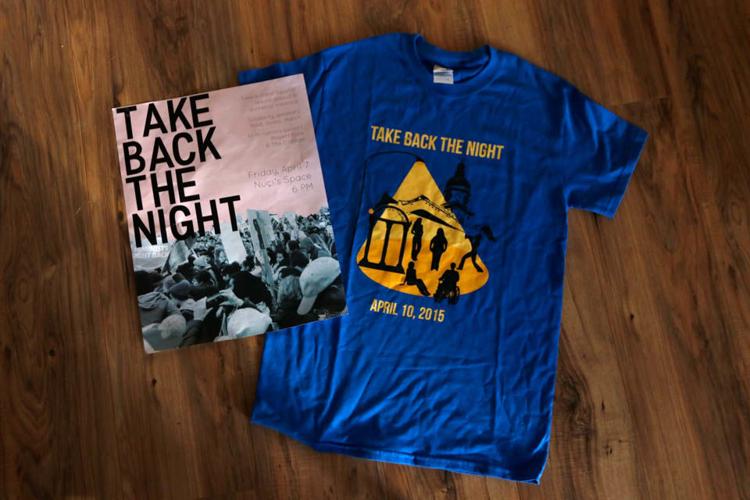 ---
This is where the staff and faculty workshops RSVP provides, which Hope says she should "love" to expand, come into play. The workshops focus on educating University employees on how to support survivors and connect them to resources.
As for the survivors of relationship and sexual violence, one of RSVP's most important resources is their 24-hour hotline. Those who call the hotline will be able to speak to an advocate at any time of the day which, according to Hope, has made the organization much more accessible.
"The kind of things we deal with, relationship violence, sexual assault, they don't happen 8-5," Hope says. "We're right there with them, helping them and establishing that trust from the very beginning."
The warning signs of of an abusive relationship are numerous, with the main one being attempts at isolating the victim from support systems, family and friends, according to Hope. Other signs include a partner wanting to know where you are at all times, belittling, jealousy and unkind comments.
Verbal abuse can also pave the way for physical abuse in which hitting, kicking, punching and choking are prevailing actions.
Although it may be hard to understand why a person would stay in any type of abusive relationship - be it physical, emotional or sexual - Hope says that there are "a lot of reasons" victims in those situations do.
For many of those abusive relationships, the first and most likely reason people stay is because they may not realize it's abusive.
"The controlling behavior can be very subtle," Hope says. "And it's not until looking back much later, or it's drawn to their attention by a friend [that they realize it]."
Another reason for staying is the interweaving and conflicting emotions of fear, love and not wanting to be alone, according to Hope.
For college students in particular, this means fear of physical harm or being ostracized from social groups. For older adults, other factors such as money or children hold captive the victim from leaving.
Awareness at UGA and beyond
RSVP also partners with The Cottage, Sexual Assault Center and Children's Advocacy Center in Athens to provide adult survivors of sexual assault and child survivors of abuse and their families with the best possible care.
---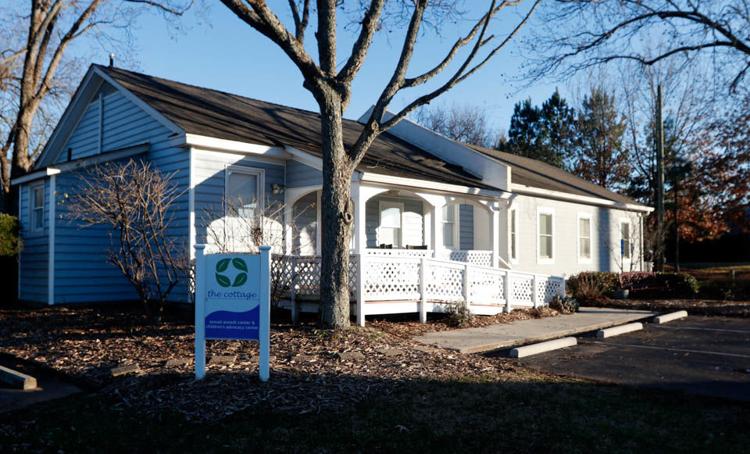 ---
Founded by a group named the Athens Feminist in 1974, The Cottage acts as a free and confidential voice for their clients.
"I believe that our job as an advocacy group is to, overall, watch over everyone's response to sexual assault and help it be the best that it can be for our mutual clients," Sally Sheppard, the executive director for The Cottage, says.
They also have a 24-hour crisis hotline and can provide crisis counseling, referrals, legal and medical advocacy free of charge to both adults and children.
Their services also extend to male survivors of sexual assault and adult survivors of childhood molestation.
"I do believe that men are an underserved population simply because sexual assault has primarily been seen as a woman's issue," Sheppard says.
In support of their male clients, The Cottage also participates in the 1 Blue String Campaign which seeks to raise awareness of male survivors of unwanted sexual experiences.
The campaign, which partners with other organizations in Europe and the United States such as 1 in 6, Living Well and Survivors Manchester, seeks to highlight the statistic that one in every six men will be the victim of unwanted sexual experiences by replacing the sixth string on a guitar with a blue one.
The Cottage also provides community programming that focus on healthy teen relationships, sexual harassment and discrimination and child sexual abuse prevention.
As with RSVP and other groups in the city dedicated to serving the community, Sheppard says that "we don't do anything alone."
By partnering with the UGA and Athens-Clarke County Police Department, the Oconee County Sheriff's Office, the Division of Family and Children Services, RSVP, the UGA Equal Opportunity Office, the Sexual Assault Nurse Examiner (SANE), the District Attorney's Office and the Clarke and Oconee County School systems, The Cottage works to ensure that their clients have the best possible care and treatment.
Supporting The Cottage, as well as Project Safe, another non-profit dedicated to ending domestic abuse, is the Women's Studies Student Organization (WWSO) through their event Take Back the Night. A local march of a nation-wide event, Take Back the Night dates back to the 70s after a series of violent crimes against women, according to a TIME article.
The event, hosted at Nuci's Space, is free with all donations going to The Cottage and Project Safe.
"Our Take Back the Night consists of an event where we have survivors go up and talk about their experiences," Katherine Peterson, the group liason for the WSSO, says.
Definitions of sexual abuse and domestic violence are also discussed by those involved with both organizations in order to raise awareness of the issue. However, the best part of the event, according to Peterson, is what happens afterwards.
---
"We march to the Arch downtown and hold a candlelight vigil. It's a very powerful event."
-Katherine Peterson
---
Among hosting Take Back the Night, WSSO also holds discussions on topics ranging from sexism to prejudices against those who are disabled in an attempt to raise awareness on current cultural and political issues.
"I think that we are doing a really good job of creating an environment where we nurture conversation about those issues as opposed to just disseminating information," Peterson says.
Peterson, a women's studies major, joined WSSO three years ago and has since seen growth among students who "don't necessarily identity feminist or aren't really interested in Women's Studies."
"I definitely see more of the younger people coming to our meetings and more people now who aren't involved in women's studies at all. They're starting to come to our meetings too and ... are interested in these issues and want to learn more about them," Peterson says.
She currently serves as the group liason for the organization. This position focuses heavily on collaborating with other organizations, both on campus and off, such as Project Safe and The Cottage.
"I love being a part of this because I think that the WSSO, for me, is a good way to feel like I am actively resisting sexism, homophobia, racism, etc.," Peterson says. "It makes me feel proud to be a part of this organization."
Project Safe, another Athens based organization, is also working to "end domestic violence through prevention, educational programs, crisis intervention, support for survivors of domestic violence and advocacy." What began as a network of safe houses has grown to encompass an emergency shelter, hotline and even a thrift store where clients of Project Safe can shop for free.
Among those services provided for the survivors of domestic abuse, Project Safe also hosts a wide array of community events, such as The Vagina Monologues, Dancing with the Athens Stars and Groovy Nights, to raise both awareness and money for their cause.
The benefits RSVP brings to UGA are many, but in Hope's opinion, the most crucial is its ability to help students decide what to do after they have been in a harmful relationship.
"If you don't know what to do, you can come here and ask questions and talk through your options and make the decision for yourself," Hope says. "Because I think that's very important to me in terms of relationship violence and sexual assault that students, victims, survivors, get to control that process for themselves."
While RSVP supports a world free of sexual harassment and sexual violence, Hope underscores the organization's mission of support regardless of students' decisions to either speak out or remain silent amidst the #MeToo and #TimesUp movements.
"Sometimes with #TimesUp and #MeToo, there can be a focus on telling your story and coming forward and reporting," Hope says. "And if that's what you choose to do, we're there to support you and if that's not what you choose to do, we're there for you too."
The WSSO's role in these movements, according to Peterson, is to act as the mediator between passionate students and #TimesUP and #MeToo.
"We don't want to force any ideals onto anyone, we don't want to tell people what they should or shouldn't believe," Peterson says. "We want to have a conversation about it. And so I think that we do a good job of giving people the info but also [of] giving them more points to think about than they would think on their own."
In Sheppard's opinion, the movements have ultimately brought light to many of the topics and issues The Cottage has been working with for many years.
"I'm very grateful that the nation and various people who may have not had this information before are now having that," Sheppard says. " Also, I like the stance that it's kind of putting perpetrators on notice that this is not okay and that more people are paying attention to it."
She does recognize the triggering effects the movements may have on survivors, but believes in its overarching impact.
"I think it's great as a person and as a professional," Sheppard says. "I know that we've had more folks coming forward to our center due to these efforts."
National Recognition of Relationship and Sexual Assault
Due in large part to the efforts of the National Sexual Violence Resource Center's campaign, April has become Sexual Assault Awareness Month (SAAM).
As a kick-off to the month of awareness, the RSVP student group hosted Jams for Justice, on March 31 at Legion Field.
The event, in its annual year, consisted of music, dance and spoken word poetry to "support survivors and to empower and uplift those who attend, bringing a sense of solidarity within the UGA campus," according to a The Red & Black article.
Held on Legion Field, this year's event consisted of music, dance and spoken word poetry. For Nina Reddy, a sophomore sociology, economics and women's studies major from Suwanee, Georgia, the most memorable part of the event was listening to the spoken word poetry.
"The spoken word for me was really really powerful because it was just a lot of people sharing their stories on stage," Reddy says. "They were given a forum to do that which I thought was really cool."
Aditya Krishnaswamy, a sophomore from Marietta, Georgia, who is majoring in statistics and math, says that hearing the survivors' stories and witnessing the support given to them by the other attendees was the best part.
"I had never talked to anyone that had gone through sexual assault or abuse and it was cool to see the support network [of survivors]," Krishnaswamy says. "It was the best event in Athens that month and they did a great job of making it open to everyone."
A series of events that either already happened or are scheduled to occur showcase the ways in which support groups and other non-profit organizations work together to raise awareness for, show support for survivors of and educate students on how to take a stand against sexual assault both in Athens and in the world.
On April 3, the RSVP student group encouraged students, staff and faculty to wear the color teal to represent the SAAM Day of Action and tabled in the Tate Concourse to help spread awareness and knowledge of how to prevent sexual assault.
They also hosted a Ben and Jerry's Percentage Night and an Intersectionality Panel which featured speakers from the LGBT Resource Center, the College of Public Health and WSSO.
The group also hosted a screening of "The Hunting Ground," a documentary on campus sexual assault and rape, and a discussion following it earlier this month. The film shines a light on undergraduate rape survivors while exposing the "institutional cover-ups, rationalizations, victim-blaming and denial that creates perfect storm conditions for predators to prey with impunity."
At the end of the month, on April 25, the RSVP student group will host activities and a dialogue at Jittery Joe's in the Miller Learning Center to celebrate Denim Day.
The international campaign began 19 years ago by the organization Peace Over Violence following a ruling by the Italian Supreme Court in which they overturned a rape case. It was reasoned by the Court that the victim, who was wearing skinny jeans at the time of the rape, must have given consent because "she must have helped her rapist remove her jeans."
The day after the ruling, women in the Italian parliament wore jeans to stand in solidarity with the victim.
Since then, the organization has encouraged people around the world to wear jeans on Denim Day to visibly promote and combat the misconceptions around sexual assault.
If one looks closely enough at Hope's black lanyard, a teal ribbon, the symbol for sexual assault, is the lone decoration and shows her passion for the cause.
"The hardest part is that my job has to exist," Hope says. "That we are still dealing with the fact that sexual and domestic assault happens and that I can't just make it go away."
But Hope's position has her brought many joys, as well.
"It's not an easy job sometimes," Hope says. "This is probably going to sound cliche but just helping the students that come through the door; being able to be here and help support them."