Hannah Mason, an active member of the University of Georgia Wesley Foundation and Grace Athens Church, sees the places where her Christian community has fallen short of its intended purpose. This purpose is to love all people, regardless of who they are or what they have done, and most especially regardless of what color of skin they have, but she is hopefully for a change toward unity and understanding.
For Mason, who is black, the collective Christian church's rough history with racial equality is not just a sad knowledge of past offenses toward people of her race, but a reminder of where the inherent biases that continue to cause her pain today came from. Most predominantly this is seen with its past use of the Bible to justify the exceptionally unjust and outrageously inhumane treatment of uncountable numbers of black slaves in colonial America.
The church denounces this past interpretation of the Bible, but it, much like the rest of the world, is not free of racism.
"People love you, but if you truly love someone then what they struggle with and what they're going through will be important to you as well."
Racism in the church today is most predominantly a perpetuation by some individuals, or the dismissing by others, of the microaggressions — statements, actions or incidents regarded as an instance of indirect or unintentional (and in some cases deliberate) discrimination against members of a marginalized group — that she and other black Americans, Christian or not, face every day, Mason says.
"I have gone to predominantly white churches for the most part of my life,"  Mason says. "You are almost seen as on the back-burner. People love you, but if you truly love someone then what they struggle with and what they're going through will be important to you as well."
And for a long time, the subtle discrimination many black Christians face has been ignored by their white brethren.
"I think the two main things the church doesn't talk about are racism and sex," Mason says. "Those are two things that get pushed to the side."
Brittany Futch, a recent graduate from the university who is interning with the Wesley Foundation, hits on why many white Christians steer clear of the topics of race and racism—an uneasy lack of understanding which leads to an attempt to create peace by avoiding the problems.   
"It's easier for me to shy away from the topic because I don't want to offend anyone," Futch, who is white, says.
But, Futch realizes avoiding the problems in the ways different races relates isn't the solution.
"Why would I bring up race relations with my black DT (a term Welsey uses for students Futch mentors) but never talk about it with any of my white DTs," she says. "Even if I don't have any answer, or I don't know exactly what [my black DT] is going through, just listening and letting her talk and being willing to initiate those conversation with the white students that I mentor or even among my white friends [is needed.]"
Mason says white Christians can no longer just brush the problems caused by racism, intentional or not, and faced by black Christians, and minorities in general, under the rug.
"The church needs to first and foremost acknowledge that these things are existing," she says. "[Then] make strides to bridge the gap because there's no segregation in heaven —we're all going to be together."  
Raising awareness, promoting conversation
In March, Mason participated as one of two students on a panel event, called Indivisible, held by the Wesley Foundation discussing racial reconciliation. On stage in the Tate Student Center Grand Hall, Mason and the other panelists for the event, which included former Georgia football player Ben Watson, discussed the current climate of race relations as well as the role of Christians in the movement for equality and peace.
---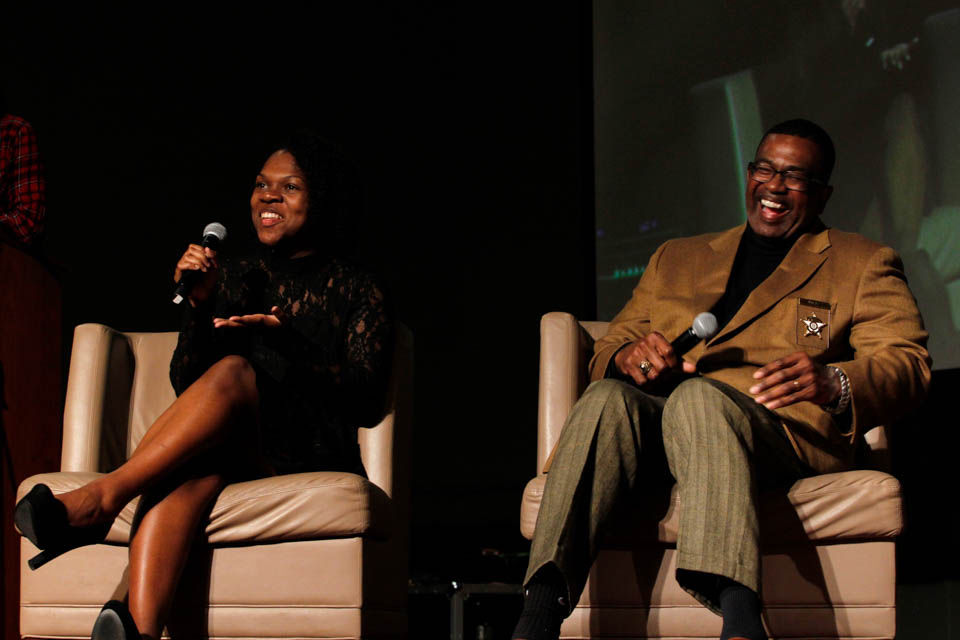 Maureen Sheeran
---
Mason says, as well as many of the panelists, that the teachings and the character of Jesus Christ compels Christians to be at the forefront of fighting for racial reconciliation.
"The Bible literally says love your neighbor as yourself," Mason says. "[The church's role in racial reconciliation] is an important role because it's important to God. He made us all different for a reason, and God is not color blind. He sees everyone for how he made us, and if God's not colorblind, we shouldn't be either, because if he wanted us to be, he would have made us all the same, but he didn't for a reason."  
Julian Jordan, an active member of the Wesley Foundation and a attendee at Athens Church, says in the four years he has been at UGA and at Wesley, he never saw as much as of a movement by the ministry than this year to address the issue of race.
"While we were praying that God would diversify us, our silence was discouraging the diversity we were seeking."
The reason Wesley held the Indivisible event was because several of its students had begun to "question the commitment" of the Wesley Foundation on the topic of race, said Bob Beckwith, director of Wesley, in an interview with The Red & Black, published after the Indivisible event. The campus ministry also invited the choir from Athens' Hill Chapel Baptist Church to its service on a Wednesday in mid-February and encouraged its attendees to visit Hill Chapel the following Sunday.
"Last semester, I realized that [Wesley's] silence on issues related to race at times caused some of our students of color to question our commitment to them and their place in our ministry. So while we were praying that God would diversify us, our silence was discouraging the diversity we were seeking," Beckwith said in the interview with The Red & Black.
The Indivisible event first encouraged white students to step up and become part of the conversation.
"How much does it mean to you? Does it really matter to you? If it doesn't directly affect you, does it still matter to you?" Watson questioned at the event.
The panelists concluded that if someone considers themselves a Christian reconciling the differences and the hardships between races should matter and be a high priority to them.
"I went to school here, ministered on this campus for the past 10 years ... in all my time here, the last 14 years on this campus, just about every conversation about race has been instigated by an African American," Daniel Simmons, the lead associate director at Wesley. "I just want to say to all the white people like me, it shouldn't be African Americans coming to us. We should be the ones taking that first step, even if it's that awkward first step."
Simmons said white students need to reach out and ask questions, then "shut up and listen."
"There is so much to be said for just listening and just giving honor to someone and saying 'we might come to different conclusions, but as another person created in the image of God, I want to hear what you have to say,' and not just to bat it down," he said at the event.
Futch says white Christians should be willing to start dialogues about race relations with other people, even if their black friends are not around. It should be an issue at the core of their hearts.
"This is not something I have to do it around black people so that they know I'm doing it," she says. "It's just about checking my own intentions, about checking the way I act and react to people and being aware of that."
Second, the Indivisible event asked black students to let down their walls and allow white people into the conversation.
"I have seen it over and over after doing it for 30 years," Victor Wilson, UGA vice president for student affairs, said at the event. "We have conversations about race a lot of times, but we leave white men out of the conversation. I think there are a lot of white males who want to be a part of the conversation, but we say you know nothing about this."
For black students  in a large, predominantly white Christian ministry, seeing Wesley's leaders calling for change and actually creating the events and avenues that will lead toward conversation and more understanding, is encouraging, Jordan says.
"Although it has progress to make, Wesley's really been making it an initiative, and this makes people really want to join the cause," he says. "And it made me want to help them with whatever they are doing in that direction."
Wesley's initiatives motivated Jordan to go to Hill Chapel Baptist on February 26 when Wesley was invited to join its Sunday service.
Jordan says this step by Hill Chapel and Wesley to bridge the gap, not only between predominantly black and white congregations, but also between Athens residents and UGA students, is a "really big thing … especially for an on campus ministry."
"Wesley taking that step has really made a huge jump for the progress as a whole in regards to racial integration fully," Jordan says. "It's huge for the city of Athens."
Connecting the body
Taylor McDonald, a student at the university who regularly attends Wesley, also has attended Hill Chapel Baptist since she was a few months old.
As a student at UGA, McDonald began to notice the areas where the two ministries she was a part of could benefit and grow from one another.
She and another student, Julius Thomas, who is the son of the Reverend Benjamin E.V. Lett of Hill Chapel Baptist, as well as Wesley associate director Jessica Longino began planning for the service where Wesley would visit Hill Chapel's service.
---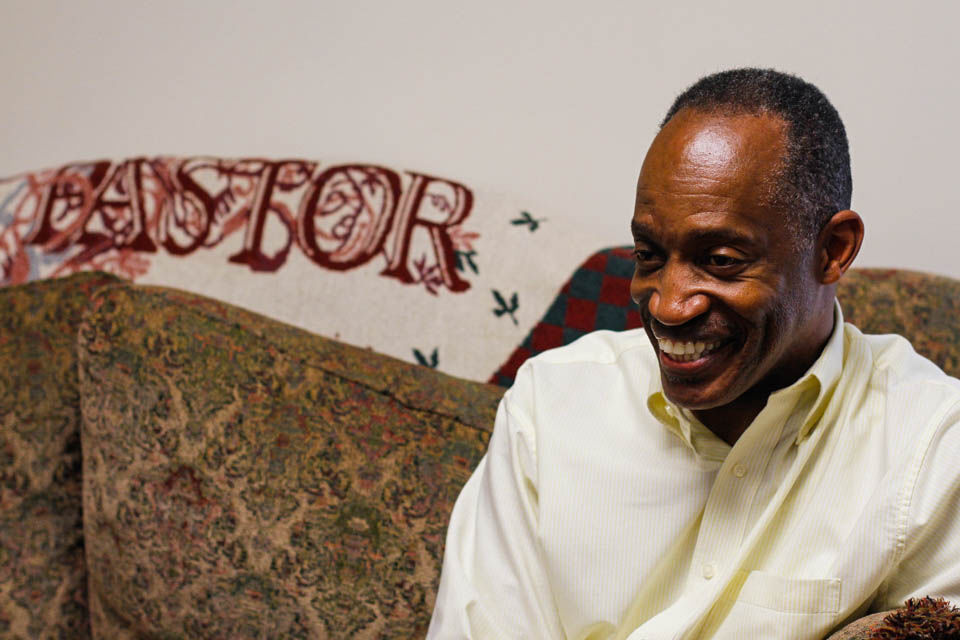 Maureen Sheeran
---
"Wesley is a predominately white ministry, Hill Chapel is a historically black church — it just made sense to me that if I wanted to go after unity these were two safe places to start doing that," McDonald says. "I really believe this whole idea was an assignment from God."
For Rev. Lett and his church, the service hosting Wesley was more than just an opportunity to commune with believers of different races and backgrounds, but also to pour into a group of young believers, looking to learn how to change the world around them.
Futch remembers members of Hill Chapel really wanting the UGA students to feel welcome, wanted and connected to the community.
"The heart behind it was the race relations and bridging the African American community with the predominantly white college students, but it was also these families that are so rooted and so invested in this city inviting students to come and partner with them and agree with them, agree with the prayers they've prayed for this city and what they are trying to do for this city," Futch said.
Not many churches across the country, especially in the Southern region of the United States, are as diverse as some of the churches in Athens, and Lett hopes students at UGA would take the opportunity to "intermingle racially, especially when it comes to the church."
One avenue through which Hill Chapel Baptist is attempting to influence the lives of more college students is through its ministry Identity, which builds relationships between some of the older members of the church and 18 to 25-year-olds.
Lett wants to invest in students so they can learn how to invest in others. He hopes that the experiences UGA students have, whether attending his church or dialoguing with others that do not look like them, will stay with them throughout their lives, and more than this, that these students will bring the avenues of change they learn in Athens to other parts of the world.
"It might not turn around this city, but if we can turn around life by life, we think that we can impact the world," Lett says. "We may never see [the change,] but we need to sow the seeds."
---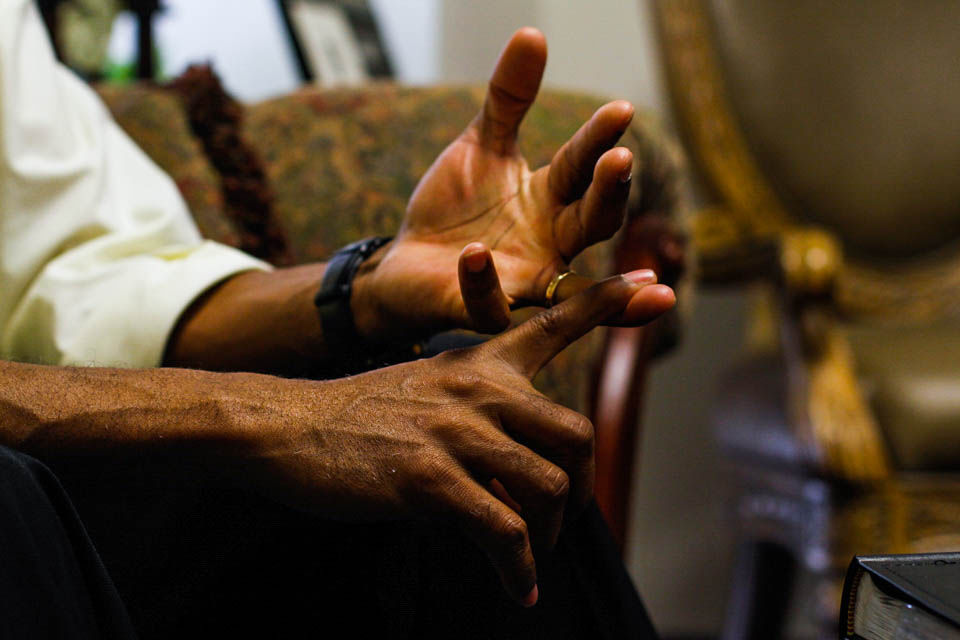 Maureen Sheeran
---
Lett believes racial reconciliation starts with the different races dialoguing, understanding the hurt or pain the other side feels, then worshiping together and finally moving as one body to purposefully serve and show Christ's love to the community.
"[We need] mission projects that we can do together. I'm talking about mission projects here [in Athens,]" he says. "It's wonderful to do mission projects with someone in Africa, etcetera, etcetera, but we have our own areas here."
This is one of the concrete ways Lett and nine other pastors from around the Athens area have discussed as part of a small group focused on bringing racial reconciliation to fruition.
"I feel and believe and know that God is raising up a nucleus of pastors in the church that sense the need for racial reconciliation," Lett says.
The group has consistently been doing what Wesley has started to grasp — dialoguing with one another, listening and piece by piece looking for ways to bring reconciliation out of the spoken thought to the purposeful action.
"We pray about it then I challenge us all the time on this to be able to walk in each other's shoes, and the only way that we can do that is for them to see it through our eyes," Lett says.
A start toward change
For Lett, racial reconciliation goes back to genuine relationships, which, for him, point back to God.
"Genuine relationships look beyond race, class, creed, economic background. Genuine relationships," Lett says. "You can't have true worship of God without having a genuine relationship with people."
With that in mind, Lett believes reconciliation starts with the church.  
"Because we deal with the hearts, the souls of individuals," he says. "And that's where the change is, because when you deal with the souls of individuals, we're talking about minds, emotions and wills … if you are going to change an institution, you start with the soul of the institution, which is the mind of the little person."
"I do believe we can get to a place of understanding and wanting to at least try to make things better."
Futch hopes Christians will be the head instead of the tail, as she quotes from Beckwith, of the movement toward racial reconciliation.
"It's God's heart that everyone is treated the same," she says. "We have to actually do what we're called to do."
Mason isn't sure if the world will ever be without racism, but she hopes to make great strides toward that goal.
"I don't know if we'll ever get to that place until Jesus comes back honestly," she says. "But I do believe we can get to a place of understanding and wanting to at least try to make things better."