It's the first thing you think about in the morning. It's the last thing you think about at night. Some people call this love. Most would call it an addiction to social media.
The sea of imagery, videos and notifications from social media is immense, and it's easy to feel like you'll drown if you aren't staying up to date on everyone's latest Instagram posts or Snapchat stories. There's an insatiable desire to stay afloat, ro constantly consume the visuals of someone else's life. The ache to stay informed is one thing, but the need to create content for social media outlets is another.
Some people have harnessed the communicative power of social media to carve out a brand for themselves and tell their own story. YouTube opens the doors to these stories, including the stories of a documentarian, a Disney princess and a fitness Youtuber who dealt with the demonetization and untimely deletion of her channel.
Micaiah Ransby
When you're Micaiah Ransby, a sophomore  intended-entertainment and media studies major from Roswell, Georgia, time management is a matter of survival. Ransby combines a successful YouTube channel with classes, tutoring, a social life and being a University of Georgia track athlete.
"It is hard to manage everything but it's fun at the same time, which is why I did it at first before I even got subscribers," Ransby says. "It's fun. It's not a chore to do."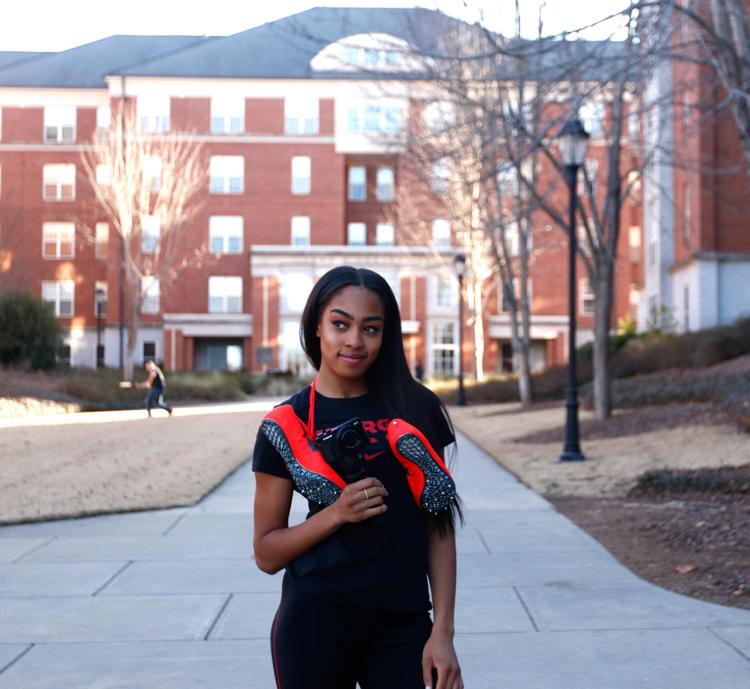 Many of her channel's videos focus on the life of a college athlete, including Ransby's practices, classes and friends.
During the early days of Ransby's channel, it had less than 100 subscribers. Now, Ransby has nearly 26,000 subscribers. For every video, thousands (or sometimes hundreds of thousands) of people tune in to Ransby's channel, which covers her track life, vlogs, lifestyle and fashion.
For YouTube channels with such a large following, it's possible to make money off of each individual video and use YouTube as a source of income. For Ransby, the dream of monetizing a channel may have to be on hold until after college ends. College athletes are not permitted to make money off of their fame.
While Ransby cannot make a profit off of her channel, she finds other incentives to keep posting and creating content for her viewers.
"Everybody that watches my YouTube, they're just really nice," Ransby says. "They're supportive and it motivates me to keep doing what I'm doing in regards to track and the Youtube channel. When I read the comments in the comment section, a comment makes my day."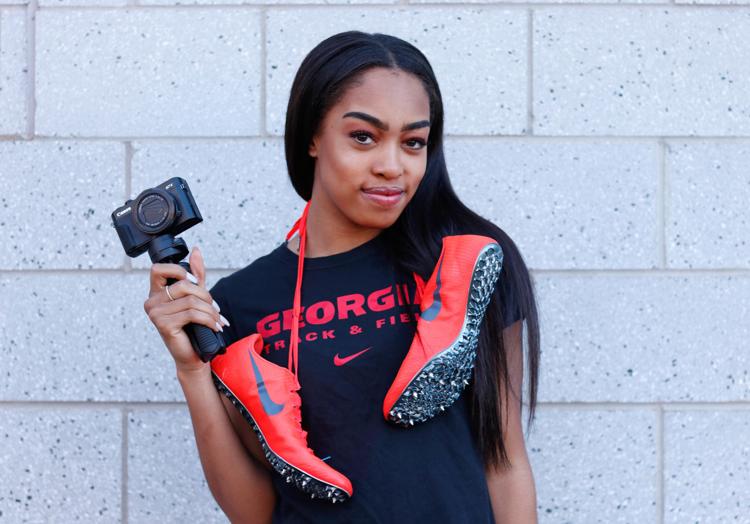 For many YouTubers, YouTube acts just as one possibility for people to create a brand for themselves. YouTube can go hand-in-hand with Instagram and Twitter for a multiplatform brand to involve subscribers. Since Ransby already had a "brand" and name recognition through her track pursuits, her Twitter and Instagram act more as a personal outlet.
Ransby has followers and subscribers across the three accounts, as people flock toward the trend of college athlete videos and Ransby's genuine, goofy attitude.
"I'm really myself in my videos," Ransby says. "I think a lot of people who try to make a YouTube get caught up in trying to make yourself appear a certain way or make something that everyone else does. I just try to have fun with it and be myself and be more relaxed with it."
Madi Hoover
Madi Hoover, a senior entertainment and media studies major from Dewitt, Michigan, is familiar with the challenge of finding courage to be yourself on camera.
Hoover's channel began in the summer of 2017 out of boredom, but blossomed into a practical side hustle for a college student who dreams of acting. Her channel consists of health, fitness, storytime, advice and lifestyle. The creative nature of shooting and starring in your own videos served as an outlet for her passion for acting, since she can't yet run off and start starring in films.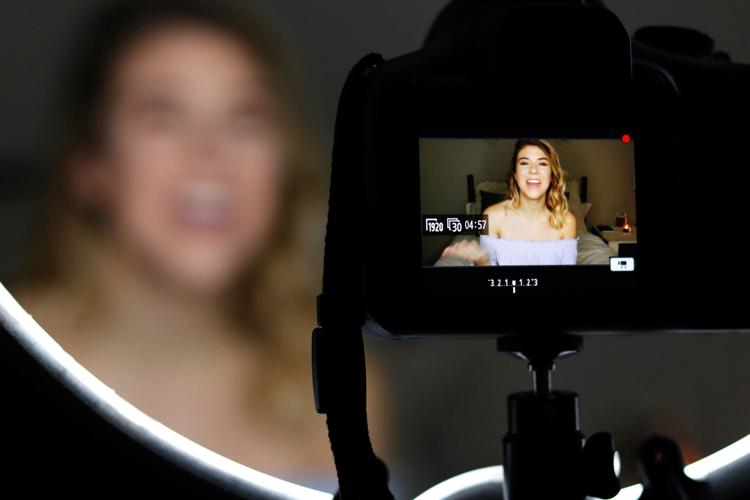 "With going to college and stuff, I know if I went out and got an agent and started having auditions I wouldn't go to class and I'd fail out," Hoover says. "So I started [the channel] and it just started becoming a passion of mine and it was just like, 'Oh I can express myself any way I want to and people like it."
At first, Hoover struggled with trying to be someone she wasn't, as a means to attract viewers to her channel. Gradually, Hoover opened up and acted more naturally, laughing at her own jokes, making corny comments and sometimes saying "grandma-y things."
"When I started acting myself, like how I talk to people in normal life, people were like, 'Oh my gosh, I relate to you so much,'" Hoover says. "And I was like, 'Okay, people like me because I'm just strange as heck and they can relate.'"
Sometimes, the difference between online and offline can be difficult to manage. Hoover initially found pushback from her friends and family who would watch the videos and tell Hoover not to act a certain way or do certain things because it seemed like she was acting strange.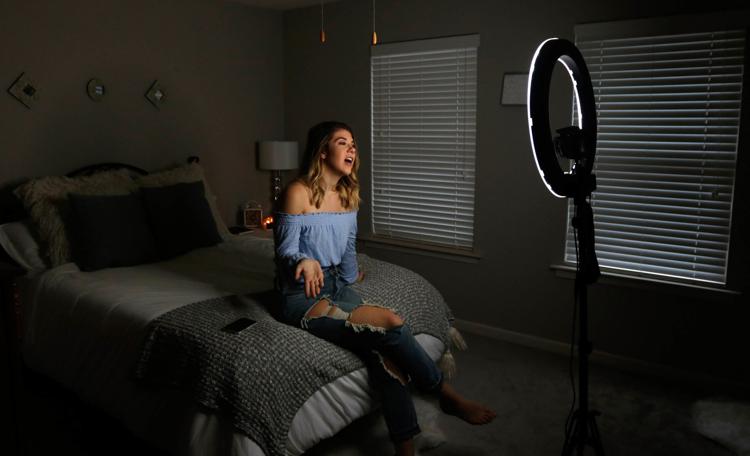 Instead of focusing on judgment from those close to her in real life, Hoover delved into the world of making friends through the internet and joining the YouTube community. The online community has been a major support system for Hoover, encouraging her when YouTube deleted Hoover's channel without explanation or warning.
One follower was on the phone with YouTube support for two hours trying to fight for the return of Hoover's channel. People created Twitter hashtags in support of reactivating her account. Other YouTubers created videos trying to figure out how to get the channel back.
"I didn't know that they actually liked me," Hoover says. "I was like, 'I don't know you guys, and this is awesome.'"
The reason for her channel's deletion is still unknown, but luckily, the absence of Hoover's videos didn't last for long. With no explanation, Hoover's videos reappeared one by one.
The YouTube algorithm is notorious for randomly demonetizing videos and removing content.  Hoover has had to abide by YouTube guidelines to try making money off of her videos. While some rules are straightforward, like no swearing, others are a little more questionable.
"Any exercise video, like my butt workout video, was demonetized because I say 'butt' in it," Hoover says. "If you're wearing sports bras or something, sports bras get demonetized. I don't get it, but you got to work around it."
Jackeline Cabrera
Establishing a social media brand for yourself often begins by feeling inspired by others. Jackie Cabrera, a freshman from Norcross, GA, decided to start a YouTube account in 2013 after seeing other girls creating theirs. Cabrera had the resources and the passion, so she began her channel despite her fears.
"I was afraid people would make fun of me," Cabrera says. "I didn't look into it until my sister did one and I was like, 'Well, if she's doing it and she doesn't care, then I can.' I slowly started, but I never really wanted to do it the way I'm doing it now."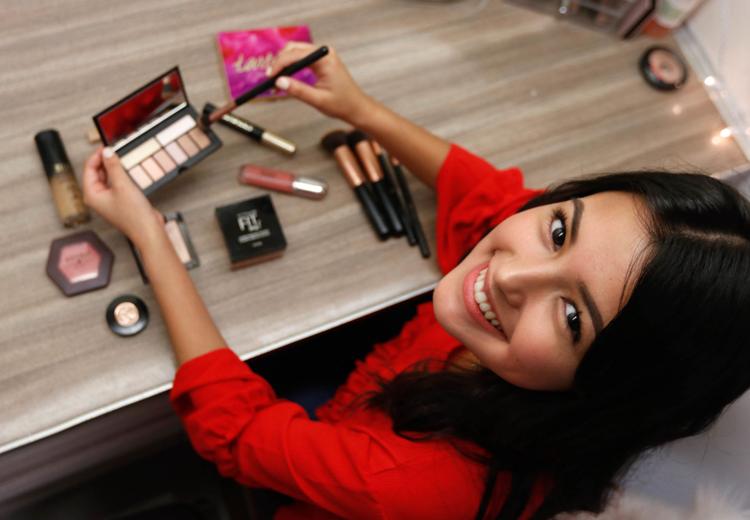 The way Cabrera runs her channel now is as a lifestyle documentation that includes vlogs about college, daily life and beauty. It began with a simple prom vlog, when suddenly Cabrera received an avalanche of followers and views.
"I was like 'What is going on?'" Cabrera says. "I just wanted to record it and have it there for memories. I see all my videos as memories and I never thought I would get such an audience. That surprised me."
What might have served as a personal video diary became a public sharing of Cabrera's life. With over 300,000 views on the prom video alone came thousands of suggestions and the need for more involvement from Cabrera, who decided to embrace the requests with a renewed effort.
Cabrera hasn't lost her original purpose for the videos: documenting life for her future self. Cabrera's videos serve two purposes: educating people about the college experience and serving as a keepsake and memory for Cabrera to return to at any time. Although currently focusing on her time in university, Cabrera plans on continuing the life documentary after college.
"I can't wait to film my wedding or my first kid," Cabrera says. "I want to pinpoint and hit all those important milestones in my life and have them there."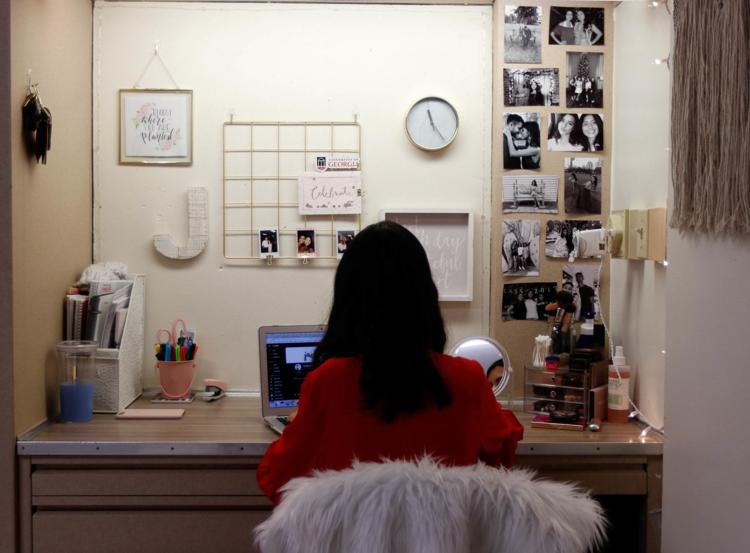 Perhaps the desire of young people to film and document so many things via YouTube or Snap stories comes from a time when parents chased them around the house with a video camera to later turn into a home video.
Cabrera's parents were no different, except Cabrera would take control of the camera, foreshadowing future passions. Cabrera would take the camera and film her little sister whenever her mom was not using the camera.
"My mom would technically vlog back in the day," Cabrera says.
Cabrera's family helped shape her beyond giving her a passion for videography: her drive to be involved, work hard and stay positive came from her parents, who immigrated to America 20 years ago.
"I'm a reflection of their hard work, and I want to make them proud at the end of day by coming to college and making something of myself," Cabrera says.
Allie Merwin
The freedom to be yourself and use that as a personal power to create change is something Allie Merwin, an early childhood education major from Cumming, GA, is learning to do through her YouTube Channel. Merwin's channel took off from her videos showcasing what college move-in was like and how college continues to be for her.
The channel is not only for college lifestyle videos or blogs, though. Merwin has found two different opportunities she showcases through her channel, one of which takes her to hospitals dressed as a princess. Merwin and a group of other college girls dress up in Disney princess costumes and head to Atlanta to cheer up children in hospitals.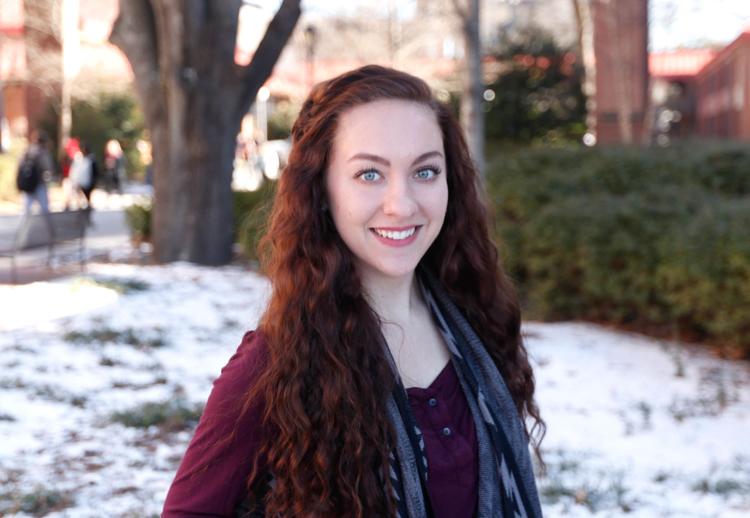 The group is called Hospital Heroes, and Merwin found the idea in a JCPenny dressing room.
"I saw a princess dress, so I tried it on and then thought, 'It would be so cool if I could get a bunch of girls together to dress up like princesses and visit kids at hospitals,'" Merwin says. "I just want them to forget why they're in the hospital and have a good day."
Merwin, inspired by a her summer volunteer work at a retreat for kids with cancer, decided to create Hospital Heroes at UGA. Merwin put out fliers and had people send in video auditions. On Jan. 13, the group visited Scottish Rite in Atlanta.
Through her YouTube channel, Merwin was able to bring even more awareness to the cause by creating a video about Hospital Heroes. Merwin firmly believes people on YouTube can make a difference, although it's also about having fun, living your life and expressing yourself.
Creating videos for public consumption on YouTube can be both a blessing and a curse. With thousands of views comes thousands of comments, a few of which are bound to be negative.
Merwin has done her best to stay positive and take everything as a learning experience.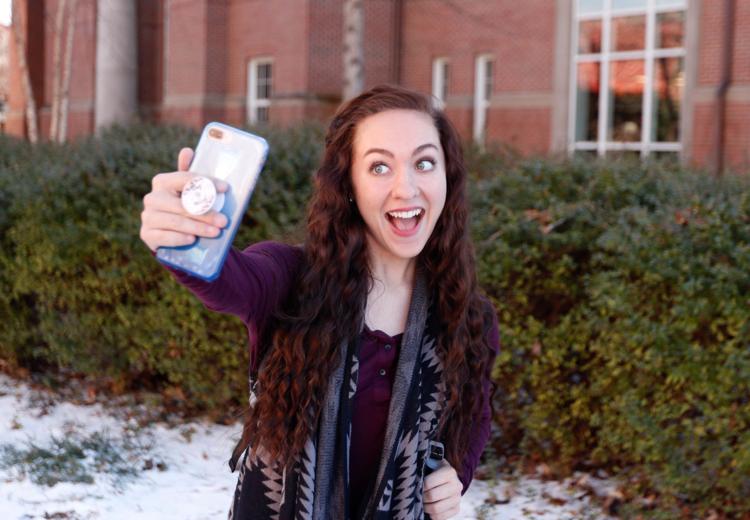 "I think that it's really important to become experienced with [negativity] just to know how to deal with it," Merwin says. "If I'm happy with myself, that's all that matters. It's helping me learn to be confident in myself enough to be able to ignore what other people say."
This article was previously published in the Summer 2018 issue of Ampersand Magazine.