For Emily Laske, it starts with pulling on hiking boots and packing a rain jacket, a cold and rainy February morning making no difference to her and the day ahead.
With her hair pulled back and hands stained in red clay, Laske smiles as she plants a baby hardwood tree in the dirt at Sandy Creek Nature Center in Athens, Georgia.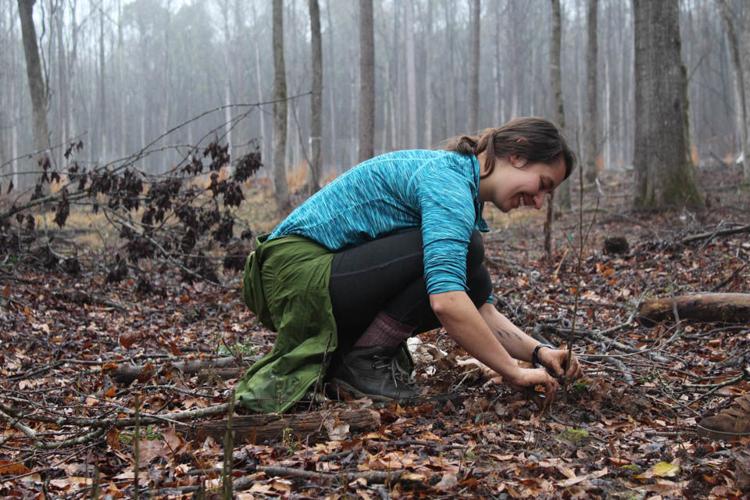 Laske works as a contract laborer for Athens-Clarke county, working with invasive species and forest inventories. Today she's a volunteer -- participating in the nature center's forest restoration project. She believes that planting trees is one of the most direct ways that anyone can help reduce their carbon footprint.
Changing the world overnight isn't the goal -- but changing the conversation may be the first step. Emily Laske, Emily Barton, Sarah Pierce, and Antonio Zenere have never met -- but they are all linked by their shared desire to reduce their carbon footprint.
"Even if you just take a few tree seedlings, which aren't that expensive, and plant them in your backyard -- you're adding trees to the environment, Laske says."
As a tree grows, it can consume 48 pounds of carbon dioxide per year, according to One Tree Planted.These trees also absorb ozone, a greenhouse gas that magnifies climate change.
"I think investing all our time, energy [and] volunteer time is important to make this better for people who come next," Laske says, "from now and from 50 years from now."
For some students, being environmentally conscious was simply something they stumbled upon.
Or for someone like Emily Barton – cycled upon.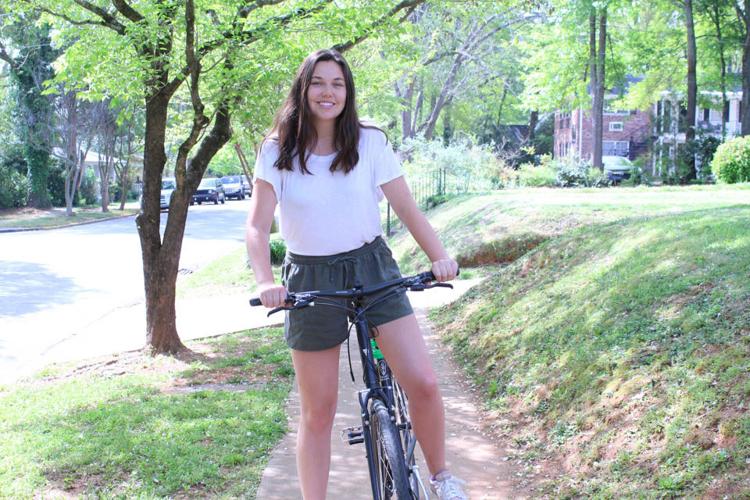 Barton is a fourth-year public relations major from Tulsa, Oklahoma. For her, finding a cleaner method of transportation all started when she wasn't awarded a parking permit her junior year.
Initially deterred because of the hills Athens is known for, it took some convincing from friends for Barton to take to the pedals. Without prior biking experience, she went out on a limb, asking her friend if she could borrow her bike.
"You get up and you get to go to class and it's so fast and you skip out on traffic," Barton says, "I haven't even applied for [a parking pass] since I started biking."
Routes to school turned into routes to run errands, and ultimately Barton's primary means of getting around Athens. Beyond the convenience that makes biking Barton's first choice, knowing she is doing something better for the environment makes it all that easier for her to ditch the car keys.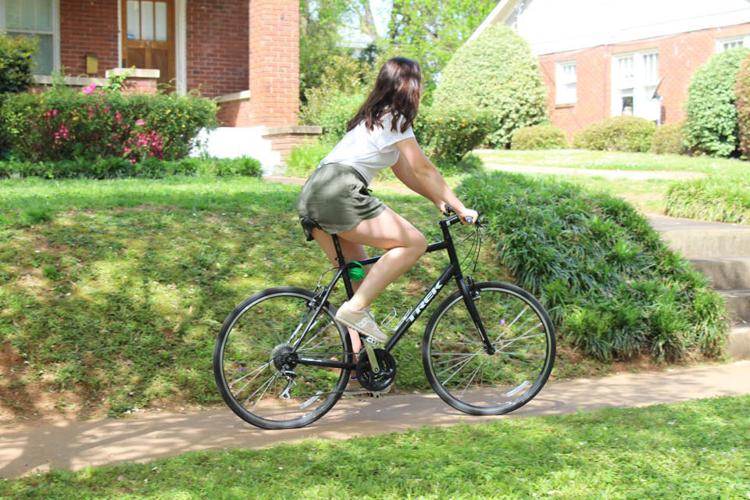 "It's great to just get out and be in the open air and feel good about not adding to the greenhouse effect," she says.
A study conducted by the University of California, Davis, and the Institute for Transportation and Development Policy in New York found that a global shift towards cycling could cut greenhouse emissions from transportation by more than 10%. The study showed that if more people were able to bike, society could save 25 trillion dollars by 2050 simply by cutting costs associated with car-related infrastructure.
It would make for major progress in air quality, with transportation currently being the second-largest contributor to greenhouse gas emissions, behind electricity, according to EPA standards.
"Now it's such a big part of my identity, all my friends know that I bike around and make fun of me for it," Barton says, "I did not expect that to become a part of who I am."
For environmental engineering major Sarah Pierce, lessening one's environmental impact comes with the territory.
"7.6 billion people now on this planet… I feel like it has a really huge environmental impact," Pierce says, "I've always been really intrigued in that so I kind of wanted to use principles of science and math to do what I can to help reduce that impact."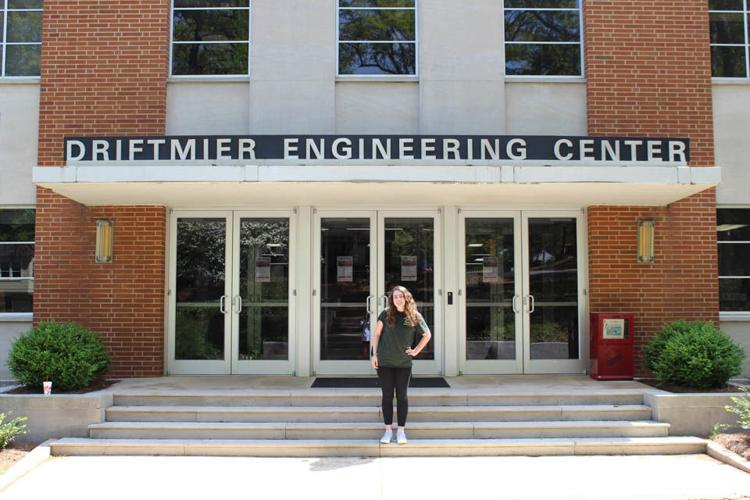 But it's not as complicated as it might seem, lessening an individual's carbon footprint could start simply by re-using day to day items.
"Mainly it's just energy," Pierce says "I think you should always reduce how much waste you produce because every single thing you use and consume like a plastic bottle or anything you eat, that requires energy to make and manufacture and distribute to everyone."
So she practices what she preaches, from reusable water bottles to reusable coffee filters to simply making sure lights are off in her house when not in use.
"I try and just educate people as I can… just to not be so wasteful and reuse as much as you can," Pierce says, "if I'm in Tate and I see someone put a can in the trash, if it doesn't look gross I might put that in the recycling bin."
While her efforts to be more sustainable may seem small in comparison to the impending global issues climate change presents, for her it is a step forward -- no matter how small.
"It all adds up, and it all adds up if you don't take these measures to reduce your impact."
Beyond the downtown high rises and university campus, the rolling hills and farmlands of Athens serve as a reminder that this college town is still rural at heart. While Antonio Zenere is not a student at UGA, he is a part of the Athens community, as well as a part of a community of those who care about the environment. Zenere is one of many who depend on the land to produce fresh organic food. For him, sustainability is not only a choice, but how he makes a living.
And it all starts in his home kitchen -- surrounded by the aroma of Italian flavors and a sense of a place far beyond Athens' borders. With hands covered in flour, he squints at perfectly imperfect ravioli squares while he prepares his fresh organic pasta to be sold at the Athens Farmers Market.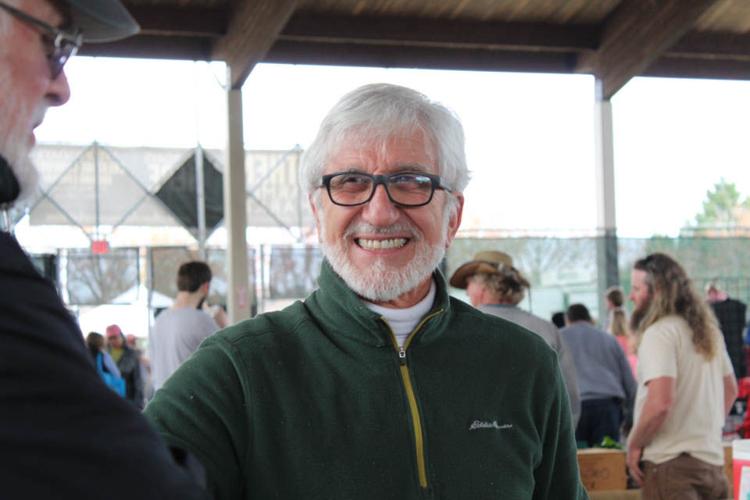 Every Saturday starting in the Spring, Zenere loads up his cooler with his pasta to take to the local market. With dough made from the eggs of chickens running around his backyard, producing food made from a clear conscious is simply routine for Zenere.
"I want to do things simple and fast and better, and of course this is usually good for the environment," Zenere says, "Even the [pasta] shells, I don't dump them -- I smash them, I give them back to the chickens, why would I put the pasta in the landfill when the chickens love it?"
Zenere is the owner of 'Antonio's Fresh Pasta,' and his job begins in the comfort of his own home, making pasta for the Farmer's Market in Athens.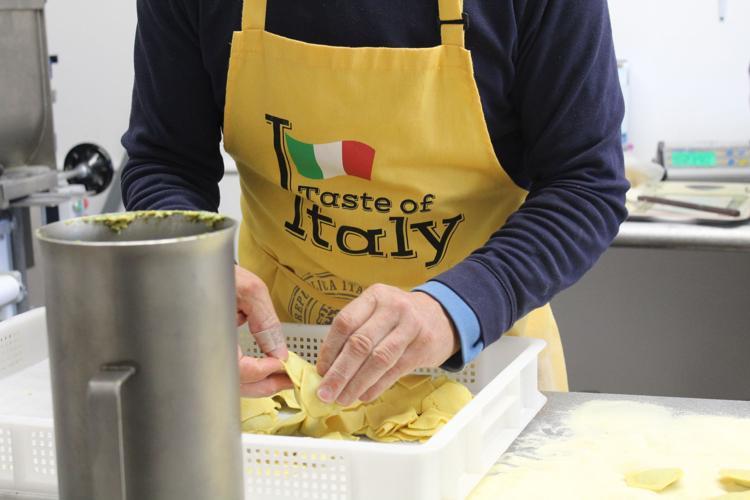 He's a long way from his hometown in Florence, Italy -- leaving when he was 42 after falling in love with a woman studying abroad from Athens.
But 30 years later Zenere says he would never go anywhere else, his Athens customers fueling his drive each day.
"They believe I'm doing something good, so this feeling is powerful… someone cares that I'm here," Zenere says, "They don't just come to meet other people and buy a bag of pasta they just believe this is the way to stay alive… because the other way -- we are destroying this planet."
Zenere remembers a time when getting fresh produce was as simple as walking up the road to the Italian market, the big box grocery stores of today then just a distant reality.
"Naturally was the only way to get food… when there is a market everyday half a mile from your house, you don't go to the store," Zenere says.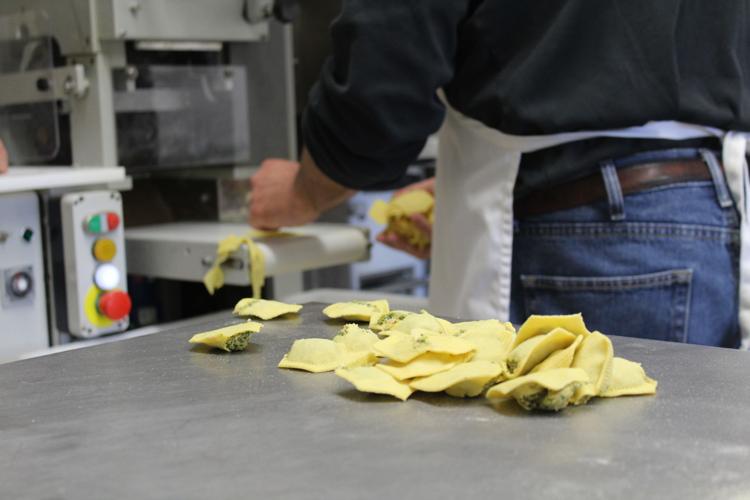 For him, producing food any other way isn't an option.
"I'm learning how better the fresh food is, because I know how bad the bad food can be," he says, "It's getting worse and worse. The environment is so loaded with fertilizers to keep producers pushing the land to produce more. This thing can't be good for you."
That fertilizer accounts for roughly two percent of the world's energy used to produce high-energy crops like corn to feed the livestock, according to Climate Nexus.
The shipment of the meat and produce involved in animal agriculture and row-crop production falls under the transportation sector, which according to the EPA accounts for 27% of all greenhouse gas emissions, making it the second-largest contributor behind electricity.
Dr. John Worley is a poultry science professor at UGA who works in energy conservation and animal management. In his eyes, there's no simple solution when it comes to making the animal agriculture industry more sustainable.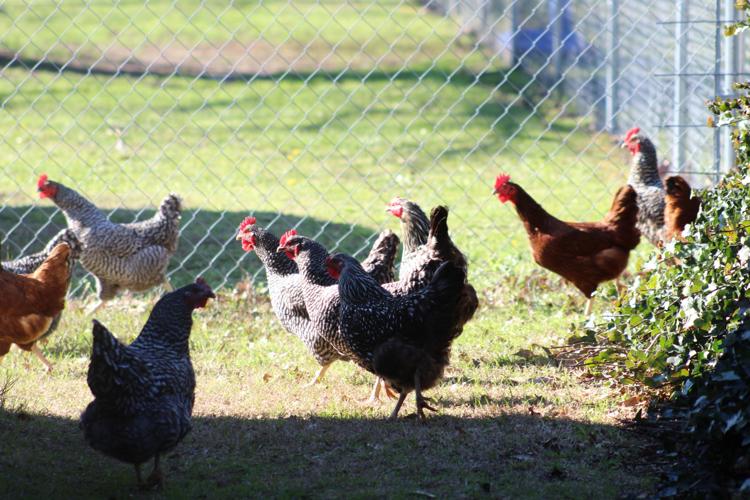 "My overall philosophy is everything is a lot more complicated than it seems," says Worley, "If you cut out animal agriculture for instance, there's a tremendous amount of land out there that is not suitable for growing anything except forest crops, you can't grow people food on a lot of that land."
What Worley and his colleague Dr. Casey Ritz have found in their research is that reducing a farmer's carbon footprint begins with reducing energy consumption.
"They can make some improvements whether it be fans or heat surfaces like furnaces, changing the lighting, a lot of led lights that burn less energy than an incandescent bulb are ways that we can reduce the energy consumption of the poultry farms," Ritz says, "that's kind of where are farmers are going -- looking at ways they can save energy."
While the big picture of climate change and its impact looks daunting to some, finding small ways to be sustainable could be the start for a better tomorrow.
"Evaluating what we are doing everyday, what we do with our waste, are we conscious of what we are doing with our trash… are we recycling our plastic?" Ritz says.
"Is it going to make a huge impact is it going to change the world -- not their one act-- but I'm also of the opinion that if we don't ever do something then there will never be change."
This article was previously published in the Summer 2018 issue of Ampersand Magazine.