T. Graham Brown has made quite the name for himself amongst longtime country fans. With a number of chart-topping gospel, country and soul songs and a wide variety of successful ad campaigns, Brown has likely been in the ears of many listeners – even if they didn't know it was him.
Recently, Brown took a moment to reflect a time he spent in Athens decades ago and where he's gone since.
 The Classic City
Although Brown has lived in Nashville for years now, he was born and raised in the state of Georgia. Nearly an Athens native, the singer-to-be spent his early childhood in Ila, Georgia, just a half hour northeast of the Classic City.
While Brown was still in elementary school, his father graduated from college and moved their family to Arabi, Georgia to follow a job opportunity. Brown spent many of his formative years in Arabi before he and his family eventually moved to Athens during his second year of high school.
---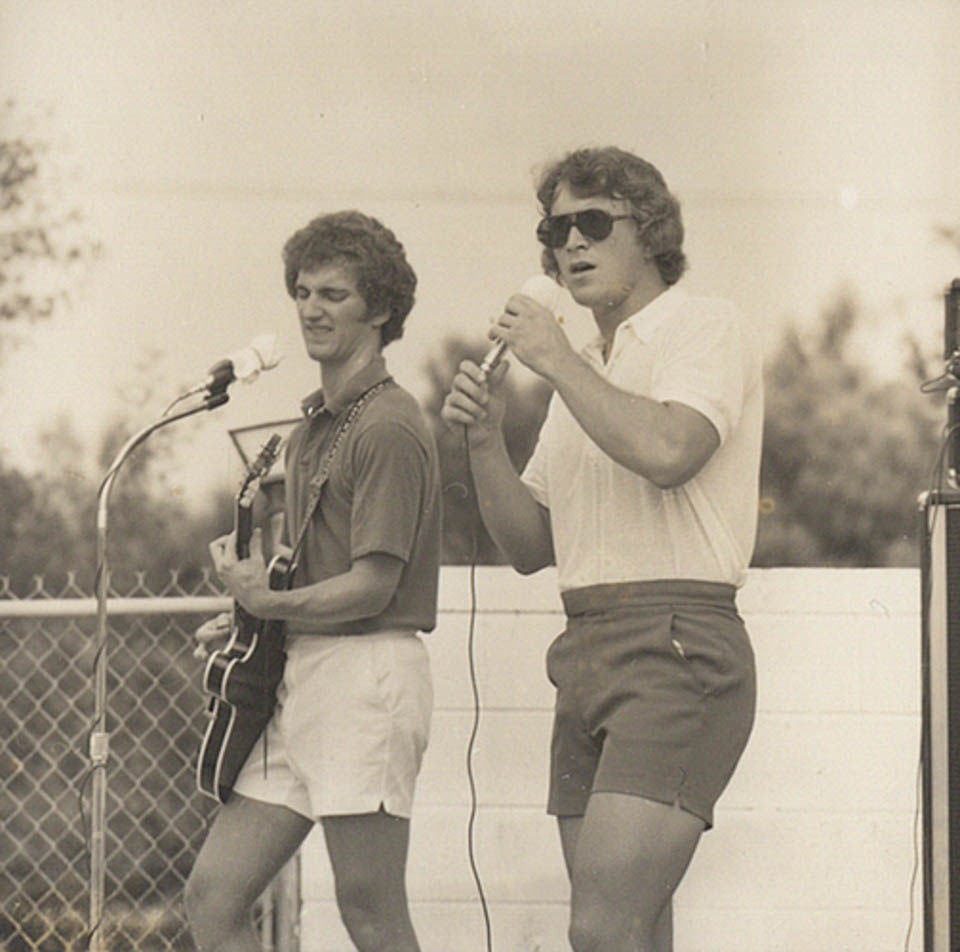 Courtesy Dirk Howell
---
After moving to Athens, Brown started attended Athens High School, now known as Clarke Central High School. Here he would remain for the rest of his compulsory education. Despite not being a true Athens native, Brown was well-liked and says his time at Athens High School helped him get his bearings in the Classic City.
"We were going to the fraternity parties and all that stuff when we were in high school, so we kinda got a jump on everybody else," Brown says. "It was great 'cause we were all living in Athens, so we knew our way around, and we knew what was what."
Social connections weren't the only benefits of Brown's first years in Athens, however. Although he'd long had a love for music, Brown got his first solid experience singing in public during his time in high school.
According to Brown, he and his high school friends would often throw parties when someone's parents were out of town, and the future singer-songwriter would sometimes find himself singing along as another friend played guitar.
"When we were having those kind of parties…[my friend] would bring his guitar, and we would sit around and sing to our friends," Brown says. "No big deal."
Eventually, Brown graduated from Athens High School and decided to pursue higher education at the University of Georgia. Not having the formal training to really consider music as a professional possibility, Brown's main focus was vying for a spot on the University's baseball team.
"I didn't know anything about anything," Brown says. "I wasn't a professional singer. I just sang a lot. If I was playing baseball out in the outfield, I'd just be singing out there."
Dirk & Tony 
Although he had no formal training in music and didn't seem to even think of himself as a vocalist, Brown kept up his habit of singing at parties and eventually caught the ear of fellow UGA student Dirk Howell. Howell had gone to high school with Brown and knew him for his socially outgoing behavior.
"[Brown] was very much an extrovert. Everybody knew him. Everybody liked him," Howell says. "He was known as kinda like the guy that was the life of the party."
Howell didn't just notice Brown's personality, though. After hearing Brown sing classic country songs like "Roll in My Sweet Baby's Arms" Howell also noticed that he had quite the voice.
Knowing himself to be musically skilled but something of an introvert, Howell hoped playing with Brown would be a recipe for success. Eventually, Howell asked Brown to join him at a practice, and the two began playing together in their free time.
After some time spent casually practicing as a duo, Howell and Brown played their first pseudo-gig. With Brown doing most of the singing and Howell playing guitar, the duo performed a set of covers to a very small crowd at a friend's bachelor party.
---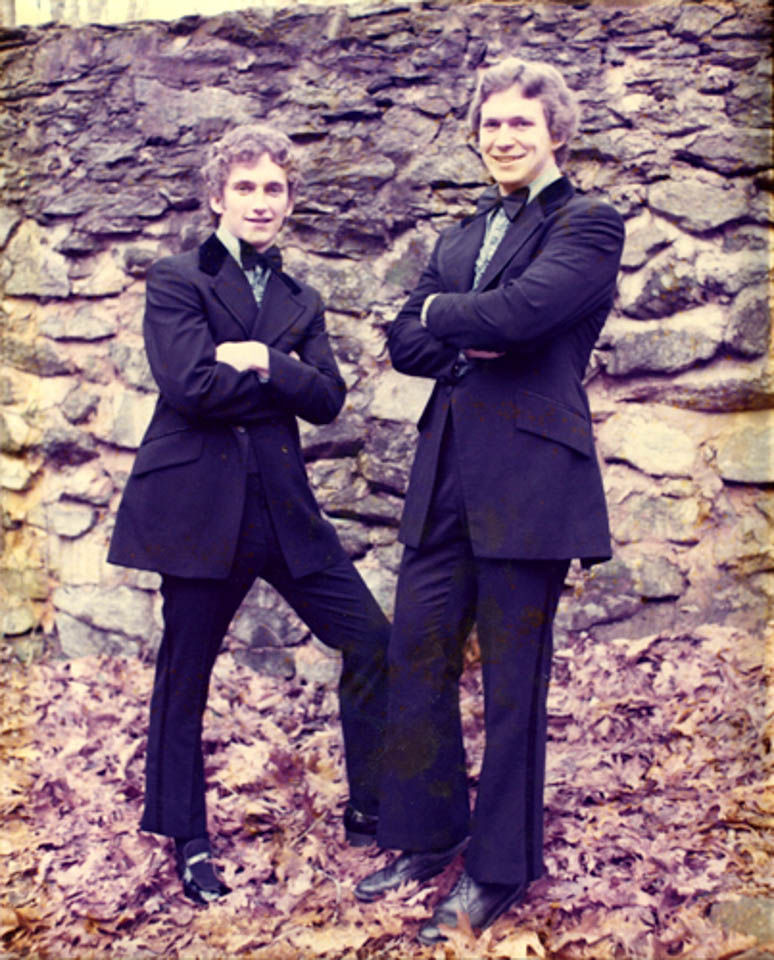 Courtesy Dirk Howell
---
As luck would have it, Mike Crowley, a front desk man at the Holiday Inn downtown and mutual friend of Howell and Brown, was there for the pair's set. Impressed by their performance, Crowley offered to get the two musicians an audition to play in the hotel's Acropolis Lounge, now known as the Ginko Tree Lounge.
Although Brown was more interested in baseball than the potential of getting a job playing music, he and Howell eventually went in for an audition around the start of their sophomore year at UGA.
"We'd never thought about doing anything like that," Brown says. "We didn't know anything."
Despite Brown's lack of experience, the pair went to the Holiday Inn for an audition in front of bar manager Dana Clark and his manager, Stuart Mullis.
According to Howell, the audition was "kind of a joke." Lacking serious equipment, he performed with his guitar wired through an amp and into a Magnavox mono record player he had gotten from his parents.
The duo's lack of equipment wasn't the only part of its audition that was awry. During one song, Brown was "gyrating around" and managed to knock Howell's guitar out of tune, much to his chagrin.
"I turned purple I was so red – embarrassed," Howell says.
Despite a few setbacks in Howell and Brown's audition, Mullis and Clark told the pair they were willing to give their act a shot. On Oct. 1, 1973, the two college students would start their career together as Dirk & Tony.
With the pair's musical chemistry, Brown's social prowess and a legal drinking age of 18 at the time, Dirk & Tony were able to pack out the Acropolis Lounge during their first two weeks.
"It felt right. It felt good," Howell says. "People would say they used to come to watch us 'cause they didn't know what [Brown] was gonna do next. He had a magnetism about him when he walked in the room. He just demanded and commanded the whole energy of the room."
Between the act's high numbers and a successful performance at Ireland's--a since-closed Athens eatery--for the UGA/Auburn football weekend, Dirk & Tony had quickly secured themselves a regular gig at the Acropolis Lounge.
At the time, sources of entertainment like karaoke and DJ sets simply weren't commonplace in Athens, and this allowed live local acts like Dirk & Tony to thrive. As the duo continued to draw larger and larger crowds, the Holiday Inn opened a new spot called the Inn Place Lounge.
Dirk & Tony packed that as well.
With all the buzz surrounding their act, Dirk & Tony recorded their first release, a vinyl 7-inch with the songs "Lost Between Two Worlds" and "Just to Know," in 1974. Howell also got married that year.
---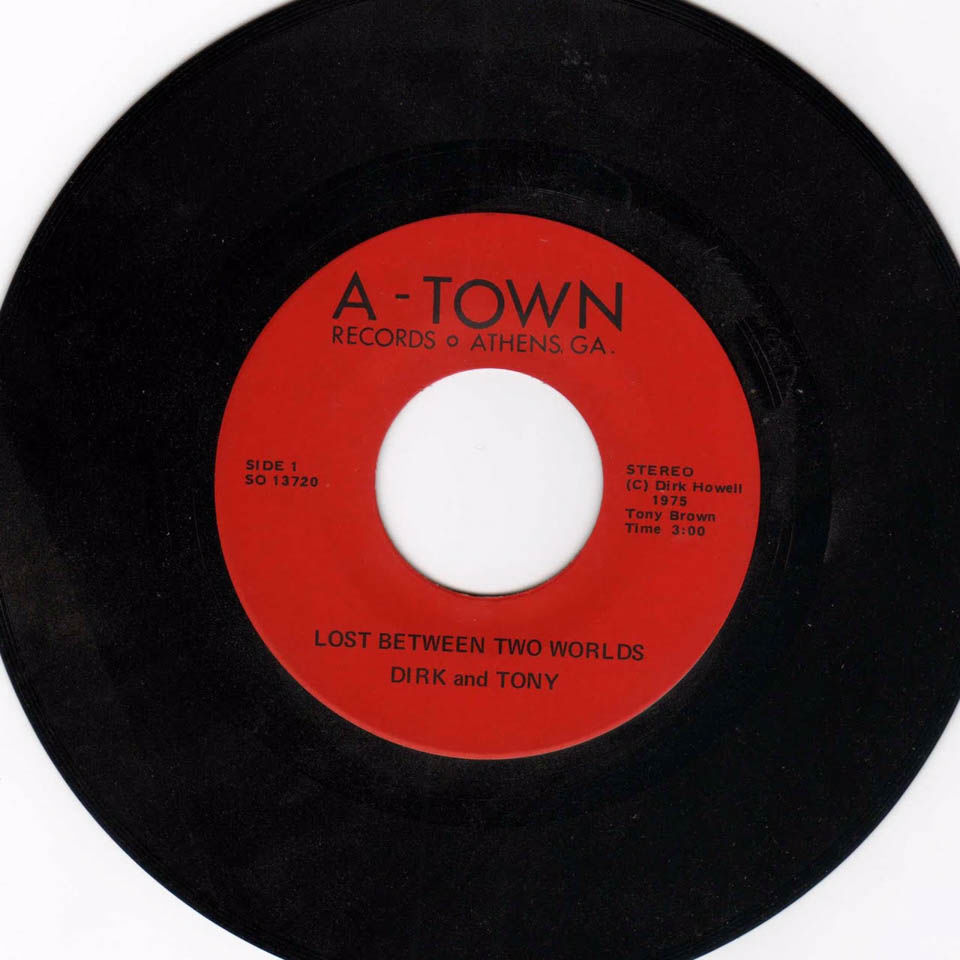 Courtesy Dirk Howell
---
As their act's popularity continued to grow, the two musicians had enough of a following to get a wider variety of shows throughout the Classic City. With most college students being able to legally drink at the time, the Greek party scene was all the rage, and Dirk & Tony were soon at its forefront.
Beach music and its accompanying dance, the shag, were the norm in the University's Greek scene at the time, and Dirk & Tony were good at playing it. Covering bands like Maurice Williams and the Zodiacs, the Tams, the Platters, and the Drifters, the duo filled a role that was in high demand.
"Looking back on it, we were really, really popular. We had a following among the college kids," Brown says. "We had a lot of fun."
With their names on billboards and newspapers across Athens, Dirk & Tony were soon making more money than many professional adults at the time. During their stint as bona fide local celebrities, the duo released its second record, another 7-inch called "I Dig You Baby."
While Dirk & Tony had certainly taken the Athens music scene by storm, the pair's time together didn't last forever. Throughout his stint in the duo, Brown had been antsy to travel, something the newlywed Howell wasn't particularly keen to. Over time, Brown had also started pushing the idea of getting a full band together, but Howell was largely uninterested in changing their group dynamic.
In May, 1976, Howell told his partner that their time as a duo would be over in two weeks. Later that month, Dirk & Tony played their last party together at the Alpha Gamma Rho house and parted ways for a time.
Reo Diamond & The Rack of Spam 
After parting ways with Howell, Brown eventually found himself in another band. A stark departure from the beach music of Dirk & Tony, Brown's new act was an outlaw country band called Reo Diamond.
Seeming to take inspiration from musicians like David Allan Coe, Brown changed not only his music but also his look while he was playing with Reo Diamond.
"I put kind of an outlaw country band together [and] grew my hair out really long," Brown says. "A big beard, tattoos and all that."
While playing with his second band, the musician also became closer to his future wife, Sheila, whom he married in 1980.
Although Sheila had once seen Dirk & Tony play, she and Brown weren't together until after the duo's dissolution.
Eventually, Brown was ready for another musical change and started a soul band called Rack of Spam. During Brown's time with the group, he recruited the now famous record producer John Keane to play guitar and help record Rack of Spam.
---
Although Keane is perhaps now best known for his work in the studio with Athens acts R.E.M., Indigo Girls and Widespread Panic, Brown worked with the producer when was just getting started. According to Brown, Keane had a 4-track recorder mounted on a stolen grocery cart that he used to record in different rooms of his house at the time.
"He didn't know anything about anything either when I hired him to join our little band. We still didn't know anything. We were all just kids," Brown says. "John started educating himself and got better and better. He's worked with tons of people that have sold millions and millions of records. He's good, man. He's really good."
Music City
Although Brown enjoyed his time playing music in Athens, he had long been itching to do something bigger.
The singer says he had one friend with a real record deal, Randall Bramblett, and he often asked Bramblett how he could become a big star. One day, Bramblett finally answered the question, telling Brown to move to New York City, Los Angeles or Nashville.
Knowing that Bramblett's advice was probably valid, Sheila recommended she and her husband move to Nashville. Although it meant postponing the next four years of her education after getting a masters in dairy science and nutrition, Sheila was willing to give Brown's hope of seriously pursuing music a chance.
Soon enough, the Browns were headed north from Athens, Georgia to "The Athens of the South."
Once he reached Nashville in 1982, Brown quickly got to work trying to make connections in the music business. Unsure of what to do, he found some bars frequented by music executives and spent his time trying to network.
"I started hanging out over there like I was one of the guys," Brown says. "Well, I didn't know anything, but I would tell anybody that could listen that I could sing."
Despite having experience, a good voice and plenty of social aptitude, Brown still struggled to get people's attention at first. Nashville is a city known for country music, and it can be hard to stand out enough to earn the right people's support.
"Of course, everybody and their brother in Nashville's a songwriter or singer," Brown says. "It's the old saying: 'How do you get a songwriter off your front porch? You pay him for the pizza.' I mean, they're everywhere."
Eventually, Brown started finding work singing on demos for songwriters. Before a song can get pitched to a record label, the writer usually needs a demo, and Brown was happy to let his voice get heard by music executives.
"That's how I got a record deal with Capitol Records – people had heard my voice on these demo tapes," Brown says. "By the same token, some of these guys were guys that did commercials for these major clients."
As Brown's voice got around Nashville, he first started really making a living doing commercials. While licensing pre-existing songs is the norm for advertisements today, many commercials in the 1980's used catchy jingles to help sell their products.
"This stuff is really good, and it pays very well, too. You go in and do it once, and every time it's aired, they pay you," Brown says. "They call it 'mailbox money.' You go out to your mailbox, and there's a stack of checks in there."
Throughout his career, Brown was the voice (and sometimes face) of a number of advertising campaigns. From McDonald's to Dr. Pepper, Brown was able to find himself plenty of work promoting a wide variety of products and companies.
"I've probably done as many advertising campaigns and jingles as anyone in history," Brown says. "I've done every car and truck, every beer, every soft drink, every fast food place, I'm telling you."
Some of Brown's ads even got him time on television. During Taco Bell's "Make a run for the border!" years, Brown could frequently be seen and heard singing jingles by people across the country.
In addition to starting his work in advertising, Brown also signed a contract with Capitol Records during his first few years in Nashville. Since then, Brown has put out plenty of songs through Capitol, including "Darlene," "Don't Go to Strangers" and "Hell and High Water," all three of which reached the top position on the Billboard Hot Country Songs chart.
While Brown released most of his music through Capitol, the singer-songwriter has also distributed albums through a number of other labels like Compendia Records and Intersound Records. In 2015, Brown released his album "Forever Changed" through Sony RED Distribution, and was nominated that year for Best Roots Gospel Album.
"It's an amazing thing, especially in Nashville, for a 61-year-old-singer to get a Grammy nomination," his wife says.
Then & Now
Over the decades he's spent in the music industry, Brown has had the chance to witness quite a lot of change. With the advent of the internet and digital media, many aspects of how people create, distribute and obtain music are completely different from how they used to be. 
Of course, the most blatant change in how people exchange music is likely the evolution from vinyl records to digital downloads. While the shift in physical media is obvious for consumers, Brown says the digital age has brought a lot of changes to how people write music as well. 
Before the age of being able to download individual songs, Brown says it was much more common for people to buy whole albums. Because of this, it was a lot easier for songwriters to make ends meet off mechanical royalties without having to write an album's hit singles.
"If you were a songwriter, and your song wasn't one of the singles off the album, you still got paid what they call mechanical royalties," Brown says. "You could survive if you were getting cuts by major artists that were selling a lot of units. Even if you didn't have the hit, you could still squeak by as a songwriter."
With so much music now easily available online, though, making money writing "album cuts" isn't what it used to be.
"Now, there's zero money in album cuts because nobody downloads those," Brown says. "They only want the hits."
According to Brown, today's music industry is quite different with regards to casual listening as well. While songs used to spread through terrestrial radio, many people today listen to new music through streaming services like Spotify and Pandora.
While consumers likely appreciate having worlds of music at their fingertips for little-to-no-charge, Brown says the shift away from terrestrial radio has caused a big loss of income for many songwriters. Referencing a friend who made under $1,000 for over 60 million streams of songs he wrote, Brown says many composers simply can't make a living like they used to. 
"Now, like a third of the songwriters have left Nashville because you can't make a living," Brown says. "People don't realize that songs are actually written by a real life person…The majority of people have no idea about that. They don't think about that." 
Of course, the music industry isn't the only thing that's changed over the course of Brown's life. With everything the singer-songwriter has been through, he's changed a lot as well. 
For starters, Brown says he's become a lot more religious as his life has gone on.
"I don't know if it's a function of age or what, but I feel like I've gotten a lot closer to God," Brown says. "Actually, that's probably the most important part…Everything else just comes after that. At least to me."
Another big change in Brown's life was his decision to get sober. After he stopped drinking, the singer wrote a song called "Wine Into Water" about his journey. 
"Sheila and I have been married since 1980, and we've been up, down and all around, man, and the 'Wine Into Water' angle and helping people get sober, that's the most important thing these days."
The song's lyrics detail a prayer to God asking that he forgive Brown and help him "turn wine back into water." Brown says lots of people have told him the song helped them get through tough times in their lives and says that it's "the best thing that [he's] ever done."
"We had no idea. When T. first wrote it, he didn't want to sing it, so it was a couple years before he ever even tried it in front of an audience, and the reaction was so overwhelming," Sheila says. "We could not believe the reaction to it." 
"I am very, very thankful and grateful for everything that's happened to me. It's something I couldn't have pulled off by myself. I'm just not smart enough to do all that, especially the 'Wine Into Water' part," Brown says. "Sheila and I have been married since 1980, and we've been up, down and all around, man, and the 'Wine Into Water' angle and helping people get sober, that's the most important thing these days."
According to Sheila, she and her husband are working on compiling a book made up of the stories people have written about how "Wine Into Water" has helped them.
"I think it would be very encouraging to people," Sheila says.
Looking forward, Brown seems optimistic about what the future will hold. He says he's having more fun and singing better than ever before, and that he enjoys getting to do things on his own terms now.
While his most recent release was a Christmas album called "Christmas with T. Graham Brown," the singer says there's a decent chance he'll do "just a regular T. Graham Brown album" through Sony in the next year. With Brown's connections, skill and positive outlook, fans of his music should rest assured that he's nowhere near finished.
Clarification: In a previous version of the story it seemed that T. Graham Brown had been a part of the UGA baseball team, though he was never officially on the roster.