Three years ago, Anu Rao and three of her friends noticed a hole in the University of Georgia's music scene. The four musically gifted students believed the university — as well as the Athens community as a whole — was lacking a South Asian or international a cappella group.
Other a cappella groups have existed on campus, including the UGA Accidentals, which started as a barber shop quartet in 1974 and UGA Noteworthy, which is a 1988 spin-off of a UGA women's glee club. In 2010, an ecology-oriented a cappella even joined the music scene, but the campus still hadn't seen a group focused on singing multicultural music.
At least not until 2013, when UGA Kalakaar was born.
In the beginning
The brainchild of Rao, Akhila Eechampati, Divya Sukumar and Karina Hingorani, UGA Kalakaar was the first a cappella group on campus to mix music from different cultures.
"We basically were sitting down one day and said, 'UGA doesn't have an Indian a cappella group or, at that, an international a cappella group. Maybe we should start it and see what happens,'" Rao says.
In 2012, the hit movie "Pitch Perfect" was released. Following the movie, a cultural phase exploded across the United States during which several collegiate a cappella groups started. According to Rao, this increase in popularity for a cappella groups and the fact that each of the four interested co-founders served on the executive board of their a cappella team in high school led to the creation of UGA Kalakaar.
From the beginning, it was clear the group's creators didn't want to focus only on American pop songs as they had in high school. Rao and two of the other founders had been classically trained in Indian vocal music throughout their childhood, so it only seemed natural to continue with this music during their collegiate a cappella years.
"We were all in a cappella groups, which is a lot of fun, but [we thought] it would also be cool to use the music we have been trained in for ten years that no one else has heard," Rao says.
---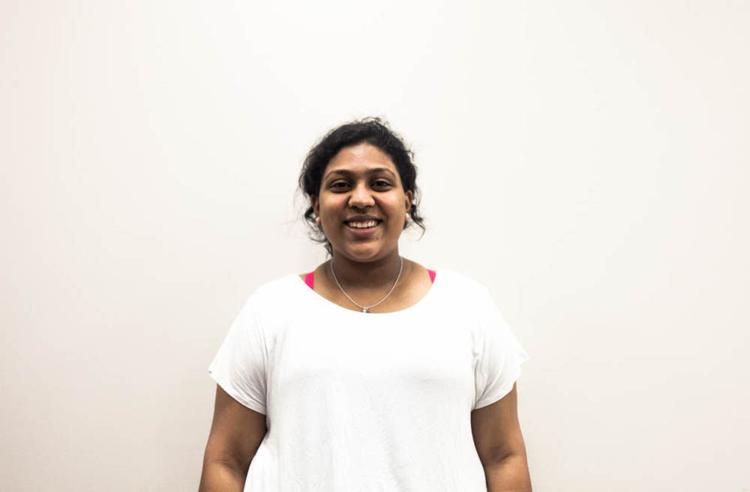 Lexi Kim
---
So they started with the idea of mashing-up American pop and Indian music, a mixture of modern music and classical elements from the four girls' culture.
"That just made things really unique," says Emil Dmello, a former member of the group who says he was taking time off this semester to focus on school work. "You are making this whole fusion, and you are not just sticking to one or two genres."
The creative element of the multi-layered songs UGA Kalakaar composes and performs lives up to the group's name.
"It means artist," Rao says. "It's the Sanskrit word for artist."
She says the four co-founders chose to name the group Kalakaar in honor of their former traditional Indian music teacher.
"Our music teacher's name was Kala," Rao says. "So we thought it would be cool because she was our inspiration — or at least we learned all this music from her over the past 10 years  — so let's find a word with her name in it."
Sa Re Ga Ma
Dmello says the group's use of elements from classical Indian music gives UGA Kalakaar a sound that's quite different from many a cappella groups. This is in part because of the way Indian music is melodically arranged.  
"The beautiful part about Indian music is that it is very different in structure from the Do Re Mi of traditional [Western] structure," Dmello says.  
Instead, traditional Indian music follows a solfege — or system for singing notes — called the Sa Re Ga Ma.
Just imagine Julie Andrews's euphonious voice humming "doe, a deer, a female deer, re, a drop of golden sun" in "The Sound of Music," but with the Sa Re Ga Ma Pa Dha Ni instead. Each of these notes in the Indian sargam align with the Do Re Mi Fa So La Ti of Western cultures and the traditional A through G note scale used by instrumental musicians.
Dmello says this was not the only difference. Although the note scales align, there is an inflection in the note in Indian music, causing it to be sung "just a little bit off."
"In Western music, you just stick to one note when you sing the note, but in Indian music, you go … a little bit off, but it just sounds so beautiful," Dmello says. "I guess you would call it dissonance, but it works so well still. You wouldn't even say that it sounds dissonant because it kind of has a negative tone to it."  
According to Dmello, one of the best places to hear this sound is in native Athens band Nifty Earth's song "Intertwine," which used samples of UGA Kalakaar's Eechampati singing the Sa Re Ga Ma.   
---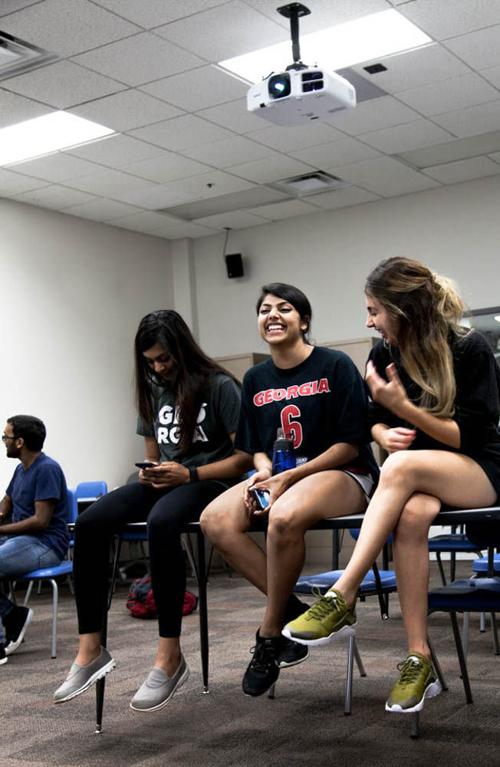 Lexi Kim
---
"I had always been looking for cultural samples — local samples — of Middle Eastern or Sub-Asian or Indian styles of singing, and I was looking to incorporate some of that into my productions," says Joseph Thrash, the producer behind Nifty Earth. "We ended up recording some of these syllables in this note scale called Sa Re Ga Ma … I just took some of these samples and recorded them in the song and tried to make it flow as easily as it could."
Thrash hopes to include some of these traditional Indian sounds in his music moving forward.
"I definitely want to include vocals in my new productions but not necessarily lyrics because I think you can express a lot of emotion through vocals," Thrash says. "Everyone is so in tune with the human timbre that you don't even need a word to really express those emotions."
Three-in-one
One of Rao's favorite UGA Kalakaar mash-ups is a combination of Kid Cudi's "The Prayer" with One Republic's "Apologize" and an Indian song called "Zara Zara." She says "Zara Zara" contains three different languages, and UGA Kalakaar uses all three languages in the mash-up.
"We've done that one since the beginning," Rao says.
The range of music in Rao's favorite mash-up shows the group's versatility in its musical creations.
"It's cool to see how much different music comes together," says Rao, who helps compose the mash-ups. "No matter where it's from."
Although UGA Kalakaar's focus is generally Indian music, Rao says she wants it to include other languages, too. In the past, UGA Kalakaar has composed pieces that use Spanish music, and the group is looking into exploring other avenues, as well.  
"One of the girls in our group, she is fluent in Arabic music, so that is cool for her to bring in," Rao says. "I think, eventually, I would like to make it an [official] international group."
Rao says the process of mashing together songs from multiple countries and cultures is a little bit difficult because one has to look past all the differences in songs to find the similarities that connect them.
According to Rao, the first step of this process is generally listening to a bunch of songs and learning their different musical elements. From there, she and the other music directors break apart the songs into their different musical parts, including bass, alto, tenor and soprano.  
"We are a co-ed group, so we have all of those parts," Rao says.  
The music directors of the group must search for songs that contain not only the same or similar melody lines but also the same key and chords.
In addition to its tonal singers, the group also uses a beatboxer to help keep the rhythm of the songs together.  According to Rao, the beats and rhythms of Indian music can be challenging, especially when the group members are attempting to pull in the rythms of multiple songs.
---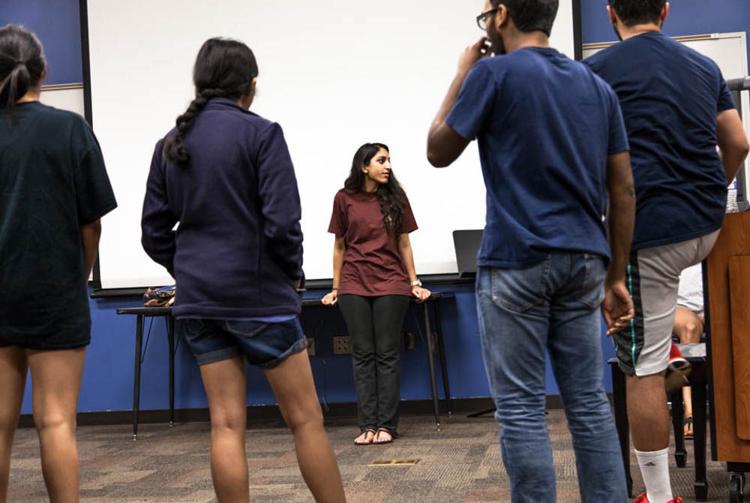 Lexi Kim
---
Because of this, it's important to have a beatboxer to lay the groundwork for other members to build their melodies on top of. A beatboxer also helps transitions between songs go smoothly.
"That's kind of difficult," Rao says about the process to compose and work out the beats of a mash-up. When the songs do match, though, it can be seen as a testament to the connective powers of music.  
"In general, music is this perfect universal language that so many people can relate to," Rao says.
On stage
Right now, the group mostly performs at community events, but its members have hopes for larger performances in the future. The biggest events the group has previously performed include the university Indian Cultural Exchange'sIndia Night as well as a few dance competitions in Atlanta at Georgia Tech.
The group has also performed at charity events and pageants for sororities including Delta Phi Lambda and Sigma Sigma Rho.
"I think, within the Indian Cultural Exchange, we have quite a few people who are interested, and we get a lot of support from them," Rao says. "We also get a lot of support from the multicultural organizations."
The group's big goal this year, however, is to perform for Awaazein, the National South Asian A Cappella competition in April. Rao says this is her goal, but she knows the group will need to have choreography for the competition, something it has never done before.
Aside from these events, Rao says the group doesn't perform much in the Athens community at the moment.
"We don't have that following," Rao says.
According to Rao, the group may try to host an invitational, bringing in performing groups from Georgia Tech and Emory in an attempt see what kind of audience they could gather in the Athens area.
"That's a sound that Athens isn't necessarily used to," says Thrash, who pioneered the tribal, Indian sound in Athens when he was still based in the city as a University of Georgia student.
Based on the support Thrash saw from Athens music listeners, he says there might be a place for UGA Kalakaar's music in the Classic City at some point.
"Opportunity, I mean, yeah. I think I've definitely experienced a lot more doors being opened because of that fact that it's different than just a four-piece rock band," Thrash says. "I'm not saying that's bad. There's just a very high supply of those in Athens. So there's been a lot more doors that have been opened because of the difference or uniqueness of it."
Combining a variety of cultural influences, UGA Kalakaar is a testament to the diversity of music around the world and the ability of both notes and people to come together.
"That's how I think it's important: to see how different people come together to do something that they all love at the same time," Rao says.
Since its formation, UGA Kalakaar has given those passionate about music a place to collectively explore different cultures and connect to their own. United by their common interest in both celebrating and combining numerous genres of music, the group's members have been able to find strength in their differences and musically bridge the gaps between a variety of cultures.