The legend of 135 N Peter St. begins something like this.
A plot of land is deeded to three brothers in the early 2000s and the trio is given permission to build a 1,400 square foot house in an older neighborhood on the east side of Athens. As construction proceeds, each brother architecturally elbows one another until finally the three settle on a compromise: each brother will have their own floor, built to his satisfaction.
As a result, the house balloons to almost three times its permitted size once all is said and done, a fact not overlooked by the local housing authorities. The brothers are forced to remove the third floor kitchen and are placed at odds with the local commissioners, pressured to sell. This disrupts the brothers' plan to sell alcohol through the first floor laundry room, so the shot house is moved outdoors. That, at least, is how the story goes.
"This may be a joke the sellers told me from before," says real estate agent and current property manager Daniel Peiken of the three brothers' three floors theory. "Crazy story, but that's what I've heard."
The determination of how much of this narrative is true and how much is patched together from rumors is challenging. Years have passed since the house's construction in 2002 and muddied the lines between happenings and hearsay. Tenants and non-tenants alike have much to say on the matter, and the truths, half-truths and possible untruths about the biggest house on Peter Street have been a collaborative effort of an integrated community.
The exact definite details beyond the mythos are these: a house was constructed far outside of what city ordinances allowed yet it managed to avoid being torn down. It functioned for some time with illicit activity as an integral part of the property before being purchased, brought to code and established as a pleasant, if unorthodox, single family home in a thriving neighborhood.
The transition from one extreme to the other was not without its frustrations. In fact, the process was just about a nightmare according to Chris Springfield, the man responsible for earning the house its certificate of occupancy.
The beginnings of the biggest house on Peter Street
 "It took forever," says Springfield, an Athenian Renaissance man whose endeavors have included several businesses in addition to real estate development.
Springfield, as the new owner, knew he had to earn the house its certificate of occupancy so it could become a legal domicile, but he says he's never been through so much.
"They wanted to make somebody pay a penalty, and I guess they ended up making me pay the penalty," Springfield says.
"They" are the housing authorities of Athens-Clarke County, but the "somebody" to be punished is unclear. Rumors tell of a family of three brothers, but the alteration permit for 135 N Peter St. during the second week of September in 2002 for a 1,400 square foot project was granted to a single person, Sylvia Evans from Hull, Georgia. Evans had owned the quarter of an acre since 1997, and an original sketch for the house shows a blueprint within the permit. The final building, however, was far from what the sketch promised.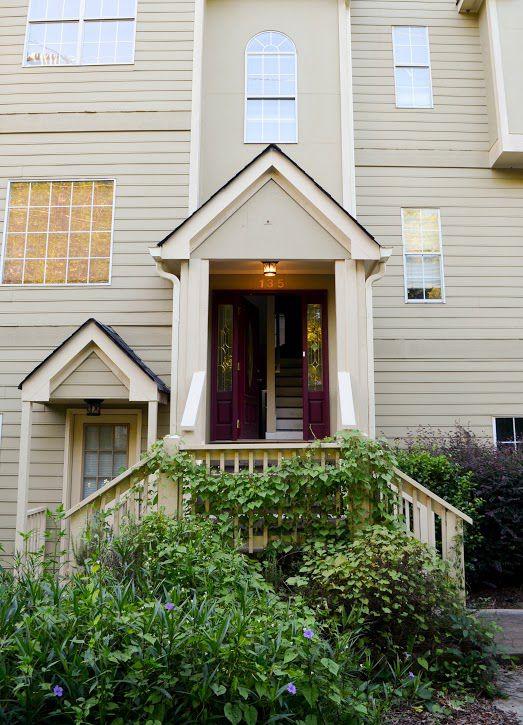 "Somehow, everybody missed it," Springfield says. "Everybody in Athens-Clarke County either turned their eye, ignored it or assumed somebody else was dealing with it. But ultimately, it got built."
According to Springfield, the property remained standing through an incidental tax maneuver. Despite hindering legal residency within the house by refusing to grant a certificate of occupancy, the county assigned property tax values and, according to Springfield, the taxes were paid.
"I think that put Athens in a bad position," Springfield says,  "Where they were like, 'We can't make them tear it down, because we've already said it has value and have collected the taxes on that value.' It was kind of stuck."
Since there was nothing legally to be done with the building, the lot and its monstrous house became a center for criminal activity.
Enter Springfield, who has spent the past few decades doing "a little bit of everything" in Athens. One of the "everythings" he dabbles in is real estate development, including owning all of the property surrounding 135 N Peter St. To Springfield, the house's illegal activity was a "boat anchor around the neck" of an otherwise average neighborhood. He decided to take action into his own hands to remove the blight from the area: he bought the property.
"I did it as an offensive move," Springfield says. "With all that was going on in the neighborhood and with my property around it, I knew that if stuff was ever going to change, the whole area had to be cleaned up."
After a random encounter with the property's owner, Springfield ended up buying the house. While the conversation was spontaneous, purchasing the house was not. Springfield spoke with local commissioners prior to his decision, with polarizing responses.
"They didn't want to give it a certificate of occupancy because they didn't want anybody to think that you could do something like that and get away with it," Springfield says. "They didn't even want me to buy it; they wanted this guy to be miserable forever because he built the house without permits."
Springfield argued the neighborhood would suffer until action was taken, and earned the verbal support of the commissioners after making a proposal. He promised to divide the house into apartments, since the house was so large and could accommodate three separate entrances. Because Springfield owned several multi-family houses in the neighborhood, he could change one house's title to single-family so 135 N Peter St. could be multi-family without changing the composition of the neighborhood. This plan received enough encouragement from the commissioners that Springfield decided to move forward with it.
"I had all the commissioners say, 'Yeah, you should buy it, you have my support,'" Springfield says. "I went and bought it, and then I made a request to rezone it and it got denied unanimously. All of the commissioners that told me they supported my decision to buy it changed their mind as soon as I did actually buy it."
Paying the Peter Street penalty
With his long-term goal for the house immediately frustrated, Springfield began the difficult task of bringing the house up to code. At the same time, Springfield had to change the culture of the property, including the illegal shot house running behind the house.
Such activity included an illegal bar in the backyard, complete with nightclub and DJ booth. That is to say nothing of the house itself, where it's unclear what all went on behind closed doors.
"There were at least nine bedrooms in there, maybe twelve, but there were mattresses on the floor," Springfield says. "I figured they were using it as a brothel."
---
 "When I bought that house, it was just blatant drug activity going on over there, to the extent that nobody would try and hide it," Springfield says.
---
While Springfield hoped his presence would be enough to deter illegal activities from continuing on the property, such would not be his luck for two reasons. One: the bar was technically located just off of the property, on a neighboring plot from a Broad Street house. Reason two was even more frustrating.
"In [the previous owner's] mind, because he built the house and sold it to me, he had access to the building through my driveway, which was not true," Springfield says. "He was using my driveway to pull into his building back there, and then people would pull up and he'd sell drugs."
After speaking to an Athens police officer who was head of the drug task force, Springfield was able to have police cars park behind his house while doing their paperwork to keep an eye on things. The bar's proprietor was not pleased with the situation.
"On two occasions he showed me a gun, and one of his little guys also showed me a gun," Springfield says. "They were basically just telling me I needed to stay out of their business. Eventually they busted that bar and that kind of broke everything up."
After the headache of both getting a certificate of occupancy and clearing the neighborhood of some serious shenanigans, Springfield sold the house to a family since he couldn't use it for his original purposes. To those who bought it, the house was a refinished mansion in the heart of Athens, but for Springfield, it was the end of a series of frustrations.
"I would not have ever bought [the house] had I had not had five commissioners tell me they would support me in turning it into a three unit apartment," Springfield says. "I tried to save it, and I saved it as best as I could."
Far more than save it, Springfield had turned the house into a home where later owner and educator Teresa Cole-Smith would found the Freedom to Grow Unschool, and neighborhood resident Lora Smothers would find her niche in teaching.
From shot house to school house
"I'm pretty much obsessed with that house," Smothers says. "I have it all planned out that at some point in my life I will be living in it. It is quite storied, but I entered the story in 2010."
Smothers moved to Athens in 2009 for a master's degree in educational psychology at the University of Georgia. Although her studies were focused on gifted education, Smothers grew disillusioned with public school a year into her degree. She found the Freedom to Grow Unschool after searching for a better fit for her interests as an educator.
"I found the website for Freedom to Grow Unschool [and] was totally floored by everything that I read," Smothers says. "[I] then came to find that the house where it was, was located in my neighborhood
Since Smothers lived a couple blocks over on Fourth Street, she says she knew she had to investigate. When she did, what she saw changed her life.
Cole-Smith had changed the bottom floor of the house to be small school environment for local children of elementary school age. Recess took place in the large back yard, and the extra downstairs kitchen served as a spot to snack and learn mathematics. Community meetings happened in the downstairs living room, while Cole-Smith, her husband and their children lived happily and separately in the two upper floors.
The concept of unschooling is to counter the inhibitive structures of a formal education, and teach children about the world around them through activities of their own choice. The several children learning in Cole-Smith's home were all technically home-schooled, but they joined together for a more holistic learning approach.
"That was what she tried to create, a loving little school," Smothers says. "I was floored and enthralled: 'I don't know what this is, but I must be a part of it.' It was so laid-back and cozy. "
Smothers and other college students would come to the school to act as teacher's aids, teaching their specialties to the children on different days as electives. Cole-Smith wasn't private about the history of her home to those who frequented it.
"When I first went over there, she told me all the lore about what the house had been used for before, how it'd been built," Smothers says. "That's part of why she loved it, why she wanted to live there."
---
 "I've always been watching the house," Smothers says. "It just has a life of its own. It's so larger than life on that street. 
---
As Smothers fell in love with the concept of unschooling—enough so that she went on to become the director of the Unschool two years later—she also fell in love with 135 N Peter St. The Unschool was relocated to a warehouse on Highway 72 after doubling the next academic year, and Cole-Smith moved to North Carolina in 2012, but Smothers stayed interested in the house.
"I've even gone to walk through it a couple times when it was for sale and for rent to see what's happened to it." Smothers hopes to someday be able to afford buying the house, but until that day,  she compromises by watching the house switch between renters. While the people have changed, the rumors have persisted.
Athens rumors for everyone
The last few months of Tim Denson's mayoral campaign were spent one house over from 135 N Peter St., musing over the house's origins in the home of a campaign supporter.
"Everything about the house was so weird," Denson says. "We all had our own theories; during off time, we'd talk about how this house came to be.  It was interesting being there for that time period."
---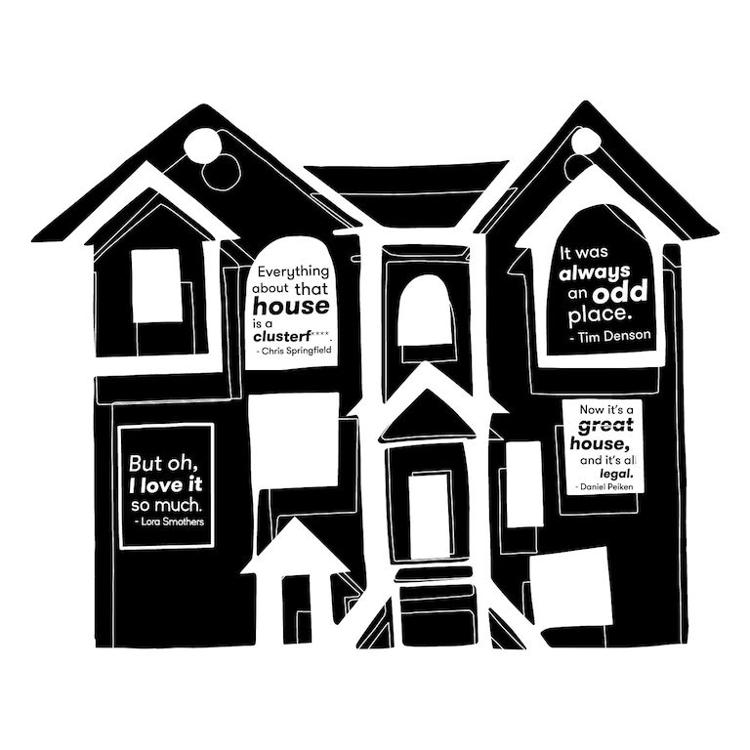 ---
The volunteers for the campaign that inspired Athens for Everyone would typically meet at 9 p.m., park behind the house where drugs had once been freely exchanged and then file inside to work and strategize.
In their free time, they'd speculate over past drug deals, potential as an unofficial frat house and how the house could have gotten built on code—which it wasn't. While the multiple decks of the large house elicited comments from those who noticed its peculiar design—"This house gets even weirder"—Denson thought the house was somewhat out of place, even from the front.
"You drive down Peter Street and it's all these smaller, older, working class homes and then you have this giant, what looks like a Barbie house-style castle," Denson says. "I can think of one of those Barbie houses you have a little hinge and open it up on the inside."
The house never slept, according to Denson. The many tenants came and went at different times, and would occasionally interact with the campaigners next door.
"I remember having a conversation with a woman who was there and saying, 'It's a really weird house,'" Denson says. "She was like 'Yeah, yeah, I don't know, it's an odd one but it has a lot of room inside.'
Denson says the woman took bumper sticks supporting his campaign, so he'd hoped she voted for him and has always remembered her comments.
Though the building dubbed a Barbie house caused a stir in the volunteers' conversations, Denson believes his campaign was likely more of a nuisance in the neighborhood, with the volunteers' competing comings-and-goings. In spite of this, Denson has his criticisms about what the house represents.
"Personally, I think that house shows this extreme example of what can go wrong with gentrification of a neighborhood and community if we don't have a local government who is going to step up and put policies in place that preserves their community," Denson says.
Denson is currently running for Athens-Clarke County commissioner, which will put him in the position to address unusual residential cases like 135 N Peter St.
Real estate agent and property manager Daniel Peiken, on the other hand, maintains that people shouldn't be afraid of the house.
For Peter Street's sake
"I used to look at it and say 'Oh my god, what a monster house,' until I walked in and said, 'Oh my god, this house is really nice,' Peiken says. "It's so nice that I let my mom rent the bottom floor."
Peiken of 5Market Realty has managed 135 N Peter St. as a rental for the past two years, and is now selling it on behalf of the North Carolina business that owns it. These days the house boasts seven bedrooms, six full baths, a fenced backyard and other niceties.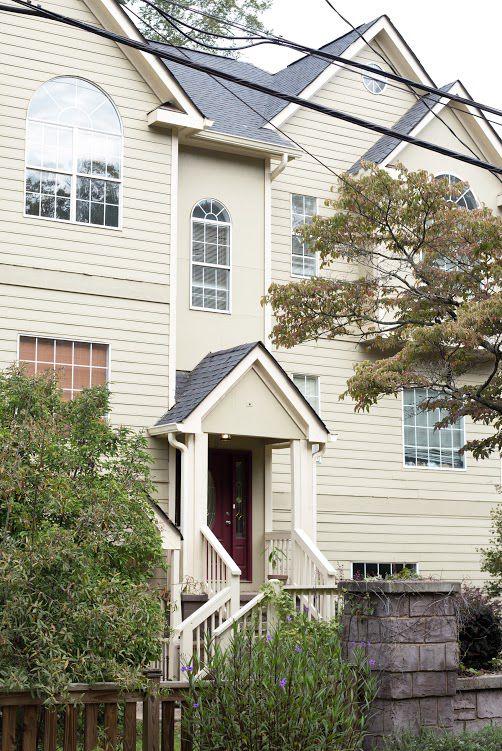 "It's a great house, nice finishes, nice wood floors, nice ceilings, nice walls," Peiken says. "It's not a trashy house. We've got good people living in it and taking care of it, and those people are making the neighborhood a better place, just because they are doing good."
Peiken says he's had no problem keeping the house rented to good people—including his mother on the first floor, who lives "close enough to visit [his] babies"—since the Peter Street area is getting more and more popular.
"The neighborhood is an up-and-coming neighborhood," Peiken says. "Some people are afraid of that area. I've lived in Chicopee-Dudley for about nine years now, and I love it."
Peiken has lived in Athens since 2000, documenting local music alongside his real estate work. His involvement in the Classic City music scene is an extension of his love for Athens, the hometown of his wife and two daughters. Although his love of the area is sincere, that isn't what brings everybody to the neighborhood. Peter Street, like communities all around Athens and America, is gentrifying.
"Students, teachers and young folks are moving in," Peiken says. "Some folks have lived there for a long, long, long time—some of them are staying, and some of them are moving out. That's how life goes. People move in, people move out."
Smothers, who still lives in the neighborhood with her husband and keeps an eye on 135 N Peter St., says the area is gentrification ground zero.
"There's just more and more student housing creeping into our neighborhood," Smothers says. "I just really hope that someone who loves our neighborhood will buy that house and use it for their family, and not for gentrification, basically."
Smothers and her husband have discussed buying the house to live with other families as a reflection of their dedication to hospitality and building communities. Since the house is still districted as single family, despite Springfield's best efforts, the property instead has been used for rentals by what Smothers referred to as "big moguls" like the company selling it now.
"What single family can afford this monstrosity?" Smothers asks with a laugh.
At the end of the day, Smothers wants whoever lived in 135 N Peter St to appreciate the house and its long, wild history the same way she does.
"The point is, you want people to love where they live and invest in it," Smothers says. "Be a part of it, not just make money off of it."
---