Behind a full face mask stares back the determined eyes of Emily Barber as she stands in front of the net as the University of Georgia hockey team's starting goaltender. As the last line of defense, Barber played a pivotal role in the team's 15 wins this season.
A freshman majoring in environmental engineering from Roswell, GA, Barber has played hockey since she was seven years old. Her father, Rick Barber, who helped found the Ice Dawgs in 1987, took her to an alumni game when she was little which sparked her own love for the sport.
"They let me on the bench, they gave me a little hat to be nice and everything," Barber says. "I came home and was like, 'I want to play hockey.'And my parents were like 'No, because it's a lot of money.' But they supported me and it was really great."
Barber, while now the team's goaltender, has not always been in that position. According to Barber, her dad had a strong dislike for goalie and encouraged Barber to develop her skating skills before she committed to the position. Thus, she spent years as a defense player becoming comfortable on the ice and learning to skate well.
"All I could think about was wanting to be in net," Barber says. "I worked really hard to get to the point where I could skate well enough to be a goalie."
Barber played on a series of travel teams before reaching high school. But playing hockey was never solely about winning for the highly-skilled goaltender. For it is her passion for the game, for the people involved, and the enjoyment it brings to her life that keeps her in the net.
"I honestly just love it and that's why I do it and that's why I've always done it," Barber says. "As soon as I didn't love it, I took two years off in high school but when I came back I was like this is fun, I like this."
After her brief hiatus from hockey, she came back to play for the Walton-Lassiter team where she, along with her teammates, took home the Georgia Student Hockey League Wales A Conference Championship in March 2017. Barber says she considers the victory her highest achievement to date.
Her choice to attend UGA was not directly linked to the Ice Dawgs, however it was one of the many factors that impacted her decision and has ultimately been a positive for the young player.
"It was really the only place that needed a goalie and wanted me and made me feel wanted by letting me come out to practices and then talking with me," Barber says.
She attended the two-day long tryouts hosted this past September which tested prospective players' compete level and chemistry with the team.
---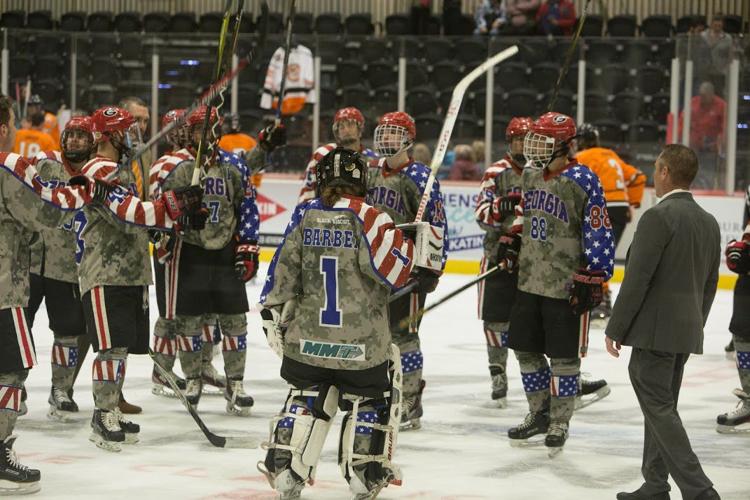 ---
Head coach Rick Emmett, whose professional hockey career includes an 11-year run with the Quad City Mallards and a position as head coach for the Atlanta Gladiators, previously known as the Gwinnett Gladiators, also looked for another important albeit less quantifiable trait during tryouts: passion.
"You got to want to enjoy it, and so I think the biggest thing is effort and compete level and making sure everyone is here not just for themselves," Emmett says.
Part of the team
"After those two days, if you could run with the team, if you could keep up, and you wanted to do it, they let you on," Barber says.
Barber was one of five freshmen welcomed onto the team, taking the places of recently graduated players.
"Last year we lost a bunch of seniors. They were a big help," Assistant captain and senior Stephen Bray says. "My brother, for example, was named MVP of the whole SEC conference so losing him was huge."
However, Bray and Emmett remain optimistic about the new talent that took the vacant spots on the team's bench.
"You can't always control what you get in terms of athletes because we can't offer scholarships, we don't recruit like varsity sports," Emmett says. "You get the hand you're dealt and we've been dealt a pretty good hand these last few seasons"
For Barber, being the only female on a team of 26 players is nothing new to the seasoned player and has given her a new set of teammates with which she shares a love for the fast-paced and action-packed sport.
"It's a lot of fun," Barber says. "They're so open and I love the atmosphere. These guys have been really nice to me about it. There's not a lot of differences."
Aaron Phillips, a sophomore from Powder Springs, GA is one of the team's defenseman and was named assistant captain this season.
"I play defense. I just like the feeling of stopping other people from scoring, I guess," Phillips say.
Phillips says he loves having Barber on the team and welcomed her like he did the other freshman players.
"We try to incorporate her as much as possible," Phillips says. "We definitely try to make her feel comfortable around us. It's pretty cool to say that you have a girl goaltender because no one really does."
Getting used to the hard shots from players over 50 pounds heavier and five inches taller is one of the biggest challenges Barber faces as a part of the team, since the collegiate team is markedly different from her high school experiences.
"Before this, the hardest shot I ever saw was [from] 15 to 16 year olds," Barber says. "But I think I'm getting there, slowly but surely."
Another adjustment for Barber as well as for the rest of the team is having a woman in the locker room before games and practices, though this has proved less of a challenge.
"This is one of the first times I've been in the locker room changing with them too, and they're really cool about it, too," Barber says.
"It's obviously huge on our part to have her there in the locker room," Emmett says. "But the guys go from street clothes to their hockey undergarments, so the timing of that has to be synchronized so she can get in there."
The attitude of the rest of the team echoes Emmett's sentiment and speaks for the team's inclusion and acceptance of Barber.
"Just because she's a girl doesn't mean that we can't have her in the locker room or anything," Phillips says. "We usually get our undergear on and then let her come in and just get dressed with us."
In the Zone
Like other serious athletes, Barber spends hours off the ice and before the game to get her body and mind ready for the physically rigorous game.
"A lot of the stuff I do off ice is diet related. I'll definitely, right before a game, carb load and stuff like that," Barber says. "I'll make sure I just have enough nutrients, get everything in the pyramid so I have a lot of energy on the ice."
A combination of caffeine, usually a cup of coffee or an energy shot, and a set mental routine starting about an hour and a half before the game, give her both the energy and focus needed to save the many shots taken on net.
"So goalie's actually 90 percent mental," Barber says.
---
"You can do as much as you want preparing physically and dieting and exercising and strengthening but if you aren't mentally in the game, it's all worthless."
- Emily Barber
---
After listening a specific pre-game playlist, Barber participates in a series of off-ice warm-ups that ultimately prepare her body and mind for the onslaught of adrenaline and high-velocity shots coming her way.
The ideal mindset, according to Barber, is a fine balance of nervousness, focus and excitement.
"I want to be nervous enough to where you get the jitters and are really focused and dialed in," Barber says. "But if you're too nervous, then [you] can start to turtle up. And as goalie you need to be as confident, as forward, as aggressive as possible."
Barber says that the strategies one employs to get to this state of mental preparedness vary by athlete and shares her own.
"I have an arsenal of 10 or 20 that if I'm not where I need to be mentally, I can pull myself back or push myself forward to where I need to be," Barber says.
On top of mental self-control, the position of goaltender requires tremendous skill and strength that must work in tandem in order to play successfully. Lightning fast reflexes must work with intense concentration, flexibility must work with brute determination.
In honing these skills over the years, Barber has also developed a talent that she can put into use off the ice.
"When a pencil falls I'm able to catch it mid air without really thinking," Barber says.
These characteristics, the indicators of a good goalie, must also work under the weight of heavy gear that serves as a testament to the strength necessary for this important position.
Due to the high velocity at which pucks fly in an attempt to score a point, goaltenders must wear extra protective gear that includes, but is not limited to, leg pads, a chest protector, and a neck guard. For Barber, the 48 pounds of gear are a small concession to pay for a position she loves in the sport she loves.
"So basically [goaltenders] really care about our gear and it's really important to us," Barber says. "When I get a new piece of equipment I'm very very excited and it's like Christmas every single time."
During the game itself, Barber must not only be aware of where the puck is, but where she is in relation to the goal and where the rest of the players are on the ice. Perception is key, Barber says, and is a skill that develops over practice and time.
As the goaltender, Barber's objective is to stop the other team from scoring. Yet, her position is much more complicated and requires much more finesse than it appears. In the instance that the opposing team gets a direct shot, Barber says that the team works together to stop the shot.
"You'll see the guys diving, throwing their hands, legs, whatever they can in front [of the net]," Barber says. " If it gets past them, then it's my turn."
However, shots that are taken during the heat of the action require much communication between Barber and the rest of the players due to the high risk of a rebound.
---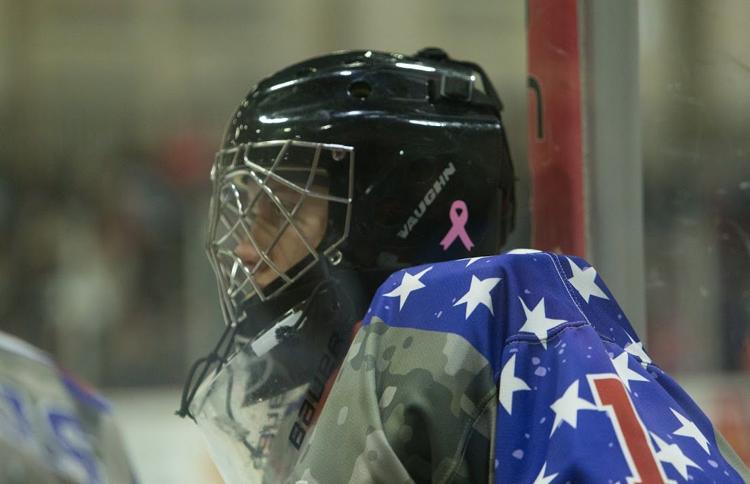 ---
"You have to kind of coordinate with your guys too so that every single one of their people who could receive a rebound are covered. You know, sticks lifted, getting messed with," Barber says. "That way, they won't get shots."
Her unique perspective on the ice with the ability to see the rink, players, and puck all at once, allows Barber to give direction to her fellow teammates.
"I am in the back, I can kind of see everything," Barber says. "So just pointing out to them, 'Hey, there's a guy right here, a guy in front' and then they'll be able to cover them for me so it won't be a goal."
In a sport that is driven by statistics and percentages, an indicator to Barber that she is having a good game, and is truly in the zone, is when she does not know the score.
"What matters is each individual shot and where it's coming front and what's happening on ice at that moment,"
Barber says. "And if you are focusing on that and don't know what the score is, that's a good thing."
Walking on thin ice
Just as Barber guards the goal from the Ice Dawgs' opponent, her fellow teammates also work to protect her. Bray, who plays center on the offensive line, says there is some danger in Barber being a goaltender.
"There's still a possibility of someone running into her," Bray says. "But she hasn't been hurt so far, as long as we keep her safe."
Bray says admires Barber for not only the skill set she brings to the team but her dedication to the sport, an admiration not everyone shares. Another challenge Barber faces is the assumption of certain players and referees who might believe that she receives special treatment due to her gender.
"Some of the guys got angered when someone ran into me and the ref was like, 'You're just saying that because she's a girl,'" Barber says. "And he's like 'No, it's just because our goalie got run into.'"
As with most student athletes, Barber must find a balance between the sport she loves and her busy college schedule.
"We're playing at a D3 club level, we're not gonna make a paycheck. So academics definitely comes first," Barber says.
The team usually practices once to twice a week along with one or two weekly games. Without the luxury of a nearby facility to use for the entire season such as what UGA's varsity sports teams have, the hockey team often practices in Duluth, GA.
"When we don't have the rink here, practices can take upwards of five to six hours," Barber says. "Getting down there, getting dressed, getting food and everything."
Still, the time commitment is worth it so the team can practice on the ice together.
---
"I love the practices and just going out there and stopping a few in a row,"
- Emily Barber
---
"Just like the perfect kick, when it hits your toe right, it just feels good."
Among practices being a source of enjoyment, she also appreciates the friendships that inevitably come out of a close-knit team that celebrates victories together and supports one another through losses.
Skate-prints to follow
As for her personal goals, Barber hopes to increase her save percentage, defined as saves made by the goaltender divided by shots on goal, and overall confidence.
"I'm still a freshman on a team with people of all ages," Barber says. "So, [I'm] just getting to a point where I feel consistent and I feel like I can keep up and do well for the team."
For Bray, however, he hopes the team will make it to the SEC Championships despite him not being able to play since he graduated in December.
"I'd really like for the team to win the SECs again, that'd be huge," Bray says. "And then possibly going back to nationals would be a big step, but we'll see about that."
Barber is well on her way to improvement and has shown great potential to both her teammates and coaches.
"From the first day of practice I've seen some improvement and I think a big part of that is her being comfortable with us," Bray says. "I know she's good, I know she can handle it. Her being comfortable around us is opening up more talent."
In consensus with Bray is head coach Emmett, who applauds Barber's performance on the team while also adding his own observations about the young goaltender.
"She's doing well, still got a lot of room to grow and that's what you expect with a freshman goalie," Emmett says. "I think her biggest challenge is just getting used to that level of shooting and the intensity on a consistent basis."
As with other things in life, time has the ability to markedly improve a player and even a team. Bray, having played with the Ice Dawgs since his freshman year, looks back fondly on the team's success and evolution since he started.
"Going to Nationals last year was huge and winning SEC's two years in a row was awesome," Bray says. "My freshman year we weren't that good, and now we're winning almost every single game so it's a huge improvement."
When it comes to accomplishments at the national level, Barber's biggest role model is Manon Rhéaume, the first female goaltender to play in the National Hockey League (NHL). A year after making her NHL debut in 1992 for the Tampa Bay Lightning, Rhéaume wrote her autobiography Manon: Alone in Front of the Net.
"I read her book growing up and I really like the way she thinks and the way she powers through things," Barber says.
Now a mother of two boys, the oldest who followed his mother's footsteps and is a goaltender himself, Rhéaume continues to support young, female athletes through the Manon Rhéaume Foundation in 2008. The foundation awards scholarships to girls under the age of 19 who desire to pursue their athletic passions as she once did.
Just as Rhéaume inspired Barber as a young girl, UGA's lone female hockey player will inspire a new generation of young hockey players to pursue their dreams, even if it means being the only girl on a team of boys.
"It can be encouraging for other girls just because they can see how she's playing hockey with us and competing with us and still winning," Bray says.
Beyond college, Barber hopes to pursue her love of hockey. A spot on an all-female team is her dream despite the difficulty in finding one in the South.
"I'd love to keep playing hockey if possible, maybe even coach if I get older and creakier," Barber says.
Among the limited selection of all-female hockey teams is one close to home: the Atlanta Thrashers Women's Hockey Team. Founded in 1996 by Dawn Hangle, the team is open to all women ages 15 and older and holds practices at The Cooler in Alpharetta, GA. With skill sets ranging from former NCAA Division I players to beginners, two teams scrimmage other local co-ed teams, according to The Atlanta Lady Thrashers website.
Luckily, due to her extensive traveling for hockey, Barber says that she would be willing to move up North.
"I remember the first time I went to Canada and got a five dollar bill and hockey's on the five dollar bill," Barber says. " I've been all over the North just for hockey and I've seen all these great cities and now I know I kinda want to live up North just for the people and the culture."
Barber, a young athlete who has succeeded in what others may consider an unusual position, has simple, yet heartfelt, advice for others with similarly uncommon goals.
"Just try," Barber says. "Hard work always pays off."