Back in the early days of our nation's history, there was no such thing as "folk music." There were ballads passed down from generation to generation, evolving with each new iteration. There were religious hymns and work songs, born out of earthly duties and heavenly aspirations. There was Cajun music from southern Louisiana and spirituals influenced by the rhythms of Africa and much more.
These songs, often without an identifiable author, are cherished in the modern age and labeled as "folk," although no one word can truly sum up the complexity of this music.
In Athens, the Athens Folk Music and Dance Society carries on the traditional music of past generations by offering a community for people of all ages to celebrate folk music, dance and art.
---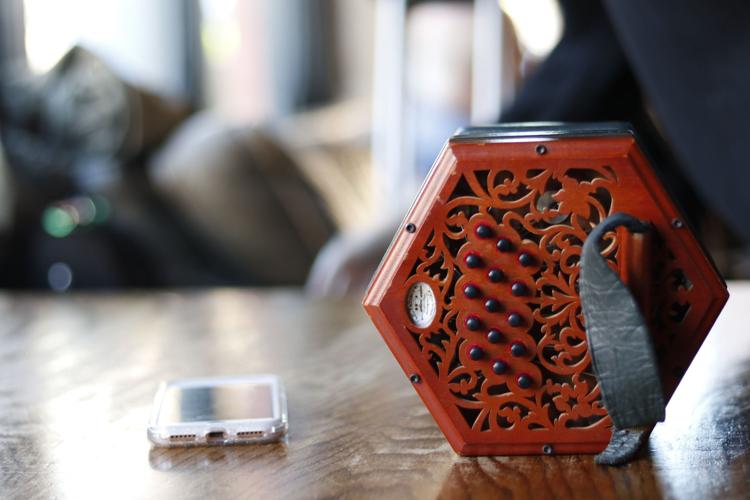 ---
The AFMDS was born out of a need for a community of like-minded musicians, dancers, artists and those who appreciate all that folk music and culture has to offer. According to AFMDS historian David Edwards, the folk society was incorporated on Oct. 1, 1983.
The organization's main activities include organizing and putting on the annual North Georgia Folk Festival held at Sandy Creek Park, hosting monthly folk dances, called contra dances, and presenting "hoots," variety shows featuring folk musicians.
As the president of the AFMDS, Tommy Jordan is well aware of how deeply the roots of folk music have taken hold in Athens.
"One of the things about these older folk songs is that some of them are a hundred or two hundred years old," Jordan says. "What makes music last that long?"
---
What makes a tune or a melody be something that people are willing to play for 300 years?"
- Tommy Jordan
---
Jordan references one song that his band plays at almost every folk jam, called "Soldier's Joy." According to the Library of Congress, "Soldier's Joy" first appeared in sheet music during the late 18th century.
"What gives a song that kind of longevity?" Jordan asks. "It's just a universal appeal."
Jordan compares the ever-evolving quality of folk music to The Telephone Game.
"You whisper in someone's ear and it goes around the circle, and it's completely different by the time it gets back to you," Jordan says. "Folk music does change like that — it's a living and breathing thing — and that's ok."
---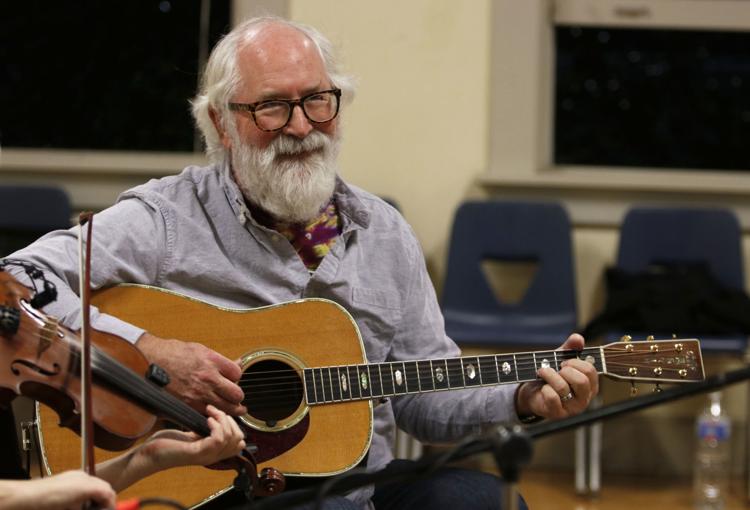 ---
Jordan jokes that the morphing of the lyrics of folk music is part of the "folk process," a term that performers will use as an excuse when they forget a word here and there or invent their own lyrics.
"But it's not that much of a joke because it happens," Jordan says. "If you're learning something by memory, it's not written down, are you really going to remember every nuance that someone taught you?"
Many members of the AFMDS help preserve folk music and crafts, and accomplish this task in different ways. Some play folk music at concerts or jams, on stages or gathered around a fire pit in someone's backyard. Others document the history of folk music, tracing the intricacies of music and art back to its roots. And some strive to teach younger generations the joys of folk music, ensuring the tradition will live on in the future.
The Singers
Jordan devotes his time to the performance aspect of folk music, and says he performs four to six nights a week with his various bands, including Mr. Jordan Mr. Tonks, String Theory, The Wild Jordan Tonks Cats and his son's Grateful Dead cover band.
Another member of the AFMDS who carries on folk traditions through sharing music is Maggie Hunter, a singer and radio show host. Hunter hosts the show "Just Folks" on WUGA, the public radio station for Athens. She is also a member of an Athens-based folk trio called the Solstice Sisters. At one time, Hunter was the vice president of the AFMDS, but says she now simply enjoys their events and hosts a 'hoot', or dance, every once in a while.
Hunter describes a lot of her journey into folk music as a series of "stumbling coincidences."
One such coincidence involved a two-hour block of free time in between classes, which led Hunter to listen to "recordings of blues, old-time string bands and cajun bands," in the UGA School of Music Library.
"They were field recordings of real, true folk music," Hunter says.
Hunter quickly became obsessed.
"It's like a tattoo that never fades," she says.
Another stumbling coincidence led Hunter to take over a college folk radio show from a student who was graduating. Now, she continues to play folk music on her show "Just Folks."
---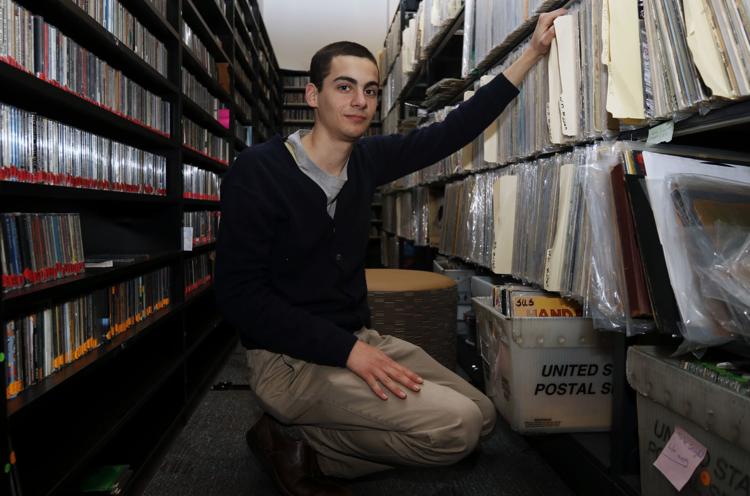 ---
Hunter stresses that folk music can come from basically anywhere.
"Folk music can be anything from an ethnic folk dance or thing that your grandfather played with an instrument carried over on a boat and landed in Ellis Island," Hunter says. "Folk music is just music of people."
The idea of folk music as a broad category encompassing a wide variety of cultures and stretching across the globe might be hard to conceptualize for some. Scrolling through Spotify, you can find plenty of playlists labeled as "folk," featuring artists like The Lumineers, Bon Iver, Vance Joy and Lucius. Singers from genres such as indie pop and alternative rock as well as singer-songwriters have also come to be considered folk music, further broadening the definition of folk and changing conceptions of what folk music is and ought to be.
"We've expanded what our concept of folk music is," says Susan Staley, AMFDS' hoot coordinator and another member of the Solstice Sisters.
---
"Instead of just sticking to strictly traditional, now, the young generation is learning and putting a twist to it."
- Susan Staley
---
Hunter identified the type of folk she plays the most.
"On my show I'll play a lot of singer-songwriter Americana, but what I really love is the roots stuff. The twang," Hunter says. "The stuff that's real old that people draw from when they're creating now."
Hunter stresses the importance of Athens venues such as The Foundry, the Georgia Theatre and Hendershots and the support these venues give to the local folk scene.
"Hendershots will get excellent artists that aren't megafamous yet, but really top quality good bands," Hunter says.
Many of the AFMDS' hoots take place at these local venues. Staley says the hoots used to be monthly occurrences but now have dwindled to a few hoots a year.
One consistent aspect of the hoots is their timely theme. In December 2017, the AFMDS hosted its annual Christmas Hoot at Little Kings Shuffle Club in downtown Athens. Ahead of Valentine's Day, the 11th annual Sweethearts Duet Hoot was hosted on Feb. 12 at The Foundry.
Staley says the AFMDS essentially provides a community for fans of old-time music.
"When I first moved to town, I reached out to the folk society and immediately met people who like the same kind of music I did," Staley says.
The Dancers 
---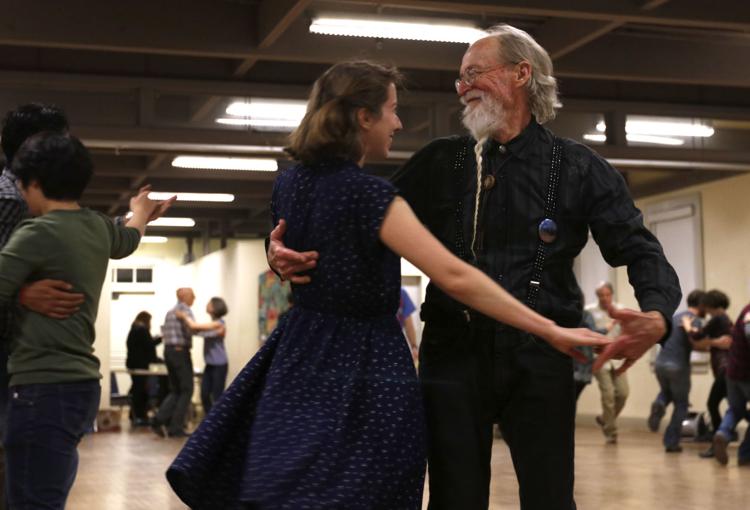 ---
An essential element to the culture of folk music fostered by the AFMDS is the contra dance. For those who have never heard of this type of dancing, Staley explains that contra dancing is essentially square dancing, but in long lines.
The AFMDS hosted a contra dance on Saturday, Jan. 20, 2018 at the Memorial Park Administrative Building. People of all ages and skill levels attended, with the footwear ranging from formal dancing shoes to day-to-day sneaker, gathering into a large circle.
Stuart Whipple, the caller of that evening's dance, led the group in learning the steps of the event before lining up all of the couples into groups of four and String Theory, the band for the night, began to play.
It started off dancing a square dance, complete with stars, swings and do-si-dos. What started out as a somewhat awkward shuffle of couples across the dance floor quickly turned into a fast-paced, exhilarating series of steps and turns. Whipple called out the steps, instructing attendees when to turn in a circle, swing their partners, do-si-do and then join up with a new couple. The constant movement didn't allow for awkwardness but instead led to a heart-pounding good time.
The crowd at the contra dance was a mix of new and experienced dancers. Stephanie Garrett from Royston, Georgia, said she had attended about four previous contra dances. She says one of the reasons she attends the dances is because she's a huge Jane Austen fan.
"I also like social dance because I feel like you're just getting to know people," Garrett says. "Most of us are not experts, and it's OK that we're messing up and having fun with each other."
The Historians
From the beginning of the creation of folk songs, they were passed down via oral tradition from generation to generation — parents teaching kids, grandparents teaching grandkids, and so on down the line. Sharing and teaching this music keeps it vibrant and as relevant a hundred or two hundred years ago as it is today.
Art Rosenbaum, an art professor, musician, documentor and performer of folk music, winner of a Grammy for Best Documentary Recording, says folk music is something that comes alive in performance.
"I did not coin this phrase, but it's not good because it's old, it's old because it's good," Rosenbaum says. "It's not like a static thing that has to be preserved or archived."
---
"Music deals with our emotions and the realities of life."
-Art Rosenbaum
---
Rosenbaum, along with his wife, photographer Margo Newmark Rosenbaum, has documented and recorded traditional music in the South.
"My interest has always been the 'trad' side — people who grew up with music and handed down crafts within the family and community," Rosenbaum says. "Folk later became a catchall for any kind of acoustic or singer-songwriter music, which is good. But as a term, folk is a kind of elastic term."
Rosenbaum was involved in the folk revival of the 1940s while he was living in New York City. Rosenbaum says it was a time when folk musicians Doc Watson and Mississippi John Hurt were coming into the spotlight. According to Rolling Stone, Watson revolutionized the genres of country, folk and bluegrass with a flatpicking style of playing guitar, which involves using a pick to strum the guitar. Mississippi John Hurt was a blues singer and guitarist.
After moving to Georgia, the Rosenbaums started recording and photographing everything from mountain music and fiddlers to banjo players and storytellers.
Rosenbaum published a book through the UGA Press with photographs by Margo called "Shout Because You're Free: The African American Ring Shout Tradition in Coastal Georgia." UGA Press describes the ring shout as a "fusion of dance, song, and percussion."
According to the New Georgia Encyclopedia, the ring shout is performed to connect to the Spirit and to encourage community unity.
The Bitter Southerner reported that The McIntosh County Shouters are the last group performing the ring shout. Based in the community of Bolden, Georgia, the Shouters have performed all over the country, continuing the tradition for future generations.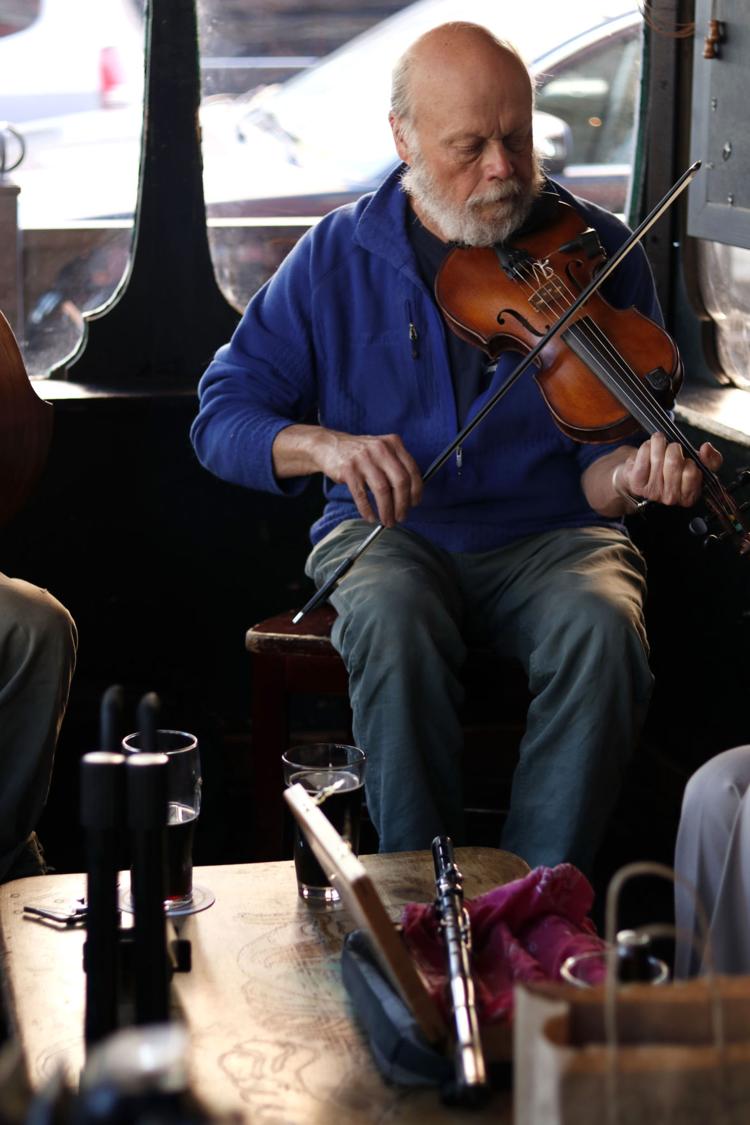 "Songs developed in earlier times are still interesting to us because they relay how it was," Rosenbaum says. "There are some from the cotton mill and railroad era. And some young singer-songwriters write about their 21st century experience."
But just because younger folk musicians often sing about modern experiences doesn't mean that the love for traditional folk music has died out among younger generations. Sam Fisher, a UGA sophomore studying religion and Arabic, runs a folk show on the university's WUOG radio station called "Banjos and Blues" every Friday at 1 p.m. Fisher's love for folk music began in high school when he picked up the banjo.
"Ever since then, that's been music that I've been pulled to, the music I play, and it makes me feel good when I play it," Fisher says.
On what Fisher calls a "fateful, serendipitous day" in May 2017, he met Rosenbaum and started meeting up with him to get CDs and music ideas to play on his radio show.
"[Rosenbaum] said 'The old timers kind of helped me when I was first starting out, getting me information and stuff and I'd love to pass that on.'" Fisher says.
A new friendship was born. Fisher goes to Rosenbaum's house every once in a while to drink coffee and talk music.
"It's sort of like a little library run out of his basement," Fisher says.
Fisher likes to have a theme for each of his shows, whether it's religious and southern music, ballads and tales of great people, heaven and hell, or cajun music. He also likes to get early recordings from back in the early days of the recording industry, when the predominantly white genre of country music was called "hillbilly music" and predominantly African-American genres like blues and gospel music were called "race music."
Fisher sees his radio show as a way to bring folk music to people.
"I saw the lack of folk presence and traditional music and the old traditions of America, blues, southern music was not being broadcast and put out to the public," Fisher says. "People are really interested. There are usually a couple of calls each week saying 'Wow, I didn't know you guys played this music.'"
Fisher says he's started to get more involved in the AFMDS.
"It's a lot of older people and they're calling on young people to spread it to the younger people," Fisher says. "I hope to contribute to the ongoing of it and the passing down of it."
Many of the folk music fans of Athens want to give recognition to those who came before them and paved the way for folk music to continue to be celebrated.
Rosenbaum mentions names like W. Guy Bruce, "a wonderful singer, banjo player and storyteller from Northwest Georgia." Edwards and Rosenbaum talk about the Skillet Lickers, an old-time band from Georgia known for its influence on the early country music industry, according to the New Georgia Encyclopedia.
At the North Georgia Folk Festival, Edwards and his wife Barbara will often have a table with archival photographs and pieces of history from old folk festivals and performances.
"A lot of bands formed through the folk society, a few marriages and divorces as well," Edwards says. "Over 30 something years, it's bound to happen."
Jordan says the folk festival used to feature more "mountain people," the people who learned old-time folk music by ear and passed it onto their kids. All those people are gone now, and it's up to the members of the AFMDS and all lovers of folk music to make sure the tradition survives.
"That's the other folk process, is that those guys started it and taught it to us, and now it's up to us to teach it to our kids," Jordan says.