The pets adopted in college are many people's first pet they can truly call their own, and they become a stable source of love and learning in a student's life. Students will move after graduation and find new cities, new jobs and new people, and many of their pets from college will accompany their humans on these new beginnings. Some pets will find new homes and new owners, and others will stay with their existing caretakers. Dogs, cats, birds, reptiles and other pets will embrace a new adventure after their caretakers' graduation.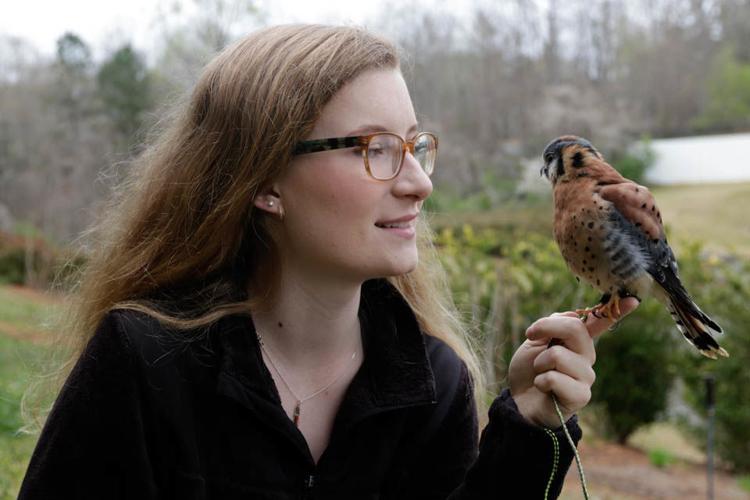 "The term pet is kind of weird because I feel like it's not like I own them. We live together. It's nice," Alexandria Ta, a senior avian biology major from Otterberg, Germany, says. "I like buying them things and feeding them and they like loving me, and I  like when they love me."
As Free as a Bird
While dogs and cats are adorable companions, some students opt for a slightly different pet experience. Chickens and falcons are just a couple of the options some University of Georgia students choose to adopt.
Mary Cope, a senior avian biology major from Homer, New York, has a household of pets, one of which is a American Kestrel falcon named Fletcher. Cope had to get licensed to own Fletcher, who sits perched inside her Athens apartment or flies through open fields when the pair hunt together.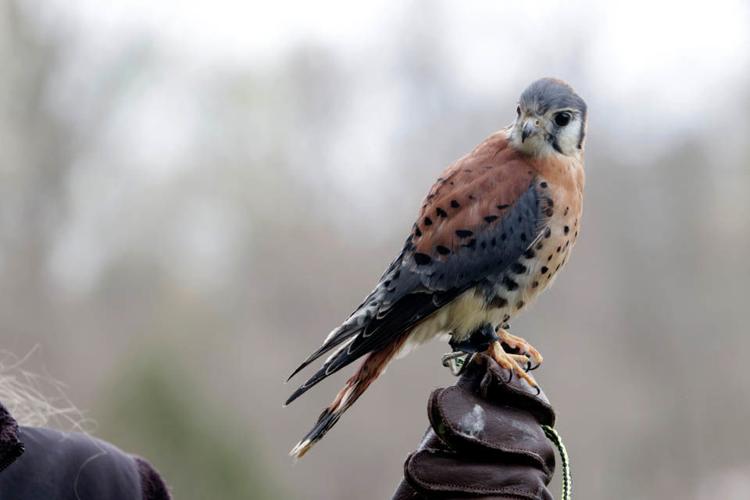 "I take all of his equipment off so he's completely free," Cope says. "He's hungry so he tries to catch things like small birds and mice and lizards and grasshoppers."
When Cope and Fletcher go hunting, Cope has to be careful of places with too many trees. A major risk of going out with Fletcher is bigger birds coming to eat him. Cope has plenty of experience with birds and other animals, dating back to her childhood.
Cope had two Red Tail Hawks, a Broadwing Hawk and helped to raise owls. Cope has a wildlife rehabilitation permit in New York.
"I deal with a lot of wildlife and wanted to bring a little piece of that with me while I finish up school," Cope says.
For Cope, the worry about moving with her pets post-graduation is not as dire, as Cope will be moving on to a PhD program in poultry nutrition at UGA. Cope will potentially move from her apartment to a house, though, where there could be even more potential for new animals.
"When I move I plan on getting a red tail hawk, " Cope says. "I love the bigger birds but obviously [Fletcher] is apartment-sized."
Other birds that are well-suited for houses with a yard and space to roam in are chickens. Alexandria Ta has a backyard of six chickens, each with their own distinct characteristics.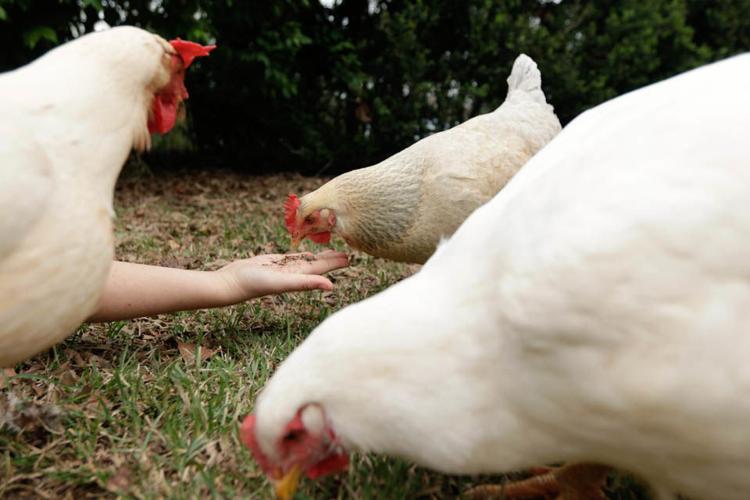 The chickens have been at Ta's house in and out from Feb. 2017 to present day. Some chickens needed a home, and Ta had the space for them. The house is now home to the chickens Almond, Iris, Henrietta, Maybery, Cricket and Mumble.
The process of loving an animal and moving on is especially prevalent here, since there is an ever-present risk of another animal snatching up the unsuspecting chickens.
"The thing is that these chickens don't come from a good life at all, so I'm kind of grateful that I get them at all and get to give them such a good life," Ta says. "If they get picked up by something, I mean honestly with so much population and houses and buildings it's hard for wildlife to survey so for raccoons and foxes and hawks, finding a chicken would keep them for like a month. It's kind of balancing the greater good."
As graduation approaches, Ta has a few options, some which include staying in Athens and others which include moving somewhere new. Wherever she goes, most of her other animals will travel with her, but the chickens would likely have to find another home if Ta moves.
Luckily, Ta has a friend in Athens who is a poultry science major would could be the "chicken mama" after Ta.
"I really like my chickens. I really like being able to go outside and have them all run up to me and sit out there on one of the chairs and them hopping up on my lap," Ta says. "It would definitely be sad to leave them, but I would only do it if they had just as good a person to take care of them."
Dog Days Aren't Over
Aside from birds, many people in Athens benefit from the company of a dog, either ones they adopted themselves, ones they foster for a short amount of time or ones that they train to become guide dogs.
Ta, the owner of the chickens, also has two dogs at home. One of them, a gentle adopted dog named Duquesa, and the other, a current foster dog named Kaylee.
Ta fosters dogs regularly and fostered three or four dogs before Kaylee arrived at the house. Foster dogs stay with a foster family for a few weeks or a few months until they find the right home. Ta takes on a dog and gives it a loving home until eventually letting it go to a different family.
"It feels wonderful [to give a dog away]," Ta said. "I have taken this crazy or scared dog and put hard work into it to make it a better monster kind of, and then I get to send it off to a family that loves it."
Similar to the foster program is the guide dog program in Athens. Alexis Dominguez, a senior molecular engineering major from Augusta, Georgia, raises guide dogs and also adopted a pup of her own in January of 2018.
"I always liked having dogs and I knew I wanted one after I graduate, but I wanted time to train it before I actually start working full time," Dominguez says.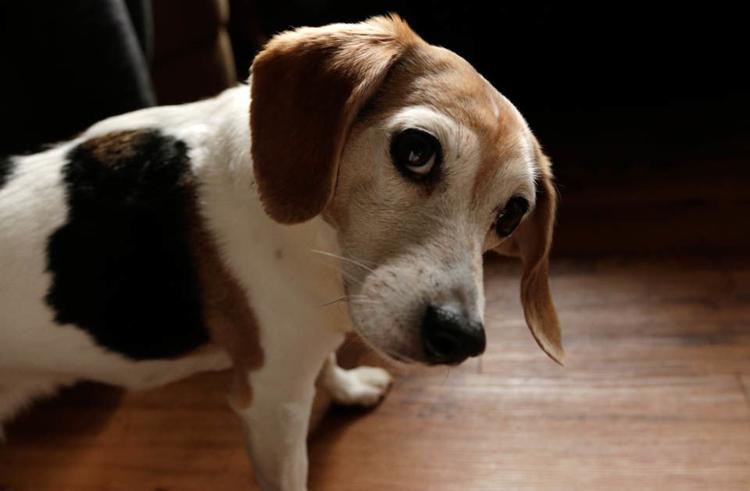 Dominguez plans to move to Maryland after graduation. Many graduating seniors wait until actually graduating to get an animal once they are settled in somewhere, but Dominguez had other plans.
"So I've taken pretty hard semesters up to now so I knew after I graduated I wouldn't have time to train a dog because I'm going to start working at the beginning of June so I wouldn't want to wait to get one until after I graduate because then I would have a little two-month-old puppy that I wouldn't be with to train," Dominguez says.
One thing to consider with moving after graduation is how the animals will adapt to a changing environment or the actual act of travel. Archie, Dominguez's puppy, does get car sick. Dominguez will be prepared with anti-nausea medicine for her dog before they embark on their journey to Maryland.
Dominguez adopted Archie, her first dog to call her own, while thinking about the impending time to give up her current guide dog, a golden retriever named Camden.
"The thought of having to give up the golden I have now made me get Archie," Dominguez says. "I feel like I would be a lot more emotionally distraught if I didn't have a dog."
Another aspect to consider about pets is not just their relationship to their caretaker, but also their relationship to other pets in the house. In guide dog households with permanent pets, the permanent pets have to adjust to a life of moving on and new beginnings when other animals have to leave.
"I think Archie will be sad [when the guide dog leaves], but he also plays with my cat because my cat is like 15 pounds," Dominguez says. "They're kind of close to the same size so I think he likes playing with the cat just as much. So he'll still have that."
Cope's dogs are not fosters or guide dogs. One of her dogs is recently adopted, Samson, and the other is her family's dog, Annie.
"A friend of mine decided to go look at [Samson] and see if he wanted him and kind of decided with law school there's not a lot of extra time to take care of a dog, and I really liked him and I was like, 'You should...let me have him,'" Cope says.
Cope's mother, at first, did not want her to adopt a dog in college. Her mom put her foot down at first.
"I was told I couldn't get another until I finished school, but I kind of jumped the gun a little," Cope says. "I told her I was dog-sitting for a weekend, which wasn't a lie, it was a long weekend … but then [Samson]  just kind of stayed. He was very bonded to me and I was very bonded to him, and my mom was like, 'You know what, he's clearly your dog.'"
Cope, like many other students, grew up in a family with many dogs. Cope took her work with dogs a bit further and trained dogs in events.
"We always had dogs. I did dog agility from ages 6-15. I actually did really well. I had a little beagle named Katie. She was incredible at agility. She was the #1 beagle in the country in 2009 for dog agility," Cope says. "She was a wonderful little dog and I lost her right before I went to college."
This loss before a move is difficult for any college transition. Cope, on top of many other changes, eventually also had to deal with the difficult challenges that come with being a transfer to a large university such as UGA.
"I transferred in, but it's hard to be a transfer. The first year is really difficult because it takes a year to really make friends," Cope says. "So growing up having animals and then suddenly not having animals and not having friends either ... after a while my mom was kind of like, 'You can get whatever you want I don't care.'"
Samson arrived in the beginning months of 2018, and her family dog Annie moved down to Athens in the winter of 2017.
The Cats Meow
Another popular pet is a cat, typically viewed to be lower-maintenance than dogs which makes them ideal for some college students.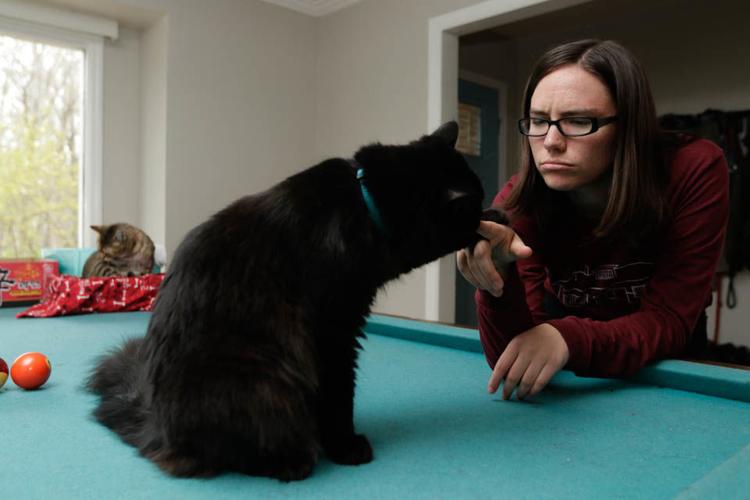 Ta's first pets were cats. Ruby and Emma were a couple of the first editions to Ta's growing group of animals.
"When I moved to athens and moved out of a dorm, I was living in my house for a couple months before I was like, 'Okay, need pets, must have animals,'" Ta says. "I got two cats, Ruby and Emma. They're both gray tabbies and they were my first real pets that were mine."
Madison Olds, a senior biology major from Kennesaw, Georgia and one of Ta's roommates, also has a cat named Oscar. Three cats reside in their home.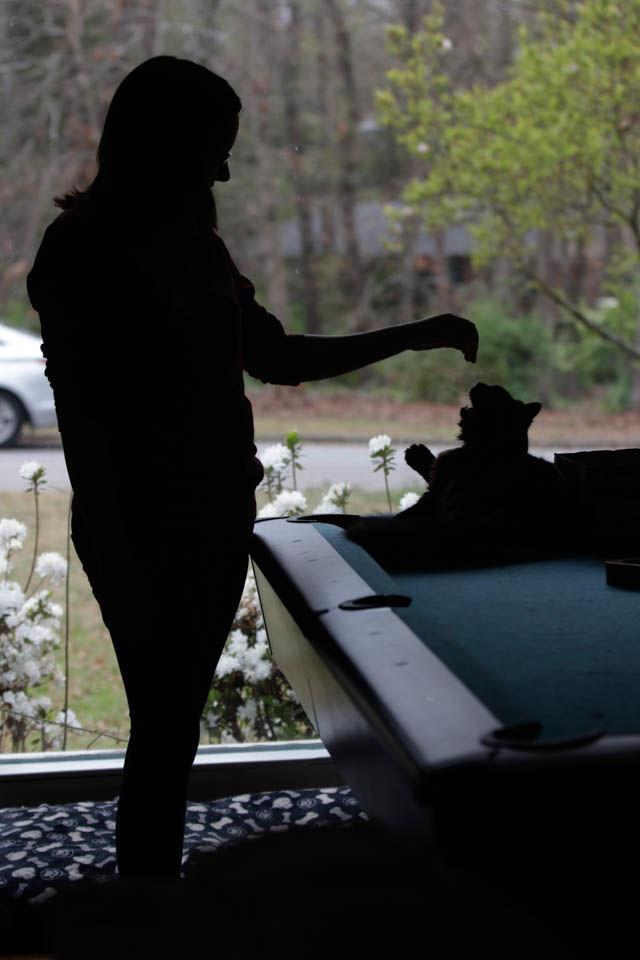 "Going into senior year, I was anxious and I was like, 'Alright, I need something stable in my life,' and pets seemed like a good choice," Olds says.
Oscar has helped Olds find stability and comfort, whether he's sitting with her in bed, playing pool with guests or eating a trail of popcorn pieces. Oscar gets along well with the dogs in the house and seems to enjoy his place.
"He's nuts. He's really friendly. He'll always be at the couch. He sits on the pool table and whenever we play pool he likes to play with us," Olds says. "That's always been fun. He's just a kitten at heart. He really likes to be pet and held."
Olds, like many other college students, is not sure if she will be staying in Athens after graduation or moving on to a different city. For her, it's no question if her cat will accompany her.
"If I move out, it would be to Macon to go to Mercer," Olds says. "Unfortunately I think the safest place down there would be to stay on campus so I'd probably stay off campus because of him."
Olds has always considered herself more of a cat person, and she would pay to keep her cat by her side wherever she goes.
"Dogs give more to people and we give more to cats," Olds says. "I'm okay with it because i think their personalities are so much more developed."
Time is a concern for most college students and postgraduates, and Olds is no different. Her main concern would be moving Oscar to a place with less pets, since he is so accustomed to a house full of animals. Here, though, there is the possibility for new cats in the future or new friendships forged from a new roommate's pets.
Animal House
Dogs, cats and birds are all common categories of pets. Many of these households, however, also house more animals.
Ta and Olds are roommates in their house full of two dogs, three cats, six chickens and two guinea pigs named James Bond and Chuck Norris. Dominguez also has a cat named Bond. Cope, in addition to the falcon, has two dogs and four snakes.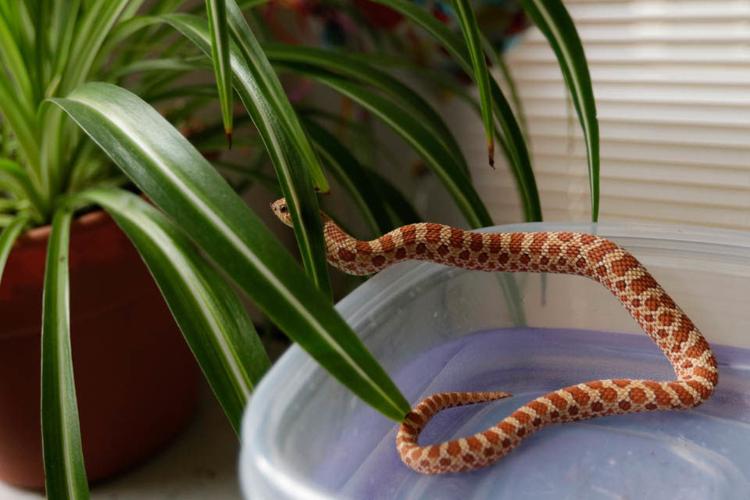 Ta not only has a full house of animals, but due to her major and her planned post-undergraduate career pathway, Ta interacts with many other animals around Athens and at UGA.
"I would love to set up a program at UGA where we could find homes for the animals used in experimentation at UGA," Ta says. "They have all these dogs, cats, rodents, fish and stuff used in experiments for lots of different places at UGA, but I especially know about the vet school and the poultry department."
Although Ta does not yet have enough connections or a full plan worked out, her coursework and her plans to go to vet school prepare her for a life full of more animals even outside of her household.
Cope, a fellow avian biology major, came from a family which also had an abundance of animals. Cope says at one point they had about 90 animals at one time.
"Growing up, I was in 4-H and my mom's rule was you can get whatever you want except for a horse, because horses are really expensive, as long as you learn about it first," Cope says.
This rule brought Cope into interactions with chickens, ducks, geese, turkeys, guinea fowl, quail, pheasant pigeons, goats and cows. Although Cope couldn't own a horse as a pet, she did get into showing horses for a while.
"My dad would just build little structures in the yard for us to keep these animals," Cope says. "If I was interested in something and learning about it they would let me follow my pursuits."
Now, Cope lives with one roommate in Athens and a small assortment of pets.
Cope's snakes are named Snoot/Snoodle, Monica, Deborah and Nagini. Some of the snakes were rescues, and others were a result of breeders who did not want them anymore for whatever reason. Part of the appeal, for Cope, of owning snakes in college comes from her parents never letting her have them as pets during her childhood.
"My mom said, 'You can get a snake when you no longer live in my house,' so…," Cope says.
Cope initially started with two but the rack system that she used for storing them had space for four snakes, so Cope figured she might as well make good use of the space.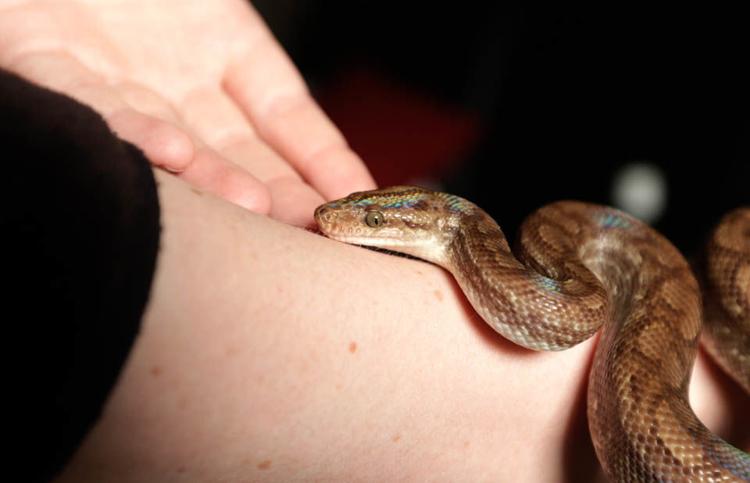 Although her parents never let her keep a snake as a pet, that doesn't mean Cope stayed completely away from snakes as a whole.
"The part of New York I grew up in didn't have any venomous species so I could go out as a kid and catch any snake that I found and not have to worry about getting bitten," Cope says. "So I'd come in covered in snake bites and my mom would be like, 'Have a fun day?'"
The snakes that Cope has now have defining personality characteristics, mostly in terms of their behavior. Each of their snakes also have certain aspects that stand out about them. Nagini, a Columbian Rainbow Boa, has structural coloration in her scales so when she's in the light she shines rainbows. Snoodle is an orange snake with an uplifted rostral scale for burrowing and has a pattern on her belly.
"My king snakes are sassy. I love that about them, that's why I named them Monica and Deborah. They're sassy women," Cope says. "The hobnose and rainbow boa are very laid back."
Snakes take less effort than a lot of other animals. They can be left to take care of themselves for the most part of be left to hibernate. They also require less attention than some other animals.
"The dogs would be hurt if I didn't spend time with them every day but these guys - if I left them alone for a year they really wouldn't care," Cope says.
All of the animals find a home and proper care with their respective UGA caretaker, and the benefits of their relationship seem to be mutual.
"They make life a lot better," Cope says. "They give you a reason to wake up in the morning."