Exploring Athens' bites, boutiques and bars with friends is a favorite pastime for many.  A headline in the 1990 edition of Pandora, the University of Georgia's Yearbook, reads, "Social Studies: Everyone's Favorite Subject."
The articles says,"Everyone is always trying to make exciting plans for the evening with their friends. This is not a difficult task for any student to accomplish because the city of Athens offers such a variety of places for students to go and spend their time."
As waves of students come and go, the popular places to be have changes with them, a testament to the fluid identity of downtown Athens.
Pig Sandwiches, Anyone?
When Carole Linda Aaron was a student majoring in science education in Athens from 1959 to 1963, she remembers one of the popular student hangouts was Poss' Barbecue.
---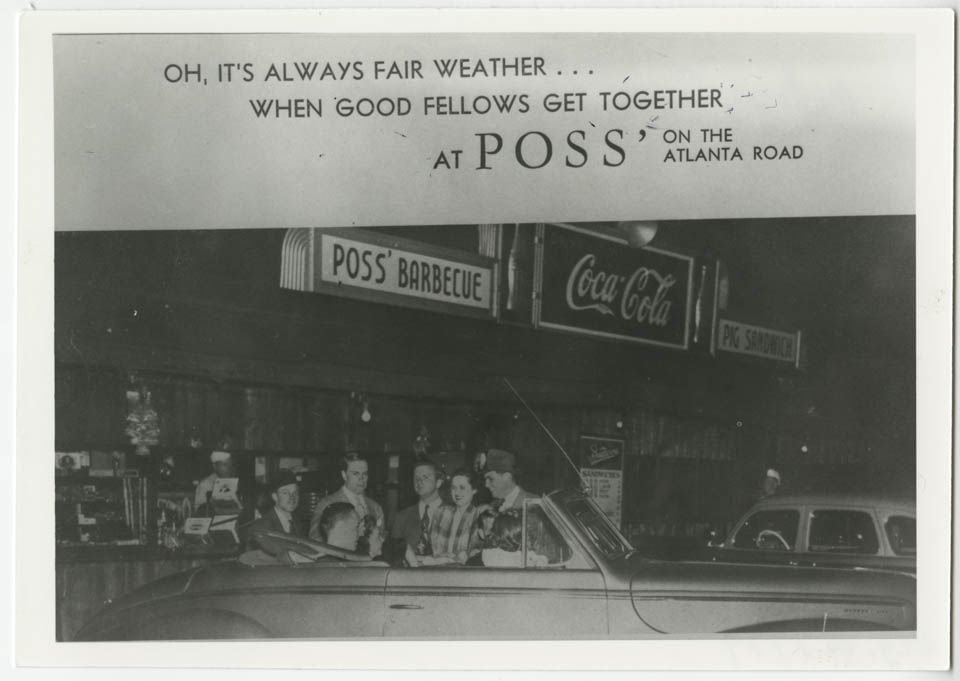 Courtesy Hargrett Rare Books and Manuscripts Library
---
Poss', which offered "pig sandwiches" and other traditional American barbecue specialties, was located on Atlanta Highway at Timothy Road, near where Academy Sports is now. Students thought the restaurant was so good that, at one time, it had exclusive rights to catering the university football games, says Steven Brown, a Richard B. Russell archival librarian.
Aaron didn't eat out very much when she was a student, but when she did, Aaron says Poss' was always a favorite. Poss' continues to cater for private groups, such as alumni, at football games, but the location on Atlanta Highway closed long ago.
Aaron also recalls the Varsity's downtown location — which now houses Five Guys Burgers and Fries — before it closed circa 1981. The downtown Varsity was another popular student hangout, one that Gilbert Head, a second archives librarian at the Richard B. Russell Special Collections Library, says may have been one of few "the places" to hang out in all of Athens' history.
"I don't think Athens has ever had a 'the place' to hang out because it depends on what crowd you are hanging with," he says. "To find a 'the place to hang out,' you have to go back at least before World War II, and conceivably before that to find a single place which was 'the place' to hang out … Maybe the Varsity, when it was still downtown, was one of the earlier 'the places' to hang out."
Another place Aaron enjoyed visiting as a student was the Lyons Pharmacy, across the street from her Myers Residence Hall, where she lived. The pharmacy was located in what is now the Lyons Apartment Building.
At Lyons, students such as Aaron could get themselves a sandwich, some ice cream or a cherry Coke. In fact, Lyons Pharmacy was the only pharmacy in 1975 that hadn't discontinued selling chocolate, vanilla or cherry Cokes, according to an article from The Red & Black on May 13, 1975.
According to the article, "wanderers frequented the shop for the homey atmosphere."  
Aaron is not sad — rather just a bit nostalgic — about all the changes in Athens, as the town adjacent her alma mater "is expanding quite a bit now."
Another Athens' restaurant dating back to before 1950 or so that served the student body for years was called Charlie Williams Pinecrest Lodge. The establishment served barbecue and Southern-style delicacies such as fried fish and chicken, and was "tucked away in a different part of town," says Head.
The restaurant was located near the Oconee River almost into Watkinsville. To get to it, patrons needed to turn right at an old family graveyard and drive down a back road toward the river to get to the property.
"It had an old water wheel that was functional for a lot of time," Head says. "And if you weren't up for dressing up on the high side of town, it was a good place to take your date."  
Brown says Charlie Williams attracted alumni before football games and catered to large groups that traveled from out of town.
"I had a terrible time there because I went with friends and their little daughter would order fried chicken," he says. "There was shrimp, fish, I didn't want fried chicken, but the kid would only eat one piece of fried chicken, and I could not see that fried chicken thrown away so I ate more fried chicken than I wanted to out there."
At the end of the restaurant's lifetime it would open for special events, but not much else, Brown says.
"I think the family just got tired of running it," he says. "I think it's still down in there. It's probably pretty overgrown by now."
Back Road Eateries to Downtown Bars
As Athens moved out of the 1950s and 60s and into the 1970s and 80s, the music scene that the Classic City is known for exploded, and with it, the bar and club scene did the same.
One of those clubs was the Old Chameleon, where the B-52s played regularly, says Head.
"It wasn't that there weren't any bars before, but as people discovered that that's where students wanted to hang out and hear music, the music clubs and the liquor, so that took the place of the old eateries," he says.
In 1978, a popular New York style bar opened up right next to the university's campus, overlooking the Oconee River, called O'Malley's, that became popular with UGA students.
---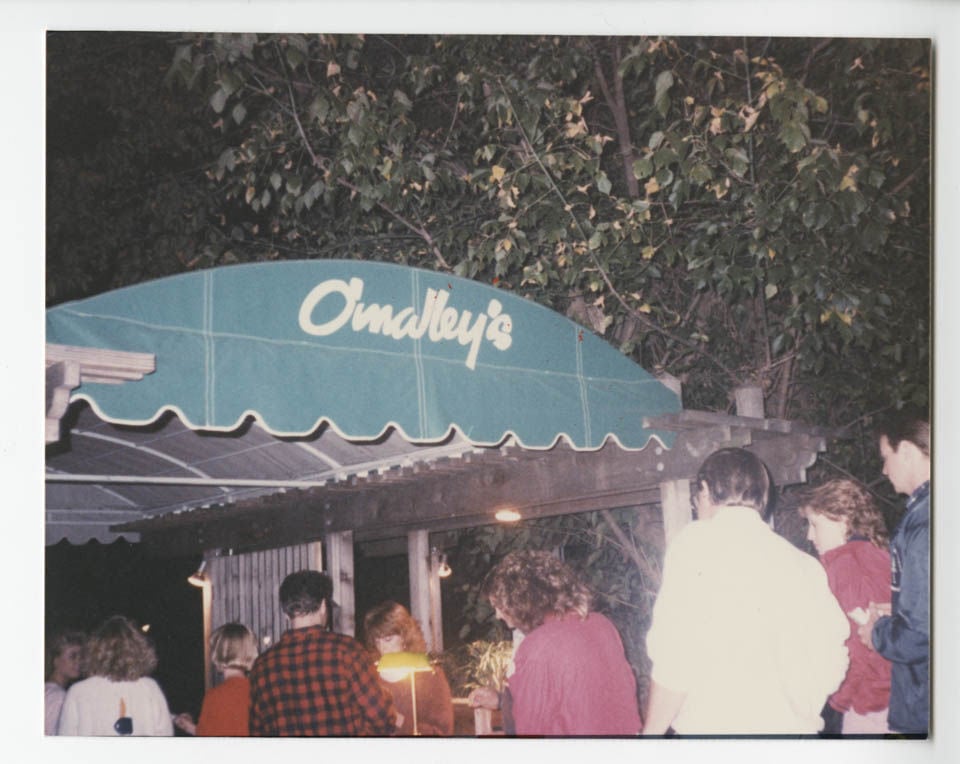 Courtesy Hargrett Rare Books and Manuscripts Library
---
"It was in the old mill building," Brown says. "You sat there watching the river race by. At one end you could actually see the turbines from the mill."
Students now know what used to be O'Malley's as the School of Social Work building. UGA bought the building in 2008 and housed a Medical College of Georgia satellite campus, before moving the School of Social work there.
O'Malley's was not the only popular spot in a building with lots of history.  
The building that now houses Magnolia's Bar was once the refrigeration store of Athens. After that it housed a popular restaurant called Tasty World, a three-story bar with more recreation space in it than most bars.
"That made a big impact [with students]," Brown says.
And the Hodgson Oil Building, constructed circa 1906 for a cottonseed oil refining and shipping company, used to be Buckhead Beach, a big concert and party space that existed before the 40 Watt, Brown says. Currently the UGA Police Department now resides in the space.
A Change Maker
Most students have made a trek to The Grill, but they probably don't know the man who created it and revolutionized the available food choices in downtown Athens.
Bob Russo migrated down from New York to Athens to start a steakhouse, but didn't stick to only that restaurant for long. Over his time in Athens, Russo introduced Gyro Wrap, a restaurant downtown that still sits across from the Arch.
"[The gyro restaurant] excited me because there wasn't a lot of international dining that came here," Brown says.
When his father came to Athens, Russo also started Chow Goldstein, a delicatessen, on East Clayton Street, which then became Rocky's Pizzeria and is now currently an Italian restaurant called Amici.
---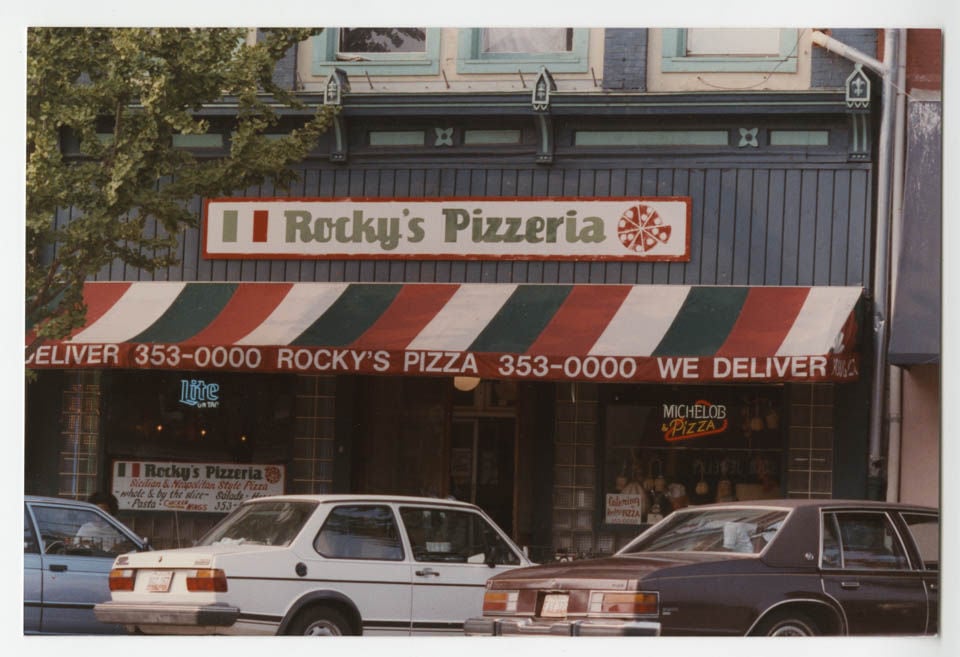 Courtesy Hargrett Rare Books and Manuscripts Library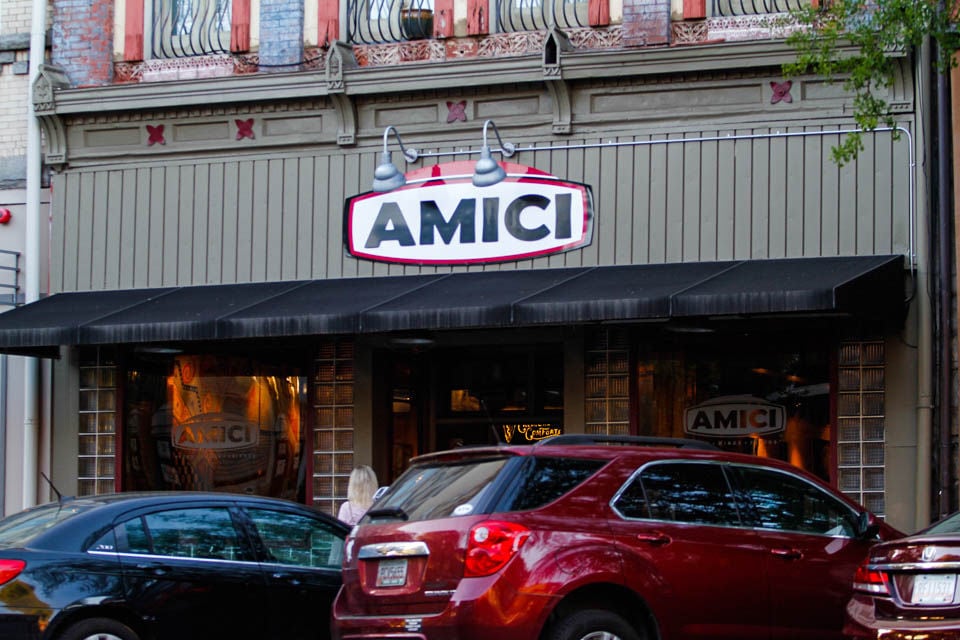 Maureen Sheeran
---
"He started all these popular restaurant concepts with students that really took off, and shook up … a town where many of these restaurants had been open since the 50s, the Mayflower, Tony's, all these that your grandfather or your father may have gone to but I don't think students were going to as much," Brown says.
Although he brought plenty of new concepts to Athens, Russo wasn't always well liked by his fellow restaurant owners.
"He was very colorful, did charity to raise funds, was larger than life, but also got into a lot of fights with people downtown that didn't' like his garbage on the sidewalk or felt like his restaurant next to their place of business stunk up the place with onions," Brown says.
The Murder of a Restaurant Guru
Another infamous restaurateur by the name of Theodore "T.K." Harty was found dead in his home in 1977 because of some disputes with a fellow restaurant owner.
Harty was an aggressive man, vigourous in the pursuit of his commercial interests. He invested in the eponymous T.K. Harty's Saloon, found in the rear of downtown near the railroad tracks, where the Center for the Athens Community Council on Aging is now.
"I first came here as a graduate student in the fall of 1975," says Head, who would visit T.K. Harty's on occasion. "We would go get a pitcher of beer. You could hang out on the deck, it was a great place to kill an evening."  
---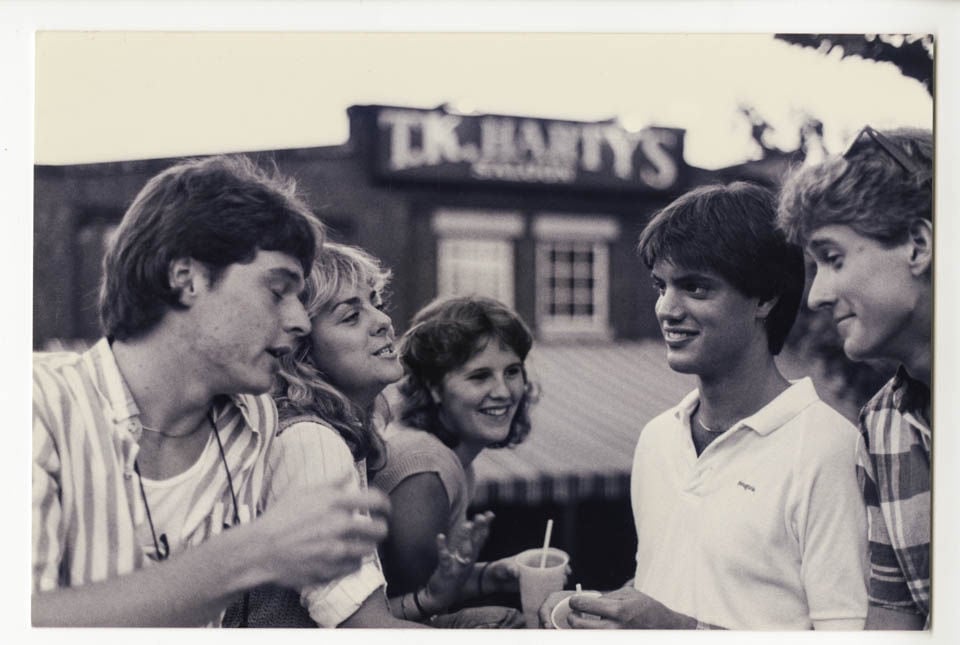 Courtesy Hargrett Rare Books and Manuscripts Library
---
This area where the bar was located was, at its height, known as The Station, a popular and profitable area.
Head says there were a few different restaurants, including a rival to T.K. Harty's place that offered pizza inside of old train cabooses that were fashioned into seating areas.
"Eventually it became acrimonious between those two owners and threats of violence were passed back and forth and at one point court action was threatened," Head says. "Lo and behold, one night T.K. Harty ends up dead in his home. He's sitting in his study and someone comes in and kills him. Shoots him. Dead. Dead. It's a big mysterious."
The man who planned Harty's murder—John Henry Mooney II, an electrician who worked at T.K. Harty's rival business—may have gotten away with it, if it weren't for Elmo Liston Florence, the man he hired as his assassin, Head says.
"[Florence,] who did the foul deed, was kind of an idiot," Head says. "He got drunk one night in a local watering hole and proceeded to brag about how he was the guy that took care of T.K., and if you had anyone you needed taken care of, for a few dollars he could make that happen too because he was a rough hombre."
When the police took Florence in, he cut a deal and ratted out Mooney, and both men were hauled to prison for the murder.
A few years later Mooney escaped from prison and lived under a new assumed name for more than a decade until he was recaptured in Arizona.
"He became one of the first people—I believe the first Georgia figure—on an old T.V. show called 'America's Most Wanted,'" Head says.
Jury Duty, Spaghetti and 'Crazy Alice'
A few other places that past UGA students may have frequented included The Spaghetti Store, Papa Joe's and Alice's Crazy Corner Cafe.
"The Spaghetti Store would have been one of those fancier places to take a date," Brown says.
The charm of The Spaghetti Store was its old-fashioned nature, according to an article from The Red & Black in 1973, which read, "The Store is accoutred with gas-like lamps, with old-time kitchen implements, and with Sepia photographs of Old College when it was new."
---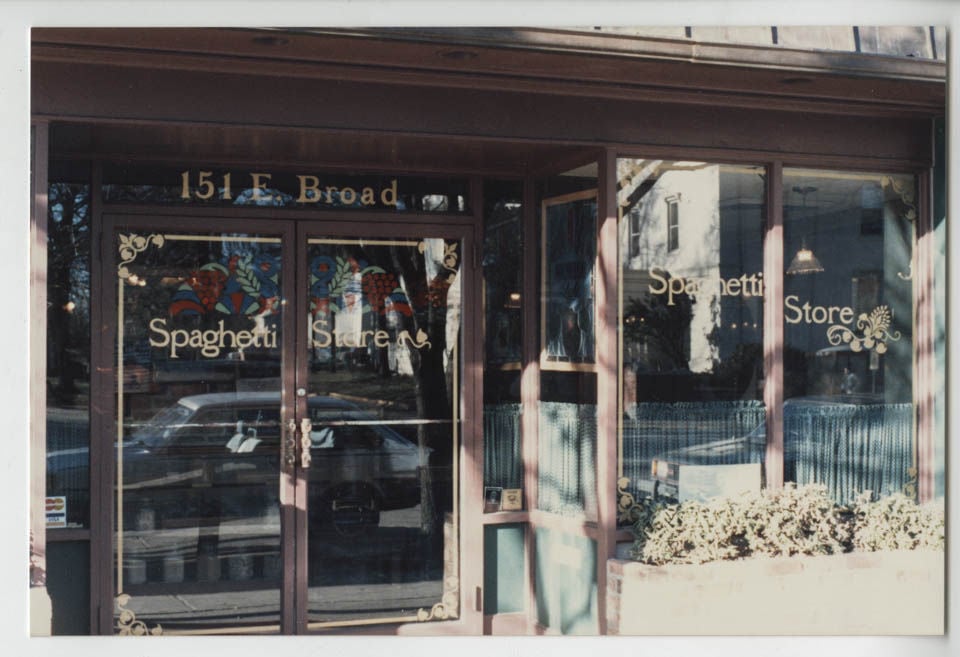 Courtesy Hargrett Rare Books and Manuscripts Library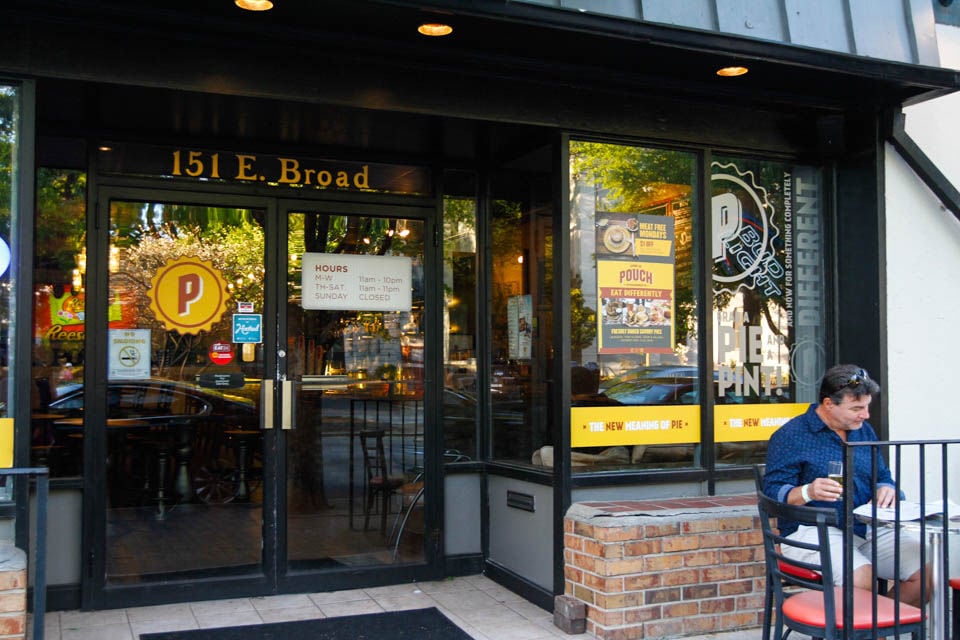 Maureen Sheeran
---
The restaurant served pasta and French bread as well as open faced burgers with Swiss cheese and meat sauce. Although it was considered relatively fancy, it was also good on a budget.
Papa Joe's was another interesting destination, which stood conveniently across from the Russell and Brumby freshman dorms, and was frequented by sorority and fraternity members.
According to advertisements in The Red & Black, Papa Joe's served 25 cent beer and wine on Wednesday, and was a "a favorite place to go during free time to let off some stress," according to the 1990 edition of the Pandora Yearbook.
Alice's Crazy Corner Cafe, meanwhile was located across the Classic Center in the parking lot of what is now BB&T.
"One of my favorite places when I came here was Alice's crazy corner restaurant," says Head. "It was the best place to get a meat and three sides and the best iced tea you could get downtown."
Inside Alice's, the tin ceiling was painted jet black and had many different artifacts bolted to it.
"My favorite place to sit was the table that sat directly under a set of wrought iron patio furniture that must have weighed [close to 230 pounds,] the chairs were 80 to 90 pounds, the table had to be 150 pounds," Head says. "If you sat under it, you had a lot of trust in it."
Townies tended to frequent Alice's more than students, but the cafe still attracted the occasional undergraduates. When these students were called in for jury duty, Brown says, they would also visit Strickland's.
"It was right down next to the courthouse, so if you got called in for jury duty you would march down with the rest of us and be allowed to have a meat-and-three at Strickland's," Brown says. "It was one of the favorite places for the sheriff and deputies to have lunch."
According to Brown, they served delicious barbecue and brightly-colored, frosted green cake.
Decades of Change
Throughout the years there have been many different people, as well as many different tastes, inhabiting the buildings that make up Athens. From a New York-style bar to a murdered restaurant guru, and river-side barbecue joints to three-story bars, Athens has seen it all.
The popularity of one idea may rise above another, but the city will always remain an adventure for new generations of UGA students to explore.
Susu Thomas, who was a sophomore studying public relations in 1970, says it best in her quote included in the 1970 edition of the Pandora Yearbook: "When I think of Athens, I think of the old buildings that have been there for hundreds of years — yet the people change everyday."
---
Correction: A previous version of this article misstated that the Varsity moved locations. It in fact did not move as there was a period of time when both the downtown and Milledge Avenue locations were both open. The article now only reflects upon the closing of the downtown location in 1981.