While podcasting has roots reaching as far back as the pre-World Wide Web 1980s, the medium seemed to first appear in current form in the early 2000s. Despite these relatively recent beginnings, podcasts have since spread worldwide and solidified the format's position among more ubiquitous modern media. 
As the word podcast — a portmanteau of "iPod" and "broadcast," respectively — suggests, the medium has long had ties to Apple Inc., and the company added formal support for podcasts to iTunes in 2005.
Although Apple attempted to keep the term podcast in its grasps early on with a string of lawsuits, the medium has now made its way into more devices than just iPods or iPhones, for that matter.
Today, there are a number of non-Apple sites and apps for browsing, downloading and streaming podcasts like Overcast, Castro and SoundCloud. Although the term podcast may no longer be completely accurate, the word's popularity suggests it's here to stay.
"There are countless examples of an industry-leading brand defining the term to where the brand name more or less becomes the generic term," says John Weatherford, a professor at the University of Georgia's Grady College of Journalism and Mass Communication. "Think of Kleenex or Xerox or something like that. I think 'podcast' has pretty well done that for digital, pre-recorded audio programming."
While podcasts still haven't reached the popularity of other media like TV and radio, 36% of Americans in 2016 said they had ever listened to a podcast according to a study by Edison Research (compared to 11% in 2006). Though this number is still short of a majority in the United States, the medium's popularity has shown a steady increase over time. 
The medium's increase in popularity comes alongside a drastic increase in its amount of available content, and there seem to be more podcasts than ever these days.
"I think maybe when podcasts first came out, there weren't quite as many things to listen to on there, but now there's a wealth of content," says Chalen Duncan, an emerging media master's student at UGA.
Broadcasting and Podcasting
---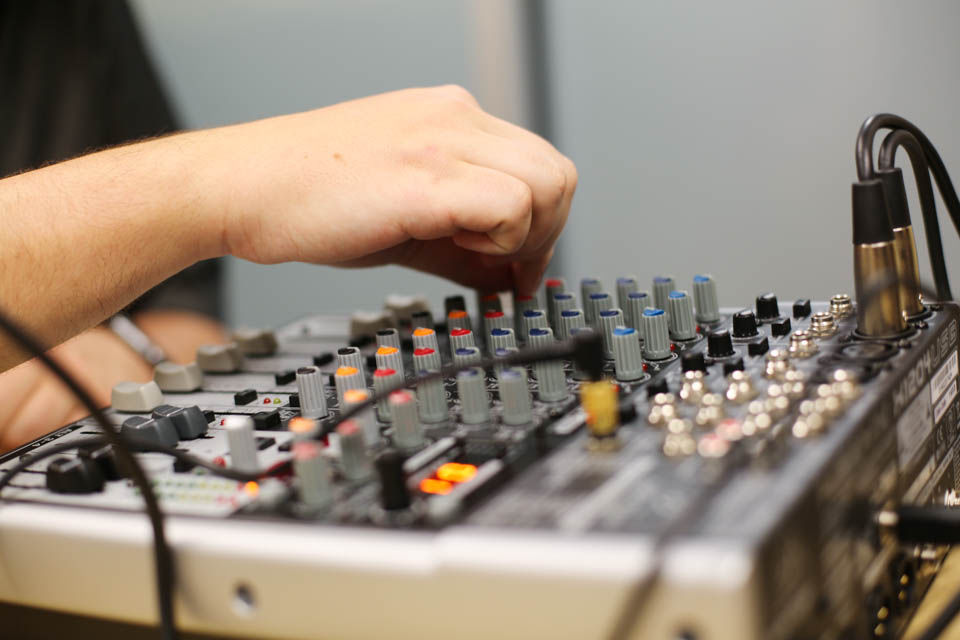 Hannah Brown
---
With the continually rising popularity of podcasts and UGA's wealth of resources for students interested in emerging media, it's not hard to imagine there are numerous sources of podcasts in the Classic City.
One such source is WUGA, a University-run NPR affiliate station. In addition to its normal radio broadcasts on 91.7 and 94.5 FM, WUGA hosts a variety of podcasts on its website for download.
On air, WUGA broadcasts a mix of its own local content and programs from Georgia Public Broadcasting. Online, however, WUGA only releases its original content as podcasts. According to the station's general manager, Jimmy Sanders, this is because WUGA only has the rights to broadcast most of its GPB programming.
"Let's say we do several music shows that might involve recorded, copyrighted music.  We can run that because we pay a performance fee to BMI and ASCAP for the rights to play back recorded, copyrighted music," Sanders says. "We don't buy those rights for podcasts."
Like many other radio stations, WUGA's podcasts are the same shows the station runs on air. Trying to provide its listeners with a convenient way to catch up on missed programming, WUGA posts its shows online exactly as they were broadcast with little in the way of extra editing.
"Nine times out of ten, whatever was on the air is what's available in podcast," Sanders says.
Sometimes, however, there are differences between WUGA's on air and online content. Since programs may be shortened to meet the time constraints of radio broadcasting, some shows have their extended cuts released as podcasts.
"Say there's an interview about some community event coming up or maybe an interview with an artist. It runs on radio in an edited fashion. Sometimes, a longer version of it is on our website," Sanders says.
Since all of WUGA's podcasts are original content, they generally focus on things happening in Clarke County or how more widespread issues related to the Athens community. For example, one of WUGA's programs called Classic City Science is dedicated to covering research done by UGA students and professors.
The station also has podcast versions of shows covering a wide variety of topics including but not limited to local news, concert reviews and more general health issues.
---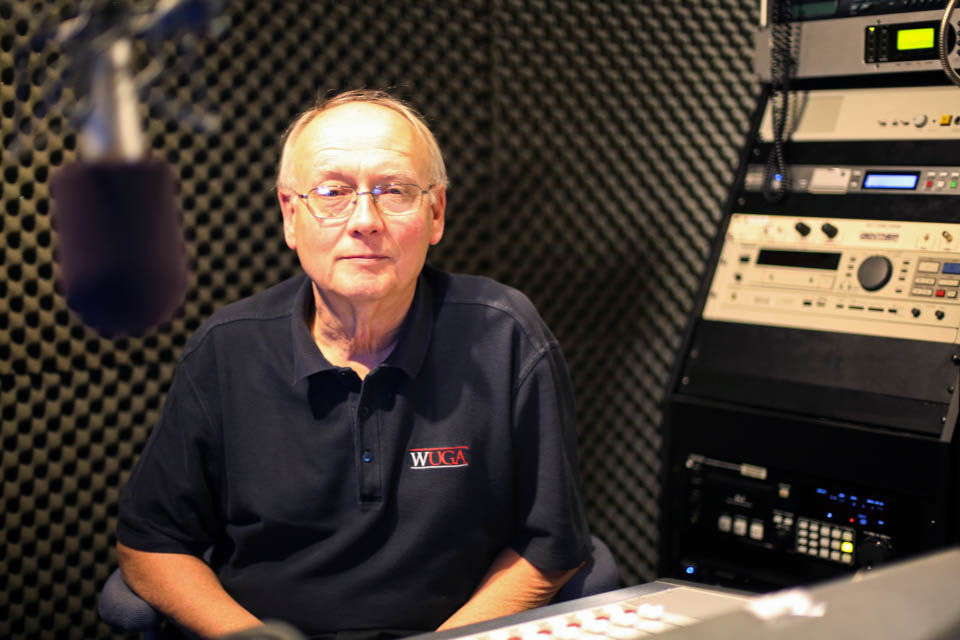 Hannah Brown
---
While WUGA's programs are first recorded in a professional studio, Sanders says professional equipment isn't necessary for someone looking to make online-only audio content. Looking back on his time in broadcasting, Sanders says the ability to record is more widespread than ever.
"The democracy of this technology is remarkable. When I was growing up, you couldn't do anything like that," Sanders says. "Now, these days, you can sit at home, record on a laptop, put it up there, and potentially a lot of people will hear it."
Sanders also notes the increased competition inherent to so many people producing content nowadays.
"The thing is, there are a lot of people who are doing that, so there's a lot of competition for the audience as well," Sanders says.
The Lead
Another source of podcasts in Athens is Daniel Funke, a student at Grady who puts out a media/journalism podcast called The Lead.
Dr. Keith Herndon, director of the Cox Institute for Journalism Innovation, Management & Leadership, recently chose Funke to receive the organization's Cox Innovation Fellowship. This honor gave Funke the funding he needed to start his podcast.
Not particularly knowledgeable about working with audio, Funke got advice from Mark Johnson, a senior lecturer at Grady, on what equipment he should buy. Although Funke was able to purchase professional gear with his grant from the Cox Institute, he says all that equipment isn't always necessary.
"If I can start a podcast, anyone can," Funke says. "Granted, I had got all that equipment, but really, all you need is your computer, your headphones and a mic."
Playing to his target audience, Funke's name for his podcast is a journalism pun referencing an article's opening paragraph, called a lead, and the leadership status of the show's guests.
With each episode, Funke interviews a new media leader, and he says his goal is to give listeners a chance to hear from these experienced sources without having to attend lectures and conferences.
Although one might imagine it being difficult to find interviewees knowledgeable on the state of modern media, Funke says it hasn't been so challenging. With the sheer amount of people giving guest lectures at UGA and Funke's connections through Grady, the Cox fellow has found no shortage of good sources to talk to on The Lead.
"Half of it is people Dr. Herndon wants me to interview, and then half of it is just people that I think are cool – either that I've worked with or that I know or someone I want to know more about," Funke says. 
While Funke says first learning to use his equipment to produce The Lead was difficult, he also notes that things have gotten much easier over time. Since The Lead is a Q&A-based podcast, Funke is able to go from interview to episode with little in the way of editing.
"I would say it's really overwhelming at first because I had all this equipment, and I didn't know how to use it," Funke says. "It wasn't as hard as I was anticipating. I think that's true for a lot of things…Now, I have it down to a science."
Funke uses Soundcloud to get The Lead to its audience, a choice inspired by the podcast's first guest, Alex Laughlin of the Washington Post. Funke says he appreciates that the website is free to use and easy to integrate with social media. 
Funke also created a Twitter to help spread word about The Lead, but he says he's not so concerned about garnering followers online.  Since The Lead is a podcast focusing on niche interests, it's been able to gain an audience through word of mouth among Grady students, professors and affiliates.
"It's not a podcast where you necessarily strive to grow your audience per se ... since it's very focused on journalism development," Funke says. 
As far as advice for would-be podcasters goes, Funke recommends listening to a lot of podcasts and gleaning techniques from the ones you personally enjoy. He also stresses the importance of finding a novel purpose for one's show in the increasingly crowded world of podcasting today.
"Make sure that, if you have a great idea, it's already tailored and serves a purpose that's not already out there and has an audience that's pretty clearly defined," Funke says.
The Ref 
---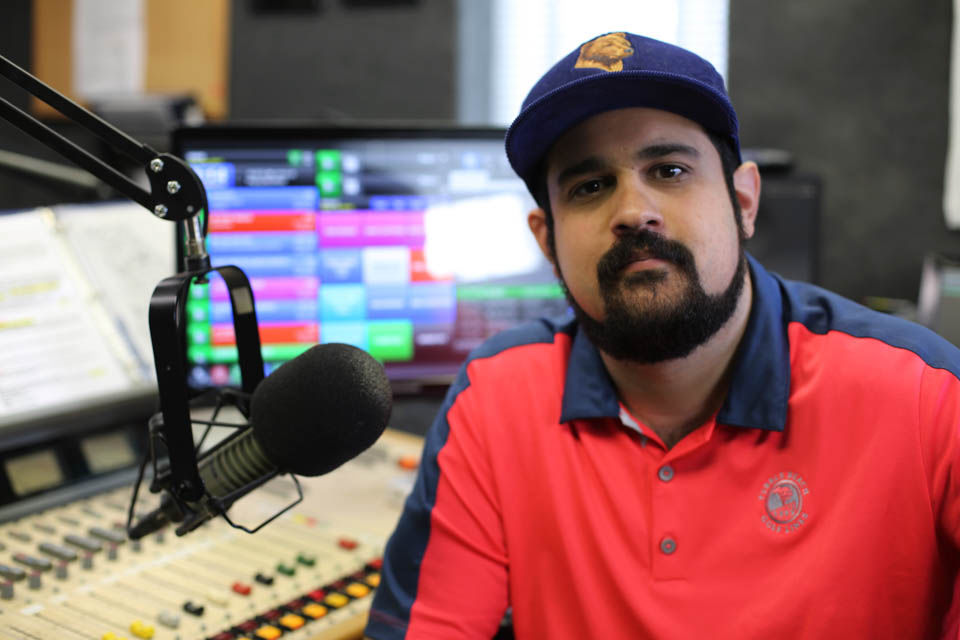 Hannah Brown
---
Another podcaster some Athenians will recognize is Sam Franco. While pursuing his undergraduate degree in broadcast news at UGA, a task he completed in December 2009, Franco also had a job doing live broadcasts of UGA sports events.
Though Franco still works in radio, having hosted a weekday morning show on 960 The Ref since 2014, his time in sports media has also led him to work on podcasts.
Franco got his first experience with podcasting back in 2010, when he and a friend started a show to cover the World Cup. While that program only ran for two soccer seasons, Franco would also get some early experience running a podcast for 960 The Ref called The Ref Roundtable.
"We only ran like six episodes of [The Ref Roundtable]," Franco says. "It wasn't really getting any traction. That was back in like 2011. Podcasting was getting a footing back then but not really as strong as it is now."
Although The Ref Roundtable was short-lived, Franco has since started another podcast for the station called The Ref Recap. The program aims to cover Georgia sports in general, and Franco says most of the podcast's episodes focus on football or other large sporting events in the state.
Despite the lackluster performance of Franco's first podcast for The Ref, he says The Ref Recap has been doing much better due in large part to the increased popularity of podcasts. 
"Just because podcasting has taken off, [The Ref Recap] actually gets some good listens there, too," Franco says.
In addition to his work for 960 The Ref, Franco is also involved in another podcast, Mouths of the South. The podcast is part of the content offered on Atlanta United FC's official website, Dirty South Soccer.
Because of his background in radio, Franco went into podcasting already having some personal equipment like studio headphones. Not everything Franco uses is broadcasting-tier equipment though, and he says he's been using the microphone on his Apple earbuds until he recently received a better microphone as a Christmas gift.
Like Funke and Sanders, Franco notes that a lot of expensive equipment isn't necessary, but he does stress the importance of production quality. With the sheer amount of content on the internet, poorly-recorded and produced podcasts may have a much harder time keeping viewers than their well-mixed counterparts.
"People notice production value, and that's one thing we've gotten," Franco says. "A lot of startup podcasts and things like that aren't really taken seriously because people don't want to listen to something that sounds like crap, so you at least need to have the bare minimum."
For Mouths of the South, part of that bare minimum is a mixing board. Spending their own money, Franco and his fellow podcasters bought a mixing board to allow them to record Mouths of the South live on location.
While many podcasts are prerecorded, Franco says Mouths of the South has streamed several podcasts live online before releasing them permanently for streaming and download. The team has streamed Mouths of the South from several locations including MUSC Health Stadium in Charleston, SC and several bars in Atlanta.
"Because we have the equipment, we can really do it from anywhere as long as we have an internet connection," Franco says. "That's really all we need."
Although Franco says live streaming is great for time-sensitive content such as post-game coverage, he also says he's noticed radio moving closer to an on demand model over the years. For example, despite 960 The Ref being a station that broadcasts live on AM radio, many of the station's broadcasts later end up hosted online. WUGA's podcasts also seem to agree with this purported shift.
---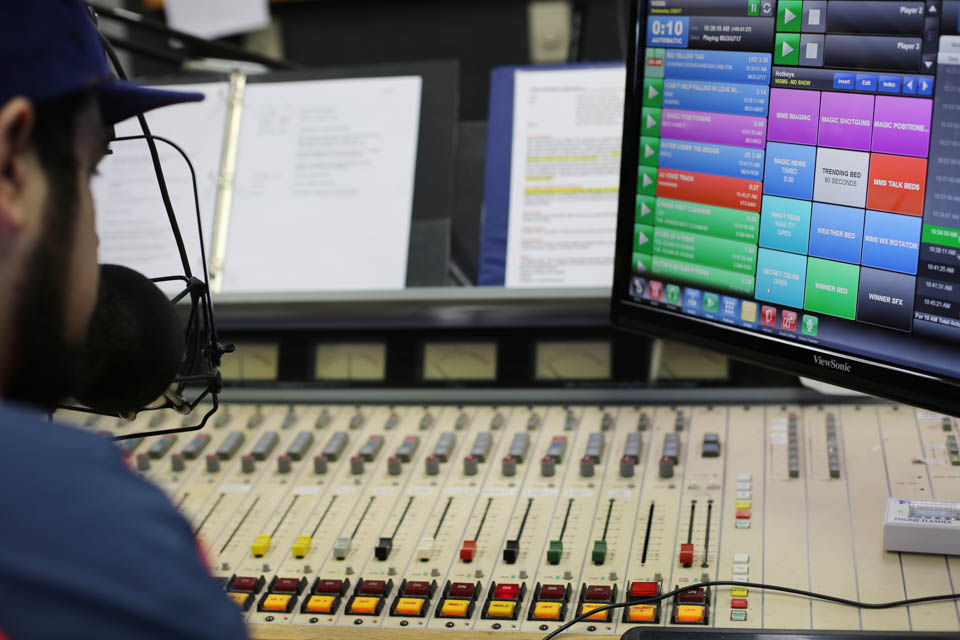 Hannah Brown
---
Both ways to share content have their pros and cons, and Franco says offering live streams and prerecorded content is often a winning strategy. Although radio is still fairly ubiquitous today, Franco recognizes that a big part of working in broadcast media is being able to adapt to changes in how audiences receive their content. 
"Anybody getting into this just needs to be ready for the changes," Franco says. "You never know where it's gonna end up." 
Franco also recommends that those interested in media like radio and podcasting take as many job opportunities as they can. While a certain job may not be completely ideal at the time, it may lead to to better opportunities down the road.
"Keep yourself out there and keep looking for opportunities," Franco says. "Don't ever turn anything down just 'cause it might not specifically be what you're interested in. It could open doors to something maybe you are a little more interested in."
For anyone aspiring to start a podcast, Franco recommends finding a niche subject matter you have both a passion for and wealth of knowledge about. If a podcast is peerless in its coverage of a very specific subject, it's more likely to keep listeners coming back for the content they can't get anywhere else.
"Don't try to do too much or don't paint with a broad brush. You want to find your audience and cater to them," Franco says. "They're coming out to find your podcast for a specific reason."
Why Podcasts?
---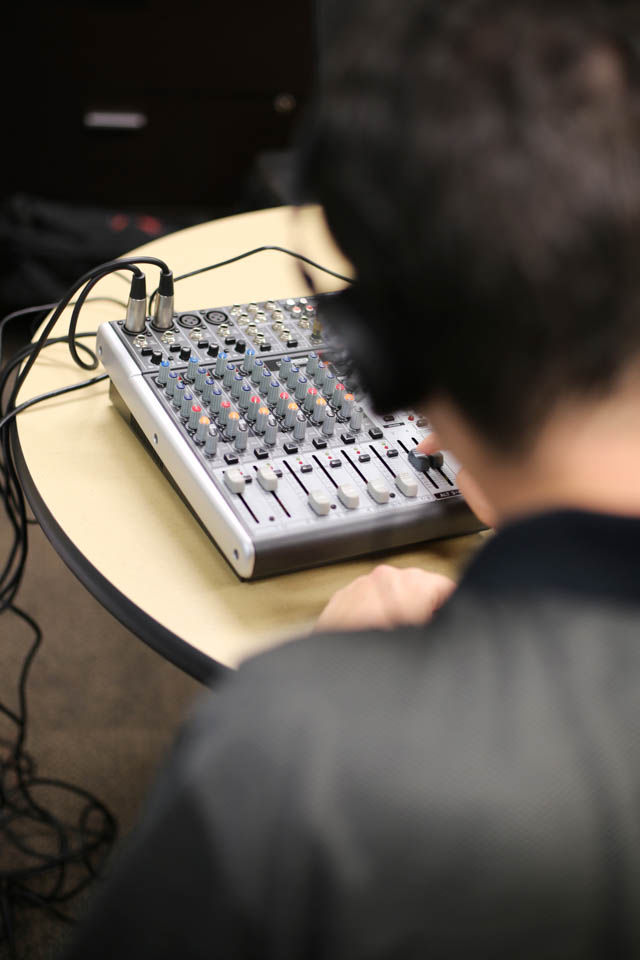 Hannah Brown
---
Despite the increasing popularity of podcasts, it seems a majority of people still don't listen to them. While the medium may not be for everyone, those who have never looked into podcasts may have a lot to gain by giving them a try.
"I would just encourage everybody to give podcasts a try. I really like them. They're one of my favorite forms of media," Weatherford says.
One obvious benefit of podcasts is that they're a great way to absorb content while performing other tasks like driving or completing chores. While music can serve a similar purpose, podcasts are a great way to learn something new or just entertain oneself when listening to the same old songs again finally seems unbearable.
"I was really resistant to podcasting for a while just because I was like, 'Why would I do that? I don't understand it,'" Funke says. "And then once I actually did it, I was like, 'Oh, this makes sense. This totally makes sense. It's like watching TV, but I don't have to be distracted.'"
Traditionally being an audio-only medium, podcasts also have the added benefit of taking up less memory space than video content. For those who rely on a data plan for their on-the-go entertainment, this means podcasts are an easier option to stream than similar video-based programs.
Another benefit of podcasts is the medium's ease of access for potential creators. With the relatively low overhead cost of releasing a podcast, the format is much more approachable than radio or TV for those looking to make and spread the niche content they'd want to hear.
 Podcasts also offer an ease of access to listeners that the radio fails to provide. With podcasts' content largely being uncensored and available on demand, the medium allows audiences more freedom to listen to content on their own terms. 
"I guess it's kind of liberating talk shows from the radio in that you can still experience that content but in a more modern way that's easier to take with you," Duncan says.
In the age of the internet, such freedom is a big priority for many consumers, and the increasing popularity of podcasting seems to show that the medium's openness is well-received.
While only time will tell how popular podcasts end up becoming, the format has a lot to offer to those willing to just give it a try.