Every street in the Classic City tells a story, and behind every business there is a founder who had the ambition to create something they wanted to see.
These women contribute to a network of business owners living and working to make Athens home from multiple countries and varied backgrounds. Some knew from the moment they landed on American soil that building their own business was their dream occupation; for others, it took careful consideration or chance encounters to get them where they are today in their industry. 
From artists to environmental activists, these women saw a need in the Athens community and built a place for themselves.
Community — Sanni Baumgärtner
Hailing from Germany, Sanni Baumgärtner entered the University of Georgia in 1997 to study psychology as an exchange student. She would soon become embroiled in Athens' musical hotbed.
Baumgärtner returned to get her psychology degree in Germany, but was drawn by the siren call of music in the Classic City. She returned and played for a few years with a couple small bands. She explained that unlike many exchange students who come to Athens, she was able to integrate not only into the music scene, but the larger city as a whole.
"I was really lucky as an international student because I got to meet a lot of locals during my year here which not a lot of international students do," she says. "Mostly they stay within the university setting. But I met a lot of locals, musicians and artists and really connected with the town and the creative atmosphere here."
As Baumgärtner explained, it was hard to make money solely through her musical career. To support a musician's lifestyle after returning to Athens, she began buying and selling vintage clothing, and within a few years she was able to support herself completely.
"That inspired me eventually to go out and found my own store, and really focus especially on locally made and local designers," Baumgärtner says. "That's how it developed: more of a side project that organically developed into something that I very much enjoyed but could also make money doing."
This led to Baumgärtner opening the sustainable fashion boutique Community just over six years ago at 119 North Jackson St. Since opening its doors, Community has carefully curated items that are exclusively made in Georgia, and mostly in Athens, to promote sustainability and support local artists.
"From the beginning I wanted a place where local designers and artisans could sell their wares," Baumgärtner says. "I think the support for local artists is truly appreciated by Athens, whether it's clothing or other goods."
Within the shop's shelves are handmade clothing items, often made from from recycled vintage clothing, and generally sustainable materials, including the store's own clothing line, Community Service.
In addition to teaching sewing classes and performing alteration services, Community also sews their clothing in-person and in-store. Shoppers can often witness Community employees buzzing around in an open back space, sewing away at new pieces like oversized cropped sweaters and a-line denim skirts, all made from repurposed vintage fabrics.
---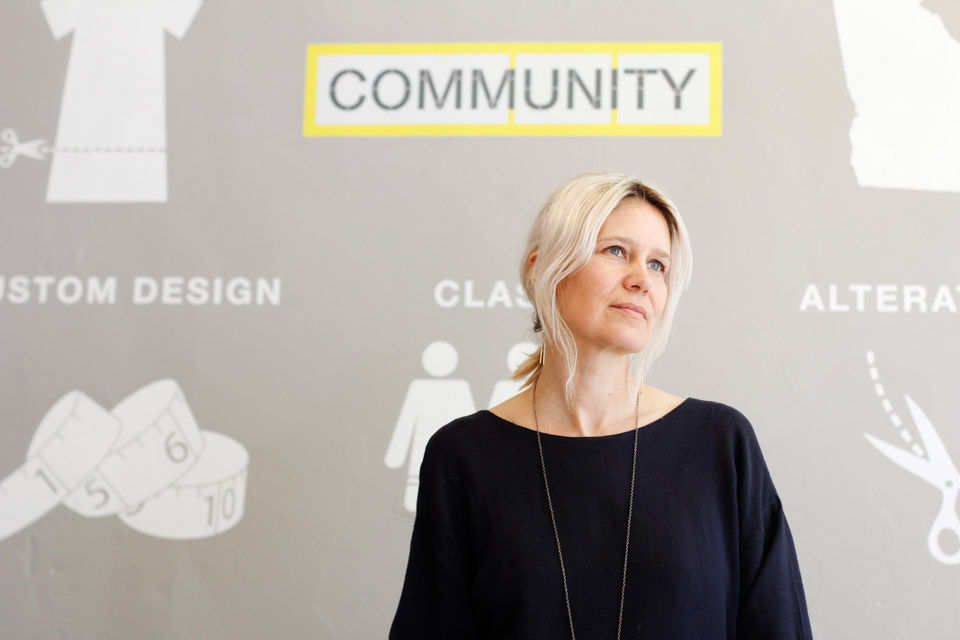 Emily Haney
---
"By taking a vintage piece and redesigning it, it's less material and labor cost than starting from scratch, and it's more environmentally friendly," Baumgärtner says. "I'm really interested in current and contemporary fashion as well as vintage, so for me instead of looking at different decades of clothing I like to look at what's in style now too and think how can I recreate this in a sustainable and affordable way." 
Part of the Athens Fashion Collective, Community leads multiple annual fashion shows, inviting collaboration between Athenian designers. From letting new talent in to show their first collections, to giving artisans a place to sell their wares, the shop truly lives up to the name Community.
"It's something people connect with in town and they see Community as a place where a lot of local designers create and work out new styles," Baumgärtner says. "I think the support for local artists is truly appreciated by Athens, whether it's clothing or other locally made goods. It ties in with what I think a lot of people in Athens are all about: creativity." 
With Community Service recently picked up at an Atlanta store called Citizen Supply, the line continues to grow and evolve. One example is an early spring collection inspired by Georgia crops which saw Baumgärtner curating fabrics that mimicked richly-colored pecans, burgundy muscadines, soft peaches, neutral wheats and creams and sunny, yellow canola flowers.
Community also supplies prints, postcards, soaps, bath bombs, beard oil, Piedmont Provisions fruit preserves, weavings, leather goods, music by Athens artists like White Violet, jewelry, t shirts, lotions, candles, and bean-to-bar samples from Condor Chocolate—all made by local artisans.
Even the models of their products are, Baumgärtner says, for example Ruby the Rabbitfoot, the musical alias of previous UGA student and Athens native Ruby Kendrick, who also modeled in the very first Community fashion show.
By allowing local artists to have a space and show their passions, Baumgärtner says that it creates not only a socially encouraging cycle, but also one that benefits all of Athens.
"The economical aspect of sustainable fashion and products is that if you purchase something that was made in this town then more money stays in this town," Baumgärtner says. "It goes back to the artist, then they spend it here. It's more like a small circular economy."
Last summer Community moved a few spaces upwards on Jackson Street to a new location. Keeping the same emphasis of sustainability and showcasing local designers, shoppers walk into a worn building with inviting windows and a message to improving Athens.
Heirloom Cafe and Fresh Market — Jessica Rothacker
---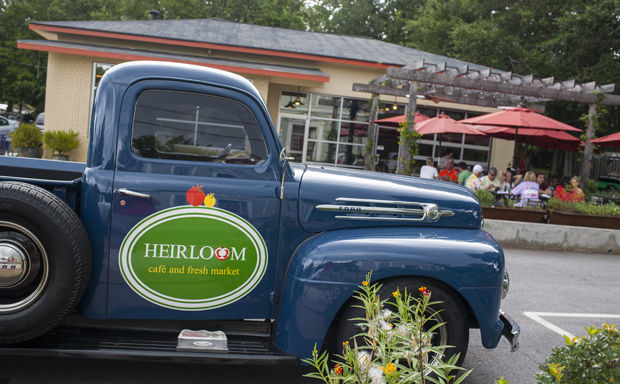 Joshua L. Jones
---
Keeping with the theme of supporting locals and fostering community within the Classic City, Jessica Rothacker has maintained a warm restaurant setting for all to enjoy since June 2011 at her restaurant. 
First arriving to Athens intending to study english at UGA, Rothacker has been here since 1999. After four years studying away Rothacker move back to Atlanta to pursue a different path, attending the Art Institute for culinary school.
Heralding back to her UGA major, she intended to be a food writer with an English degree, and learning about cooking seemed the natural progression for her. Working in Atlanta briefly, Rothacker returned to UGA, a place she says has a low cost of living but often not enough jobs.  
"There's not a lot of industry here, lots of hospitality industry and things that involve the university but not much else going on, unfortunately. If you're not in one of those worlds it's hard to find good work," Rothacker says.
Rothacker decided to take the time and work on a business plan to make her own place in town and help create jobs for others, and founded Heirloom Cafe and Fresh Market. On their website, Heirloom's mission reads as "Creating Community, Celebrating Local Farmers, and Telling a Story Through Food,"a goal orchestrated to perfection.
"In our family it's always been that dining with people was a way to celebrate each other in a very relaxed and comfortable setting, so I wanted to create that for other people." — Jessica Rothacker
Rothacker describes her business as a farm-to-table "neighborhood cafe" located in the middle of the historic Boulevard community. Walkable, beautifully kept and very family-friendly, this neighborhood supports Heirloom's open atmosphere.
"We focus on the farm-to-table movement, with a menu that is Southern inspired with some east Asian twists," Rothacker says. "We do a lot to try and work within the community and create a space for people to come together around food. In our family it's always been that dining with people was a way to celebrate each other in a very relaxed and comfortable setting, so I wanted to create that for other people."
Open for lunch and dinner, diners in Heirloom can sit outside on a patio during the warm weather or be seated indoors where local artists' work hangs on the wall. Sky-high slices of cake sit on the table waiting to be sliced, and the menu offers items such as chicken mull, turnip soup, udon noodles and grass-fed burgers.   
Heirloom also caters events such as house parties and bridal showers, supplying fan-favorite mini quiches, frittatas, scones, biscuits and cinnamon rolls for breakfast, boxed sandwich lunches and desserts such as their chocolate silk pie.
In keeping with supporting local agricultural outlets, Heirloom tries to buy from sustainable sources, primarily in Georgia, as much as possible.
"I'm very interested in trying to tell a story with food, and I'm also very interested in sustainable agriculture and what that has to offer. It's one way to keep our community thriving and support people within that community," Rothacker says. "Eating locally has it's economic benefits. Iit's nutritionally good for you because you know where the food is coming from and what's going into it." 
For their meat supply, this includes working with Darby Farms in Good Hope, Anderson Farms in Marietta and Pastures of Rose Creek in Watkinsville. As for their veggies, Heirloom sources Woodland Gardens in Winterville, and from the Collective Harvest.
Having previously worked with many members of Collective Harvest, this collaboration of local family farms providing sustainably grown vegetables and fruits to Athens-area communities was a streamlined way for Heirloom to continually get local produce.
During her time working at a restaurant in Atlanta, Rothacker found a community-centered business, but one that still seemed somewhat cut-throat in the competitive eatery landscape of Atlanta. Athens doesn't have this sense of isolation, Rothacker says. There is more connection with community members and the restaurant.
"Athens is all about supporting community, that's why we all are here," Rothacker says. "Coming here I wanted a place where I could have that connection, a good centerpoint for getting to know people with the same ethics and values I have."
Even beyond the Athenians who love to buy and eat local, finding organic goodies in Rothacker's business, the restaurant community here is also supportive, she says. She is part of a local group of chefs who rotate hosting meals once a month, many who she considers friends that are equally invested in the Athens community.
"There are a lot of food-related events here in town where restaurants like to help whatever donations are going towards," Rothacker says. "If I were to ask any other restaurateur for help, be it a project or just to bounce ideas off of them, everyone is very willing to help you with any issues you might be having."
Many of these chefs, including Rothacker, have contributed to sustainability-related events such as the annual School Lunch Challenge. This community-centered food scene, she says, has really helped to improve the Athens restaurant line-up in the past few years. 
"In Athens specifically, and probably in other smaller towns, the better the food scene is the more people come into the food community," Rothacker says. "More people have gotten inspired and have decided to open their own place and the quality of food has been growing."
Pope on Prince — Monica Bischoff
---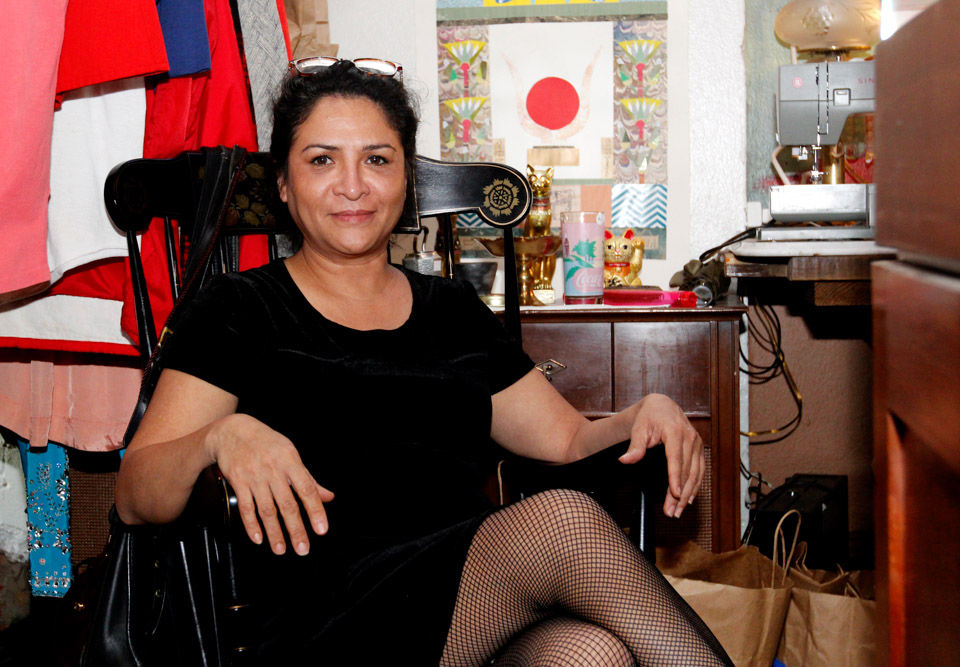 Emily Haney
---
Monica Bischoff came to the United States illegally in 1986, carried across a raging Rio Grande by her mother to the safety of Miami. Originally from Nicaragua, she describes herself as "your average Spanish person," one who came to the United States due to external circumstances.
For Bischoff, these circumstances were the violent conflicts of a civil war, leading her to flee with her family to the safe haven of nearby Honduras in 1979. After being established there for nearly seven years, more conflict forced the family to flee to the U.S. with nothing but the clothes on their back and hope for a fresh start.
Nearly drowning in the surge of a river swollen with spring rain, this formative experience is the foundation for Bischoff's empowerment as a businesswoman.
"I was very proud that the path that my family had to take wasn't the easiest one," Bischoff says. "It represents what's made the United States what it is. You come in with nothing and build from the ground up. My family did. I did. When I look into myself I see myself as a bad-ass who can do anything."
Bischoff eventually moved to Gainesville with her young children and started an engineering firm to follow in her father's footsteps. After living in various places such as Hawaii and Portland, she ultimately settled down in the Classic City, which she affirms she will never leave.
A curator of vintage clothing for over 20 years, Bischoff now stands on the threshold of her shop, the Pope on Prince, as vibrant Hispanic music heralding her Nicaraguan heritage pours out the door.
Today the shop stands on the second floor of prime downtown Athens' territory, currently in the same space that Community once occupied. Within the Pope on Prince shoppers will find a trove decorated with antique cookie jars and weathered books, lace wedding dresses, rock and roll tshirts, ceramic unicorns, handwritten love letters and retro platform shoes.
Every item is hand-picked by Bischoff who stresses the importance of her business being "woman-founded, woman-owned."
"Here I am. I am intelligent enough and organized enough to run a business," she says. "I can take care of myself. All of those things that are very important especially given the current political environment of female discrimination and misogyny … I need to show by example to my daughter and granddaughter that women are so complex and so misunderstood especially in a young country like the U.S. "
Bischoff pointed to Athens as being incredibly supportive of female business owners. Declaring the Classic City a matriarchy for supporting these female "movers and shakers," she also pointed to the U.S. as a whole being fertile ground for entrepreneurs.
"Even in Athens, the community is amazing you could open anything here and people are so supportive. They'll support you and your business will thrive," she says. "I think that because Athens is such a progressive city with the university, we have people from lots of different cultures so I think that we're so used to seeing everything and everybody walk in the door. We feel as part of the landscape the second we landed here.
Reflecting back on living in Gainesville, she describes being the recognizable token "Mexican lady walking down the street." In Athens, however, she describes being right at home, especially among the diversity of vintage and clothing businesses in Athens.
Looking at Baumgärtner's German heritage, and the Korean backgrounds of other women in the area who own clothing shops, she says that being in the U.S. practically demanded her to take the chance and start her own business.
"It's so doable [in the U.S.,] and I think that for me as a foreigner it's something that was so obvious. There was not even a question in my mind that I could have my own schedule, take my own salary," Bischoff says. "It was never even like 'I'm going to choose to do this,' it was the only thing that I wanted to do."
As a woman who owns a business, Bischoff draws power from a long line of women that serve as her inspiration, including her own mother who crossed with eight children and three grandchildren back and forth across the Rio Grande.
Building a business from the ground up, she lives up to the dedication and drive that her own mother had in building a life for her family in the United States.
"My mother was ten times stronger than my father," Bischoff says. "He was a worker, my mother was a leader. My father brought the money home, my mother managed it. And then when we got to the United States my mother went to baseball games to sell food, bought her first house in cash seven years after landing here. How does that paint my world: how could it not?"
Model Citizen Salon — Elizabeth Elliott
---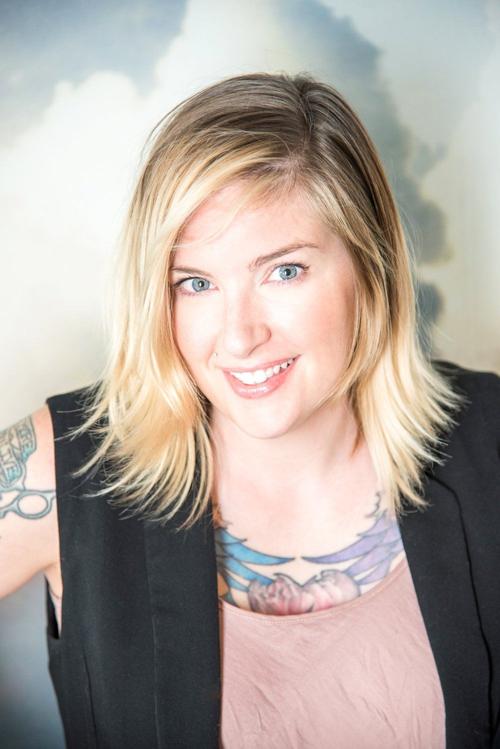 Courtesy Elizabeth Elliott
---
Working in a business filled with powerful women, Elizabeth Elliott sees the strength of her employees every day in all that they do.
Graduating from the Art Institute in Chicago in 2003, Elliott became ensnared by the welcoming feel of Athens and moved to the Classic City in 2005. Through with the bustle of a big city and enticed by the low cost of living, she set out finding an occupational path that would incorporate her early artistic inclinations. 
"When I was in school I started out in photography and ended up concentrating in fashion design," Elliott says. "I was always interested in the human form, and most of my work revolved around that. I found that what I really loved in fashion was the sculptural aspect, creating an extension of the form and creating art on the body."
Elliott felt that despite an education she thoroughly enjoyed, finding herself a new career path was in order. She then became a makeup artist, which she says was a smooth transition from other art forms. Through this she had the opportunity to also learn how to style hair, and the rest is history. 
"I had a friend who was opening a salon, asked if I could join on, and the minute I started I fell in love and said 'this is it, this is what I want to do,'" Elliott says. "It's a career that I could take and stay in Athens, and it's a career where I can still be creative and expressive utilizing my experience in art while still making a living."
Things fell in place for Elliott, who began tirelessly contributing to multiple salons. She found however, that none of them offered the permanence she was looking for. Apprenticing under busy stylists made for hard work she says she appreciates, giving her experiences learning about professionally, how to interact with clients and other skills she says are better learned firsthand than in cosmetology school.
Deciding to take the best elements of these establishments to create her own, she then decided to start out and create her own business. Despite saying she never expected to be a business-owner, Elliott took her entrepreneurial spirit and dove into making a place for herself as a stylist in Athens, opening the Model Citizen Salon.
"I wanted to create a space and environment that I felt could take everything I learned in previous salons and build something I would want to come in to work at everyday," Elliott says. "There wasn't a true home for me in the salon industry when I started, so I decided to build it for myself." 
One of the largest parts of Elliott's business model is respect for both her clients and employees. Reflecting back on her days apprenticing, she says there were times that there was a lack of kindness, and that she wants to always extend that knowing how much it means.
"I can reflect back to the days when I was low man on the totem pole and take some of the those experiences, making sure that I see things from both sides," Elliott says. "I think as a business owner it's important to have worked from the very bottom to managing people." 
This leap of faith and believing in herself truly paid off, and Elliott says that learning more about and expanding the business has been a great experience. Opening a location in Athens yielded a space that Elliott explains has a square footage far cheaper than a building of comparable size in a city like Atlanta. Additionally, the young blood from the university helps contribute to the town population.
"It is a group of beautiful, talented, strong, kind, amazing women who it's an honor to work beside everyday. They all have an amazing story, and some of them have overcome incredible obstacles. I'm really proud of what we've built." — Elizabeth Elliott
"Being in Athens where the cost of living is much better means that the rental prices are great too. It helps keep everything in check and balance," Elliott says. "I think the influx of students keeps the city young and vibrant, and creates a town of acceptance, tolerance, creativity and energy. That allows a business like ours to be successful in a small town."
The salon's location, right next to the original Avid Bookshop on Prince Avenue, primarily invites working professionals, often nurses and doctors from nearby Piedmont Athens Regional Medical Center. For students, this is usually more off-the-beaten path than they like to travel, Elliott says.
Avid Bookshop, run by bookseller Janet Geddis, opened just a few months before Model Citizen did. The two businesses have "grown up side-by-side," Elliott says, for nearly five years. Since then, the business has expanded to include nearly four times the employees and stylists. 
This growth that resulted in Elliott's previous partner founding her own salon, Washington Square Studio, in downtown Athens.
"A little over a year ago my business partner was interested in remaining small where I was more interested in expanding," she says of the buy-out. "On this end we've definitely grown bigger, but we have such a big space and room to grow. As we grew I realized I wanted something bigger that could bring in more stylists and be a bigger collaborative celebration of our industry."
Elliott says she doesn't know why Athens as a town is run by and filled with so many successful, strong business women, but says that it is an honor to work among them.
"I couldn't be prouder of everybody here," she says, looking at her own female employees. "It is a group of beautiful, talented, strong, kind, amazing women who it's an honor to work beside everyday. They all have an amazing story, and some of them have overcome incredible obstacles. I'm really proud of what we've built."
K. A. Artist Shop — Kristen Ashley
When Kristen Ashley found a space to start her own business on Jackson Street, it was tucked between the previous location of Community and the thrift and vintage boutique Dynamite, two business run by women.
"I thought what could be better than to be nestled in between those badass ladies?" Ashley says, remembering her initial fangirl behavior. "The caliber of lady-run businesses in this town is great for the size town it is."
Born and raised around Atlanta, Ashley came to Athens in 2000 and "right off the bat" was an art major, along with English and philosophy.
The entire time she was in school, Ashley was a half-time student working and gaining managerial experience working in restaurants around Athens. Working at DaVinci's Pizza and DePalma's Italian Cafe, as a floor manager for the latter, this helped Ashley to break out of her shell.  
"I was always very shy and being pushed into a leadership role was very good for me," she says. "It helped me develop some business skills, so I accredit them for having trust in me and putting me in a leadership role. It helped me grow so much."
---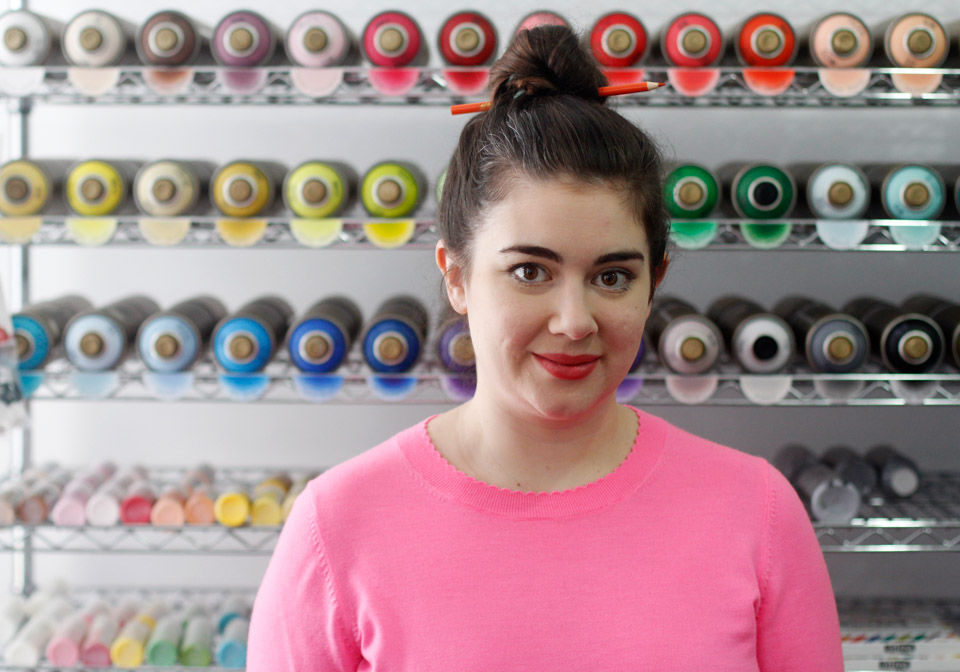 Emily Haney
---
After nine years dabbling in multiple subjects Ashley graduated with an art degree—and almost 200 hours under her belt. Rooted to Athens, she decided to stay and explore business, accommodating holes she saw in the local art market.
Originally, Ashley dabbled in wedding invitations she says were taking over her apartment in terms of space. She was also an Etsy entrepreneur, catching the craft bug from the popular e-commerce website. The product: muddy wedding shoes.
"I didn't want to throw them away because they were the nicest shoes I owned, so I covered them with lace," Ashley laughs. "That was my first commercial product that wasn't a drawing or a painting and pretty immediately I sold a pair to Sweden, then Canada, Milan, Georgia and Texas."
Ashley would soon fill the need in Athens for an art supply shop and public gallery space in one fell swoop. The multi-faceted K. A. Artist Shop was born out of Ashley's desire to create a colorful, creative space for high-quality art supplies at affordable prices.
"What got me to start a business was finding a studio, but the location being downtown where it was made me start brainstorming more ideas of different revenue sources," Ashley says. "I knew this plan would jive on the street and that it would be nice to have art supplies available to people downtown. I thought I could do so many things in one beautiful spot."
The space, above Pita Pit on Jackson Street, is divided into multiple rooms that each serve a different function for the business.
Shelves in the K.A. Artist Shop are lined with the highest-quality art supplies that Ashley can purchase while still maintaining a "happy balance" of quality and affordability.
The muddy shoes that started it all—which still currently sit on a shelf in the shop—are right at home among other interesting and colorful objects in Ashley's business.
In addition to rainbow displays of pencils, pens, paints, prints, stationery, handmade goods and more, the shop also supplies gallery space for local artists during their three annual art shows, and offers professional artwork and product photography.
"The space itself helped develop the business plan; I had a plan to make things and then thought I needed more than one revenue stream," Ashley says. "We would sell art supplies, and then since we had a photo room for my own work why not rent it out to people?"
In order to foster the craft bug in others, the K.A. Artist Shop also teaches popular artistic classes, which include calligraphy, oil painting, drawing, watercolor painting, silk painting, journaling, creativity classes, and art clubs for teens. These are very popular among both college students, and older adults, often nurses, teachers and scientists Ashley speculates love a creative outlet outside of their work.
Ashley has adapted her business to meet Athens' needs, which has included what can be time-consuming sourcing of materials, selling supplies and weighing and photographing inventory.
"Originally I had dreams of being more of a production hub and making things myself," Ashley says. "We're almost two and half years into the business and have just started going back to the original dream. It took longer than I thought it would, but really it's been about listening to my customers to know what the community wants, and then going down the paths that people are asking for."
Looking towards the future, Ashley says she considers herself post-feminist in that she has full confidence in women's ability to be equally competent and successful business owners, and wants to move away from acknowledging this ideal as being radical or different.
Working towards being not the best female business owner, but the best business owner overall, she says that it's all possible under the welcoming arms of Athens.
"Athens is encouraging to female business owners—there's so many you can look around and see—it's just not an issue being a woman," Ashley says. "It's almost a benefit, because we have such a strong community of other female business owners."
Editor's Note: This is not a comprehensive list of women business owners in Athens. If you or someone you know would like to be a part of this story please submit the information to ampersand@randb.com
Correction: The article has been changed to correctly reflect the founder of Model Citizen Salon, Elizabeth Elliott. Originally the article posted with an incorrect name. Ampersand Magazine regrets this error.