"There's often some kind of big event in someone's life that plops them into this world. Mine was cancer."
Jimmy Straehla, better known in the folk art world as "Cap Man," can be seen driving around Athens in a pickup truck entirely varnished in bottle caps. What he explains as his segue into becoming an artist was a sickness that he came to face in 1998.
He had been feeling under the weather for quite some time, attributing it to traveling for work and the exhaustion therein. His wife finally insisted that he see a doctor, and when Straehla finally did, they caught something that seemed to be more than just the common cold.
"I got a diagnosis of stage 3B Hodgkin's Lymphoma, which I wasn't expecting to hear. I guess no one ever is," Straehla says.
Hearing the news and facing the harsh reality of impending treatment, Straehla decided to take some time away from his day job as a textbook sales representative. Around this time, his wife was helping organize a fundraiser for the Athens-Clarke Heritage Foundation, an event where people constructed their own artistic version of a chair and came together to present and sell them.
Straehla's wife sought out his help, asking him to make a chair of his own. He ended up creating a garden bench, and when he was almost done, he had the idea to add bottle caps to the surface of the wood.
When asked what initially sparked this idea, Straehla recalled a well-known R.E.M. song he liked in which the lyrics seem to reference orange crush. He thought it would be a funny little addition and noted that, "It seemed so iconically Athens."
---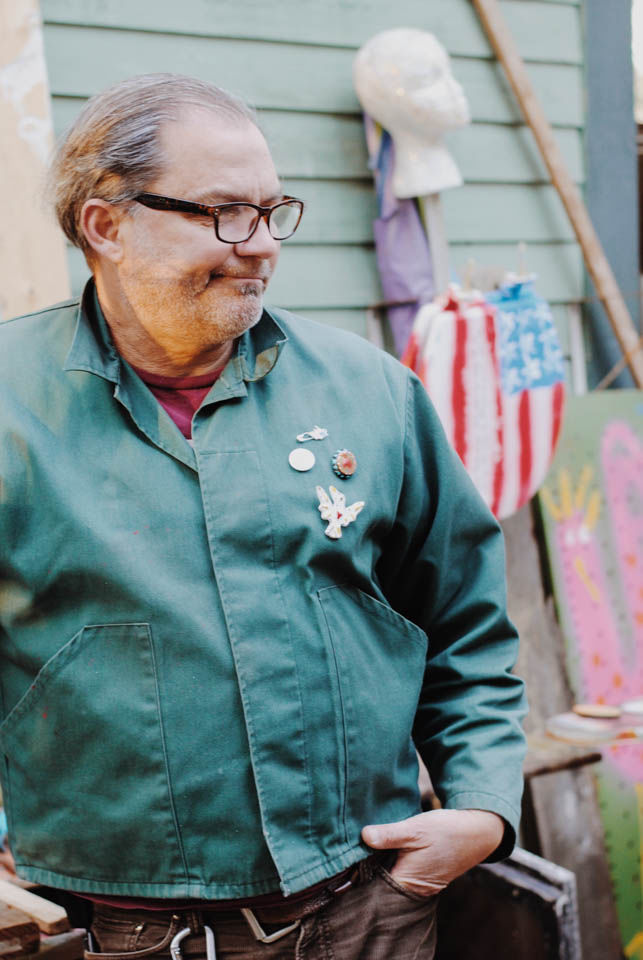 Dakota Reed
---
Straehla discusses how the title he gave to his bench struck him after the fact as interestingly ironic. The piece of lumber he used to construct the bench came from restoring a former barn on his property into a livable cottage. Since it was in a juried show, he was instructed to give a name to his finished work and ended up titling the bench "Re-Barned."
Later, Straehla recognized the strange significance of the name he had given the bench. Despite his attempt at it being simply a witty title, he had created something entirely profound.
"Well I made it out of barn wood, so it's re-barned," he said. "And it wasn't until much later that I caught the double entendre of me being re-born from my disease."
Straehla's bench was admired at the event, and afterwards he was contacted by someone associated with the local folk art gallery, inquiring if he had any more of the benches they could exhibit in the gallery. Straehla's immediate response was that he did, although this bench was in fact his first. He quickly went to work creating replicas, eager to start on this new artistic endeavor.
---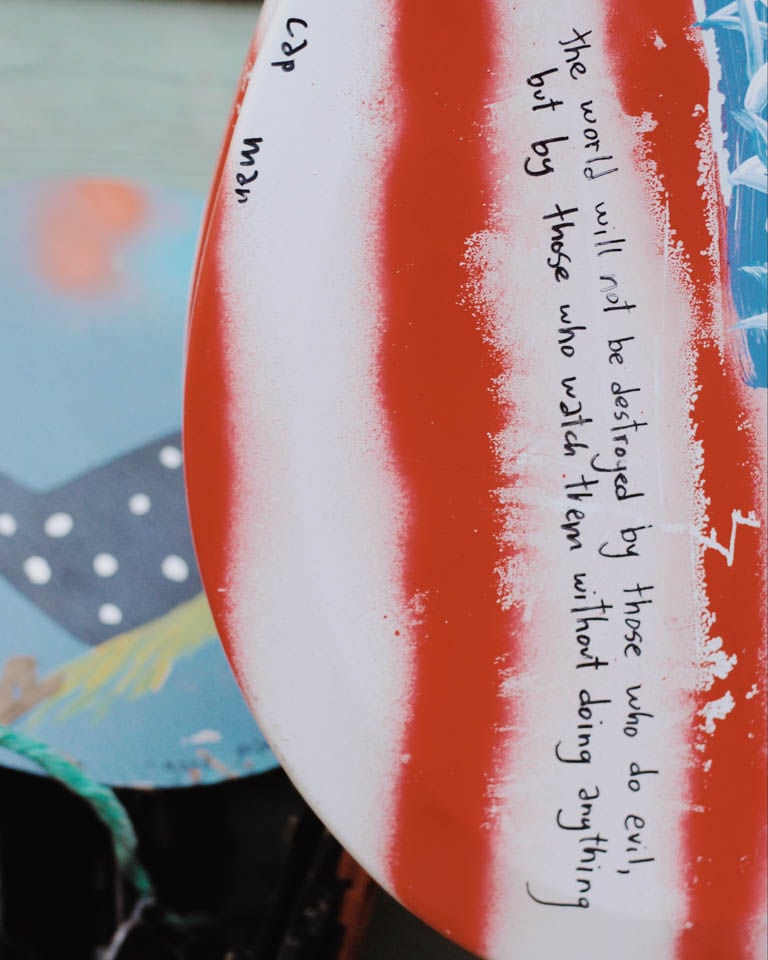 Dakota Reed
---
His business of constructing furniture only continued, as Straehla began to make tables and chairs in this newfound style. Straehla's work soon morphed into paintings, mostly due to the fact that they were less cumbersome and easier to transport than furniture. Now he paints on blocks of wood, scrap metal or anything he can get his hands on, the final touch on his piece typically a simple saying, such as "Be Still."
During his six-month chemo treatment, Straehla received frequent newsletters from the Loran Smith Center for Cancer Support at Piedmont Athens Regional hospital.
One in particular gave him inspiration in the form of a poignant line.
"I had found a quote, one that really struck me, by Anais Nin," Straehla says.
"It said, 'The day came when the risk to remain tight in a bud was more painful than the risk it took to blossom.'"
He claims he ripped it out and from then on carried it around in his wallet, later deciding to paint the quote on a scrap piece of wood as a gift for his wife. She kept it in her office and soon began to get compliments and questions from her marveling coworkers, so Straehla got the idea that this new art form was something he could really invest in.
"That really set me off on my paintings that I continue to do now," he says.
Straehla's makeshift studio sits outside in his backyard and consists of a few shelves and tables strewn with various materials and a few finished pieces. Some of the obscure materials Straehla uses even include metal ironing boards and toilet seat lids.
Inspiration lingers in all corners, like the unicorn--one of many collected by Straehla--hanging on the wall above one of the tables. The studio backs up to a chicken coop, an influence that can be seen in the whimsical paintings of chickens often found among Straehla's work.
His use of bottle caps didn't dissipate even as his artwork took a different turn. One day, with the idea of his bottle cap benches in the back of his mind, Straehla held an Orange Crush bottle cap up to the side of his 1979 Ford F150, and immediately knew what he was going to do.
"It was kind of the pure thought of putting one on there and simultaneously realizing how awesome it would be to cover the whole thing," he explains.
---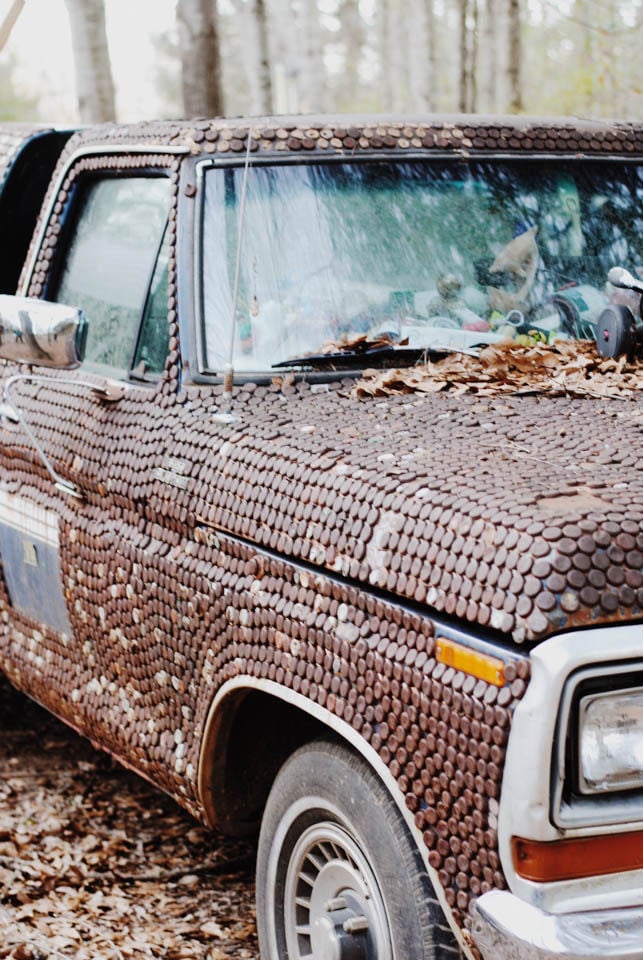 Dakota Reed
---
Before long, the entire surface of the truck was covered in caps of all different kinds. Over the past 19 years, the bottle caps have grown rusty, but thankfully Straehla didn't stop there.
Around 2011, Straehla and his wife decided to travel around the country pulling a camper with their son, who was five at the time. About four months before their departure, Straehla decided to decorate his second truck with the infamous bottle cap coat. The entire truck wasn't covered before the family left, but Straehla says that this only enhanced the experience, allowing them to collect and add bottle caps from different states along the way.
Bottle caps often came from strangers that later became friends. One particularly monumental bottle cap donation came when Straehla participated in a show in Baltimore called Artscape, which hosts about 30 to 40 art cars each summer.
The organizer of the event got the word out about Straehla's truck before the event, which prompted many people to arrive holding bags full of bottle caps to donate to the Cap Man and his now-famous truck.
---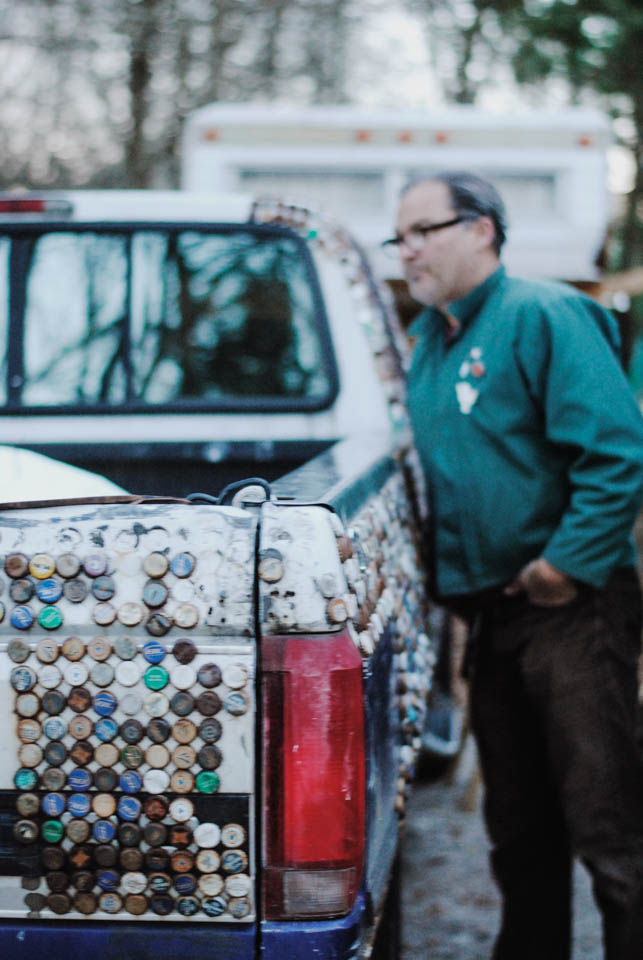 Dakota Reed
---
"That donation from the folks in Baltimore really kick started my bottle cap truck," Straehla says.
His personal favorite from the Baltimore batch was a cap from the local Edgar Allen Poe-inspired brewery RavenBeer, with the renowned writer's profile on the surface of the cap.
Straehla's first truck doesn't see the road much these days, but his second can be seen ubiquitously parked at various Athens thrift stores where he collects "junk" to turn into art.
A small sign reading, "Don't be afraid; it's just art" can be seen propped up on the dashboard, but Straehla says most reactions he has gotten from onlookers are nothing but positive.
However, he does admit, "I always get the comment—which I loathe—did you drink 'em all?" While an amusing prospect, Straehla promises he didn't.
Straehla's artwork has been up for grabs at Atomic, a downtown Athens shop specializing in vintage clothing, furniture, and other items, as well as the work of local folk artists like himself.
Recently, Straehla's work was also featured in an exhibit at the contemporary local art gallery, the Athens Institute for Contemporary Art, better known as ATHICA. The exhibit, titled "In These Dark Times," featured a new series of his, one inspired by the recent election.
---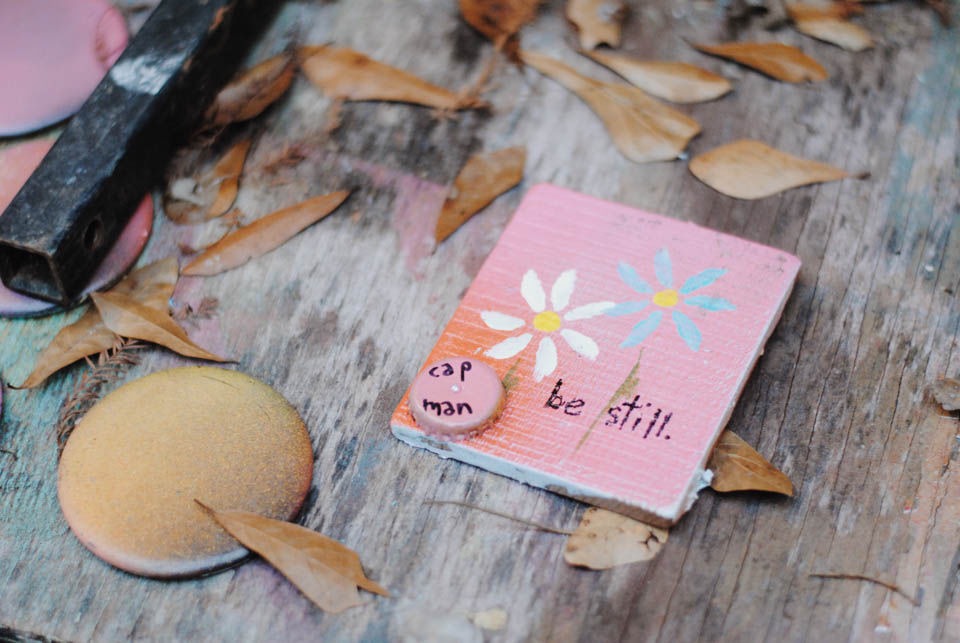 Dakota Reed
---
He used random found objects, such as the aforementioned toilet seat lid, as well as plastic guns, and painted American flags over the surfaces of them. He wrote brief but profound sayings across some of the objects, such as, "The world will not be destroyed by those who do evil, but by those who watch them without doing anything."
He used this particular series to demonstrate and express his own reaction to the current state of the country, as well as to hopefully provoke or empathize with the minds of others.
Straehla acknowledges how different this exhibit was from his standard artwork and states, "I was so negatively affected by the sequence of events that led to the current regime coming to power, and while my art is so focused on happiness and beauty, I just couldn't put that kind of a show together."
His wife, however, told him during the process of creation of these pieces, telling him "You need to put a little bit of hope in there," so Straehla ended up making a single signature piece with a flower and quote on it and included it in the exhibit.
In addition to having his work presented in these local spots, Straehla also has showcased his paintings and his two trucks in various art shows and art car shows around the country. In Atlanta alone, he has been a part of the East Atlanta Strut festival as well as Fall Fest in Candler Park.
---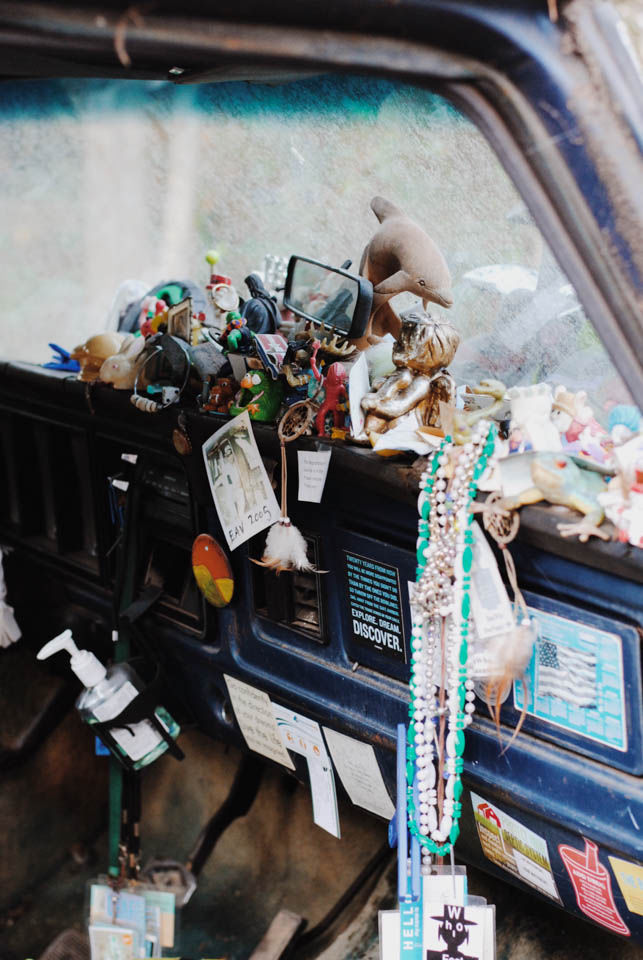 Dakota Reed
---
Most recently, he participated in a festival that took place in Chapel Hill, North Carolina. A particular event that he speaks highly of is Finster Fest, an art festival held annually at the Paradise Garden in Summerville, Georgia. This folk art sculpture garden holds the work of the renowned Howard Finster, whose paintings are shown in both the High Museum of Art in Atlanta and the Georgia Museum of Art in Athens.
Paradise Garden can also be seen on the album covers for artists such as the Talking Heads and R.E.M. It consists of winding walkways and small structures, holding over 46,000 pieces of art.
Originally known as the Plant Farm Museum, Paradise Garden blossomed into an entire world of its own, inspiring both aspiring folk artists and ordinary visitors alike.
Straehla says the funny thing is that if you walk around the rural town of Summerville and ask its residents about Paradise Gardens, most don't even know of it.
This seems to be a gift of folk artists, or artists in general, to see the extraordinary in something that most may simply overlook.
Despite his passion and pride in his artwork, Straehla is a humble man who prefers to keep his identity as "Cap Man" to himself in certain circumstances. After finishing his cancer treatment, he returned to work but refrained from making his new sense of self as a folk artist public. It wasn't until a coworker made a comment about his name being Cap Man in passing that Straehla's other coworkers knew what he was up to in his time away.
"You know it's a little bit of that Athens-famous," Straehla jokes, mentioning an interaction he had the day before in Earth Fare when a woman in front of him in line bought a bottle of Coke, and the cashier opened it for her there in the store.
She turned to him and asked, "Are you the Cap Man?" and when he nodded, the woman asked, "Do you want this?" presenting her bottle cap.
---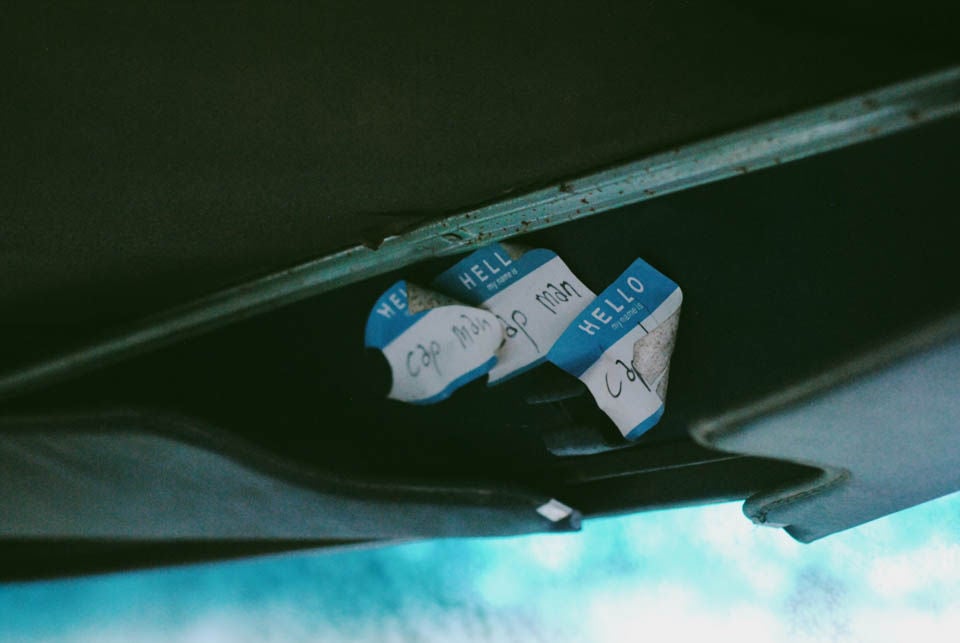 Dakota Reed
---
The next day as Straehla wandered through the Project Safe Thrift Store, on his favorite spots to salvage art materials, that same bottle cap fell out of his pocket, and he says, "Someone that knew me looked up and joked, 'That's a huge surprise that a bottle cap fell out of your pocket.'"
The artist claims that he has never once been pulled over by the police in the bottle cap truck, admitting it must be some sort of lucky charm. His bottle cap art seems to have been a saving grace in more ways than one, though, as Straehla calls it an effective distraction during the adverse time of his chemotherapy.
His art was able to take his mind off his treatment, while also allowing him a way to stay busy and feel productive during his time away from work. Straehla never anticipated his emergence into the folk art world, but he's fallen in love with it, and the rewarding and cathartic experience of transforming someone's trash into treasure.