In the shade of the University of Georgia's North Campus sits East Athens' "Iron Triangle," a cluster of dilapidated storefronts and a smattering of run-down businesses. In the Triangle, high-rise student living complexes tower over cars on cinder blocks and poorly paved streets. Broderick Flanigan, who now owns a portrait studio on Vine Street, grew up in the area's public housing and considers the corner near Nellie B. Avenue home.
Flanigan is an luminary in the Triangle. He has dedicated his adult life to bettering the neighborhood and is a member of some of its most successful outreach and advocacy programs. Of these contributions to the East Athens community, perhaps the most important is the time Flanigan has spent mentoring its teens and children.
Every afternoon, Flanigan opens the doors of his studio to local youth, introducing them to famous works created by black artists then working with them to create public art and murals of their own. One of these features images of civil rights leaders Malcolm X and Martin Luther King Jr. and decorates the wall of the East Athens Triangle Plaza.
---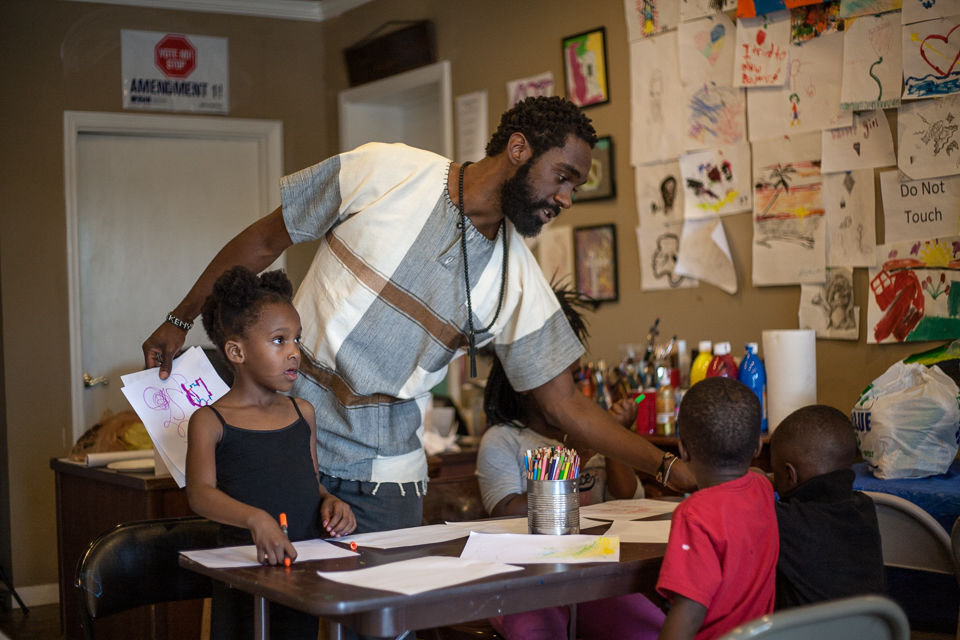 Shubham Kadam
---
Through these programs — and the art they produce — Flanigan hopes the East Athens youth will develop a sense of self-worth and a pride in their black heritage and culture.
"I purposely put the studio in this location because I wanted to give back to this community," Flanigan says. "I wasn't sure what that would look like at first, but it has grown into a mentorship, art therapy type space where kids can come, be creative and express themselves."
Flanigan says his studio is an open space where students can "unwind from the stress of home life or school, or whatever they may be going through."
A consistent mentor
Flanigan says he devotes so much time and energy to supporting Athens' youth because he remembers growing up in East Athens and how important his own mentors were to his success.
"I met my first mentor when I was in the sixth grade, at about 12 years old," Flanigan says. "He introduced me to jazz and prompted me to learn to play the trumpet."
Flanigan says the conversations he had with his mentored pushed him to grow and experiment.
"He pushed me to try new and different things," he says. "I've been very intentional in giving back in that same manner because I know it had a great impact on my life."
Not only did Flanigan learn the value in trying new things from his mentor, he also learned the lesson of consistency.
"My mentor definitely was consistent. I think that's one of the most important things you can be as a mentor," Flanigan says. "You have to be there to try and offer sound advice. You won't be able to reach every kid, but just be consistent."
Having an adult in the community that checked in regularly with him about grades, passions and goals made growing up in what he calls a "tough situation" easier. It is his goal now to ease the burden of difficult living circumstances for kids who may need the presence of an adult that cares and pushes them to succeed.
---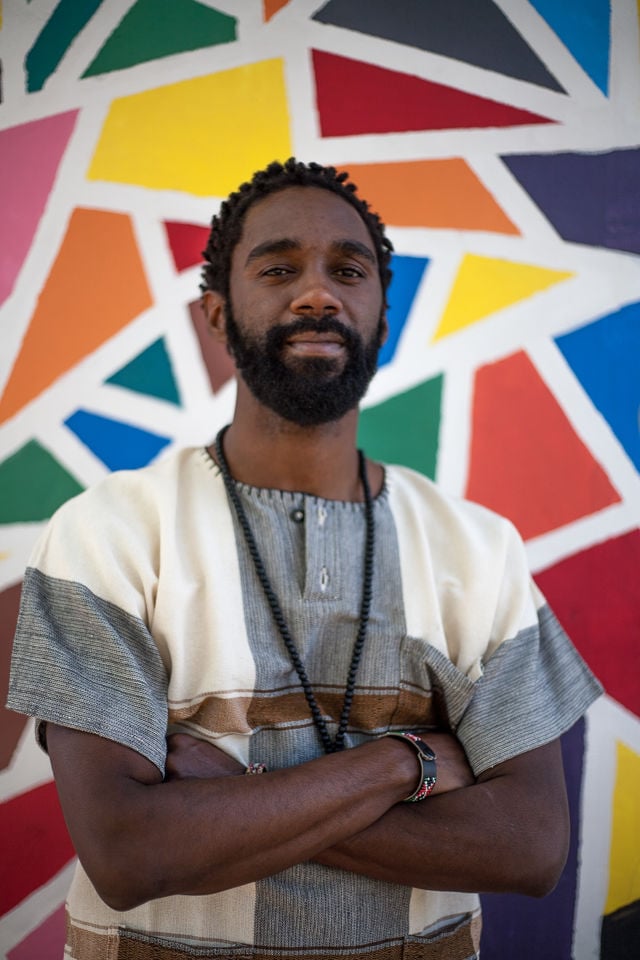 Shubham Kadam
---
According to Dr. Lee Cornelius, the director of the Center for Social Justice, Human and Civil Rights at UGA, Flanigan embodies consistency in every aspect of his outreach. The two men met in September 2015. Since then, Cornelius has seen the artist's fingerprints on nearly every community project in East Athens.
"He does a great job of working behind the scenes quietly to do things within the community. It's real for him. He re-invests his experiences by doing all that he can, by being present and by being an honest, real face for these kids and community members to see and hear," Cornelius says.
"When they look, they see him."
It's true. On any given day, Flanigan can be seen working for the betterment of his community. Whether its working with children at his studio, speaking with professors and students at UGA's School of Social Work to formulate ideas for helping the community and maintaining its cultural integrity or acting as vice president of Chess and Community, a local nonprofit run by his close friend Lemuel "Life" LaRoche, Flanigan has dedicated his life to the East Athens youth.
A stepping stone
Chess & Community was Flanigan's first foray into advocacy. He joined the team after meeting LaRoche in 2012. He says he was inspired by the organization's mission — teaching children to apply the principles of chess to real life, encouraging them to "think ahead" and be present in every situation.
"I've always loved to play chess," Flanigan says. "I just didn't have a ton of people to play with. I played with my uncle a lot in high school, so when I found the Chess & Community organization, I was really inspired to get involved. It was a natural fit for me."
He has remained involved with Chess & Community ever since, but that initial fit gave him a taste of what it would be like to change someone's life.
Once he had a taste, Flanigan ran with it, starting up his own advocacy programs not long after. Today, seeing how his work helps young students, Flanigan says is the best part of his work.
"I remember once when I went to [a] career day at the local middle school, and a teacher came up to me and introduced herself. I told her who I was, and she said that she knew."
The teacher told Flanigan one of her students who frequently visited his art studio had told her a lot about him. She told him ever since the student started visiting his studio, he had been performing better in class.
---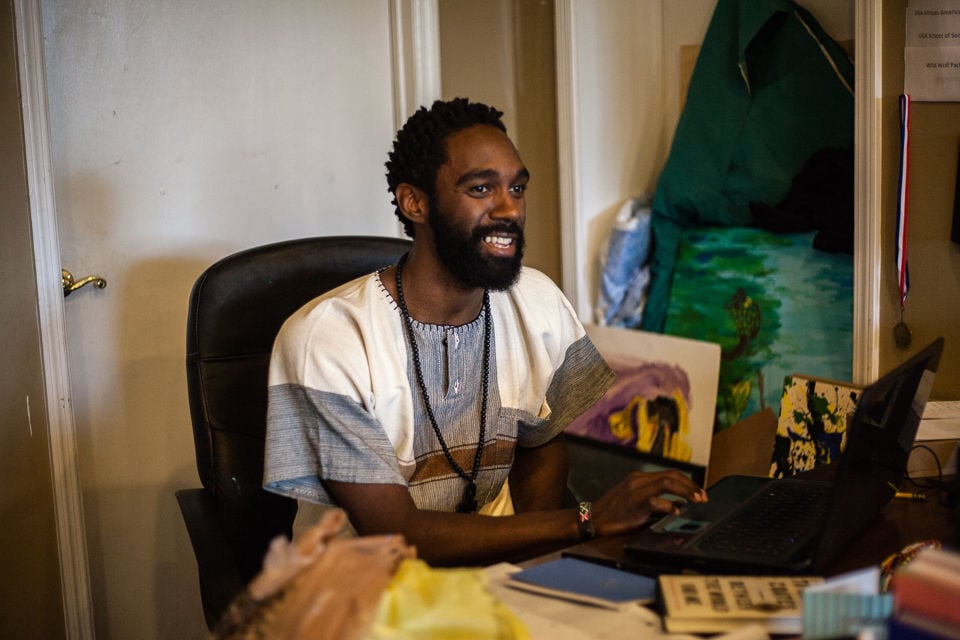 Shubham Kadam
---
"He'd listened more, been more mindful of his presence in the classroom," Flanigan says about the student. "She was thankful that he was coming in. He talked about it a lot, she said. Those are things you don't always get to see or hear, so that meant a lot to me."
For Flanigan, the hardest part of mentoring is his inability to fix every situation.
He recalls one family specifically, a mother and her children who were transitioning into a homeless shelter, and how frustrated he felt at not being able to do more for them.
"I don't know why she was in that situation," he says. "I didn't pry into that, but it touched me. It let me know that there are so many services that are needed, specifically in terms of shelter. Without it, where would that family have gone?"
A shared responsibility
Flanigan sees the problems in East Athens as the responsibility of not just those living in the area but of everyone in the Athens community. His overarching goal is to build a community across all boundaries because it is his belief that change only occurs when people work together.
"Athens is a great place. I love Athens, but there are things that could be improved upon. I'm only scratching the surface, you know," he says of his own outreach programs.
Flanigan says there are about 200 to 300 students in public housing in Athens, adjacent to the location of his studio.
---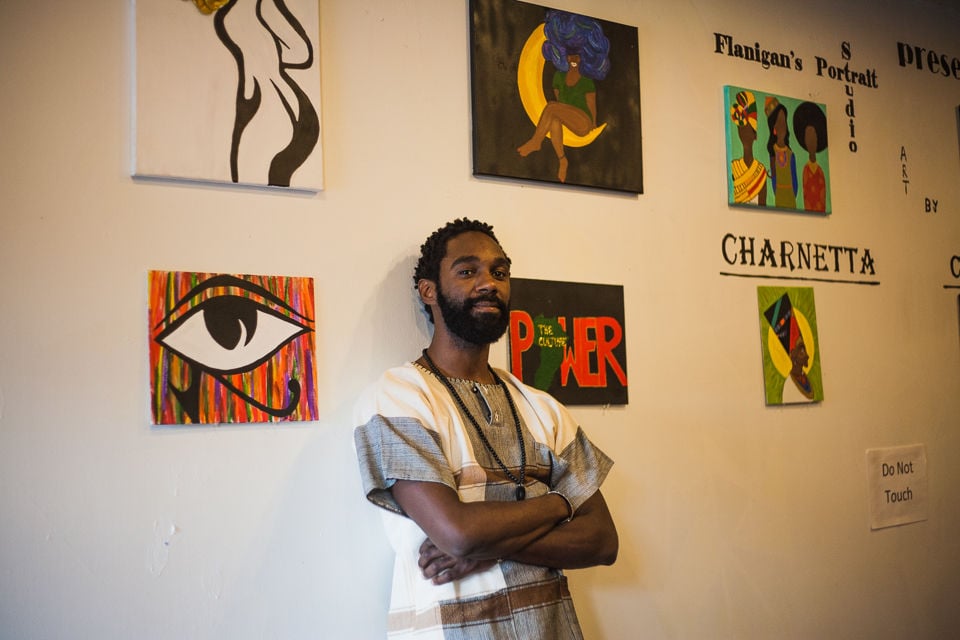 Shubham Kadam
---
"I might be serving 20 or 30 of them," he says. "Luckily, there are other programs and other positive things happening in this area, so I'm only adding to it."
These programs include Athens Tutorial, an after-school program that partners mentors with children so that they can receive help on homework and also provides after-school snacks, and several programs at the East Athens Community Center and East Athens Educational Dance Center.
Flanigan says these programs offer sports from basketball and football to softball and dance. The East Athens Educational Dance Center, for example, teaches young women to dance hip hop, ballet, tap as well as other genres of dance.
"There are lots of different institutions and programs here that are geared toward youth and toward inspiring them to be positive and productive members of society," he says. "I'm proud to see that."