#EndSARS is a movement from Nigeria led by Nigerian youths who have complained of being harassed, beaten, robbed, and murdered by a particular police unit called the Special Anti-Robbery Squad since 2017. These youths are unfairly targeted for "being modern." According to Al-Jazeera, this unpopular police unit was created in 1992 "to combat armed robbery and other serious crimes," and have become known for "widespread human right abuses, extrajudicial killings, torture, arbitrary arrests, unlawful detention and extortion."
The #EndSARS movement was triggered by the circulation of a video involving SARS brutally murdering a man by dragging him out of a hotel and shooting him dead. This horrible video shook the whole country and invigorated the youths to protest for two weeks nonstop in cities like Lagos, London, Atlanta and Toronto.
Last week, I was privileged to be invited by the African Student Union at the University of Georgia to mourn those who were lost in the recent national protest in Nigeria against SARS. During the vigil, we all observed a moment of silence for our fallen brothers and sisters in Africa, particularly those who were murdered during the protest. A couple of people spoke on how the protest had taken a physiological and psychological toll on them, especially during midterms week. I spoke about how Sleek, the friend of my significant other, Cassper, was murdered by the police.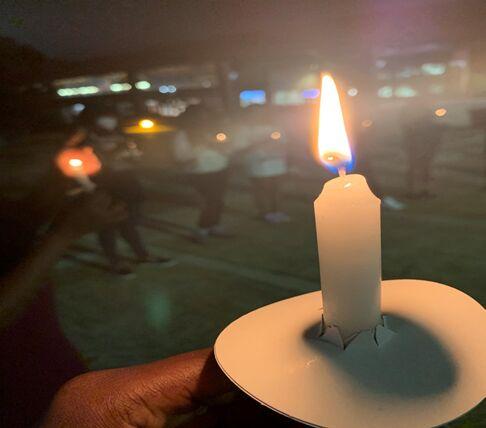 "It was so sad because I know how it felt, because I have encountered them before," Cassper said. "First of all, you will be angry, confused. Then, when you are in their custody, you will be scared, because these guys are ruthless. They can shoot you for no reason… maybe for talking back."
According to him, each time he encountered the notorious police unit, they took him into their van and assaulted him if he didn't give them a lot of money.
"When they stop you, they will check your phone. They can go as far as checking your bank account. It is so crazy," he said.
Cassper claimed that some in the unit use drugs or drink alcohol while on duty, which makes the situation even more precarious. In addition, he lamented that the police officers responsible for such behavior will get away with everything without being held accountable by the Nigerian justice system. He hopes that the international community will "follow up and see what is happening" in Nigeria.
"I feel that change will still come. Whether it is slow… change will still come," he said.
In 2016, Amnesty International conducted research on this notorious unit and claimed that "...detainees, both men and women, are subjected to various methods of torture and ill-treatment in order to extract information and 'confessions.' Such methods include severe beating, hanging, starvation, shooting in the legs, mock executions and threats of execution." They concluded the research by calling on Nigerian authorities to stop these heinous acts from being committed and by looking for better ways to address the rise of violent crimes without violating Nigerian human rights.
The most heart wrenching moment in this movement for many Nigerians, including myself and other Nigerian students at UGA, was the Lekki Toll Gate Massacre in October. As usual, the youths took to the streets to protest. That night, they sat in front of the Lekki Toll Gate, a popular road in Lagos state, Nigeria's most commercial city. According to a report from Vanguard, the lights and CCTVs were turned off, and while the protesters sang the national anthem, SARS opened fire, killing scores of Nigerians who'd wrapped themselves in the flag as if to plead for their agonized lives.
"They were firing and they were advancing straight at us. It was chaos. Somebody got hit straight beside me and he died on the spot," said an anonymous witness in a BBC report. The Nigerian government failed to address the situation appropriately.
As a Nigerian youth in the diaspora, this situation concerned me greatly. During those weeks, I could hear my soul crying out and my heart wrenching in fear and protest, while putting on a brave face in classes and exams. I knew my people have been and are still dying due to police brutality and the poor accountability system in Nigeria, and I could not do anything about it.
This matter broke my heart, especially after hearing a personal experience from a loved one. Watching people protest for our nation's future, like my younger sister in Canada, Kosy, inspired me to be a voice for all UGA students who are affected by SARS, but cannot be heard. Therefore, speaking out means a lot to all Nigerians at UGA, and must be a starting point for positive action.