Let's kick this column off with your fun fact of the day: There is no federal law regarding what landlords should do if their property has mold, nor is there such a state law in Georgia. Landlords don't have to tell tenants about mold even if they know there's a high concentration of it.
The relationship between landlord and tenant doesn't have to be adversarial. But that goes both ways. We signed a lease, and surely not all of us read it under a microscope, but that doesn't excuse negligence and bad property management. Regardless, University of Georgia students living off-campus are no strangers to issues like mold.
Like landlords' lack of mold liability, it's very difficult, legally, for tenants to organize in Georgia. Some states and cities have tenant unions who collectively bargain for fair rent prices and accountability regarding maintenance. Here, tenants who use tactics like withholding rent have no real protection from swift eviction.
There's nothing prohibiting coordinated action. Thanks to a paper in my building's lobby taped to the mailboxes with a QR code for a residence GroupMe message board, I could discover the scope of my own mold problem with 91 of my closest friends.
In the group, I sent out a simple call-and-response text: "Like this if you've had mold in your bathroom." Within the day, 21 people from all three floors had liked my comment.

So if the 22 of us simultaneously yet independently put in a maintenance request to fix the mold, not only does it carry more weight, but we don't run the same risk of eviction.
I'm not naming my residence or property manager, but you can insert any one of the properties you've undoubtedly heard of in town (the ones that spam your student email). They mostly do the same thing — that is, the bare minimum, and here's why.
Unaffordable housing
In Athens, there's roughly an equal number of people in poverty as there are UGA students, each 29% of the population. While there is overlap in those demographics, students by-and-large come from out of town and are wealthier than local Athenians. Because UGA only provides some student housing, landlords scramble to buy up the most properties to rent to the largest group of students, whose parents will pay more than local residents can afford.
Students rent pricey, overvalued apartments and housing because they don't have much choice, especially as property management firms seem to buy up new buildings daily. Despite their student clientele largely coming from means, it's quantity over quality. Any retaliatory action is out of the question, since another student will replace you.
These are not just issues for UGA students. High prices and unresponsive management do not compare to the experiences of some members of the Black community in Athens. Linnentown is a particularly despicable example: UGA bulldozed the homes of 50 Black families in the 1960s to build Creswell Hall, Russell Hall and Brumby Hall for university students.
Nowadays, Athenians are displaced by more than just the University's eminent domain. In a town dominated by a real estate culture that caters to college students, the non-University housing is mostly unaffordable. Locals have nowhere to turn.
Landlord-induced anxieties are not exclusive to Athens, either. College towns seem to consistently have unreliable leasers. In Tuscaloosa, Alabama, University of Alabama students are experiencing so much trouble in rapidly-appearing five-bedroom "family" student complexes that the city has considered banning the complexes altogether. Students resorted to calling police and the fire department, often several times daily, for anything from burglaries to domestic disputes to mental health crises, a sign that there was much left unresolved by their landlords.
Mobilizing through GroupMe
In my building in Athens, coordinated action has already proven successful. After days of tenants inquiring about the water temperature, for example, a swell of maintenance requests flooded our property manager's online portal in a span of minutes. Within the hour, we received a reply via text.
"We apologize if you have experienced issues with your water temperature," they began. They concluded the message informing us plumbers were already onsite.
This urgency was distinctly out of character. On an average day, the tenant GroupMe is a carousel of renters exchanging grievances and long-unresolved issues. One woman reported two men trying to open her door late at night, with similar stories immediately corroborated by other female renters. The safety concerns were more than isolated incidents.
Multiple tenants have been told by management that the security cameras do not work. Others' emails have been ignored entirely. Despite this, advertising for the building promotes 24/7 surveillance. Why does it take half of the building speaking up in unison to get something fixed?
When Charlie Nakatsu, tenant and second year Animal Health student at UGA, found her clothes were stolen from the communal laundry room, she was told that room's cameras worked. By the end of that day, she told the GroupMe that management went back on that claim — the camera did not work — and they were essentially useless in helping her get back her clothes. Among her laundry was clothing with sentimental value as well as her work scrubs.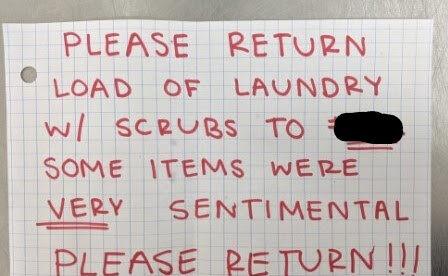 For property management in a town like Athens, it's a race to the top. The goal is to spread their firms as thin as possible across the real estate map and cast the biggest net for college students needing a temporary place to live. But no amount of doctored brochures and fancy websites substitute safety or peace of mind knowing people aren't trying to break in, steal your things or worse. If rent is going to keep shooting up in Athens, it better come with the basics.
Again, the tools for tenants to stand their ground are limited, but every renter should know their rights. Read your lease. If getting anything fixed in your apartment feels like pulling teeth, see if your neighbors have problems, too. There's strength in numbers.