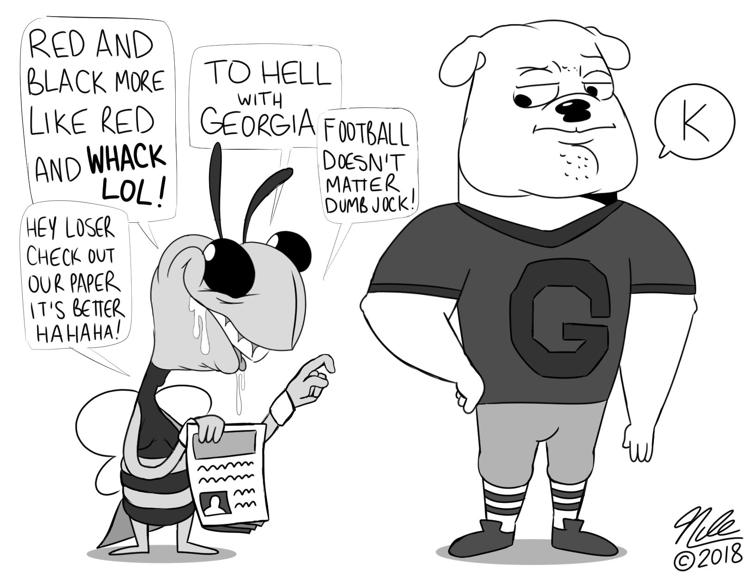 Imagine my surprise when I, the workaholic opinion editor for The Red & Black, found another company's newspaper outside our office building on Nov. 25.
And imagine my further surprise when I discovered this paper was none other than "To Hell With Georgia," Georgia Tech's student newspaper Technique's annual satirization of The Red & Black. The paper comes out during rivalry week, featuring the century-long, clean old-fashioned hate between Georgia and Georgia Tech.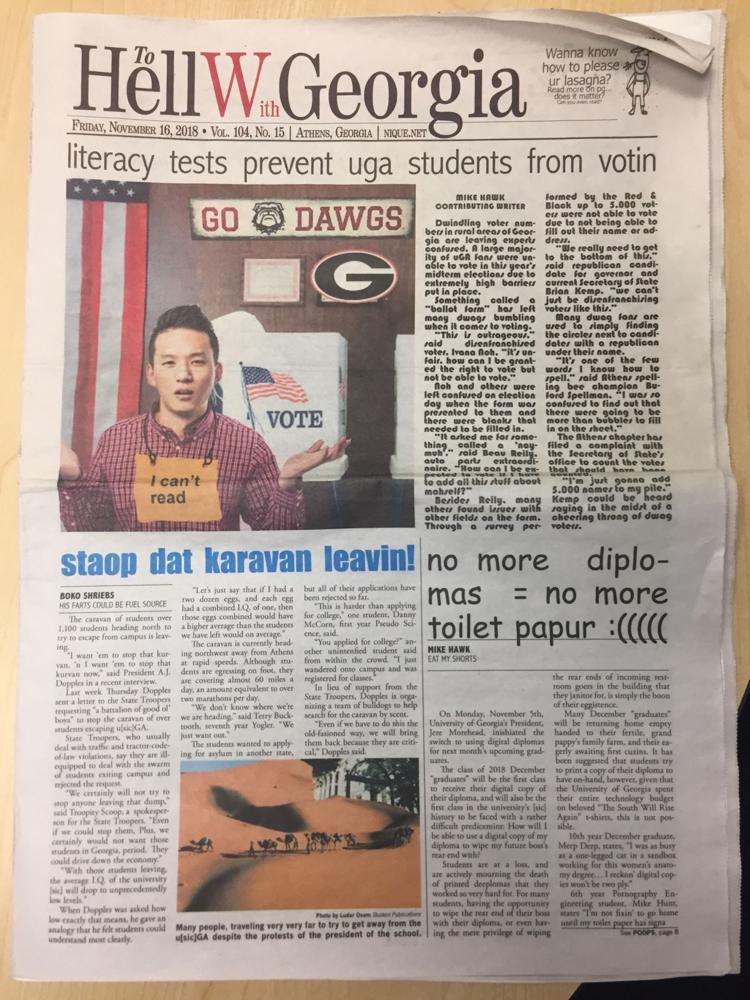 Upon reflection, I realize I shouldn't have been surprised. Of course Tech would take pettiness to a whole new level. It's the brand, after all. But as the football apath that I am, I haven't been keeping up with the Georgia-Georgia Tech football rivalry (I know, a blasphemous statement as a Bulldog).
Yet there I was, holding several decades' worth of "Clean, Old-Fashioned Hate" in my hands.
As I flipped through their stale redneck jokes and try-hard "humor" pieces, I wondered: How did we get here?
Apparently, The Red & Black has had its own share of satirical newspapers. Our newspaper ran it's evil twin, The Rude & Bleak, annually throughout the 1970s-90s.
These satire paper sometimes poke fun at Tech, and even had a "To Hell With Tech" issue on Nov. 19, 1993. There were a few gems like "Crecine: Lack of balls and job a real problem," poking fun at Tech's former president John Patrick Crecine.
There's also "Tech alumni live to be lazy and bring dead back to life," satirizing a GT's alumni's job at the cryogenic freezing company Death Be Not Proud, Inc. The alumni's goal was to make Walt Disney and Steven Spielberg fight in an epic showdown.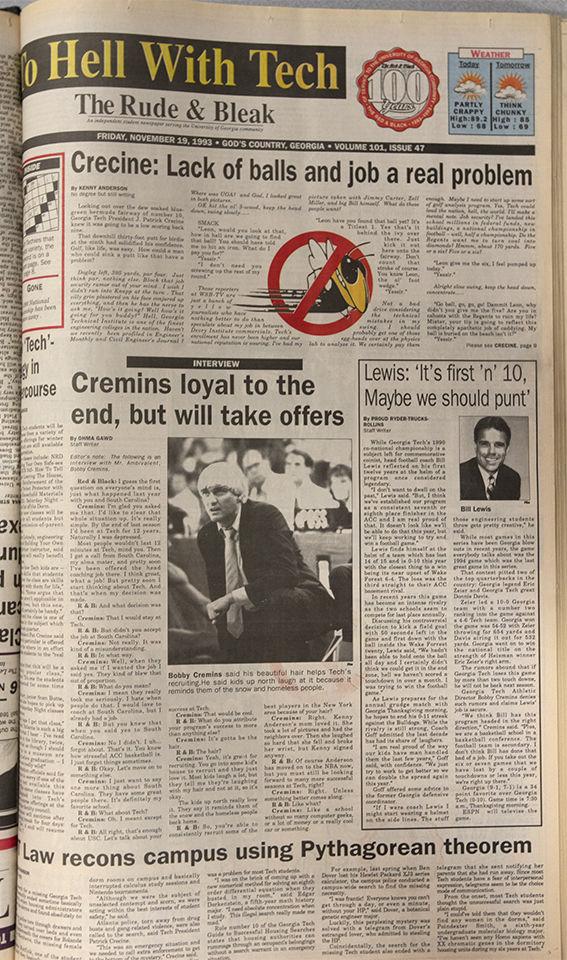 But our last satirical paper was around the '90s, according to our archives. If there have been any issues since, it hasn't been within the last five years when the current editorial staff would know about it. That's probably because, you know, we have better things to do.
Georgia Tech also has better things to do, like nurse the wounds from being pummeled in the game on Nov. 24. What was the score again? 45-21 in Georgia's favor? Oh that's right.
There are lots of things that should be left in the 20th century. Boofing, for one. And wasting trees to fuel a newspaper rivalry The Red & Black doesn't care about (except on our Sports page).
Maybe it's best to leave our old-fashioned hate on the football field during our annual clash and act like adults in the meantime. 
PHOTOS: A look back at Clean, Old-Fashioned Hate
For more than 100 years, the Georgia Bulldogs and the Georgia Tech Yellow Jackets have taken to the field for the annual rivalry football game, "Clean, Old-Fashioned Hate." There have been a total of 113 meetings -- the first one being in 1893 -- and overall, the Bulldogs hold the lead with a 67–41–5 record.
During the most recent meeting on Nov. 24, Georgia defeated Georgia Tech 45-21 at Sanford Stadium in Athens, Georgia. This was the first time the Bulldogs defeated the Yellow Jackets at home since 2012.
The Red & Black has been reporting on the rivalry game since the beginning. The first issue of The Red & Black came out 20 days after the first Georgia-Georgia Tech game and included the results in its coverage. 
Here are some of our coverage and best photos from throughout the years.