In late June, the Supreme Court of the United States ruled against the Trump administration's decision to ask respondents on the census if they are citizens. In the 5-4 ruling, Chief Justice John Roberts sided with the left-leaning judges, ruling that Commerce Secretary Wilbur Ross had not been honest about his reasons for including the citizenship question.
The Supreme Court made the correct decision in stopping the Trump administration from adding the citizenship question. The question would have decreased minority representation. Besides, the administration had questionable motives for its actions.
The administration claimed it needed the citizenship question for more accurate demographic data. In reality, motivations appear more unscrupulous. 
In late May, The New York Times reported the late Republican gerrymanderer Thomas Hofeller's estranged daughter found her father played a crucial role in the push to add the citizenship question. He concluded from a 2015 study that including the citizenship question would empower Republicans to gerrymander more effectively. The question emphasizes the citizen voters rather than the population as a whole for redistricting, and dilutes the political power of Hispanics, according to the New York Times. Hofeller urged the administration to add the question, stating the question would enforce the Voting Rights Act.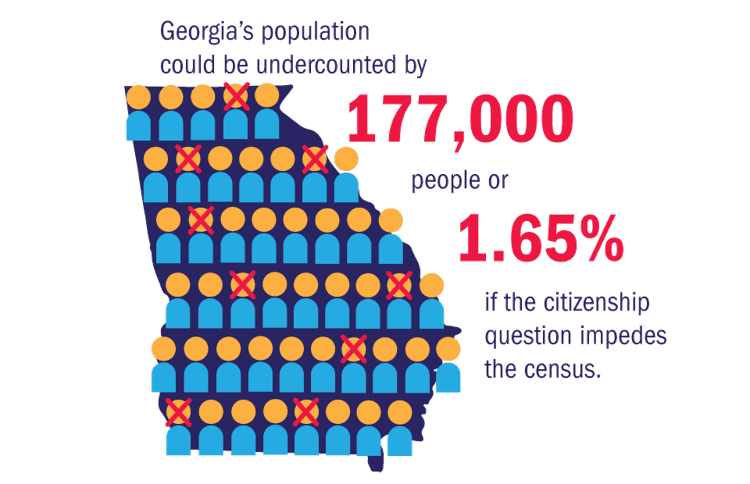 The citizenship question would have, in fact, led to serious undercounts of minority voters. The Census Scientific Advisory Committee rebuked claims that it would help enforce the Voting Rights Act, calling the administration's logic flawed and warning the question would hurt the Census Bureau's nonpartisan image. For safety reasons, undocumented immigrants would rather avoid being counted than state their status. In Georgia, the effects of undercounts would be staggering.  
According to the Urban Institute, without undocumented immigrants, the population of Georgia could potentially be undercounted by around 177,000 people or 1.65%. A smaller population can have negative effects on the state. With a smaller number of people counted, Georgia would receive less federal funding and could lose representatives in the House of Representatives.
After a confusing week in which the administration appeared to back off before President Donald Trump overruled his officials and promised to move ahead with the citizenship question, President Trump has finally agreed not to include the citizenship question. Instead, he has directed federal agencies to determine the number of citizens, a move that will not affect congressional districting or funding.
Addition of the citizenship question would increase Republican power by decreasing minority counts. In light of the evidence, the claim that the question is needed so the Justice Department can enforce the Voting Rights Act feels ironic. To protect the minority citizens' voting power, Trump must follow the Supreme Court's ruling and omit the citizenship question.