Before spring break, the University of Georgia campus was bustling with busy students moving from class to class. Buildings were still open, students were still studying for long hours at the Main Library and professors were discussing past or upcoming midterm exams with their students. 
When UGA announced a two-week suspension of in-person instruction on the Thursday of spring break, however, they also "strongly encouraged" students to remain away from campus and from their dorms. An email sent to UGA faculty, staff and students instructed those who traveled outside of the U.S. for spring break to "not return to a UGA campus or facility" in order to prevent the spread of the novel coronavirus. 
As UGA commands, it shall be done: when campus should have been flooded with busy students returning from their spring break travels, it instead remained empty. The Main Library remained closed, and campus was void of students and people, save for the few who went to north campus to enjoy its greenery and get some fresh air.
As the spring 2020 semester has concluded, The Red & Black asked students to look back on their spring on-campus class and social schedule. We visited where they might have gone on a daily or weekly basis and compiled videos of these locations to show the emptiness of campus. It's important to remember this emptiness, so that we can value togetherness once we have it again.
Baldwin Hall at 9:05 a.m
Wednesday was Kennedy Cleveland's busiest day on the UGA campus. In her sophomore year, Cleveland juggled early classes, studying and rehearsal for the Black Theatrical Ensemble, of which she was on the executive board. Her first class was political economy at Baldwin Hall at 9:05 a.m.
Now, Baldwin Hall at 9:05 seems empty. The doors are locked, and the halls are dark. 
Bolton Dining Commons at 11:15 a.m
Junior real estate major Aaron Thomas always took a break to eat lunch at 11:15 a.m-12:05 p.m on Tuesdays. Thomas was on the commuter meal plan, so he would stop at Bolton in between classes to grab a bite to eat. 
Now, the intersection at Lumpkin and Baldwin streets at that time has no students. Usually, dozens of students would wait to cross the normally-busy intersection. There is also construction on this section of Lumpkin street — something which, if school were in session and students were driving on Athens streets, might cause painful traffic back-ups.
After stopping by Bolton, Thomas would make his way to the Tate Student Center Starbucks to grab a coffee while on his way to his 12:30 class. "That was a daily thing," Thomas said.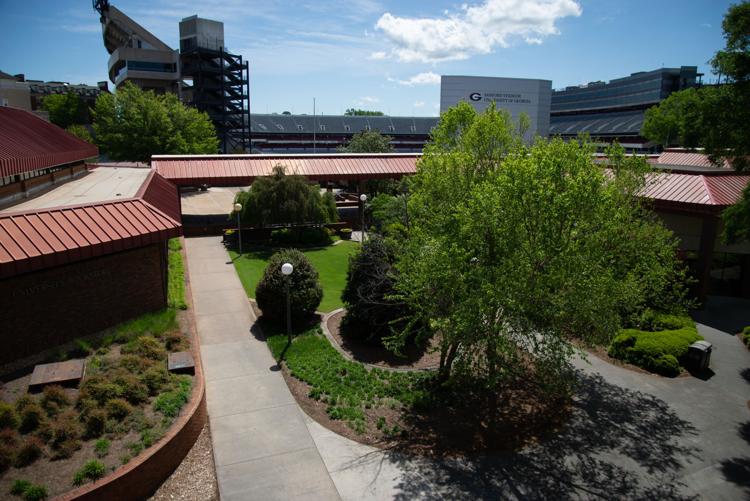 North Campus at 2:00 p.m.
Cleveland would walk up to Old College to her communications course at 2:00 p.m on Tuesdays and Thursdays. Instead of students going from class to class, or to the Main Library, this part of campus is scattered with people picnicking and walking.
East Campus at 5 p.m.
After a long day of classes, junior music education major Lauren Covington would make her way to the Performing Arts Center or Edge Hall for an evening concert. Viewing concerts are usually required for her major, Covington said.
Grindhouse Killer Burgers at 6 p.m.
On the weekends, Thomas said he and his friends loved going to Grindhouse Killer Burgers in the Five Points neighborhood. Going there, or to El Barrio, was convenient to their house near Milledge Avenue.
Grindhouse has now shifted to to-go only and to limited hours.
Main Library at 8:30 p.m.
Covington would work out at her apartment and make her way back to campus to study at the Main Library. She would arrive at 8:30 p.m and stay until 11 p.m usually.
The Main Library is now closed and only open to staff members. As summer comes, the sunlight lasts until this hour, whereas before spring break the Main Library would be surrounded by the darkness of nightfall.
Downtown Athens at 10:30 p.m.
"Unpopular opinion, but we'd love to go to Flanagan's," Thomas said of him and his friends. 
Thomas and a group of his friends would enjoy Athens' nightlife when the bars were open. Although Georgia's shelter-in-place order expired on April 30, Flanagan's — and many other bars downtown — remain closed until further notice from the Georgia government. 
On Friday nights at 10:30, people would be flooding the streets, and some bars would have lines to get in. Now, closed doors make downtown Athens seem like a shell of a once-thriving town.