Susan Tinch knows how to eat boiled peanuts. With her South Georgia roots, it's second nature.
She cracks the shell with her fingers and sucks the brine out of the side of the peanut even before opening it. Then she eats the nut inside. 
The Oconee County resident did this as she sampled some of Harley's Fresh Boiled Peanuts on a Saturday morning at the Oconee County Farmers Market. Her rating? 
"It's perfect." 
Larry Griffis, the man behind the boiled peanut stand, smiled at his new customer. 
"See? This is why I do it," he said. 
His boiled peanuts follow Southern tradition. Two big pots on a small trailer keep salt and Cajun peanuts warm while more peanuts lay in bags in a big cooler behind them. It's a simple setup, one that's similar to popup stands on the side of the road, many of the times advertised with handwritten "BOIL P-NUTS" signs — something that hasn't changed much since Griffis, now 68, was a kid.
He always encourages his customers to crack open the peanut with their teeth. The shell is the most flavorful part.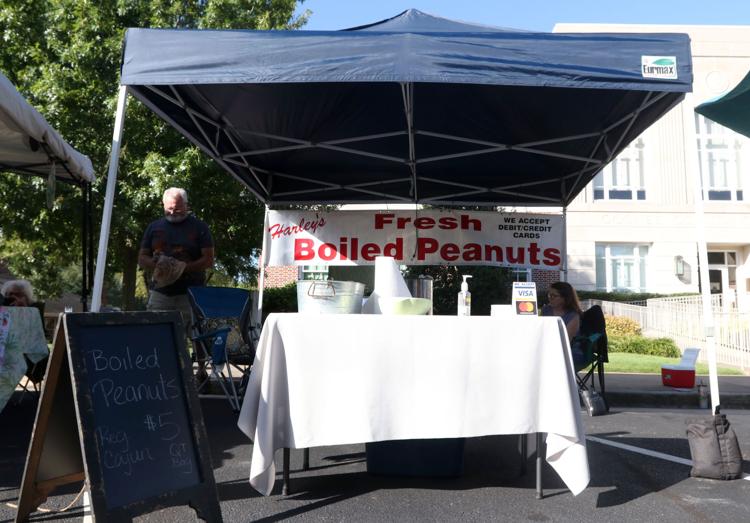 "The proper way to eat a peanut — I kid people here — if you want to taste the peanut, you got to open it with your mouth," Griffis said. "And that is the proper way."
Boiled peanuts have been around for centuries, and many Southerners may not even remember the first time they tried them. Outside the region, though, people don't have the same love for the soft-shelled snack, but it's an integral part of the Southern foodways, especially now during football season.
Tinch remembers eating boiled peanuts while listening to Georgia football games on the radio, or her family would stop for a bag on their way to Sanford Stadium for a Saturday game. Football season starts as the peanuts ripen, and she said the fall is really the only time to eat the snack.
Like many of the most famous Southern treats, it started with the slave trade, said Robert Moss, a culinary historian for Serious Eats.
"African-Americans would grow them in their garden plots and cook them for their families," Moss said. "It was definitely part of the African culinary tradition." 
Peanuts are actually native to South America, Moss said, but they'll grow well in any warm climate. They're also not really nuts. They're legumes, which means they're in the pea family. The Portugese brought them over to west Africa, and Africans brought them as a food staple into the U.S. Boiling them was a cooking technique by black slaves. 
The origin story may not even be known to native Southerners. Popular folklore says starving Confederate soldiers boiled peanuts out of desperation, and they turned out to be delicious. Moss said letters from these soldiers during the time contradicts this story, which ignores the major contributions African-Americans made to culinary tradition in the South.
"Both in the African-American communities and the white communities in the South, late 19th century and early 20th century, you see boiled peanuts, particularly in South Carolina," Moss said.
---
"The proper way to eat a peanut — I kid people here — if you want to taste the peanut, you got to open it with your mouth."
-Larry Griffis, 68
---
From there, boiled peanuts stretched into Georgia and North Florida, Moss said, though the food remains tightly regional. He found newspapers in Virginia, a prominent peanut-growing state, baffled at the thought of boiling them.
Griffis, another South Georgia native, remembers peanuts as an integral part of his childhood. He grew up a sharecropper's son in the 1950s. 
"There wasn't a lot of money, and peanuts were just a treat that we looked forward to," Griffis said. "And the reason they were there is because they served more than one purpose." 
Peanuts were a good crop because they add nitrogen into the soil and the leaves can be used to feed livestock. Peanuts were everywhere, and Tinch and Griffis associate boiled peanuts with festivities with family and friends.
Roadside stands boomed during the fall months because that's when peanuts ripen. These freshly harvested peanuts are called green peanuts and still have moisture in them, which means they can be boiled in a couple hours. Griffis and his cousins used to steal into the fields to eat green peanuts.
"What we would do, we would go to the very end of the peanut patch," Griffis said. "We would pull them up from that end, trying to get a few in without getting caught. It was just candy to us."
Now Griffis orders raw peanuts, which are completely dried, from New Mexico so he is able to sell anytime of the year. He said Georgia farms have moved toward big-business white peanut growing for peanut butter and other products, and he prefers red peanuts to boil. 
Despite cultural changes over the past 100 years, boiled peanuts have stayed mostly an unaltered tradition. There's still no big brands that sell them. 
There are a few options on grocery shelves, such as Peanut Patch Boiled Peanuts, but Griffis and Tinch agreed that part of the allure of the snack is the atmosphere around them. Popping open a can from a shelf doesn't have the same effect as buying a dripping bag from a fellow Southerner.
"I had some friends come in from another state, and people told them they should try the boiled peanuts," Tinch said. "They got some in a can from the grocery store. And I was like, 'What? No!'"
But Ted and Matt Lee, Southern chefs who grew up in Charleston, missed the unique flavor of boiled peanuts and figured other people out of the South did as well. They run a business where they ship traditional Southern foods anywhere for customers — including canned boiled peanuts. 
"They have an original flavor that's not similar to anything else, really," Ted Lee said. "We were upset initially that they weren't available in New York City, where I think we understand you can get pretty much anything." 
The two are fascinated with the food, which they consider an embodiment of Southern culture. Cracking open a shell isn't just a burst of salty flavor. It's also a burst of regional pride. 
"The aura around boiled peanuts invites an anti-establishment, anti-commercial mindset, and I think Southerners like to rally around those kinds of things," Lee said.