It was deceptively warm on the fourth floor of the Zell B. Miller Learning Center this weekend.
As the year's first snowfall in Athens graced campus, more than 500 attendees of the UGAHacks Hackathon packed into the MLC for 36 hours of coding, workshops and anything else but sleep. 
UGAHacks 5, hosted from Feb. 7-9, was the fifth annual hackathon at the University of Georgia. Students from all across campus — and some from other schools, such as Georgia Institute of Technology and Georgia Gwinnett College — created websites, video games and other projects.
Day One: Where it all began
Emmanuel Oni, Pranay Kumar and Marlon Nuñez were not very confident at the start of the tournament.
"We're starting off high energy, high everything, but we're going down fast," Kumar said.
Oni, a first-time UGAHacks competitor, was a volunteer at the previous hackathon. His teammates, Kumar and Nuñez, competed in last year's hackathon. The trio met in a computer science class and joined the hackathon, hoping to gain more experience.
"Hopefully we can get at least something that works and submit it. We might not win anything, but as long as we [have] something, that's important," Oni said. "I'm nervous, but excited to see what we come up with."
Following the opening ceremony on Friday at 6:30 p.m., teams were allowed to begin working on their projects, marking the beginning of a 36-hour marathon.
Friday night was also the beginning of several challenges and workshops, including Capture the Flag, a series of hacking challenges, and a first-time hacker workshop.
Day Two: Snowed-in
Saturday saw the arrival of the snow spectacle in Athens, luring coders out of their study rooms. The preceding night, which was the first full night of the hackathon, also marked the beginning of sleep deprivation for many hackers.
Here are some scenes from @UGAHacks Hackathon day 2 (snowpocalypse edition): pic.twitter.com/hoyxQtvZcZ

— Sherry Liang (@SherryLiang) February 8, 2020
With their table covered in coffee cups, a bottle of mouthwash and rubber ducks, Zachary Idrees found a coping mechanism in talking to the rubber ducks. Studying computer science at Georgia Gwinnett College, Idrees learned the "rubber duck debugging" method as a way to holistically evaluate his programs.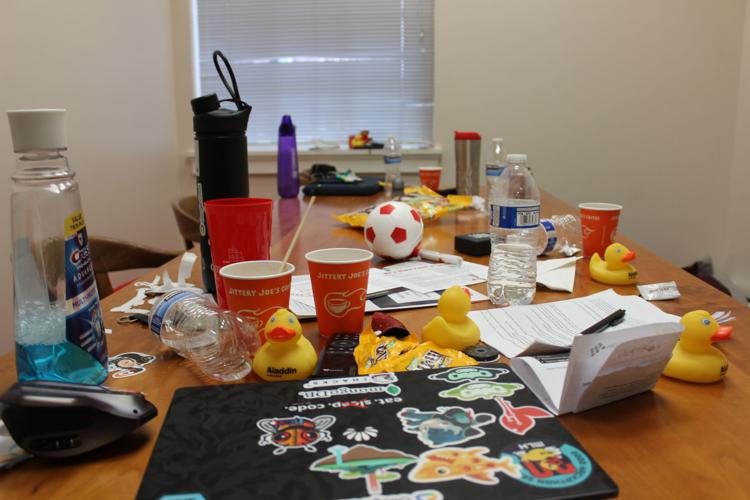 "When you think about code, you only think in a way that only you know," Idrees said. "But if you talk to the duck and you actually say everything, you realize the flaws of your program."
"It's a proven method. It's called the rubber duck method," Idrees's seemingly napping teammate added from the floor.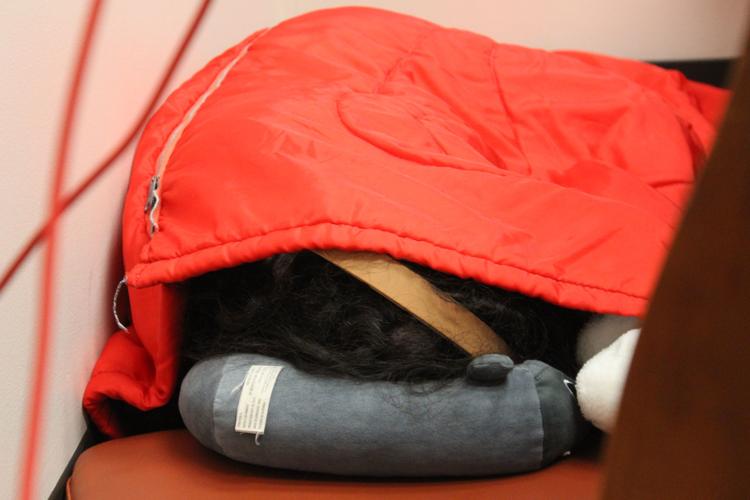 Throughout the day and into the night, tensions and stress levels began running high for teams scrambling to make their programs work. Oni, Kumar and Nuñez decided to work on a Twitter data analysis system that evaluates the feedback toward a person based on the sentiment of the Tweets about them while analyzing if the Tweets were written by bots.
"We started out slow, and now we're hurrying because we're realizing that we're running out of time," Kumar said near the end of day two. "Tomorrow ain't happening until we finish this."
While the projects submitted for competition were a large focus of the event, many participants joined for the workshops and learning experiences. This year's UGAHacks Hackathon was the second for Markisha Fuller, a senior computer systems engineering major. While Fuller did not create a project to turn in, she said she attended to learn from the workshops and other people's projects.
"Learning something new is always fun," Fuller said. "I'm really excited just to see what people come up with because there's always really good projects."
Workshops were scattered throughout the weekend to give participants an opportunity to practice their skills and meet the sponsors. PricewaterhouseCoopers hosted a cybersecurity workshop to walk students through certain cybersecurity scenarios. UGA alumnus and PwC experienced associate Sean Pollitt said coming back to UGA and teaching students about the work he does is his favorite part about the weekend.
"There's nothing that I think is more human than to turn around and help other people," Pollitt said.
Fuller was not the only hackathon attendee to take a less competitive approach. Team members Caroline Umila, Sharanya Pillalamarri and Shyla Tolani took a break in the designated "Chill Room" before attending more workshops on Saturday. Their idea was an app resembling the concept of a "Finsta [fake Instagram]," where people can share personal emotions with their friends. However, they said they took their first hackathon in stride, as "there's not a lot of expectation for us."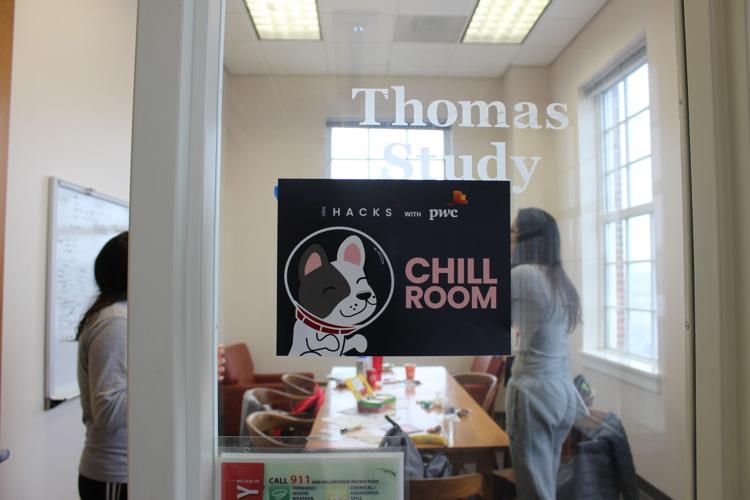 Danny Lopez, an event organizer, said there is a place for everyone at the hackathon, from competitive coders to first-time hackers.
"If you're here dedicated to making a complete project, you can. If you're just here to feel things around, there're workshops, there're chill rooms," Lopez said. "Because not everyone has the same experience, and we want everyone to enjoy their time here."
At 11 p.m. on Saturday, Lopez emceed a tournament for Super Smash Bros., a Nintendo fighting game, which gave attendees a midnight break. With monitors, controllers and Nintendo Switches set up at each station, teams dueled it out into Sunday. Lopez's favorite part about the Smash tournament?
"Screaming at people," Lopez said.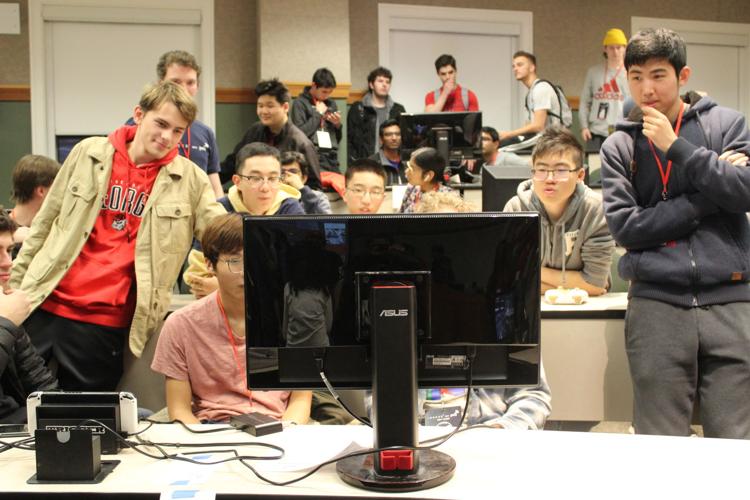 As one of the hackathon's organizers, Lopez has been on duty throughout the weekend with a not-so-coveted 3-6 a.m. shift post-Smash tournament. Between organizing meals and helping participants, Lopez said his main takeaway as a first-time organizer is that "teamwork makes the dream work, not gonna lie." Lopez said throughout the weekend, organizers and volunteers take care of each other — reminding one another to stay motivated and hydrated.
"When you're helping out you kind of just forget how to function as a human," Lopez said.
Looking ahead to post-hackathon, Lopez said he hoped the snow surprise earlier in the day would carry over to Monday.
"Hopefully I can get some homework done and then school's going to start — maybe it'll snow Monday," Lopez said. "Catch up on sleep and homework — that's the goal."
Day Three: Factory reset
At the end of 36 hours on Sunday, the culmination of sweat — and maybe a few tears — wafted through the halls of the fourth floor. Study room doors were left ajar as participants flooded the expo to spectate other teams' projects and present their own. Judges, consisting of the UGAHacks executive board, sponsors and professors, evaluated the projects based on a number of criteria to award the top teams during the closing ceremony.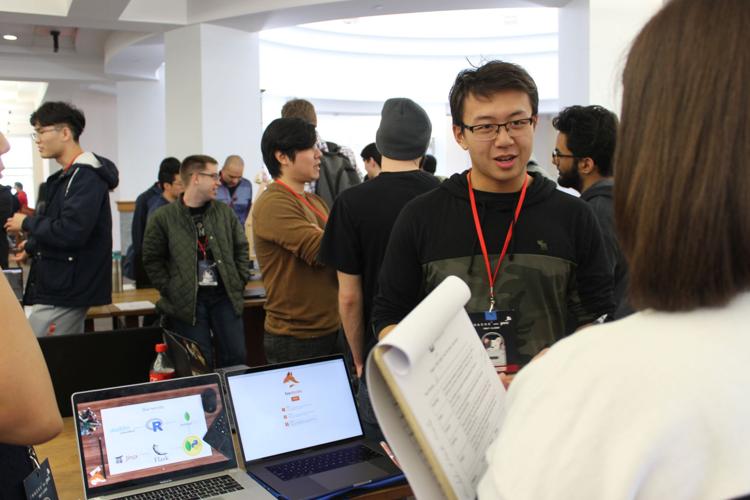 Throughout the night, some teams turned their products in on Devpost, an online platform for hackathons, while others chose not to submit. With the 9 a.m. deadline looming, sleep was secondary for teams scrambling to meet the deadline.
In the middle of the night, Oni, Kumar and Nuñez decided against turning their project in due to a dysfunctional aspect of their program. However, Kumar and Nuñez still attended the expo to view the other teams' projects.
Kumar said while they did not turn a project in, the hackathon was still a valuable learning experience, and he said they hope to practice more at other hackathons between now and next year.
"We learned quite a bit — we did a lot more than last time," Kumar said. "We'll definitely do it again next year."
The closing ceremony marked the end of the marathon, as sponsors and organizers doled out awards to the winners of challenges, raffles and overall prizes. From Google Home Minis and monitors to AirPods and Nintendo Switches, six teams out of the 70 submissions won awards in the overall UGAHacks categories, and several others received prizes from sponsors.
As the curtains closed for UGAHacks 5, planning for next year's hackathon began almost immediately. Logistics Director Glen George was named the director of UGAHacks 6.
"We are hoping for an even grander event next year," George said. "I can't wait, and I'm already excited, but there is a lot of work to do."