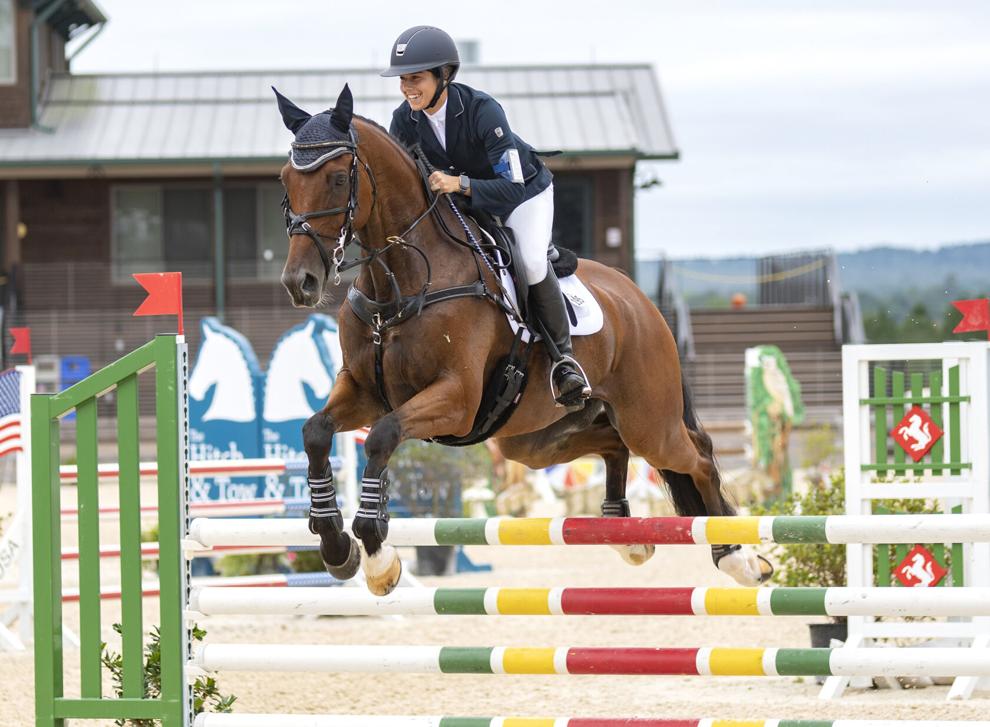 Sophie Tallman wakes up no later than 6 a.m. almost every morning. She rolls out of bed, does her morning routine and heads to the gym to work out. From the gym she goes to practice, then to class either remotely or in person and then to her main job working with horses on High Point Farm in Watkinsville.
From her main job, she goes home in Athens and works a second job remotely as a social media manager. After that is done, she does homework and completes tasks as the president of her club sport. Sleep happens too, but not a lot of it. That's just part of being an eventing athlete.
The women of the University of Georgia eventing team come from many backgrounds. Some have families in the horse business, others fell in love with ponies when they were little, begged for riding lessons, and never outgrew it. Despite the dangers associated with working with horses, the thrill and love of the sport and animal kept them coming back.
Eventing explained
The Olympic sport of eventing is a triathlon with a half-ton horse to keep under control. There are three phases of competition: dressage, stadium jumping and cross country. Like golf, the horse and rider team with the lowest score, meaning fewest penalties, takes first place.
The competitions can start at lower levels with easier courses and lower jumps for horses and riders learning the ropes, and they work their way up to levels ranked by stars, with the five-star being the peak of the sport.
The competition begins with dressage, a French word which means "training," where the horse and rider perform a set of movements to show calm collection, obedience and poise. It is in this first phase that each pair receives a base score.
Stadium jumping is a course made up of a set of knockable jumps, where horse and rider combinations are penalized for each jump they knock over, or if the horse refuses to clear an obstacle. Four points are added to the base score for each pole knocked. This phase generally occurs on the last day of competition.
Dressage and stadium jumping are not vastly different from what the University of Georgia Athletic Association-sponsored English equestrian team competes. It is the cross country phase that sets eventing apart from any other discipline of equestrian sports.
Cross country is a phase of competition in which horse and rider gallop across open fields, through bodies of shallow water jumping over solid obstacles, over ditches and up and off of hills mounds. The obstacles are much more natural-looking than show jumps and commonly consist of log piles and brush. To finish without collecting penalties means the rider has not gone over the time allowed, and the horse has not refused to jump any obstacles.
UGA eventing president Sophie Tallman cleans out stalls at High Point Farm on Nov. 23, 2020, in Watkinsville, Georgia. (Photo/ Kathryn Skeean, kskeean@randb.com)
---
"It's just like the thrill of it," rider Carter McInnis said. "[You] feel like you're floating. [It's] kind of terrifying sometimes, but it's the feeling of coming across the finish line knowing you did really well — you've worked so hard to get there. That's probably the best."
But getting to that finish line without penalties is no easy feat.
Danger and dedication
The danger is just one obstacle between riders, their horses and the finish line.
Ask any eventer about a "rotational fall," and a shiver runs down their spine. It's a dramatic fall in which the horse flips over the jump, sometimes falling on and crushing the rider below them. It's that type of fall that kills most riders who die during competition.
It's the same kind of fall that happened to McInnis November 2019.
"He [her horse] went to take off of the ground a little too late to the fence and hit it and ended up flipping on top of me," McInnis said. "I broke my collarbone in half."
Although it's an NCAA-sanctioned sport, Tallman said eventing is a sport so dangerous that it will likely not become a varsity Division I sport like Georgia's equestrian team. This is because of the liability and high insurance costs surrounding eventing, she said.
Between 1993 and 2015, 59 riders died while competing in the sport, according to a 2016 article published in the academic journal Animals. From 2000 to 2016, there were on average two deaths per year in NCAA football, according to a 2017 article in the Journal of Athletic Training, and that is with an exponentially larger pool of athletes.
Beyond surviving, there are packed schedules, training and financial hurdles.
Tallman scheduled her flights home to Connecticut for Thanksgiving to make ample time for riding her horses in Watkinsville soon before and after the holiday. On the Friday after Thanksgiving, she returned and rode that day as well. The riders take a few days off.
Tallman and her teammate, Magdalena Valenti, have both completed online tests for school while out at competitions. Valenti once took an exam right before riding the cross country phase.
"Magdalena was about to run, I think it might have been the three-star, and she was taking a test, literally at the horse show in the stabling area," Tallman said.
Stadium jumping is a course made up of a set of knockable jumps, where horse and rider combinations are penalized for each jump they knock over, or if the horse refuses to clear an obstacle. (Video/ Kathryn Skeean, kskeean@randb.com)
---
Training is another vital aspect. It's conditioning not only for the rider, but also for the horse. The horses have a fitness schedule like their rider, and their bodies have to be kept in shape like any other professional athlete.
Some of the horses of the UGA eventing team are routinely seen by a chiropractor and a sports masseuse. Tallman's horse Parker gets breathing treatments. The treatments are on top of the routine veterinarian visits and a farrier to fit shoes and make sure their horses' feet are healthy and strong to maintain high speeds and hurdle fences.
All of this maintenance costs money, and this comes without monetary support from the school — it's all out of pocket. Non-UGA rider Jenna Craven said her bills average out to be about $1,953.33 per month to maintain and compete her horse. To put that in perspective, the median amount American homeowners paid toward their mortgage in 2018 was $1,556 per month, according to Business Insider.
So why do they do it?
It costs an absurd amount of money. They do not get the athletic association perks, such as school scholarships, free equipment or waived competition fees. It's statistically dangerous, and the workload is tremendous.
The answer: for the love of the sport.
Even after her horrific accident, McInnis and her horse Dylan are back at it and "better than ever," she said. For her, like many other riders, it's an escape that makes the 6 a.m. wake-up call worth it.
"The horses themselves have just been kind of my happy place and escape," McInnis said. "I can always go there. If anything else is going wrong in my life, anything else is hard, I always have this to come out to."