The first thing you see when you walk into the small, rectangular kitchen is a large glass box. Your heart rate speeds up as a ticking noise fills the space and your eyes catch on a small digital timer, its numbers counting down the minutes and seconds you have to defuse the bomb.
This adrenaline-pumping experience is one of four escape rooms have created for their customers at Escape the Space in Athens. The two were inspired to begin their business after Alicia signed her husband up for an escape room experience on a whim while vacationing in Orlando. After returning to Athens, they decided to open their own escape room in 2014.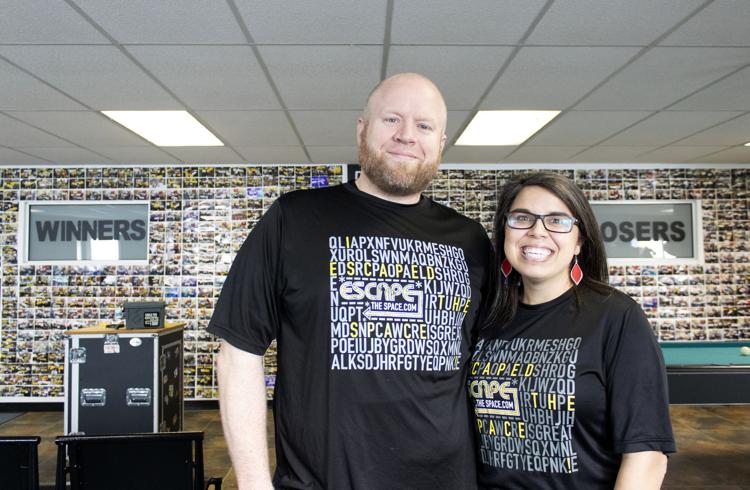 At the time, escape rooms were only in the beginning stages of becoming a popularized form of entertainment. When the Brashers went to get their business license, the city had trouble classifying Escape the Space and eventually classified it as an interactive art exhibit, Alicia said.
"I didn't anticipate it growing into this," Alicia said. "We have a heart for Athens and [we were] like, 'That would be super awesome.' And it's definitely just a fun, different thing to do in town."
Escape rooms, which usually involve locking a group of people in a room for about an hour, require a group of people to work together to solve a series of puzzles and achieve a specific goal.
The history of escape rooms dates back to video games. "Crimson Room," created by Toshimitsu Takagi in 2004, is considered its early predecessor. The game involved finding items and solving puzzles to get out of a normal looking room. In 2007, the first real-life escape room was opened in Japan and by 2012, escape rooms made their U.S. debut in San Francisco, according to Big Escape Rooms, an Atlanta-based escape room company.
Escape the Space was only the second escape room in Georgia when it opened but is now one of over 40 businesses in the state that offer the immersive experience. In the U.S., there are more than 2,300 escape room locations, according to the Room Escape Artist.
As escape rooms increase in popularity, more money, time and technology are invested to create a better experience. However, some businesses are taking advantage of the popularity of the experience and are using it to build a new, transportable business model, such as Locked In Fun and Roaming Riddle.
Campus Escapes, an entertainment company owned by Kirkland Productions, is based out of California and brings four mobile escape rooms to college campuses across the country.
On Tuesday, Jan. 14, UGA's University Union partnered with the company to provide the escape room experiences to students at Tate Student Center. Nicole Snell, Campus Escapes' program manager, was at the event and said students' enjoyment and teamwork make them an interesting group to interact with.
Solving the secret
For the Brashers, designing an escape room is an ongoing creative and collaborative process.
"The way that we design the rooms and the way that things come together … morphs as we grow as well because we learn things after every single escape room since we are creating them," Alicia said.
First, they choose a theme that revolves around a story that other other escape rooms wouldn't do — their current rooms are Athens Arcade, The Bunk'r, "Home Alone" Again and Bomb Defusal Training. They then block off about a month to flip the rooms, which involves tearing down the old one and finding props to complete the new one.
---
"It has to be hard, but it has to be solvable." — Andrew Brasher, owner of Escape the Space
---
To create the individual puzzles within the rooms themselves, the Brashers said they learn from each group that plays one of their rooms.
"It's a really intense thing where you spend a really personal amount of time like, 'what if someone couldn't do this kind of puzzle … what would capture them?" Andrew said. "You try to do every room where every mindset of every person could find something to attach to and be like, that's fun, that's cool."
To find the detailed props, which often act as parts of a puzzle, the Brashers visit stores such as the Athens Area Habitat for Humanity ReStores — where they found a collection of student desks that laid the foundation for a school detention room — the Project Safe Thrift Store and Atlanta Mission, as well as antique shops.
Campus Escapes also utilizes a diverse array of puzzles and themed props in its rooms — it's '80s-themed room features Michael Jackson records and a "Back to the Future" poster. But unlike brick-and-mortar locations, all of the props for each room must fit into two suitcases, Snell said.
An aspect of the escape rooms that sets Campus Escapes apart from places like Escape the Space is the character, or game operator, in each room. These individuals are dressed to match the theme of the room and can provide tips for struggling groups and make sure the students don't do anything they shouldn't, Snell said.
Tricks of the trade
When customers arrive at Escape the Space, one of the first things they'll notice as they walk through the hallway are pictures of beaming people holding signs proclaiming they escaped. Others with mock frowns hold signs reading "#FailedEscapes." The photos continue into the large waiting room, and among the snapshots is the company's success and fail rate, something Andrew takes very seriously.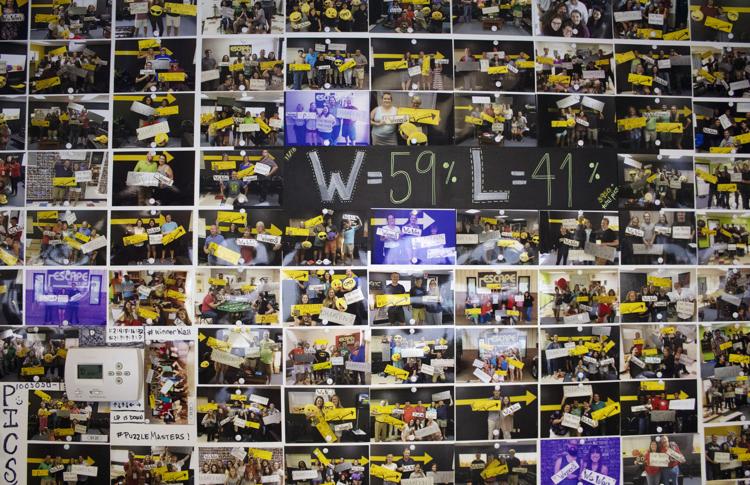 "It's super duper important to me that we stay at like a 60% success rate," Andrew said. "If I veer towards 50, we are doing it wrong and if it veers towards 70 it is uber wrong. It has to be hard, but it has to be solvable."
The Brashers said the majority of groups who fail often do so because they don't pay attention when the game is being explained, don't communicate during the game or refuse to use any of the three "lifelines" they have when they need help.
From the dedication to maintaining the win-lose ratio to the thoughtful precision put into each escape room, the Brashers are dedicated to building a business that is centered around their motto, "creating smiles."
"The business is a gift to us," Andrew said. "Like, oh man, I love it. It's constant amazement and it's something that we get to experience but we get to watch other people experience every single day."