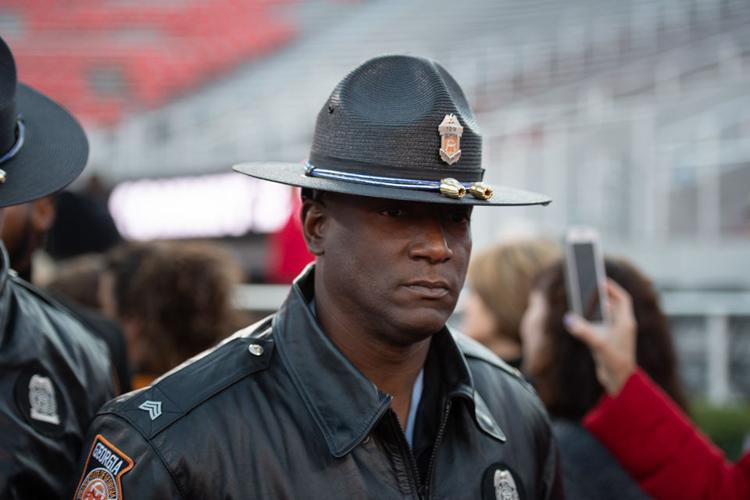 Sgt. O'Neal Saddler looked around and was in disbelief that he had made it to the Rose Bowl on Jan. 1, 2018. He said he talks about that moment in Pasadena, California, every weekend — but not because he coached or played in the game.
Instead, Saddler was seen on the sidelines wearing a bomber jacket and campaign hat: the outfit worn by a state trooper.
"That was the best week we've had since we've been on football," Saddler said.
Saddler is a Georgia State Patrol sergeant and part of Georgia head coach Kirby Smart's security team. Saddler is based out of Duluth, Georgia, at Gwinnett Post 51 and has been with the state patrol for 19 years.
He was given the Georgia football assignment nine years ago, he said, when the command staff asked if he wanted to join the detail. Saddler said it was a dream come true. He had been a Georgia fan his entire life and would now be working with the Bulldogs.
But Saddler didn't know that in the process, he would also become a part of the team.
"They make life much easier on us and much safer on our communities," Smart said. "Right now, it's probably one of the most thankless jobs out there."
Tradition from Tuscaloosa
Bear Bryant, the legendary former head coach at Alabama from 1958-82, began the trend in the late 1950s, according to ESPN. Bryant was the first coach to use a state police escort. Naturally, every other coach had to follow suit.
"[Bryant] had more than one or two troopers," said Vince Dooley, Georgia's head coach from 1964-88. "He had a whole squadron of troopers. It must have been five on each side of him as I remember. He set a high standard with so many of them."
Dooley said he was only allowed two troopers, but he felt like the number was sufficient. Smart also has two.
---
"They trust us. We're there with them, so we see the highs and the lows. We see everything."
-Sgt. O'Neal Saddler
---
State troopers are more likely to be seen in higher frequency alongside SEC teams than other divisions, Trooper First Class Matthew Miles said. Typically, these state troopers assigned to a coach and football program are also fans of that team, Dooley said.
Saddler is no exception to this rule.
"[It] probably wouldn't be wise to give troopers that may be a Florida fan or a rival fan," Dooley said. "They were naturally Georgia fans to start with, and that loyalty grew as they were around the team more and more because they felt a special closeness to the team. It was only natural that they would feel [like] a part of the team."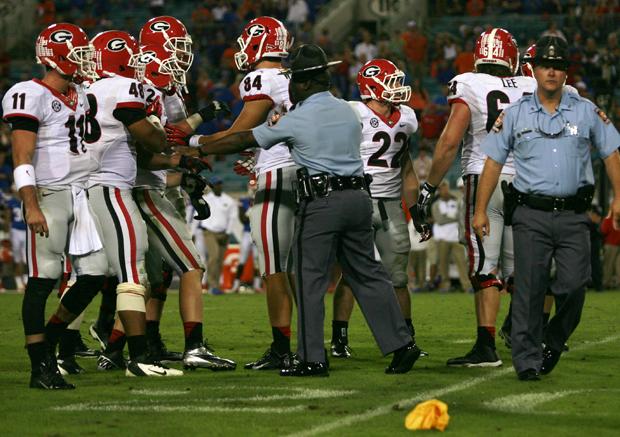 Gameday Between the Hedges
For Saddler, each gameday looks different. His plans for the weekend are based on what the coach submits as the team's schedule. What stays consistent, however, is that the troopers join the team on Fridays and always stay with them closely through the weekend.
Saddler works with Miles, and the two work out a detailed plan for the weekend. Miles has been on the football detail for seven years.
The weekend of the Missouri game on Nov. 9 was fun for Saddler and Miles, who went to the movie theater with the team the night before the game.
Saddler has become especially close with players Ben Cleveland, Charlie Woerner and Zamir White.
"[We are] actually Facebook friends and everything," Saddler said. "They comment on our Facebook pages. They follow us on Twitter, those kind of things."
On Saturdays, Saddler runs out of the tunnel with his favorite team and paces the sidelines after kickoff.
"I get caught hand bumping and fist bumping, but mainly we just understand the job [comes] first," Saddler said. "It's hard not to get emotional with the guys because you are spending a lot of time with the football players and the coaches."
All of the time spent together gives Saddler's title deeper meaning. Anywhere the team goes, Saddler is not far behind.
"They trust us," Saddler said. "We're there with them, so we see the highs and the lows. We see everything."
Sworn to protect
Saddler travels to all away games with the team, which means he is away from his family for at least five weekends every fall. But he said his wife and two sons understand the job he has to do. Georgia allows his entire family to travel to bowl games together each postseason.
Not every part of Saddler's job is glamorous. Between having to handle outrageous fans and reporters who knock into Smart to get an interview, Saddler still has an enforcement role to play.
An unforeseen circumstance occurred in a game between Georgia and Arkansas.
"The guy snuck in the locker room, got in the players' bathroom and we had to physically remove him out," Saddler said.
Although he hasn't had to deal with Georgia students and fans rushing the field, Saddler leads Smart to where he is supposed to go after an emotional win. This includes anything from a postgame interview with a sideline reporter to a press conference with the media.
Saddler will be with the Georgia football team for at least a few more weeks this season after its victory over Auburn on Nov. 16. The Bulldogs punched their ticket to the SEC Championship game and have hopes of making it as far as they did two seasons ago when they reached the Rose Bowl and the national championship game.
Smart appreciates the work Saddler does and the connection they have made.
"It's such a privilege to have a relationship with someone who gives so much to our community [and] to our state and gives so much back to us," Smart said.