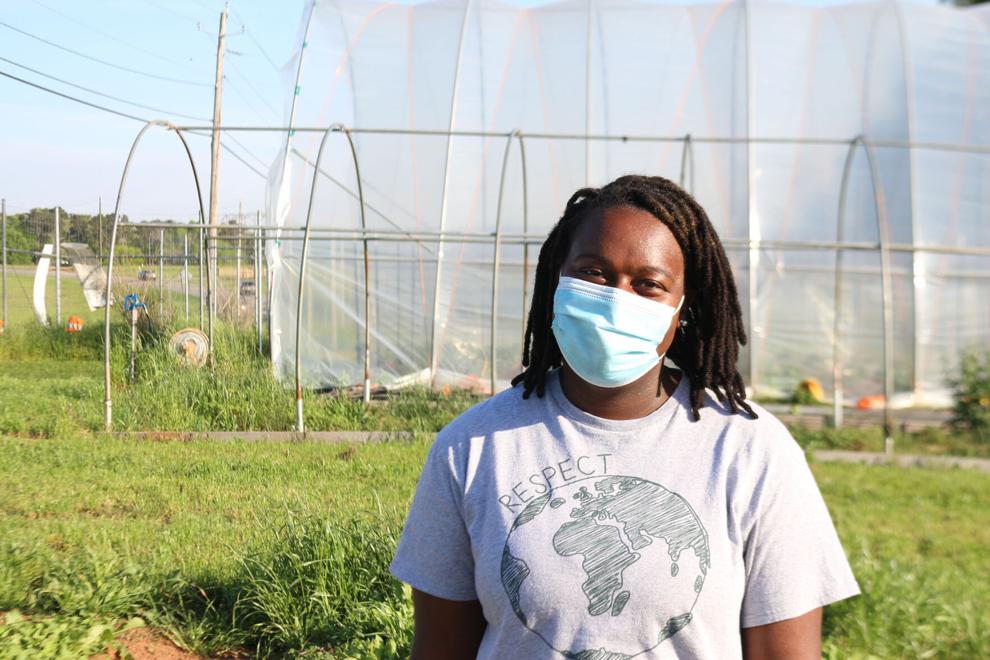 Kristen Dunning spoke proudly as she walked down the rows of herbs she'd grown at UGArden, a community farm supported by University of Georgia students and faculty. She'd just harvested, and only a few small, orange flowers blossomed from the green carpet below. 
Dunning, who graduated from UGA's College of Agricultural and Environmental Sciences on May 15, uses the flowers' medicinal properties to create good-smelling, skin-friendly homemade soap. She grows nearly 100% of her herbal ingredients at UGArden and sells her products through Gently Herbal Skincare, the low-waste business she started in October 2020.
"The effort that she's putting in is phenomenal," said Meagan Perry, Dunning's friend and a Gently customer since the business' first week. "It's unheard of for me, especially someone that's still a student. She just has so much going on, [and] she does it all so well."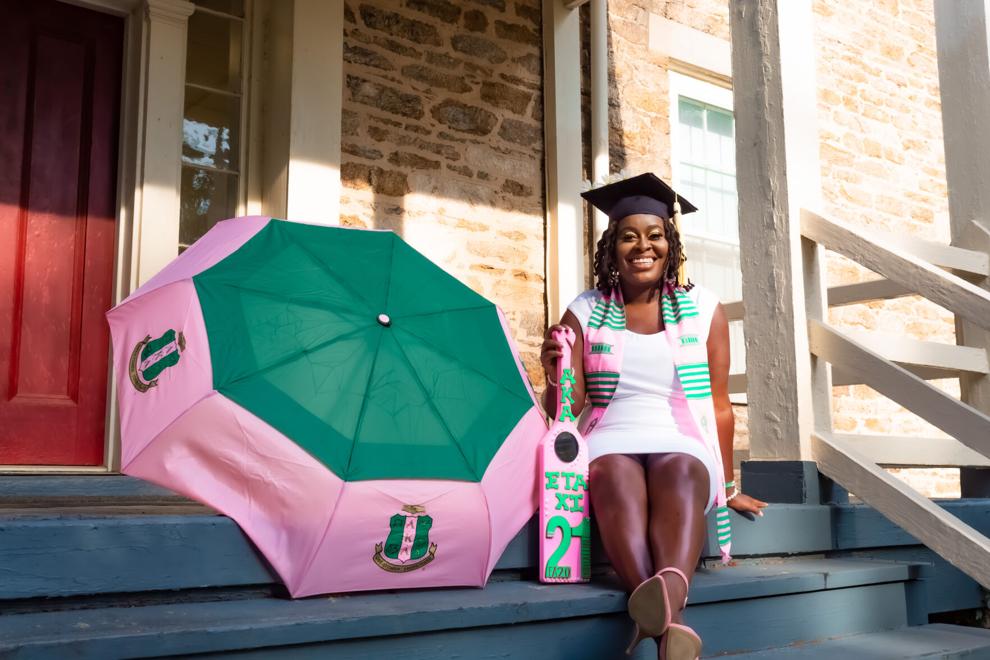 The 21-year-old didn't get much of a break after graduating — her graduate school program began on May 18. But a busy schedule is all too familiar to the entrepreneur, researcher and liaison for the Georgia Farm Bureau.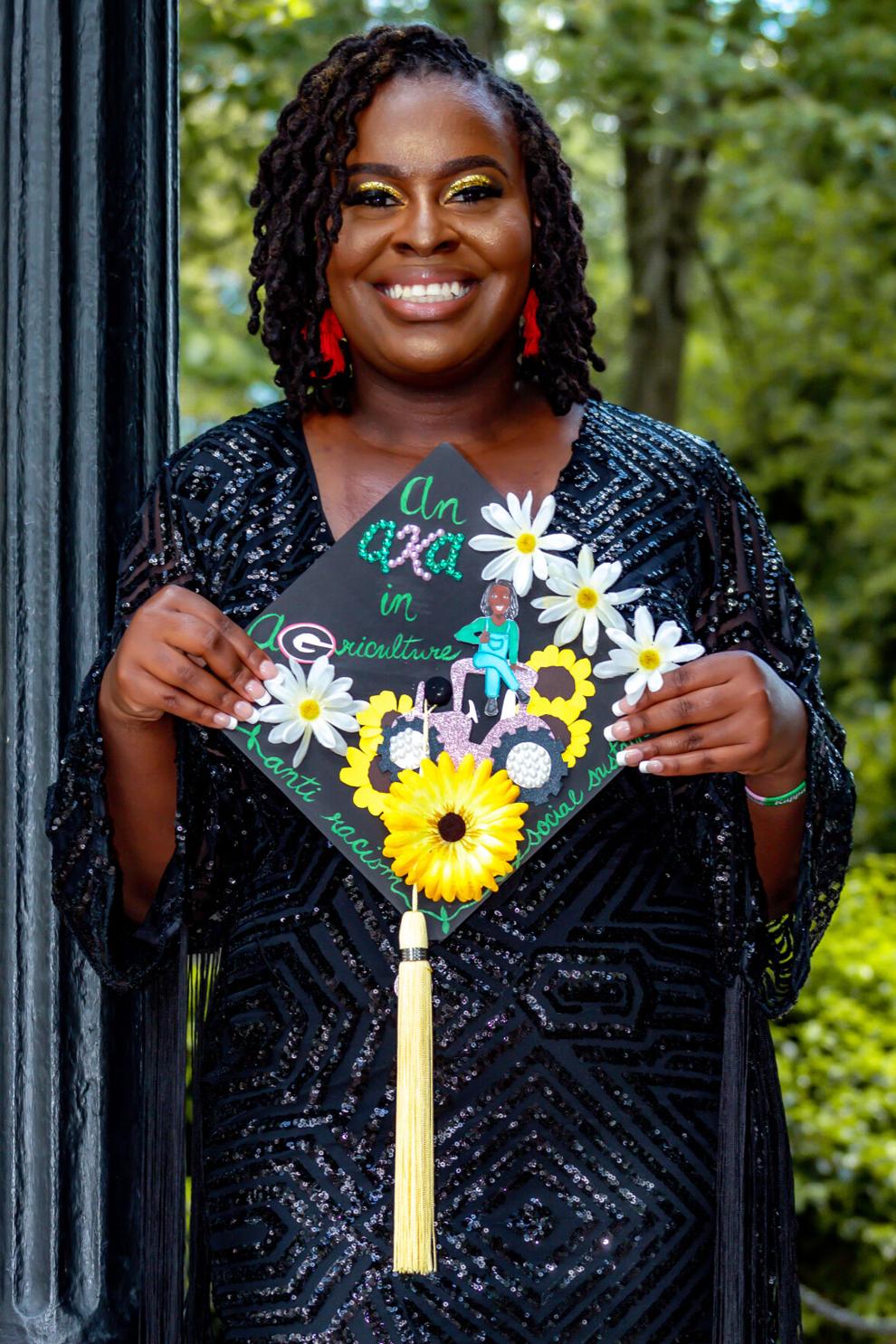 As a Black woman, Dunning's experiences in agriculture and business have informed her continued path at UGA. Dunning said she pushed administration to allow her to create a course on minority contributions to agriculture and anti-racism in the industry. Dunning hopes to teach it in a couple years.
They're "huge topics," said Jennifer Jo Thompson, an associate research scientist in UGA's crop and soil sciences department. Thompson will work with Dunning as she pursues her thesis related to the structural barriers faced by Black farmers.
"Kristen's work … engages with [systemic issues] in a really contemporary way in this moment of greater cultural reckoning," Thompson said. 
Designing her future 
Like a scene out of "The Simple Life" — around the same time Paris Hilton and Nicole Richie's reality show aired — a young, dust-detesting Dunning sat at a farmhouse window in Dixon Mills, Alabama, dreaming of being anywhere else.
Cows moseyed around the fields owned by her grandparents as she explored more glamorous locations within book pages and on "America's Next Top Model."
For most of her life, the agriculture business remained unappealing to the Dallas, Georgia, native. She longed to design a life for herself elsewhere.
"I wanted to be a fashion designer so bad," Dunning said, laughing. "I wanted to go to [Savannah College of Art and Design]. I was convinced. I was like, 'I'm going to be on Project Runway, and this is going to be me forever.'"
Kristen Dunning tends to the flowers she grows at one of several greenhouses at UGArden in Athens, Georgia. Dunning dreams of one day operating her own farm, where she can grow herbs, produce and flowers like she does at UGArden. (Photo/William Newlin)
---
As a teen, she went so far as to apply to 22 colleges and universities, placing UGA in the bottom half of her potential school rankings.
Dunning said her experience with Georgia Daze, a two-day event for high school seniors from communities historically underrepresented at UGA, solidified her decision to come to Athens.
"I fell in love with it," Dunning said. "I was like, 'Oh I guess I'm going to be in Georgia for the rest of my life.' But it's the best decision I could have made."
Herbal roots
About a year before Dunning built Gently Herbal Skincare, a company selling all-natural soap bars, a body butter and a body, face and lip scrub for people with sensitive skin, Dunning had to learn the soap ropes. As a freshman in 2019, Dunning said, "fate and destiny or whatever you believe in" sent her down her current path.
Dunning said she's experienced severe eczema, which fueled a passion for natural skin care. She contemplated a career in agricultural communications related to natural products, but she didn't enjoy her early classes and was on the verge of switching majors to graphic design.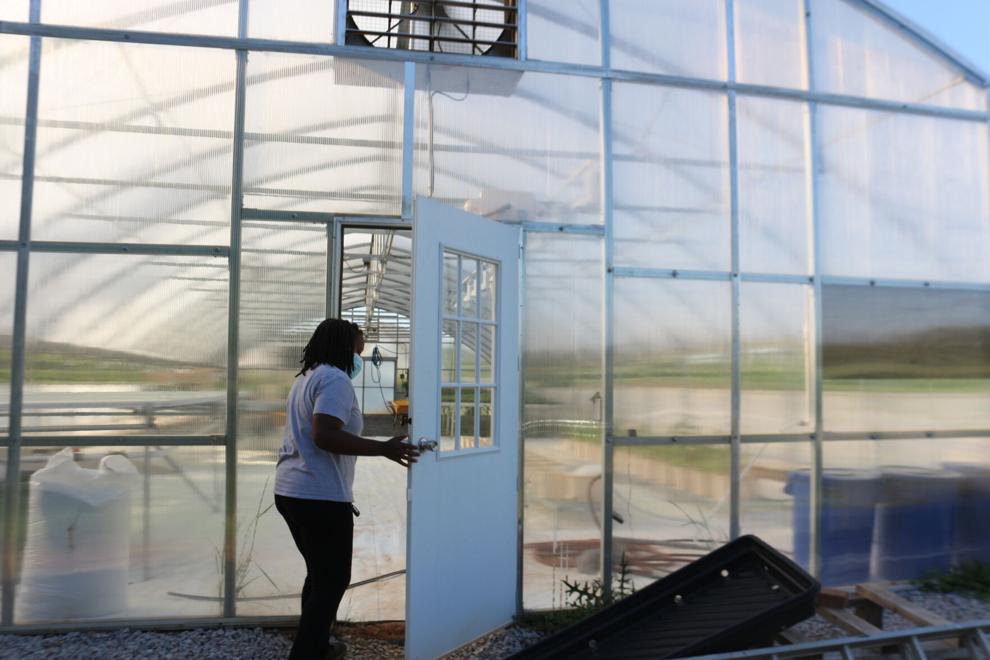 Advisers recommended she speak with David Knauft, then an emeritus professor in UGA's horticulture department.
Dunning said she was distracted during the meeting. Sitting on Knauft's desk was a photograph featuring the professor and an old colleague who looked a lot like her grandfather, she said. 
He was Arthur Dunning, a former public service and outreach administrator at UGA who did research in Thailand with Knauft.
"Dunning isn't a common last name," Knauft said. "So, I asked if she knew anything about him."
"And I was like, he's my great-uncle," Dunning said.
Their relationship proceeded from there. Knauft was close to retiring, and he had research cash to burn, she said.
Knauft suggested they investigate which strains of the herbs calendula and chamomile contained the most medicinal properties related to skin care, such as anti-inflammation. It was right up Dunning's alley, and she accepted. 
"I always say that project and working with him helped me find my roots in the agriculture industry," Dunning said.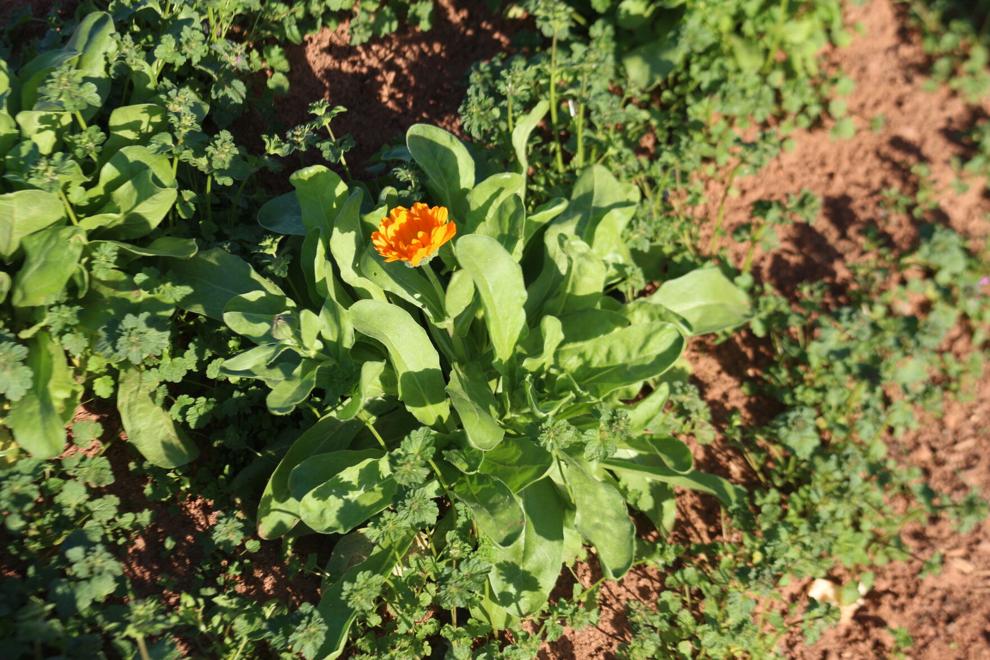 Once the project ended, she wound up with bags upon bags filled with dried flowers. They'd found which herbs are most medicinally effective, and Dunning's passion for soothing skin care remained. She said Knauft encouraged her to make a product.
"So, yeah, then I made my first soap recipe," she said. 
Its name? "Gardener Knauft's."
Making space
Behind her table at the Athens Farmers Market, Dunning greeted passing customers and delicately rearranged the soaps displayed next to a Gently sign.
She gestured to a stand across the open-air pavilion. It was MEplusTEA, a loose-leaf tea company in Athens owned and operated by Precious Jones.
"That's my friend," Dunning said, referring to Jones with a hint of shyness.
Kristen Dunning speaks with a young customer at Gently Herbal Skincare's table within the Athens Farmers Market. Dunning arrived at the market at around 7 a.m. and stayed until noon to greet friends, classmates and customers while selling her skin care products. (Photo/William Newlin)
---
Glancing around, Dunning and Jones were two of a small number of Black business owners operating at the market. But that's nothing new for them.
Dunning said some weeks she's the only Black woman at a market. She has to work harder for people to take what she says about her products seriously, Dunning said, and subtle acts of prejudice coupled with a feeling of isolation take a toll on her mental health.
Jones agreed, describing a lingering "internal feeling of not belonging." 
"It's great to have someone to look like you that can relate to what you're doing," Jones said. "It's a great feeling."
While Dunning feels pressure to be cautious about voicing some of the issues important to her – making white people uncomfortable could close off certain spaces both to her and other BIPOC – she said carving out a niche for herself isn't completely negative.
"There's a sense of empowerment because I'm like, 'Dang, I'm doing this. I'm here,'" Dunning said. "But there's also a sadness, and a kind of mourning, I guess is the best way to say it. I mourn how the opportunity hasn't been made available to other Black farmers, Black craftspeople."
Dunning's convictions extend throughout her business operations. Aside from her commitment to sustainability and waste reduction, Dunning said she also makes a point to display different skin types and tones on Gently's Instagram. 
She said she wants to make her brand accessible to people who look like her, and she purchases any additional ingredients for her products, such as shea butter, cocoa butter and oils, from Black-owned businesses.
"From growing to production to sending it out to people and marketing it, I want to have the message of, 'I care to the tiniest detail about everything I'm putting out into the world,'" Dunning said. 
The growth ahead
With impressive showings in UGA initiatives such as the UGA Idea Accelerator, which Dunning won in 2020, and the student-run investment group the Kickstart Fund, Dunning sourced thousands of dollars to launch Gently. 
"I was this little ad girl from South Campus just trying to grow plants and make soap," Dunning said of the higher stakes she felt presenting, competing against and besting people from UGA's Terry College of Business
Signs adorn Kristen Dunning's Gently Herbal Skincare table at the Athens Farmers market. (Photo/William Newlin)
---
Dunning's signature Knauft soap found an audience at markets, and she credits her mentor with giving her the tools and support she needed to succeed.
Yet friends like Kelly Tims see her determination and sense of community as key catalysts to the blossoming Gently, marketed online as "Herbal. Eco-Conscious. Black-Owned."
"Over the past year, she has developed a clear vision for her business and is running after it," Tims said. "Her business has thrived even during a pandemic and through a branding revision, and I feel so proud when I see Gently at the farmers market each weekend."
Dunning is the sole employee of Gently. She formulates, produces, packages and ships every order by herself. Other than some business advice from her mom, Dunning manages everything from Gently's finances to its branding on social media.
Her attention to detail has paid off so far. According to Gently's website, Dunning has sent soap to customers in 21 different states over the past seven months.
"She's definitely in the foundation stage of something major," said Jones of MEplusTEA. "Her formulas and her business practices are going to be really big." 
Success for Dunning means hiring people to take the load off her shoulders. But it's difficult for her to think about delegating control. To Dunning, Gently is still as delicate as the calendula flowers she cultivates for her soap. 
She said she sees a sustainable business model for her sustainable product in about two years. For now, she's focused on her master's program.
"Then, by the time I graduate from grad school, I want to blow up." Dunning said. "I want to really know what my next step is, I'll say that."