Despite frustrations with adjusting to online classes at the end of the spring semester, the University of Georgia has seen a 2.4% increase in summer class enrollment compared to the summer of 2019.
Greg Trevor, a UGA spokesperson, said in a June 16 email that there were 18,396 students enrolled in online classes.
The effects of the coronavirus pandemic on the daily lives and future plans of UGA students have been vast and varied, resulting in the cancellation of internships, jobs, volunteer and research opportunities and study abroad plans.
These mass cancellations have left students disappointed and scrambling to adjust as they near graduation. Some students who were planning to take a single summer class alongside an internship or research experience are using their newly free summers to get ahead on prerequisites for their majors.
Canceled internships
Kiersten Broka, a rising fifth-year psychology major from Cumming, had plans to work extra hours driving buses for UGA and volunteer at a hospital to get experience before applying to nursing school. With campus closed and the hospital not accepting new volunteers, Broka is still hoping to find a volunteer opportunity to participate in, alongside taking two online classes.
For some of the students we spoke with, the opportunities they had lined up for this summer are not experiences they can make up for missing.
"It was unbelievably sad for me because it was supposed to be a dance program … It was my opportunity to experience that world before graduating," said Peyton Davis, a rising senior athletic training and exercise sports sciences major from Woodstock, of her canceled athletic training internship at the University of North Carolina School of the Arts.
---
A time-lapse of a night of school work for Peyton Davis. With a canceled internship, Davis is now spending her summer fulfilling graduation requirements. (Courtesy/Peyton Davis)
---
Similarly, Chandler Cummings-McBride, a rising senior wildlife sciences major from Fayetteville, had to give up an opportunity to get experience working hands-on with big cats, which is her area of focus within wildlife sciences. If it weren't for the pandemic, Cummings-McBride would have been spending her summer interning with In-Sync Exotics, a wildlife rescue service, in Wylie, Texas.
Unlike Davis' experience, the In-Sync Exotics internship program did not get canceled. Instead, Cummings-McBride had to make the difficult decision to turn down the offer due to health concerns.
"I have asthma and as a kid and I had pneumonia so there were warning bells in my head," said Cummings-McBride. Those with lung conditions are at a higher risk to have severe complications from COVID-19.
Besides having to travel to Texas, Cummings-McBride also had concerns about the housing situation where she would have been sharing a room with six other people.
While Davis has used several of her summers to take prerequisite courses, she said that she cannot take classes specifically for her major online because her major is considered a health care field and is very hands-on.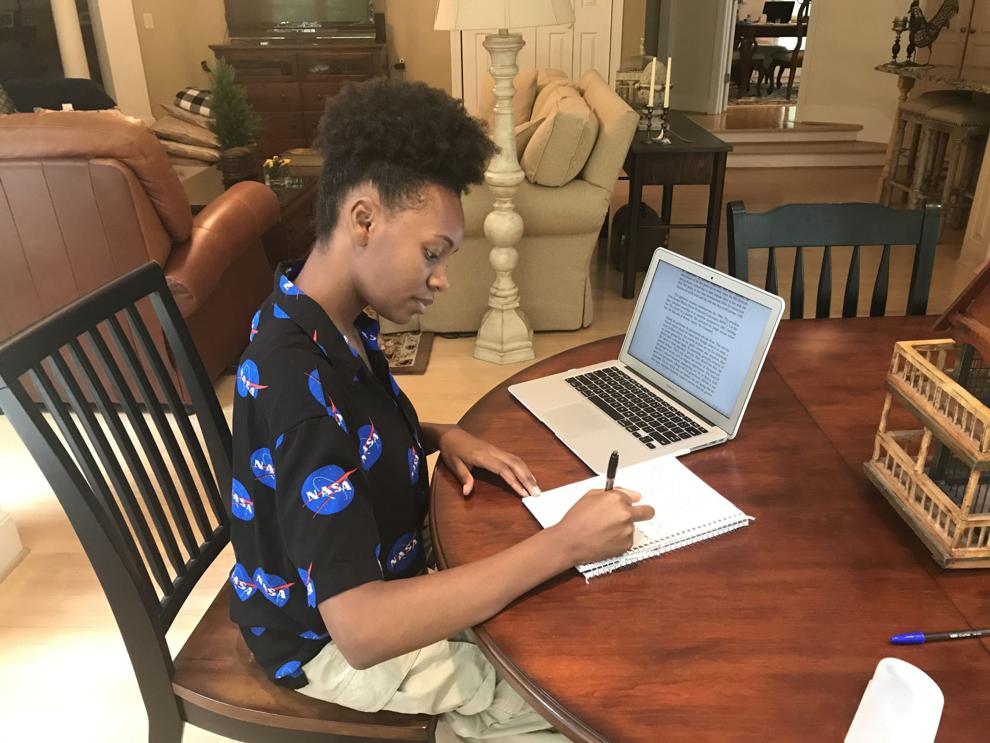 Cummings-McBride faces similar difficulties with her major classes. Instead of taking wildlife classes over the summer, she is finishing her film minor by taking one class through UGA and one through Clayton State University that's not offered at UGA as a transient student.
"I've always wanted to work with big cats and that was my opportunity to, but I think my health is more valuable than going there," Cummings-McBride said.
She made this decision based on her experience finishing her wildlife classes online in the spring.
"A lot of my classes, since they're wildlife-based, we'll go out in the field … or work in the lab with specimens and since I didn't have that, I learned info just for the sake of regurgitating it on a quiz on eLC. I feel like I didn't learn much, which was disappointing," Cummings-McBride said.
For students with hands-on majors like Davis and Cummings-McBride, the end of spring semester brought a lot of frustration and new challenges. For Davis, some of these frustrations aren't over. She said a lot of her classes are still incomplete because of spring semester and will have to take her proficiency exams in-person in the fall in order to complete three of the five classes she took in the fall.
Studying domestically
In addition to canceled internships, many UGA students had study abroad plans canceled.
Liza Shakhmatova, a rising junior computer science and math double major from Marietta, had plans to spend the summer in Latvia as part of the UGA Russian Flagship Program to improve her Russian while staying with a Latvian family. Instead, she is spending her summer doing two online computer science courses as well as a walking course for her P.E. requirement.
---
A time-lapse of a typical school day for Liza Shakhmatova. She planned to study abroad in Latvia before her plans were canceled due to coronavirus, and now she is taking computer science courses online. (Courtesy/Liza Shakhmatova)
---
For rising seniors, like Abbey Vanderpoel, a journalism major from Marietta, this summer was one of their last chances to have a study abroad experience.
Vanderpoel was also in the position of having both the National Geographic internship she applied for and her Maymester study abroad program in Prague canceled.
Despite the disappointment of having experiences canceled that she was looking forward to, Vanderpoel enrolled in three summer classes and began looking for a virtual internship.
Cooper Hanft, a rising junior marketing and international business double major from Atlanta, had his internship abroad in Spain shortened and moved online.
He and Vanderpoel, who found a virtual internship with Science for Georgia, are both navigating the new experience of online internships while taking online classes.
Vanderpoel said this new internship is an experience she never would have had if it weren't for her plans getting canceled. She, like many other students, was scrambling to find a new way to make the most of her time this summer.
"I was worried about my resume and stressed out about doing something productive with my summer," said Hanft, who signed up for two classes in addition to his internship through LeadAbroad.
Even with the difficulties of switching to online in the spring, the students we spoke with are hopeful for better experiences this summer.
"It was a learning experience because I am somebody who thrives off of the structure of school … I have more hope that my computer science classes will be better organized," Shakhmatova said of her experience with online classes in the spring.