In 1896, the Games of the I Olympiad in Athens, Greece, introduced what we now recognize as the quadrennial Summer Olympics. A century later, the obvious choice for the games' centennial celebration was back where it all began. But former Georgia quarterback and key Atlanta Olympics lobbyist Billy Payne had other plans for the 26th Olympiad. 
On August 1, 1996, athletes and spectators from across the world made their way to the original Olympic city's namesake for the women's soccer final hosted in Athens, Georgia. Rather than experience the games in the shadow of the Acropolis, over 76,000 spectators witnessed the American women claim gold at a more modern religious destination — Sanford Stadium.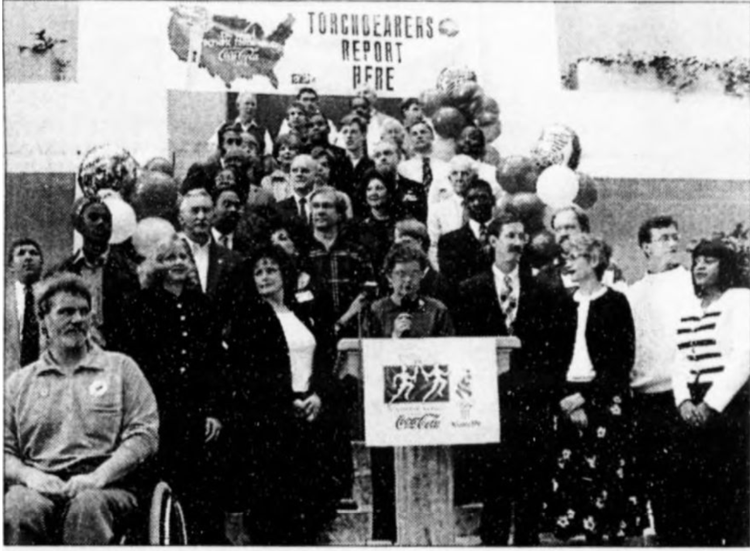 'Don't forget Athens'
"It was a wonderful surprise when Atlanta was picked [to host]," former Georgia championship football coach and athletic director Vince Dooley said. "I was with Billy [Payne] that next morning, and I congratulated him and said, 'Don't forget Athens where you were born and went to school.' And he said, 'I won't.'"
That was in 1990. Over the next four years, Dooley traveled with Payne and his wife to Albertville, France, Barcelona and Los Angeles to take notes on two Olympics and a World Cup. If the world was going to come to Payne's alma mater and Dooley's budding shrine to athletics, they were going to be ready. In 1994, the planning began.
Dick Hudson, an established event coordinator at UGA and a professor in the business and english programs, got the nod from university president Charles Knapp to head the effort to bring Olympic tennis to Athens.  
"Dick put in a proposal for us to host, but it would've been a lot of construction," men's tennis head coach Manny Diaz said. "I think it would've been courts two and three in the main stadium, and the plans called for us building a 10,000-seat center court out in front of the [Tennis] Hall of Fame along the left field fence of the baseball stadium."
Ultimately, the proposal fell through, and the blueprints were shelved, but Hudson said he sensed tennis was just the tip of the Olympic iceberg. 
To then-FIFA president Sepp Blatter, Sanford needed only minor touch ups to host the knock-out stages of the games' soccer events.
'Holy' hedges
"So we were sort of making small talk while the [FIFA] technical guy just sort of walked about the field," Hudson recalled. "He came back about 10 minutes later, said something in Spanish to the soccer folks there, and they suddenly turned to us and shook Billy Payne's hand and each of us individually. I remember [Payne] saying to Dooley, 'Well, what's this mean?' He said, We've got soccer.'"
The first Sanford alteration? The hedges had to go. 
Both Dooley and Hudson said the timing worked out — parasitic nematodes had infested the "holy" hedges as Dooley described them. Cynics were less than pleased. Not only would the sacred gridiron be defiled by European football, but the symbols of Georgia's most precious pastime were uprooted, with some cuttings shipped off to where else but a Florida nursery to regrow.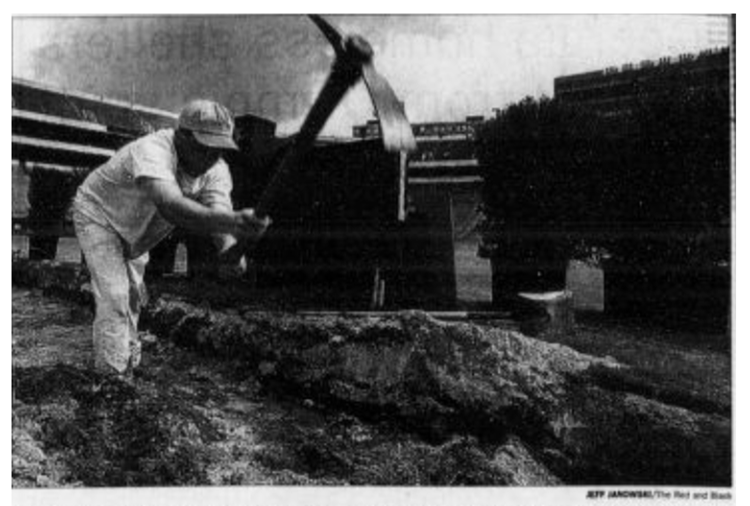 While Hudson and Dooley were satisfied and Bulldog nation hardliners mortified, new head football coach Jim Donnan was simply disappointed.
"The day I got the job, the day after Christmas in '95 … I wanted to ride down to the stadium because I'd always heard about Sanford stadium and the hedges," Donnan said. "I had no idea, living up in West Virginia, that they were going to have some of the Olympic venues on the Georgia campus. So I said, 'What's going on? Don't they have those anymore?'" 
Donnan said he felt relieved to know it was only a temporary nakedness on the field. Despite playing the 1996 spring G-Day game at Clarke Central High School due to the Olympic preparation, the offseason proceeded smoothly into his first year at the helm. 
'The northeast part of Atlanta'
By the summer of '96, Athens had already developed its international reputation. Hudson said he welcomed athletes from Australia and Sweden in 1995 to acclimate them to the weather and get in some pre-games training. Mia Hamm and the U.S. women's soccer team lodged in Rutherford Hall. 
Hudson remembered facing off against a Swedish table tennis competitor in a match that unsurprisingly didn't go his way.
"I played ping pong," Hudson recalled. "He played table tennis."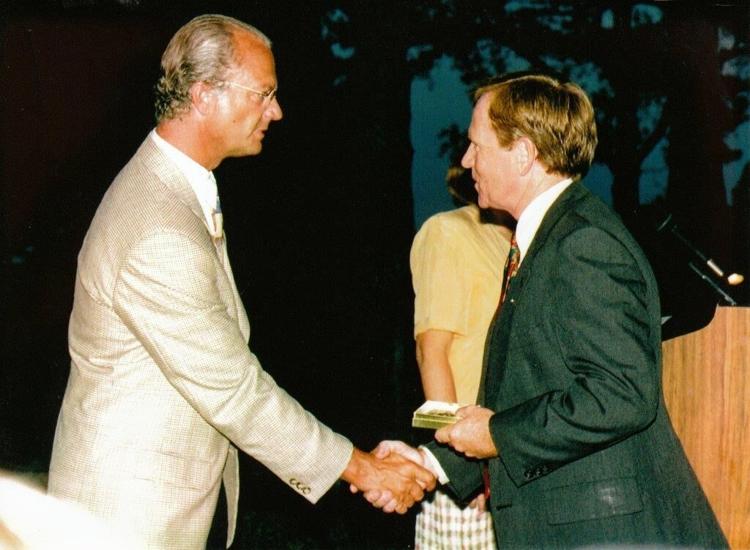 After two years of collaboration with then-Athens mayor Gwen O'Looney, the International Olympic Committee and Atlanta organizers, Hudson was ready to hand off the logistical reins and enjoy the newest show in town. 
UGA's public safety director Asa Boynton dutifully stepped up.
"I was excited about the Olympics in Atlanta," Boynton said. "I was not as excited about the Olympics coming to Athens. I knew it was going to be work … and I personally would have rather gone to see the events than have the events come here, and I have to take care of security."
His hesitation was understandable. Although he'd experienced a massive public safety endeavor in overseeing the university's year-long bicentennial celebration in 1985, the Olympic centennial was another beast entirely.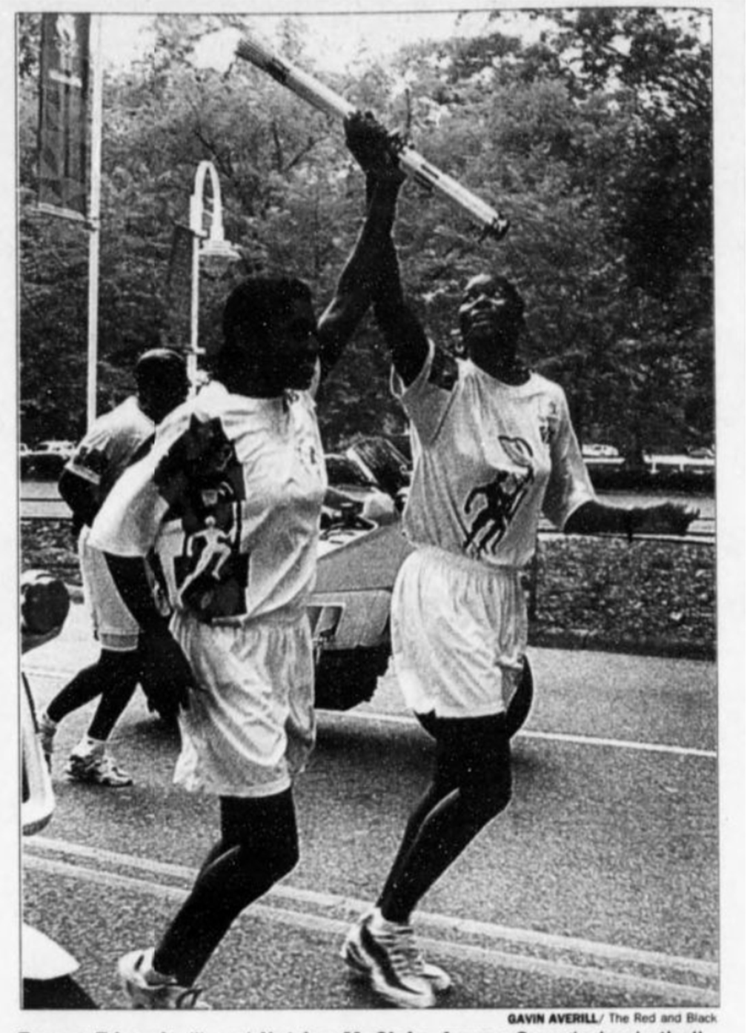 In conjunction with local and state law enforcement, he oversaw the challenge of channeling hundreds of thousands of visitors in and out of the narrow streets of Athens. The newly christened Stegeman Coliseum hosted preliminary volleyball matches and rhythmic gymnastics, but the main events were the men's and women's soccer finals at Sanford. 
Boynton said the daily crowd sizes matched up with what he'd experienced on football Saturdays. But the bigger obstacle was directing international and out-of-state spectators unfamiliar with the city and campus. 
"[Nigeria] won that first game and [their fans] were celebrating and they were beating drums and they were singing and dancing," Boynton remembered. "And there was a couple that stopped to observe what was going on … and they turned to me and they said, 'What part of Atlanta is this? This has been the best event that we've been to.'"
"This is the northeast part of Atlanta," Boynton replied. "We call it Athens, Georgia."
To Boynton's recollection the few weeks of Olympic activities flowed smoothly. While the July 27 Centennial Olympic Park bombing heightened his and his enlarged staff's vigilance, no major incidents interrupted the Athens events. 
And once Donnan's first game in Sanford rolled around just 28 days after the men's soccer finale, the nematode-free offspring of the original hedges were there to welcome him.
The Classic City had emerged onto the world stage and come out the other side with both an economic and cultural boon. 
"[The Olympics] showed us that there's really not anything we can't do, and it exposed us to the world," Hudson said. "When I say us, I'm probably referring more to the community at large than the university ... It showed us that, 'Hey we've read about those people, and now they read about us. We can do what they do, and we all got along.'"