Georgia's offensive depth chart is up in the air. 
Kirby Smart said he didn't see the Sugar Bowl — the Bulldogs' final game for more than eight months — as either a continuation of the 2019-20 season or a prediction of what lies ahead. When he arrived in New Orleans on Dec. 27 ahead of the bowl game, Smart called it a "one-game season." 
He ended up being correct. Andrew Thomas and Isaiah Wilson didn't play a snap at left or right tackle, but their departures for the NFL draft had been anticipated. D'Andre Swift had one carry, and rumors circulated that he would be going professional. Lawrence Cager was injured in practice on Nov. 27 and never caught a pass at Georgia again. 
But the offense would end up losing more than those four players. After the Sugar Bowl, three more offensive players decided to leave Georgia across three days. 
Left guard Solomon Kindley announced he would be entering the NFL on Jan. 7. Quarterback Jake Fromm declared for the NFL draft on Jan. 8. Offensive lineman Cade Mays transferred to Tennessee on Jan. 9 after entering the transfer portal the day before.
Eight of the 11 Bulldogs projected to start on offense in the SEC championship game — as listed on Georgia's Dec. 7 depth chart against LSU — will not return to the program for the 2020-21 season. 
A new class of signees and graduate transfers expect to join an emerging group of playmakers to try to improve upon Georgia's 30.8 points per game in 2019, which put it at No. 50 in the Football Bowl Subdivision. 
Below is a breakdown of changes to expect in each of Georgia's offensive position groups.
The quarterback quandary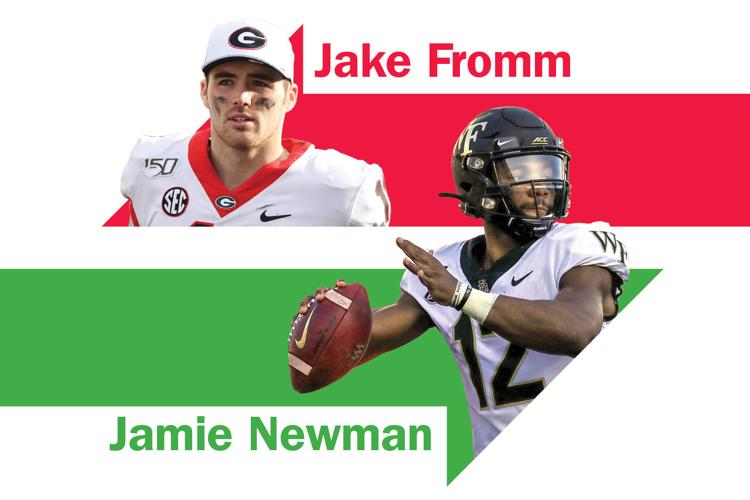 Who's out? Fromm left big shoes to fill at quarterback, as he led Georgia to three straight SEC championship game appearances and a berth in the College Football Playoff. Fromm finished with 8,224 career passing yards — fourth-most in Georgia history — but his accuracy decreased in his last season. He went from completing 67.3% of his passes as a sophomore to 60.8% in his junior season, including five consecutive games with a completion percentage below 50%. Fromm improved in his last game as a Bulldog, going 20-of-30 for 66.7% accuracy, 250 yards and two touchdowns against Baylor on Jan. 1.
Who's in? Stetson Bennett was Fromm's backup throughout 2019 and saw playing time in five games. D'Wan Mathis focused on his health after undergoing surgery to remove a brain cyst last spring. But graduate transfer dual-threat quarterback Jamie Newman out of Wake Forest offers the most experience to the quarterback room in Athens. Newman had a productive final season at Wake Forest, completing 220 of his 361 passes for 2,868 yards, 26 touchdowns and 11 interceptions and adding 574 yards and six touchdowns on the ground. Newman, in his last season of college eligibility, is a likely starter for 2020. 
Rushing away at running back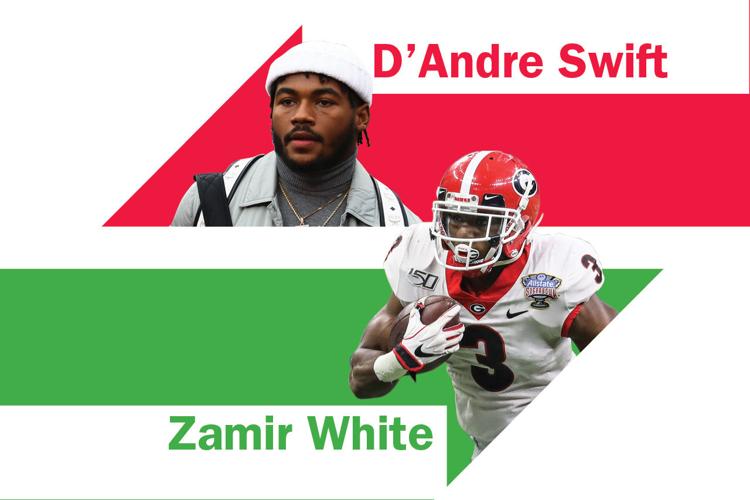 Who's out? Swift ended his final season at Georgia with seven touchdowns and 1,218 net rushing yards, more than Georgia's next three top rushers combined. Swift's footprint included a complementary role in the 2017-18 CFP National Championship game run behind NFL running backs Sony Michel and Nick Chubb, as well as another 1,000-yard-plus season as a sophomore. Senior Brian Herrien followed Swift as the second-best running back in 2019, gaining 490 yards and six touchdowns in his final year. 
Who's in? Zamir White is poised to get his chance as the Bulldogs' starting running back, an honor he was given in the Sugar Bowl. White finished the year as the No. 3 rusher with 408 yards on 78 attempts and three touchdowns, but his numbers are expected to inflate with the departures of Swift and Herrien. James Cook and Kenny McIntosh offer reliable legs down the stretch, and Georgia will have more depth with the Class of 2020's Kendall Milton, a four-star running back per the 247Sports Composite.
Pass catchers picking it up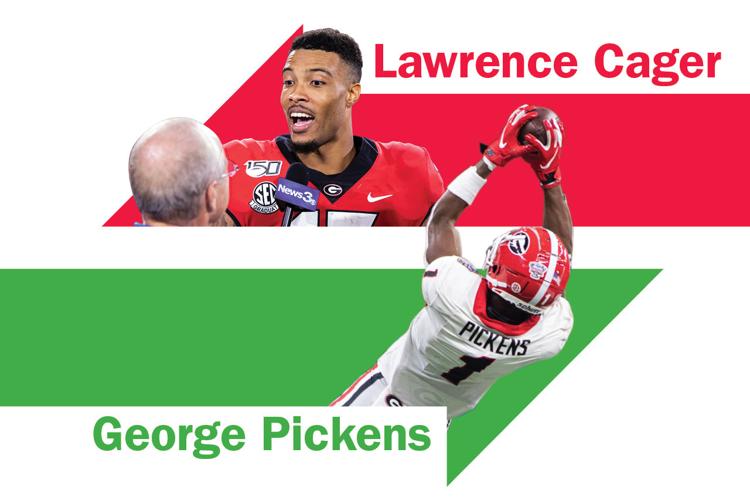 Who's out? Due to his graduate transfer status, Cager had only one year to play at Georgia. He was plagued by shoulder, rib and ankle injuries for a portion of his final year of college eligiblity, but he managed to finish as the Bulldogs' second-best receiver with 476 yards on 33 receptions in nine games. Senior Tyler Simmons was a certainty at wideout and played in all 14 games. Simmons finished 2019 with 255 yards on 21 receptions. The Bulldogs are also tasked with replacing their top two tight ends, graduate transfer Eli Wolf and senior Charlie Woerner, who each finished their last seasons of eligibility at Georgia in 2019. 
Who's in? For a Georgia team that struggled with consistency at receiver throughout the season, it's a positive that George Pickens will return in 2020. Pickens broke out in his freshman campaign, catching 49 passes for 727 yards and securing the Most Outstanding Player honor in the Sugar Bowl. The Bulldogs also return Demetris Robertson, Dominick Blaylock and Kearis Jackson, while bringing in signees Marcus Rosemy, Jermaine Burton and Arian Smith as well. Georgia signed five-star Darnell Washington at tight end along with graduate transfer Tre' McKitty from Florida State to round out the revamp.
Blocking out noise on offensive line
Who's out? Andrew Thomas and Isaiah Wilson's early departures for the NFL draft left few surprised, but the same could not be said for the losses of Solomon Kindley and Cade Mays. Kindley announced his move to the NFL after starting in the Sugar Bowl, and Mays decided to transfer to Tennessee in an unexpected move, leaving four of the five regular contributors along Georgia's offensive line gone for the 2020 season. 
Who's in? Center Trey Hill is the only returning offensive lineman who saw a majority of snaps in 2019, but the depth at positions around him shouldn't leave Georgia desperate for new players. Justin Shaffer, Jamaree Salyer, Warren Ericson and Xavier Truss are all viable options to fill in vacated positions on the line, and Georgia added Tate Ratledge and Chad Lindberg in the Class of 2020 to improve the group for the future.