If Vince Dooley ever had a meeting with a distinguished guest, his wife Barbara Dooley liked to get out of the way.
So when University of Georgia Athletic Director Greg McGarity was scheduled to stop by their house one morning last spring, Barbara didn't plan on deviating from tradition. But just as she was leaving to go work out, she saw University of Georgia President Jere Morehead in the passenger seat of McGarity's car. Barbara welcomed them into the house and told them she was on her way out.
Morehead told Barbara to stay. He had some news to share.
The University System of Georgia's Board of Regents was about to receive a proposal from Morehead recommending the field at Sanford Stadium be named in honor of Dooley, the winningest head coach in Georgia football history.
After years of speculation and players lobbying on behalf of Dooley, the home of Georgia football will forever be known as Dooley Field at Sanford Stadium. Perhaps no one was more excited than Barbara.
"My wife is a lot more emotional than I am, so she started crying and started shouting and then started hugging President Morehead and hugging Greg," Dooley said. "She didn't hug me, she hugged them."
The official dedication will take place before the Bulldogs' game against Murray State on Sept. 7, several months after the board voted unanimously in favor of the new name on May 14. It's a dream come true for the Dooley's.
"These rumors had been circulating for years and years and years," Barbara said. "And nothing ever came of them. So I never even thought it would happen ... I prayed that if it was going to happen, that it would happen when Vince was alive and could enjoy it. And if he makes it to Saturday, he will enjoy it."
A long time coming
Dooley won six SEC championships, one national championship and finished with an overall record of 201-77-10 as Georgia's head coach from 1964-88. Under his watch as athletic director from 1979-2004, Georgia sports teams won 23 national championships and 78 SEC team championships.
But things ended on a sour note when UGA's then-president Michael Adams denied Dooley's request for a contract extension in the summer of 2003. Dooley had no choice but to retire in the summer of 2004.
In his autobiography titled "Dooley: My 40 Years at Georgia," Dooley wrote that Adams tried ending his administrative career even earlier, when Dooley asked for a contract extension in 2000.
"[Adams] said, 'You've done a good job here, Vince, but you never want to stay too long. And you need to have something named after you,'" Dooley wrote.
Over the years, the prospect of honoring Dooley has come up a lot. In 2008, the athletic complex on the southwestern end of campus was named after Dooley.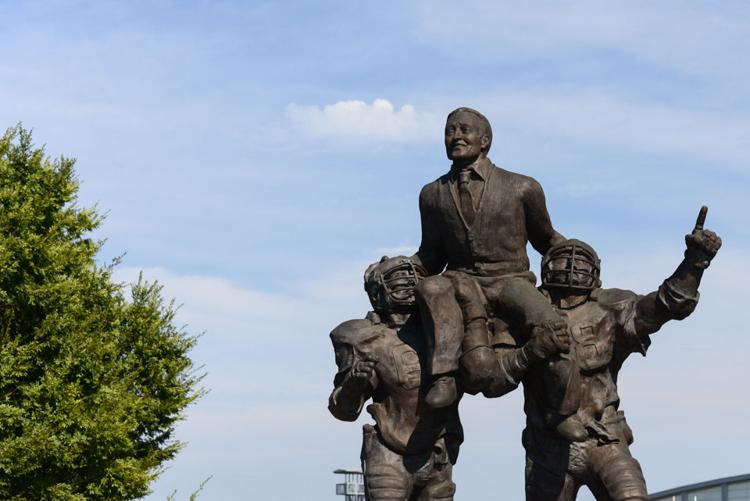 But for one reason or another, the board of regents never voted on naming the field after Dooley when Adams was president of the university.
"It could have come about earlier," longtime UGA Athletic Association staff member Loran Smith said. "I think there were some people who had other priorities, and it had some political implications, which was unfortunate."
Tommy Lawhorne played linebacker for Dooley from 1965-67. In 2016, he wrote a guest column in the Atlanta Journal-Constitution calling for Georgia to name the field after Dooley. He said several players reached out to him thanking him for the article.
Georgia lettermen lobbied Morehead, who replaced Adams in 2013, to honor Dooley.
Lawhorne said the players had an impact, but Gov. Brian Kemp also played a big part in helping the cause gain momentum.
'He worked us hard'
In the two years before Dooley took over as head coach, the Bulldogs combined for just four SEC wins under Johnny Griffith.
Jack Davis, a starting offensive lineman on Dooley's first SEC championship team in 1966, spent two years in Griffith's program and quickly saw that things were going to be different under Dooley.
"I'll never forget him walking in, and somebody was late, and he said, 'OK, just thought I'd pass it on to you, from now on, anybody that's late, every minute, you're going to run a quarter of a mile.' Nobody was late after that," Davis said.
Davis and Lawhorne said Dooley always meant what he said, a big reason why he became so successful.
"He was honest," Lawhorne said. "He was fair. He worked us hard, but he didn't expect us to work harder than he worked."
Ray Goff played quarterback under Dooley from 1974-76 before eventually succeeding him as head coach in 1989. Although they had their disagreements, Goff said he could always count on Dooley for his honesty and knowledge when the two worked together as head coach and athletic director, respectively.
"He was kind of like a vocabulary book," Goff said. "You had somebody to go to and explain to you and help you with the situation or problems, whether it be recruiting or whether it be the coaches or players. He was just a great resource."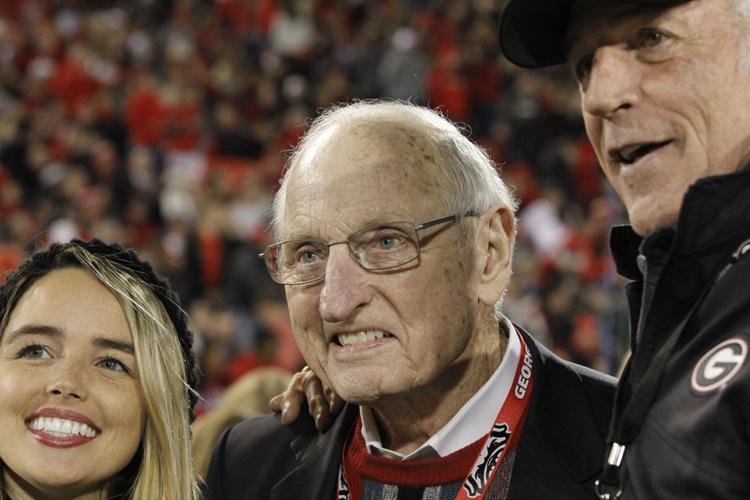 McGarity said he couldn't imagine being an athletic director and football coach at the same time, which Dooley did for nine years.
"There's no questioning his years of service … Not only was he a head football coach and athletic director, he was the chief fundraiser," McGarity said. "He was the chief promoter of the brand. He had to wear so many hats and did so very successfully. So we thought it was appropriate [to name the field after Dooley]."
'It can't get here fast enough'
During his senior year in 1967, Lawhorne boarded a plane bound for Lexington, Kentucky, and walked by Dooley, who was reading a history anthology. It struck Lawhorne as strange.
"I remember thinking, 'How many head football coaches on the day before a game … Would be reading a history anthology?'" Lawhorne said. "That's something you don't see many head coaches do."
The most successful football coach in Georgia history is an unashamed history buff. So even Dooley must realize the historical weight of what will happen on Sept. 7. For 89 years, Sanford Stadium's field has remained nameless. In its 90th anniversary season, it will finally bear the name of a coach who restored Georgia to its winning ways.
Over 800 people will be in the Grand Ballroom of the Tate Student Center on Friday to honor Dooley at a banquet.
Dooley said he received lots of texts, emails and calls from his former players when they received the news.
"It was great to hear from the players, but as I told them, they were the ones responsible for all of this happening," Dooley said. "And so they will be there to share in the honor of naming the field for me."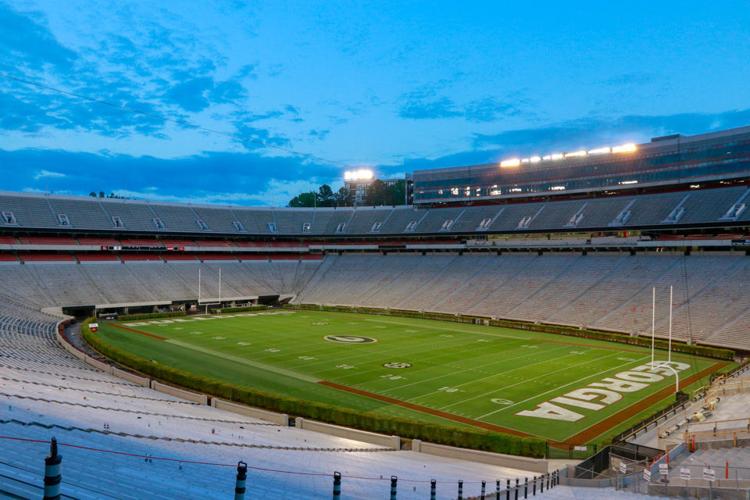 The pregame ceremony will include captains from each of Dooley's 25 teams plus every member of the extended Dooley family, except for Missouri's second-year offensive coordinator Derek Dooley, who will be represented by his wife and three children.
"It's a family affair," Barbara said. "Let me tell you, no coach has this type of longevity and success without a great family behind him, and we certainly have that."
If Dooley's descendants inherit the coach's love for history, they might learn about the field dedication in a history book. For now, the Dooley family can only wait for this moment so long in the making.
"We have no idea what's it going to look like," Barbara said. "I'm thrilled. I cannot wait. It can't get here fast enough."