Athens yoga has diversified. In the scramble to maintain operations and patrons amid the spreading coronavirus pandemic, Athens studios have invested in remote technology and embraced online class options as both a temporary patch and long-term product.
"We've definitely shifted our business model a little bit," co-owner of M3Yoga Nick Combs said. "I mean the whole world has, really … we had about 40 virtual [classes each week], and we may not have that many, but we'll always have that virtual option."
M3Yoga shut down in-person classes on March 13. Right away, Combs was recording classes for online browsing and setting a schedule for sessions taught remotely. 
"We've been really, really fortunate," Combs said. "We have such an amazing community. Our people have been very responsive and pretty appreciative in general of our communication … we've had most of our people stick with us during this time."
With distance, however, comes restrictions. Demonstrating poses in front of a TV hooked up to a Zoom-capable laptop makes teaching both less personable and less micro-manageable. 
Instructors used to monitoring and correcting students' poses have a harder time seeing tweaks and, given that the yoga is usually taught verbally rather than practiced along with a class, instructors have to be vocal while putting on a performance. 
"We might have a lot of different cues for something," Combs said. "But when we're practicing like a power flow with you, we don't have enough breath to give you. So we're really learning the skill set of prioritizing what we can tell you and also trying to pay attention to the screen." 
That means providing follow-along classes while maintaining a vibrant personality, which Combs said helped make up for the connection lost in digital translation. 
M3 reopened its studio on June 15. Combs recorded a tutorial video on how to enter — masked and with a mat from home — to get a temperature check and proceed to the yoga room. Virtual classes are still an option as Combs, a registered nurse, monitors COVID-19 information and begins the transition toward fuller classes and more face-to-face options.
Restructured operations have been a double edged sword for most studios. On the one hand, studio owners like Anne Ethier of Five Points Yoga have welcomed atypical students to online classes. People from out of state, even in England, have posed in her sessions, and those who usually suspend their membership during the summer can still join. On the other hand, with a mountain of virtual content to go around, it can be difficult to stand out.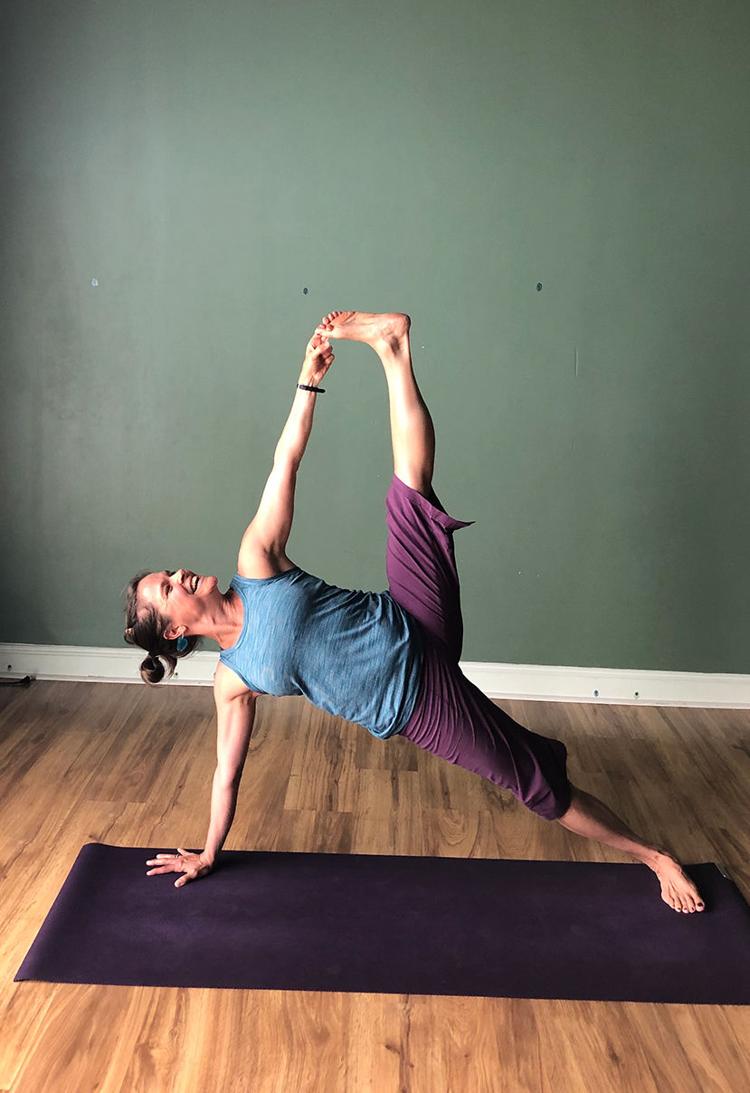 "You can look at it from a real scary point of view and go 'Oh my God, we're competing not only with every other livestream studio in town, but also internationally.'" Ethier said. "That can be a little overwhelming. But then … people are drawn to your studio because they like you and your community." 
Ethier said a majority of her online patrons have been returning students, and her class sizes have stayed consistent. 
Five Points Yoga has hosted two outside, socially-distanced classes as a prelude to the studio's reopening, which Ethier said will begin in July by popular demand.
Shakti Yoga is one of the only Athens locations that already had some pre-recorded content when it closed its studio on March 16. The shift to livestreaming was less of a scramble and more of an expedited roll out. 
Although some instructors are worried about teaching difficult moves remotely, Emily Unwin from Shakti said she hasn't sensed a desire for intricacy at the moment.
Amid the hardship wrought by COVID-19 and society's recently heightened awareness of racial disparities, Unwin said she's kept her yoga practice minimal and reflective. 
"This practice that we teach to people," Unwin said, "What is it? What does it mean to be practicing this and teaching it as a White woman co-opting an Indian practice that comes from many different religious and spiritual roots that are not my own. My goal as a teacher is to leave people feeling more empowered. I find that the simplicity of a yoga practice offers a space to be vulnerable … so people can take those skills into their real world.
Unwin and her fellow instructors lead meditation and "inquiry" before classes begin. They pose a question or offer a theme for students to contemplate while practicing. In online sessions, that occurs either with unmuted microphones or in a Zoom chat.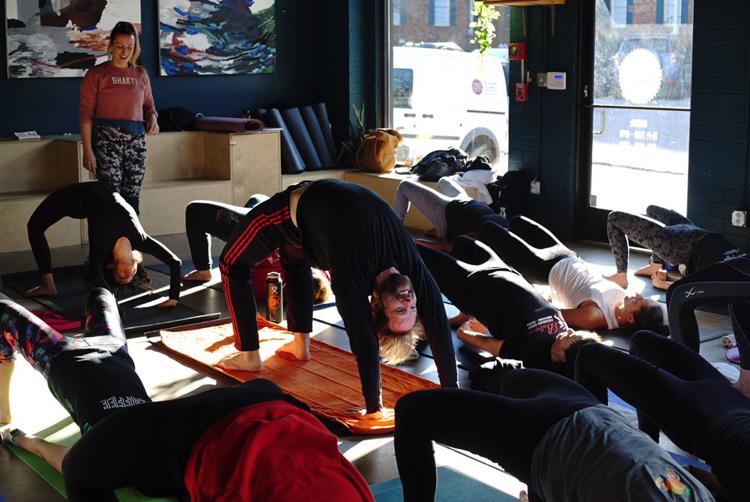 Along with Five Points Yoga, Shakti has yet to reopen for limited in-person classes. Unwin expects class sizes, which have increased through remote endeavors, to be limited to five to 10 students once the time comes.
Each studio highlighted a specific, differentiating facet of their operations that keeps people coming back, whether it's hot yoga or meditation or appealing personalities. The commonality among them, however, is that their community has kept them on-message and on-mat while the world changes significantly. 
The silver lining behind COVID-19-related adaptations is innovation and diversification, but the challenge is staying true to yoga.
"The whole thing with yoga is about connecting," Fuel Hot Yoga instructor Jeanne Heaton said. "So [going online] kind of went against our mission as a yoga studio, which is to put the phones down and to put the screens down … to let all that stuff go and just connect with yourself and other beings."
Like other studios in town, Fuel flipped the online switch in early March. Trips to Best Buy and help from a tech savvy friend helped get them up and running with classes conducted via Zoom, recorded and posted in a growing Vimeo catalogue.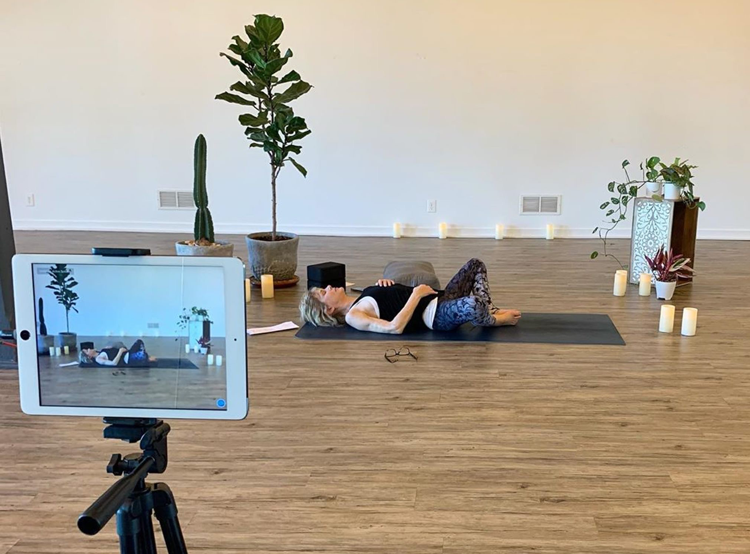 As of June 8, Fuel entered its first phase of returning to pre-COVID-19 operations. Heaton said several thousand dollars worth of new equipment, from a UV light air purifier to medical grade sanitizing equipment to touchless sinks and faucets has allowed the studio to open at 20% capacity.
Hosting 14 yogis versus the usual 70-person classes is a sacrifice, but it allows the human contact Heaton considers vital to the spiritual and healthful work she does. Plus, Fuel can get back to its schtick: hot yoga.
"We're kind of lucky that people really want to come back for the heat," Heaton said. "They can't open their joints and muscles the same, so they're grateful to come back for the heat."
The shift to cyberspace has highlighted both customers' loyalty and their appetite for on-demand yoga, a new reality for studios built around human rather than internet connection.