Taps flowed, dogs played and bean bags flew at Southern Brewing Company Wednesday evening. The Athens brewery hosted CornholeATL's recreational summer league for the third time since June 10.
"It's a great way to break up the week," said UGA graduate and CornholeATL's Athens league referee Evan Connors said. "Moving back [to Athens], it was a way to meet people and hang out."
To the excitement of players, Wednesday was T-shirt day. Before they arrived, and after Connors had paced the game regulation 27-feet between opposing cornhole boards, he laid out the team's color-coordinated shirts. Then the games began.
With their drinks — discounted 15% by the brewery — placed firmly in hand or in cornhole board cup holders, 15 teams competed across three time slots in the brewery's outside lounge area.
June 10 was CornholeATL's first outing in Athens since last winter after COVID-19 shut down its spring league. But given that viral concerns have remained high, the 2020 summer league has seen a reduced playing field. 
Not much has changed operationally due to the coronavirus. The open, outdoor venue and 27 feet of separation between boards create some natural preventative measures. But Connors said CornholeATL has adopted a few new safety protocols, including distancing pairs of teams and allowing players to bring bags from home.
Still, a ten gallon bucket filled with colored bean bags was an option. Of around 30 attendees, a few competitors and the Southern Brewing Company bartender donned face coverings at the event.
"People are encouraged to just be smart," Connors said.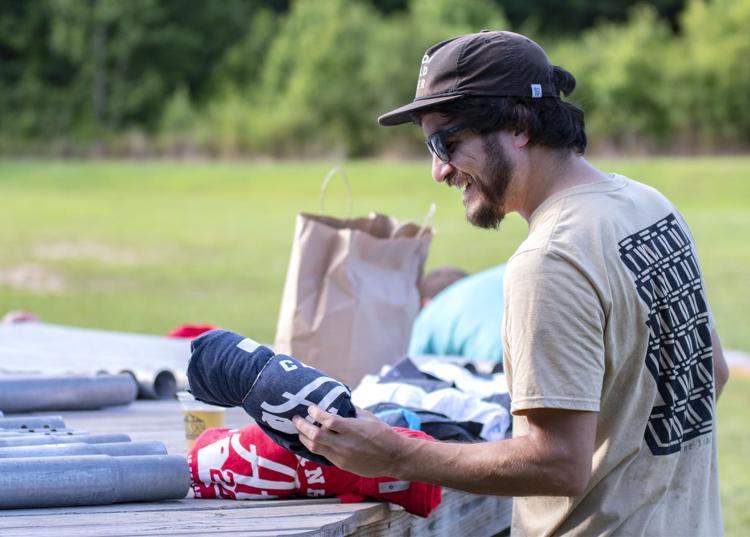 Heading into Wednesday, Hobknob7, hags + bags, Sometimes and Shut your Cornhole occupied the top of the beginner's leaderboard at 2-0. On the advanced side, Chairmen of the Boards, Bags of Fury and Last Chance were tied for first.
Only Hobknob7, Sometimes and Chairmen of the Boards emerged undefeated. 
"Typically, there'd be beginner, intermediate, intermediate-plus and advanced," Connors said. "Because the jump is pretty huge in between [intermediate and advanced]."
The matches Wednesday weren't hyper-competitive, especially among more casual throwers, as those waiting to play cheered and sipped beer from the wings.
"Usually a bunch of our friends are here," said 2011 UGA graduate Katie, a member of Fun Bags. "It's a good midweek social."
The third of six regular season matches, Wednesday was a low stakes outing compared to the league's end-of-season "Cornament," which combines competitors from the 20 summer leagues in cities ranging from Athens to LaGrange to Smyrna in a winner-take-all seeded event.
"There's usually a lot of swag bags from the various sponsors [as prizes]," Connors said. "They'll have like six packs of beer and all kinds of swag, and I think there's some cash too."
This summer's finale is scheduled for Aug. 8 at Halcyon, a shopping and dining complex in Forsyth County.