Arik Gilbert, the state of Georgia's No. 1 recruit, came to Athens for his last official college visit on Oct. 18, 2019. But when the five-star tight end announced his commitment five days later, he chose LSU, a campus more than 540 miles from his high school in Marietta.
Georgia's staff recognized the need for a top tight end — Charlie Woerner and Eli Wolf would be on their way out after the 2019-20 season. But the Bulldogs didn't fret when Gilbert chose to cross the Southeast. In his previous four years recruiting at Georgia, head coach Kirby Smart had never landed the state's top prospect anyway.
Darnell Washington, a 6-foot-7.5-inch five-star tight end, played high school football at Desert Pines High School in Las Vegas, more than 2,000 miles away from Athens. But distance didn't keep the Bulldogs from signing Washington on Jan. 2 at the Under Armour All-America halftime.
"To still get a guy who is that talented and has that type of size you can't teach, I think it really showed [Georgia's] ability to be like 'OK, we lost that. There's options,'" ESPN national recruiting coordinator Craig Haubert said. "It's a pretty good way to rebound and still fill a need."
Smart takes a national approach to recruiting, and it's becoming more apparent with every class.
Since Smart's first class in 2016, the percentage of recruits from Georgia has steadily declined. More than 77% of Georgia's 2016 signees were in-state recruits. In the 2020 class, Smart filled only 32% of his spots with Georgia players. Instead, he elected to sign the bulk of his fifth-year class from seven other states — Florida, Texas, California, Louisiana, Arizona, Nevada and New Jersey — and Washington, D.C. 
"We had some national interest from players that came to camp and really performed well that in the past, we might have lost out on," Smart said. "The other part is we lost some in-state battles that were really, really good players. I think the two of those merged to make that unique position where we would've taken the in-state guy or the out-of-state guy. It just so happens we got the out-of-state guy."
Georgia's national attraction makes sense. For one, Smart is establishing a nationally-recognized football program. The Bulldogs dominate the SEC East and have made it to the SEC championship game for three consecutive seasons.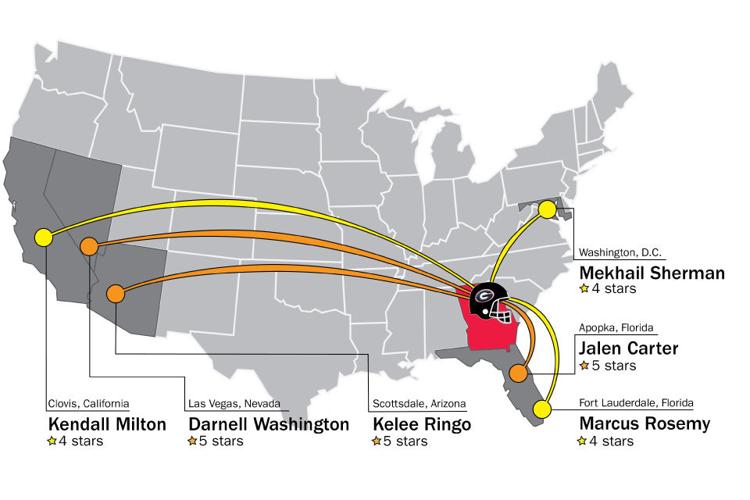 ESPN national recruiting analyst Gerry Hamilton said the conference's success boosts Georgia's image on the national stage.
"A lot of the kids that are now juniors and seniors in high school have seen the success of the SEC [playing] for national titles and [winning] national titles over an extended period of time," Hamilton said. "Those kids are always drawn to the conference with the best teams."
Smart also snatches out-of-state prospects from the grips of his SEC East rivals.
Five of the 25 signees in Georgia's 2020 class are Florida natives, including five-star defensive tackle Jalen Carter from Apopka. The state of Florida has produced the second-highest number of Georgia signees since Smart took over, and at least three Floridians have been inked to each of Smart's classes at Georgia.
Hamilton said Florida's proximity to Georgia and the storied Florida-Georgia rivalry game serve the Bulldogs well in terms of recruiting the state. He was especially impressed with the signing of Arian Smith out of Lakeland.
Smith, a four-star wide receiver, ran track during his time at Lakeland High School. He's also built a relationship with Georgia track star Matthew Boling. The two were half of Team USA's 4x100-meter relay team that set a World U-20 record at the 2019 Pan American U-20 Championships.
"[Smith is] the kid that all of the in-state schools coveted in the state of Florida," Hamilton said. "Lakeland High kids traditionally have gone to the University of Florida. Georgia beat arguably their biggest rival for the fastest player in America out of Florida's backyard."
Haubert said Georgia's national focus is cyclical. The Bulldogs signed nine of the top 20 recruits from the state of Georgia in their 2018 class but inked just three of the state's top 20 in 2019. Only two of Georgia's top 20 will come to Athens in 2020.
"Every class is different," Haubert said. "I think that Georgia was not on the same page with some of the recruits in the [2019] class that were in-state. I think that forced them to have to deviate a little bit and take a different approach into a more national approach."
But recruiting the state of Georgia is still a priority. Though the percentage of recruits from the state of Georgia has declined in the last five classes, the Bulldogs still get most of their players from inside the state.
In the 2020 class, eight of Georgia's 25 recruits chose to stay in state, and two of the three players already committed to the 2021 class are from Georgia.
"There have been a lot of good out-of-state players play here," Smart said. "There's no limitation to your borders, but we certainly respect and understand how good our state is."
---
All ratings and rankings courtesy of the 247Sports Composite